This post may contain affiliate links, which means I may receive a small commission, at no cost to you, if you make a purchase.
High end, drugstore, names you know and ones you should!
I am the self-declared captain of the beauty-obsessed portion of this ship. Don't get me wrong, Tyna could easily steer the wheel in a moment's notice. But she also sails happily knowing that I dutifully try every item that passes through the wht harbor. So, all aboard – these are my favorite beauty products that sailed our way this year…
all photos: we heart this, and ps – stealing gives you pimples.
1. Urban Decay Lush Lash Mascara – $20
I have tried enough mascaras to know exactly what I love in one; a buildable formula that produces separated lashes with faux-like length, achieved by a manageable sized, plastic bristle brush. Lush Lash mascara does precisely that, perfectly. Plus, as an added bonus the formula is infused with good for your lash ingredients that enhance growth as well. Honestly, my lashes have never looked longer or better. It's like a gift from the makeup gods! (buy it here
)
2. OCC Tint Tinted Moisturizer – $25
OCC's rainbow of Lip Tars have found a lifelong fan in me, but it's one of their utilitarian products that grabbed me this year. OCC Tint, their tinted moisturizer, is phenomenal. It's a thin, water-based product that feels like just that – water! Yet somehow, it veils everything. In Y2 (one of their 12 shades) I have found my holy grail. (buy it here)
3. Hourglass Aura Sheer Lip Stain – $26
Hourglass packaging makes me weak in the knees. Happily, the products within deliver the goods as well. Especially Aura Sheer Lip Stain. It's a water based stain that provides sheer, buildable color that lasts and lasts and LASTS. Psst, I love the cheek stains shown above too. (buy it here
)
4. 100% Pure Coconut Body Creme – $15
Get ready for quite the claim: 100% Pure Coconut Body Cream is not only my favorite lotion this year, but my favorite lotion ever. If you're a coconut lover, you absolutely need this. Rich, but not greasy, it has a pure coconut scent and a bit of earthiness thrown in for good measure that makes you smell downright edible. Best of all, if I apply it at night, the scent is still on my skin the next afternoon. Lotion perfection, I'm telling you! (buy it here)
5. tarte Glossed Over PureOptic Collection – $29.50
My single most anticipated holiday collection every year? You're looking at it – it's tarte's lipgloss set. This year they outdid themselves with Glossed over PureOptic. Super minty, full of pigment and a stunning range of colors in creme and sparkle finishes. LOVE! (buy it here
)
6. MAC Surf, Baby! collection
I couldn't pick just one product from this collection. From the limited edition packaging and a gold overspray hibiscus flower, to the bronzey goodness and the beautifully pigmented shadows; as a whole, Surf, Baby! is just MAC launch perfection. (beg someone on Makeup Alley!)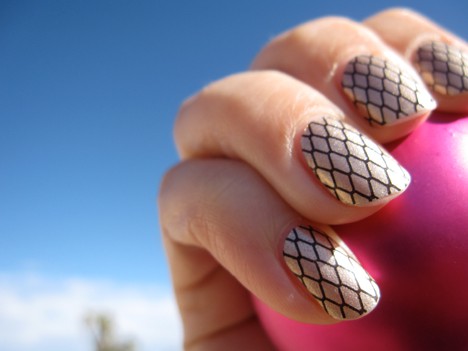 7. Sally Hansen Salon Effects – $9.99
10 days of wear for less than 10 bucks is a beauty bargain if I've ever seen one. I am just as thrilled with Sally Hansen Salon Effects today as when I first discovered them a year ago. They release new, perfectly on-trend designs every few months (wait till you see the new "Love Letter" design!) and show no sign of losing momentum, both in their innovation or my love of them! (buy in drugstores everywhere)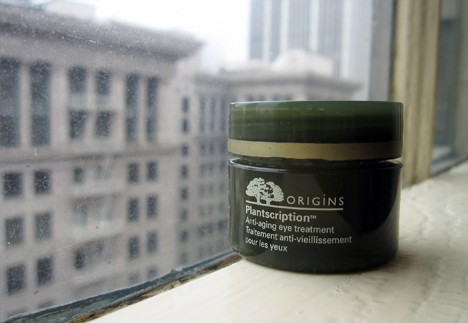 8. Origins Plantscription Eye Cream – $42.50
I've got eye creams that cost hundreds of dollars on my vanity, but know which one I reach for every morning? That's right, Planscription! This gel/cream hybrid has a super refreshing scent, absorbs instantly and somehow manages to make me look rested even when I'm not. (buy it here)
9. Bobbi Brown Peony and Python palette – $50
What's not to love about this? Six shades that all work beautifully together, packaged in what has to be the most fabulous case of the year. Plus, it's the palette that reunited me with purple, a shade I was convinced I couldn't wear; but Bobbi knew I could! (buy it here
)
10. Body Deli Egyptian Date Sugar Scrub – $32
I could rave about The Body Deli's scrubs all day, especially Egyptian Date. It's a creamy, sweet and spicy tub full of organic goodness. But really, I only need two words to convey the awesomeness of this: butter and sugar. (buy it here)
we heartsters, have any love for any of these products? Tell us about it!
Disclosure: This post includes products that were provided by the manufacturer/PR firm for our consideration. It also may contain an affiliate link, a link that gives us a small commission if you purchase the item. For more info, or any questions, please see our disclosure policy.