This post may contain affiliate links, which means I may receive a small commission, at no cost to you, if you make a purchase.
This Holiday 2012 set brings eco-friendly joy to blush lovers
photos: we heart this
I might love blush too much. I don't have as many different colors as I do, say, eyeshadows and I'm not as brand faithful as I am to my foundation. But I love a blush — cream, powder, cream-to-powder, liquid — you name it, I'm a sucker for it. I then read about that rare and awesome bird, the tarte Amazonian Clay Blush, here at we heart this and I salivated, and I waited. Rare birds must come to you — stalk them and they'll fly away.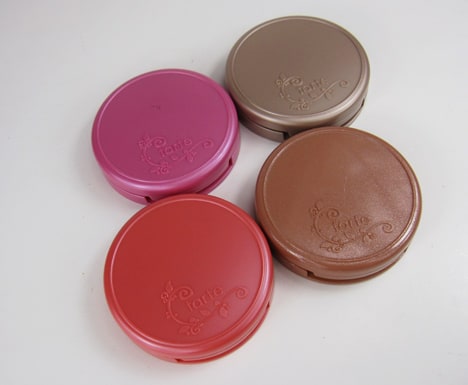 I went to Ulta, and to Sephora, just to take a peek. I saw the colors and heard stories of their long, twelve-hour wear. I glimpsed at them in person, maybe even reaching out for a touch, a swipe at its fabled saturated color and rare silken feel. It took discipline but I hung back.
My discipline paid off for I am now the proud owner of tarte's fantastic foursome Amazonian Clay 12-hour blush enthusiast set. Yes, Holiday Cheer was handed to me by a disgruntled U.S. Postal Employee — my wht package-for-review nearly lost in the bustle of Holiday mail. Oh, Joy To The World.
Well, truth is, I'd have lost my will to wait if I'd seen this packaged-for-the-holidays set before the Postal Scrooge-cum-Angel handed it to me. First, this set is retailing for a mere $35! That is an astounding bargain. I still can't get over the fact the price is for four – FOUR – blushes in colors that range from bright pink to peachy coral to bronze to gold; making sure there is something for every occasion, every season, and every spectacular outfit from office suit to glitzy party dress.
Each of these blushes has great pigment and a fine mill, meaning a little will go a long way. Their smallish size (3.03 grams) should last a good while. The Amazonian Clay formula makes sure that the blush won't fade away. Like exotic plumage of the birds of the jungle, this color stays.
The colors included are:
Magic – bright peachy matte coral
Fantastic – bright, bubblegum matte pink
Amazonian Clay blush in Magic and Fantastic
Stellar – subtle bronze with silver shimmer
Angelic – pale champagne gold shimmer
Amazonian Clay blush in Stellar and Angelic
The best part of the color choices here is that you can decide whether you feel peachy (Magic) or pink (Fantastic), apply the corresponding color to the apples of your cheek, then use Stellar as a very subtle, suitable for winter bronzer, followed by Angelic to highlight the bridge of your nose, top of your forehead and tops of your cheekbones. These all work together or separately. Had I gone to choose four colors for this purpose, I could not have chosen better.
Amazonian Clay blush in Magic, Fantastic, Stellar and Angelic
Of course, tarte cosmetics are always eco-conscious, and these blushes are no exception. The fantastic foursome Amazonian Clay blush enthusiast set is formulated without parabens, mineral oil, phthalates, sodium lauryl sulfate or synthetic fragrances.
There are many reasons to adore this set: price, performance, color and convertibility. Rare bird indeed. Make sure to get plenty sets to gift and plenty to keep. But be quick, this amazing set is already sold out at Sephora online – but can be found at the tarte site (and possible in stock at your local Sephora) Are you still reading? Get shopping!
we heartsters – are you enthused about this Holiday 2012 offering from tarte?
Disclosure: This review includes products that were provided by the manufacturer/PR firm for our consideration. For more info, or any questions, please see our disclosure policy.
Latest posts by sherrishera
(see all)