This post may contain affiliate links, which means I may receive a small commission, at no cost to you, if you make a purchase.
It can be overwhelming to navigate the skincare world, especially when you're bombarded with so many options.
But don't worry; we're here to help. Finding the most suitable products for your skin type and problems may be difficult, and we understand that.
So if you're looking for skincare products that are luxurious, effective, and inspired by ancient Japanese beauty rituals, Tatcha might be just what you need.
Many Tatcha reviews praise the brand for using traditional Japanese ingredients, which can provide a unique and effective skincare experience.
So whether you want to see reviews for Tatcha skincare products and find out if they're worth the investment, you've come to the right place.
We've taken the guesswork out of selecting products for yourself and compiled a list of the 10 best Tatcha products you can try.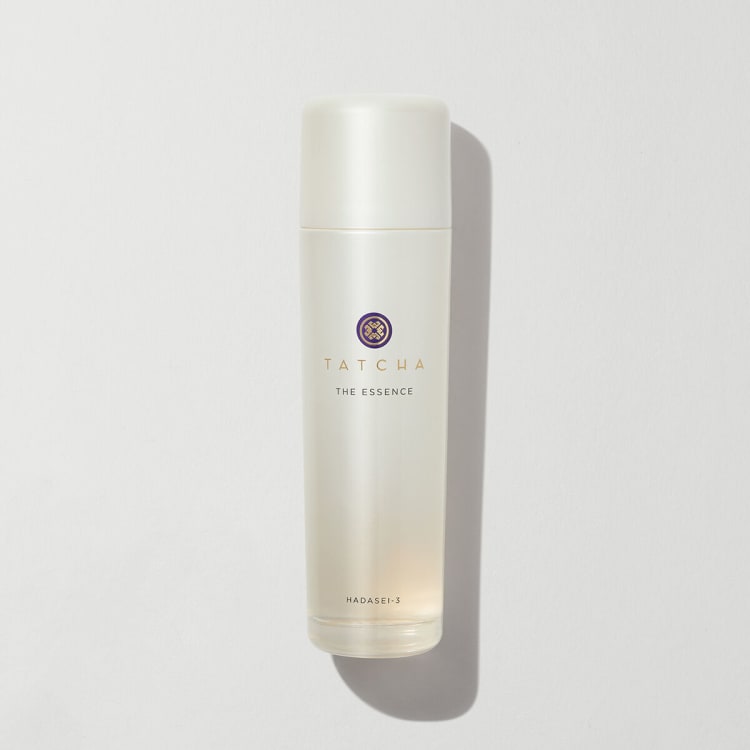 Weightless gel cream
Smoothens and softens skin
Improves skin elasticity and firmness
Potent and effective formula
Improves skin softness and suppleness
Improves skin radiance and glow
Non-sticky formula
Plumps fine lines and wrinkles
Moisturizes flaky lips
What Is Tatcha?
Tatcha is a Japanese skincare brand founded in 2009 by Victoria Tsai, who was inspired by the beauty secrets of geishas.
Its products are also inspired by the Japanese concept of "mottainai," which means "waste nothing." This means that the brand is committed to using every part of each ingredient and minimizing waste in its production process.
The brand's mission is to create gentle and effective skincare products made with the highest-quality ingredients.
But Tatcha's commitment to quality doesn't stop there. They are also known for their elegant packaging!
Plus, Tatcha's products are cruelty-free. They are also free of parabens, synthetic fragrances, and mineral oil.
What's Inside Tatcha Skincare?
Tatcha made these traditional secrets work for modern-day women. Here's a closer look at what's inside Tatcha Skincare:
Japanese Rice Bran
Rice bran is a key ingredient in many Tatcha products. But what makes Japanese rice bran so special? Imagine waking up to smoother, firmer skin that looks and feels its best. That's what the power of rice bran can do for your skin!
It can improve skin texture and reduce the appearance of fine lines and wrinkles.
Camellia Oil
This lightweight oil is packed with fatty acids and antioxidants, which makes it the perfect choice for hydrating and nourishing your skin.
What's great about camellia oil is that it can penetrate deeply into your skin, leaving it feeling super soft and supple.
Hadasei-3 Complex
The Hadasei-3 Complex is a proprietary blend of traditional Japanese ingredients in many Tatcha products.
This complex includes Akita rice, Uji green tea, and Okinawa algae, which work together to nourish and protect the skin.
These ingredients are rich in antioxidants and vitamins, making them an excellent choice for promoting healthy, radiant skin.
Japanese Plum
Japanese plum is another key ingredient in many Tatcha products rich in antioxidants and vitamins. This ingredient is known to help improve skin elasticity, which helps reduce the appearance of wrinkles and fine lines.
10 Best Tatcha Products You Need To Try
Here are a few options from Tatcha to help you narrow your search for must-have beauty supplies.
1
This serum's three-ingredient formula effectively smooths and plumps skin for long-lasting moisture.
Key benefits: Boosts skin hydration; locks in moisture; improves skin texture
Features:
Non-comedogenic formula
Lightweight and non-greasy formula
Contains squalene and hyaluronic acid
Get all-day skin hydration and a luminous glow by using Tatcha's moisturizing Dewy Serum!
This serum is a 3-in-1 product. It features three key ingredients: lactic acid, hyaluronic acid, and squalene.
Together, these three ingredients repair and replace the key components of healthy skin lost over time.
Lactic acid gently smooths the skin, hyaluronic acid plumps it, and squalene locks in moisture. All these mechanisms return supple, bouncy radiance to your skin.
The result? Smoother, plumper, dewier skin!
Most reviews of the Tatcha Dewy Serum love how this product sinks right in and pairs well with moisturizer. We also love that it doesn't have a heavy or greasy feel.
2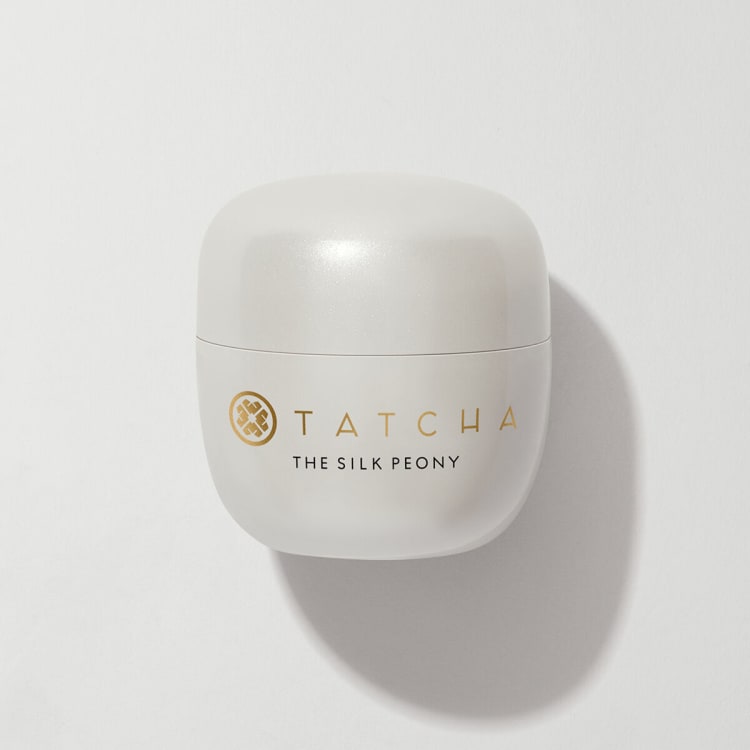 The Tatcha Silk Peony Melting Eye Cream is a luxurious eye cream that melts into the skin to hydrate and brighten the delicate under-eye area.
Key benefits: Helps blur the skin around your eyes; minimizes dark circles and puffiness; leaves a soft complexion
Features:
Unique melting texture
Antioxidant-packed formula
Contains Japanese white peony
Blur the look of fine lines and wrinkles with this amazing eye cream!
Reviews of this Tatcha eye cream rave about how it reduces the appearance of fine lines and wrinkles while minimizing dark circles and puffiness.
Some users have also reported seeing a significant improvement in the overall appearance of their under-eye area after using this product consistently.
This eye cream's unique melting texture smooths and blurs the delicate skin around your eyes, leaving you with skin that feels soft and smooth. It's also an excellent product for prepping the eye area before makeup application.
It features 30% Hadasei-3, Tatcha's signature trio of pure Japanese superfoods, helping improve visible signs of aging. The antioxidant-packed formula helps protect against future skin damage.
3
This must-have exfoliant is formulated to remove dead skin cells and reveal soft and smooth skin.
Key benefits: Gently exfoliates the skin and removes dark spots; softens the skin; reduces redness
Features:
Unique water-activated formula
Contains Japanese rice bran and silk protein
Ideal for combination to dry skin
Reveal brighter and smoother skin by exfoliating with Tatcha's The Rice Polish: Classic Foaming Enzyme Powder!
The Rice Polish: Classic is a water-activated exfoliant that transforms into a creamy foam for a smooth polish and healthy glow.
Packed with nourishing Japanese rice bran and silk protein formula, it gently exfoliates your skin to reveal softer and smoother skin.
Reviews of this Tatcha skincare product frequently mention how it has helped to reduce the appearance of pores and improve skin texture.
Some users have even reported that their skin looks more radiant and youthful after using this product consistently.
The finely ground rice bran and papaya enzymes in this product promote natural skin turnover to reveal a smooth, makeup-ready canvas instantly.
Some Tatcha reviews mentioned that it also helps decrease redness and makes the skin look polished. Plus, it also helps reduce pores!
4
This moisturizer is a fan favorite with users raving about how it leaves their skin feeling soft, smooth, and hydrated all day.
Key benefits: Hydrates and nourishes the skin; improves skin texture and tone; leaves skin feeling smooth after use
Features:
Contains liquid silk protein that forms a moisture-binding veil on the skin
Lightweight formula
No greasy feeling
Looking for a luxurious moisturizer that won't leave your skin feeling heavy or greasy? Try the Tatcha Silk Cream!
The Tatcha Silk Cream is a lightweight moisturizer that won't make your face feel heavy or greasy. It's perfect for use before makeup or as part of your nighttime skincare routine.
It has Hadasei-3 that maintains the skin's youthful glow and complete liquid silk protein that creates a moisture-binding veil.
Plenty of Tatcha reviews say the before-and-after results of using this product are impressive. Users mention that this product works and makes your skin look refreshed.
They also love how it leaves their skin feeling supple and nourished.
This moisturizer is designed to leave your skin feeling incredibly soft and hydrated all day. With consistent use, it also helps improve the texture and tone of your skin.
5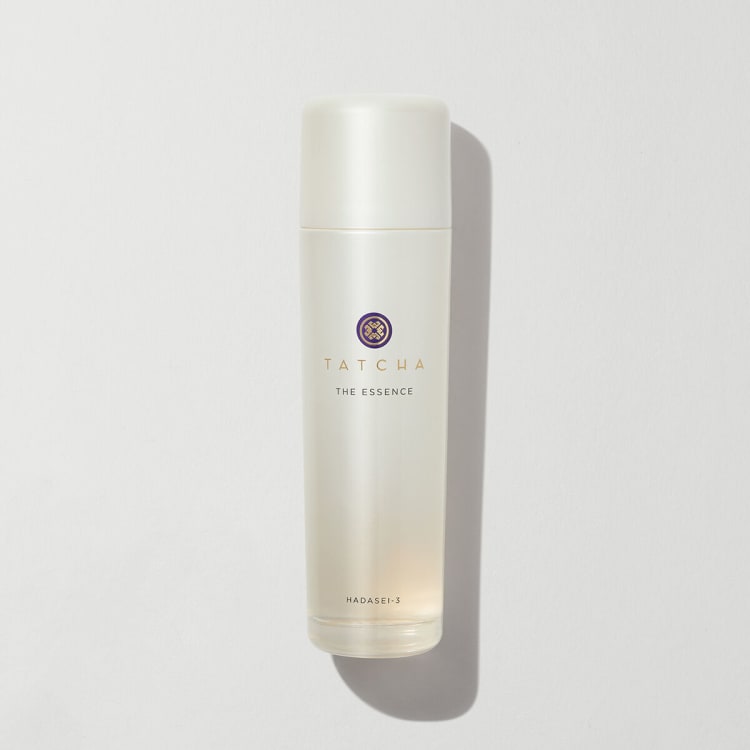 This product features a simple yet transformative formula proven to make your skin look younger.
Key benefits: Hydrates and plumps the skin; improves skin texture and tone; reduces the appearance of fine lines and wrinkles
Features:
Made of 100% Hadasei-3, a trio of fermented Japanese superfoods
Contains moisture-retaining Okinawa algae
Potent formula
The Essence is a skin-boosting treatment that resurfaces, softens, and plumps your skin for a primed, plump, petal-soft look at any age!
Tatcha reviews frequently mention how this product has helped to reduce the appearance of fine lines and wrinkles. It also helps improve skin firmness and elasticity.
Thanks to the addition of moisture-retaining Okinawa algae and antioxidant-rich Uji green tea, this product will leave your skin feeling replenished and plump. Plus, it protects your skin from premature aging.
Many users say that this serum absorbs well without the greasy feel. It also helps them achieve younger-looking skin.
6
This rich moisturizer hydrates and nourishes the skin while giving it a radiant, dewy glow.
Key benefits: Helps protect the skin from free radical damage; leaves skin feeling soft and supple; improves the tone and texture of the skin
Features:
Packed with antioxidant-rich Japanese purple rice
Lightweight texture
Hydrating formula
The Dewy Skin Cream is the perfect solution for plumping hydration and a dewy, healthy glow!
Reviews of the Tatcha Dewy Skin Cream rave about how this cream leaves their skin feeling soft, supple, and glowing. Some users say this cream has helped give their skin a healthy glow.
This is because it contains Japanese purple rice, which has antioxidant properties that help treat dry skin. But don't worry; you can also use it for combination skin. It helps anyone achieve a more youthful, radiant complexion.
This cream is also formulated to provide long-lasting hydration, so your skin will feel soft and supple all day. And with a lightweight texture, it won't leave your skin feeling heavy or greasy.
7
Reviews from Tatcha swear that this moisturizer is an effective lip treatment that restores moisture to dry, chapped lips.
Key benefits: Hydrates and nourishes dry, chapped lips; plumps lips to improve the appearance of fine lines; restores moisture to flaky, parched lips
Features:
Made with squalane and Japanese peach
Non-sticky jelly texture
Clean and luxurious packaging
This leave-on jelly treatment is the perfect solution for restoring lips to full lushness!
The Tatcha Kissu Lip Mask is made with squalane and Japanese peach. It's a non-sticky jelly that melts into skin and layers to comfort, hydrate, and lock in moisture.
Reviews frequently mention how this product leaves their lips soft, smooth, and hydrated. A user even said that it plumps the appearance of fine lines and wrinkles, giving her skin a supple, firm look.
We also love how this product feels luxurious. Plus, a little product goes a long way. Use it consistently to make your lips feel and look amazing!
8
Many recommend this lightweight moisturizer for effectively moisturizing the skin.
Key benefits: Refines and clarifies skin; provides balanced hydration; restores healthy-looking, youthful radiance
Features:
Hydrating water-burst formula
Contains Japanese Wild Rose and Japanese Leopard Lily
Doesn't sting
Looking for a cream that can hydrate, refine, and clarify your skin? Go for this nutrient-rich, water-burst formula cream!
Based on reviews of Tatcha's The Water Cream, it's one of the best hydrating creams from the brand. It doesn't have SPF, but you can layer it generously with sunscreen, and it goes well under makeup.
It also releases hydrating nutrients and pore-refining botanicals for healthy aging and smooth, balanced skin. Plus, it delivers deep moisturization, hydrating your skin without leaving skin sticky or greasy.
The cream clarifies and refines skin with pure, potent Japanese botanicals.
It contains Japanese wild rose extracts, which help minimize the appearance of pores and refine the skin's texture. It also has Japanese leopard lily extracts, which regulate sebum production and promotes natural exfoliation.
This cream is perfect for restoring healthy-looking, youthful skin. Plus, it imparts a subtle, shine-free glow with a touch of 23-karat gold.
9
Key benefits: Shields skin from environmental stressors; makes makeup application easier by giving you a smooth, even base; restores youthful radiance to the skin
Features:
Multi-tasking primer for face, eyes, and lips
Contains silk extracts and powder
Anti-aging benefits from Hadasei-3
The Tatcha Silk Canvas Primer is a must-have for anyone looking to achieve a smooth base for makeup application while protecting and nourishing their skin.
The Tatcha Silk Canvas Primer is designed to blur fine lines, pores, and other skin imperfections while creating a smooth, flawless base for makeup that ensures your look lasts all day.
Reviews of this skincare product from Tatcha frequently mention how this primer helps their makeup last longer.
It blurs imperfections with silk extracts, primes with silk powder, protects with a protective barrier derived from botanicals, enhances with pink and gold pearl, and even offers anti-aging benefits.
It's the perfect solution for shielding skin and helping makeup apply better and last longer! We also love that you can use this multi-tasking primer for your face, eyes, and lips.
10
Users love how this cleansing oil removes makeup, waterproof sunscreen, and excess skin oils from even very oily skin perfectly.
Key benefits: Gently removes even waterproof makeup; thoroughly cleanses the skin without stripping off its natural moisture; leaves skin feeling soft, nourished, and balanced
Features:
Two-in-one makeup remover and cleanser
Formulated with camellia oil
No mineral oil
If you want a makeup remover and cleanser that's easy on your skin but still does the job, go no further than this Camellia Cleansing Oil.
The Tatcha Camellia Cleansing Oil is formulated with Japanese camellia oil. It's a botanical oil prized in Asia for centuries for its moisturizing and antioxidant properties.
But that's not all! Tatcha also contains Hadasei-3, a proprietary complex of rice, green tea, and algae that provides timeless, antioxidant-rich superfoods that nourish your skin deeply.
Its hydrating formula draws out oils and removes sunscreen and waterproof makeup (even mascara), making it a versatile addition to your skincare ritual.
And with no mineral oil, the liquid emulsifies entirely with no oily residue, leaving your skin feeling balanced and nourished.
FAQ About Tatcha
Is Tatcha Worth It?
Yes, Tatcha products are worth your money. Their products are not the most affordable skincare options out there.
However, the brand's high-quality ingredients, silky product textures, luxurious packaging, and positive reviews make Tatcha worth it.
Is Tatcha Vegan?
Tatcha is a cruelty-free brand, but not all its products are vegan. Some of their products contain animal-derived ingredients like silk or honey.
If you're looking for vegan skincare options, review each product's ingredient list before purchasing it.
Find the Best Tatcha Product That Works for Your Skin
Based on several reviews, Tatcha has tons of products that are well-loved by customers and have helped many people achieve healthier, more radiant skin.
Their products are free of harsh chemicals and synthetic fragrances, and their gorgeous packaging makes them a luxurious addition to any skincare routine.
Tatcha's products are high-quality and effective, formulated with good ingredients for your skin.
So why not treat yourself to some luxury and add some Tatcha products to your skincare routine?
Want More Skincare Brand Recommendations?
Check out these articles: