This post may contain affiliate links, which means I may receive a small commission, at no cost to you, if you make a purchase.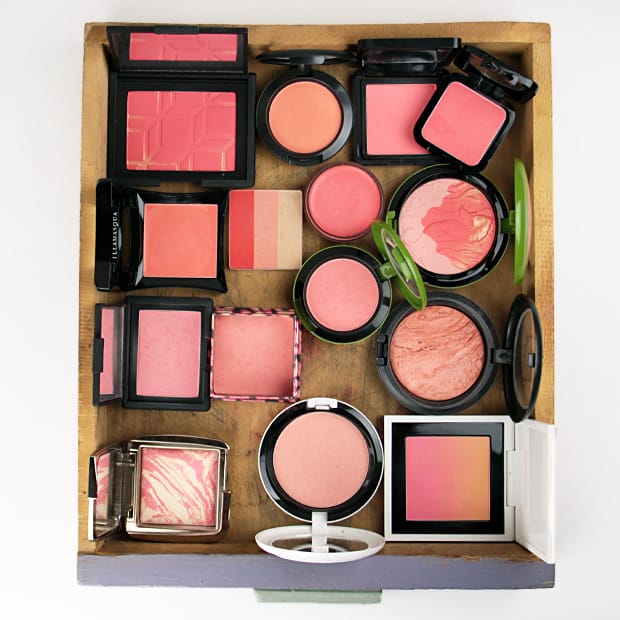 That and more in The Lipstick League, week of 8.3.15
Question of the Week: Name the ONE blush you find yourself reaching for the most right now.
Answer: It's gotta be coral! That's my favorite coral blushes shown above. And the one I've been grabbing all week is an oldie but a goodie: MAC Stereo Rose. (It's on the right, second from the bottom.) It was limited edition, of course *shakes fist at MAC* but it's come out twice that I can recall, so keep on the lookout for a return. It's the perfect shimmer coral.
Now let's League this, shall we?
we heart this – what do you call a skincare product that normalizes oily skin, balances combination skin and moisturizes dry skin? We'd call it magical.
Beautygeeks – Still on the fence about the newest Rebecca Minkoff-for-Essie nail shades? Here's your complete ManiGeek guide to the Essie Fall 2015 collection.
Beauty Junkies Unite – Get the scoop on the best summer body washes we've been using in the Beauty Junkies' household this season. (Warning: yummy fragrances ahead!)
Clumps of Mascara – We take skincare seriously here in Florida. Right now we're loving these all-natural skincare items that are perfect for those dog days of summer.
EauMG – Who's In the House this month? San Francisco-based INeKe perfumes! Here's Victoria's brand overview of this indie perfume line that has adorable packaging.
Glitter.Gloss.Garbage – Aprill is giving you the chance to win a summer gift pack from Dove! Enter here.
Gouldylox Reviews – The new Too Faced Born This Way foundation is gorgeous. To get the best results, you have to apply it old school…I've got the scoop just in time for your perfect back to school look!
Love for Lacquer – Want to get paid to shop? Check out Jess' massive lipstick haul and how she earned cash back by shopping through Splender!
My Newest Addiction – Bond no. 9 Sag Harbor has Laura wishing she would have been able to stay in New York for just a few more days. The New York beaches collection is definitely an ode to summer.
Nouveau Cheap – What is a latex skin barrier and do I need one? I've got answers, and also a low-cost DIY version that you may want to try first, so you can figure out if you need the real thing.
Phyrra – brings you over 23 Celebrity Inspired Hooded Eye Makeup Tips & Tricks!
Prime Beauty – just loves when fashion and beauty come together. That's exactly what happens in the spectacular Rachel Zoe Summer Box of Style!
(Wondering what the Lipstick League is? Find out here.)
Guest Post of the Week, as chosen by we heart this – Brooke over at Blushing Noir always introduces me to a must-have, like this Dior 556 Contraste Horizon palette. Plus, I love her photos (especially her swatches and eye images.)
we heartsters – Name the ONE blush you find yourself reaching for the most right now…