This post may contain affiliate links, which means I may receive a small commission, at no cost to you, if you make a purchase.
Here's why it's our Product of the Week…
Name: Clarins Instant Light Lip Comfort Oil ($23)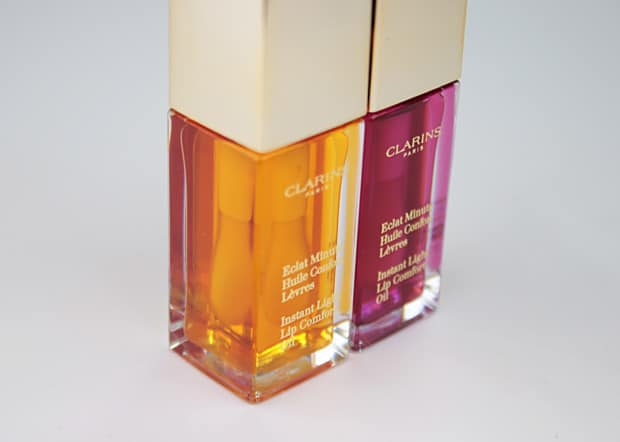 What it does: Clarins' latest treatment oil aims to heal and beautify lips with a refreshing cocktail of natural oils: Mirabelle Plum, Jojoba and Hazelnut. It smoothes out lip lines and flakiness while conditioning delicate skin.
Why we love it: A combination gloss/conditioning product that makes lips as soft as spring petals…I heart everything about this product! The packaging is simple yet elegant, with a gleaming gold lid. Inside is a supersized doe-footed applicator (meant to replicate a fingertip) that swoops on the gel-like treatment product with precision.
Because it contains natural oils, the formula is nourishing and non-sticky. And most of all, the effectiveness is stunning…like spring cleaning for winter-weary lips. Parched flakiness changes to plump, shiny fullness – in an instant!
Clarins Instant Light Lip Comfort Oil in Honey and Raspberry
The shade I tried, Honey, gives a subtle golden glow that adds to the renewed look of my lips, while Raspberry offers a soft sheer pink. Plus there's the fact that the product feels so wonderfully, perfectly slippery, I can't stop smooshing my lips together. It has a plumping effect with no annoying tingling, a light scent I noticed only when applying it, and it lasts for hours.
The "sheer brilliance" of Instant Light Lip Comfort Oil can be worn over lipstick, but I prefer it alone, with nothing between my lips and the cool, comforting texture of the oil. If you've never tried Clarins' famous treatment oils, this one is the place to start.
The damage winter did to my lips is gone. If only the rest of my spring cleaning could be so easy!
we heartsters – The Clarins Instant Light Lip Comfort Oil is flying off shelves, have you tried the latest lip must have?
photos: we heart this, swatches shown on NC25/30 skin tone
Melissa loves road trips, bargain shopping, drive-in movies, lip gloss and rock 'n' roll. She lives in Baltimore with her precious pups Zeus and Bellarina.
skin tone: NC25
skin type: dry to normal
favorite beauty product: skincare
Latest posts by turboterp
(see all)