This post may contain affiliate links, which means I may receive a small commission, at no cost to you, if you make a purchase.
Are you tired of acrylic and looking for an alternative to acrylic nails?
The good news is there are a lot of great alternatives out there for you to try!
Acrylic nails are a popular type of nail polish that has become increasingly popular in recent years.
While acrylic nails are undeniably beautiful, they have some disadvantages that should be considered when looking for an alternative to acrylic nails.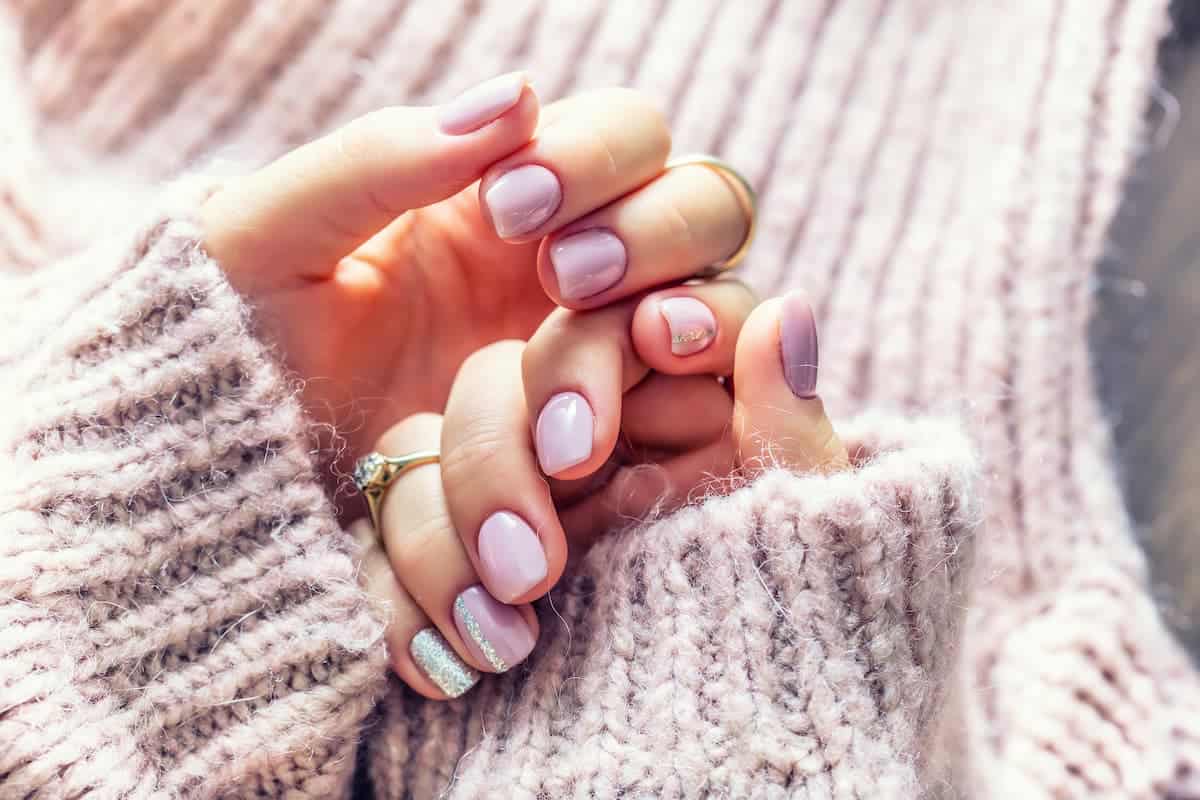 Acrylic nails are brittle and can easily chip or break, making them less durable than other types of nails.
Additionally, they often require a lot of maintenance, including frequent filing and shaping, which can be time-consuming and expensive.
If you're looking for nails without acrylic this post is for you!
What Can I Use Instead Of Acrylic Nails?
When most people think of acrylic nails, they think of long-lasting nails.
While this is often the case, there are some drawbacks to acrylic nails.
One of the main problems with acrylic nails is that they can be quite damaging to your natural nails.
Another downside to acrylic nails is that they can be expensive, and they need to be regularly maintained in order to look their best.
Acrylic nails are actually quite similar to regular nail polish. While they are often considered as long-lasting artificial nails, acrylics can chip off and require a lot of maintenance.
The top 5 fake nail options other than acrylic include:
Best Acrylic Nail Alternatives
1. Nail stickers
Nail stickers or wraps, on the other hand, are one of the most popular alternatives to acrylic nails.
While nail stickers have been around for quite some time now, they are only recently becoming more popular.
The main reason behind this is that they don't require any maintenance or special care! (Who doesn't like a no-nonsense approach for a healthy acrylic nail alternative?!)
Nail stickers are a fun way to add extra sparkle to your nails plus are super easy to apply! They're also a great way to change up your look for a night out.
They're easy to apply and can be removed without any damage to your nails.
Here are five tips for applying nail stickers:
1. Choose the right sticker
There are a variety of different nail stickers available, so it's important to choose the one that will look best on your nails. Some stickers are designed to be transparent, while others are more opaque. Some stickers are designed to be applied over polish, while others are meant to be stuck directly onto your nails.
2. Apply the sticker in a smooth motion
3. Start by applying the sticker in a downward motion and don't worry about pulling it off your nail.
4. Finish the sticker with a topcoat (prevent nails from chipping and flaking)
5. Remove stickers – The most common way to remove stickers is to use acetone.
Sally Hansen Salon Effects Couture Nail Stickers
18 count
Peel, apply, file
WOKOTO Solid Color Full Nail Wraps
20 sheets
Red series
Acrylic
Self-adhesive
While nail stickers are a popular alternative for safe fake nails, there are some potential downsides to using nail stickers including:
Can be difficult to remove if you make a mistake
May not last as long as permanent nail polish (due to the adhesive used)
May damage nails if applied incorrectly. However, with proper application and removal this is a great option for fake nails that don't damage your real nails.
Related: ManiMe Review: The Best Stick On Gel Nails
2. Gel nail polish
Nail polish is one of the most popular nail products in the world. It's easy to apply and can be changed quickly.
Gel nail polish is different from other nail polishes in that it is made with a gel base.
This means that it is more durable and lasts longer than regular nail polish.
In addition, gel nail polish is also easier to remove than other types of nail polish.
OPI
Above comparison
Well-known as well as a respected brand
Wide assortment of colors and finishes
Essie
Wide range of color
Wide range of finishes
Available in 70+ countries
China Glaze
Huge variety of colors and shades
Innovative & unique nail polish shades
High-quality
Favorite among beauty aficionados
Available nationwide
Related: Essie Gel Couture Swatches And Review
If you're new to gel nail polish, here are 5 tips to help you get started:
1. Apply a thin layer of gel nail polish to your nails.
2. Let the gel polish dry for about two minutes.
3. Apply a second coat of gel polish if desired.
4. Remove the Gel nail polish with acetone or nail polish remover.
5. Follow the manufacturer's instructions for filing and cleaning your nails.
While gel nail polish is more durable than traditional nail polish, lasting up to two weeks without chipping, there are some disadvantages to using gel nail polish.
Disadvantages of using gel nail polish include:
Harder to remove than traditional polish
If your nails are thin, the gel may cause them to break easily
Can be more expensive than other types of polish
If you have sensitive skin, gel nail polish may cause irritation
Related: 10 Best Gel Polish Brands For At Home Manicures
3. Press on nails
We can all agree that nails can be a pain to keep looking good.
#retweet!
Press-on nails are a quick and easy way to get long nails without acrylics and a polished look.
All you need is some nail polish, press-ons, and a little patience! #helpmejesus!
While you do need patience, the end results are worth it. Press-on nails can be used on both natural and artificial nails.
Nails are a delicate part of the body, and often times they are the first thing to show signs of wear and tear.
The downside of press-on nails is that they:
Can damage the nail bed and can lead to nail infection and other problems
Difficult to remove and can leave residues on the nails.
Can cause damage to the cuticles (leading to discoloration and cracking)
Harder to file and polish the nails properly
Glamnetic Press On Nails
Opaque
UV finish
Short
Pointed
Almond-shaped
Reusable pastel nails
12 sizes
24-piece nail kit
Glue
View this post on Instagram
KISS Gel Fantasy
24 super adhesive tabs
Ready to wear
Short
White nails
Pink gel glue
Manicure stick
Mini file
Art deco style
Solid pattern
MelodySusie Press On Nails


MelodySusie Press On Nails, Glossy Short Pointed Almond Shape False Nails, 10 Sizes in 24 Pcs Gel...

Fashional Almond Nails: These false nails are made of high-quality material that does not break or fade, is non-toxic and gentle to your nails and skin, is durable, and...
Super Natural: MelodySusie fake nails allow you to comfortably adhere to your nails and they look slim and natural, just like real nails. We have got you covered in the...
Easy To Use: These fake nails come ready to wear, you'll easily achieve a salon-looking gel nail polish manicure at home in minutes. It can save your precious time and...
Glossy
Short, almond-shaped
10 sizes
24 pieces
Nail file
Jelly glue stickers
Cuticle stick
View this post on Instagram
4. Dip powder
Dip powders are a popular way to keep nails looking healthy and polished.
They come in a variety of colors and can be used as a base coat or top coat.
Dip powders can be applied easily with a brush, and they can be removed with acetone or nail polish remover.
Dip powder is a great way to add a little extra shine and protection to your nails.
Not only does it add a layer of protection against outside influences, but it can also make nails look more glossy and healthy.
How to apply dip powder for nails:
Apply a thin layer to the nail – wait for it to dry completely
Next, apply nail polish over top of the dip powder – wait for it to dry completely
Add a clear coat or top coat if needed
Dip powder is a popular polishing agent used to clean nails it can also have negative effects on nails.
Related: 10 Best Nail Dipping Powder Brands
Here are five of the downside of dip powder for nails:
1. Damage nails by removing the nail's outer layer
2. Create unhealthy nail growth – creating an environment that encourages fungus and bacteria growth is no joke!
3. Cause dryness and/or cracking in nails
4. Cause nail polish to peel
5. Can be difficult to remove
Lavender Violets


Sale

Lavender Violets 36 Colors Dip-Powder-Nail-Kit Starter Fast Dry Dipping Powder Color Set - White,...

What You Get: Quick dry dip-powdered nails refill set includes 36 jar of glitter and pure colored powders (0.34oz/each jar), popular in all seasons and suitable for all...
Saving Time: Unlike regular dip powder manicure procedures, our quick-dry dipping nail powder could be fast dried within 30s by itself without being harden by activator,...
Fine Powder: With new formula, the powders are extra fine and it dries incredibly fast and left with a smooth finish and zero bubbles for complete color coverage with 3...
36 color set
Fast-drying dipping powder
For French dip manicure and pedicure
Eco-friendly – odor-free and non-toxic
Beetles Dip Powder Nail Kit


Beetles Dip Powder Nail Kit- 6 Colors 17g/0.6oz Spring Summer Neon Red Yellow Green Blue Nail...

HEALTHY & HARMLESS: Beetles 6pcs neon colors dipping powder starter kit made with healthy, natural formula to help nails grow stronger and healthier. These doesn't damage...
HIGHT QUALITY LONG LASTING: Beetles dip powder nail kit is long-lasting, chip-resistant. Compared to traditional nail lacquer, gel polish, and traditional acrylic...
SAFE/NO NEED CURING: The colors of bright neon colors dip system set is No LED nail lamp required for curing nail, which is better for your skin and nail, High quality,...
6 neon colors for summer
Base coat activator brush
No LED lamp needed
1 nail file
1 cuticle pusher
Doesn't damage the nail bed
Morovan Dip Powder Nail Kit


Morovan Dip Powder Nail Kit - 8 Colors Nail Dip Powder Starter Kit with Base Top Coat Activator...

MOROVAN DIP POWDER NAIL KIT: As upgraded dip powder nail kit starter include 8 colors dip powder, 4 bottles dip powder liquid of base coat, top coat, activator, brush...
NO LAMP NEEDED & SAVING TIME: Our dip powder nail set is surely easy and safe to handle for both nail professionals and home users. Morovan quick-dry nail dipping powder...
HEALTHY & HIGH-QUALITY: Our dip powder with new premium formula and advanced manufacture skill, gives nails high endurance and long lasting strength. This dip powder nail...
8 colors
Base coat
Top coat
Activator
Brush saver
1 nail brush
1 nail file
1 dip powder tray
No lamp needed
View this post on Instagram

5. Gel nail extensions
Gel nail extensions are a popular choice for those who want nails that look amazing and last for weeks, without the need for regular maintenance.
Gel nails are applied by a technician in the same way as regular nails, but they are made from a gel material that is heated and shaped to the customer's nail.
These extensions are applied just like regular nails and require no filing or glue application – they simply attach
Gel nail extensions have many benefits over traditional nails, including that they last longer and are less likely to break or chip.
Modelones


Sale

Modelones Poly Extension Gel Nail Kit - Nail Enhancement Builder Nail Gel with 48W LED Nail Lamp 6...

All IN ONE KIT: 6 Colors Poly Nail Gel(Pure White, Soft Pink, Light Pink, Light Apricot Nude, Deep Nude, Clear), 48W Nail Lamp, 10ml Base Top Coat Set, Brush and...
EASY TO USE: You won't struggle to try to use our poly nail gel kit. The instructions for using the extension gel are detailed and yet simple to understand. No need to...
LONG-LASTING EFFECT TIPS: MODELONES poly nail gel will last up to 2 weeks or longer with proper nail prep (filing, buffering, and cleaning). For better adhesion, you can...
Nail enhancement gel
48 W LED lamp
6 nude/pink colors
Slip solution
Rhinestones
Brush
Spatula
Top coat
Kastiny


Poly Extension Gel Nail Kit, Kastiny 10 Colors Poly Nail Gel Kit with UV Lamp, All-in-one Slip...

DIY nail art at home: You will get the attractive nail appearance by poly extension gel nail kit to match any outfit style of you, as its wide selection of colors and...
All-in-one: You will get 15g * 9 Color Gel, 8ml * 3 Clear Gold Silver Color Gel, 30ml acrylic gel solution, mini UV LED light, 7.5ml Base, Matte & Glossy Top Coat,...
Easy application and good tenacity: The poly nail gel kit with uv lamp has a long-lasting effect for 21+ days with a great shine. And you can enjoy the joy of nail...
Poly extension gel nail kit
10 colors
UV lamp
All-in-one slip solution
Nail strengthener
Glitter
Rhinestones
There are many ways to apply gel nail extensions.
You can do them yourself at home, or you can go to a salon and have someone else do it for you.
Here are four tips for applying gel extensions at home:
Start by cleaning and conditioning your nails. (You want those puppies to stick!)
Apply a thin layer of the gel to your nails using a brush
Wait five minutes for the gel to start setting
File those nails
Gel nail extensions usually last anywhere from two to four weeks, depending on how often you're removing them.
However, there are several potential downsides of gel nail extensions, including:
Can be difficult to remove
May not last as long as regular nails
May require more frequent replacement
Can be more expensive than regular nails
Which Is Safer, Gel Nails Or Acrylic?
One key factor to consider includes fake nails that don't damage your real nails!
Acrylic nails are generally seen as being less risky than gel nails since acrylic nails are made of a hard, brittle material that can break easily.
Acrylic nails can also chip and peel, which can lead to further nail damage.
Gel nails, on the other hand, use a soft gel material that is heat-resistant.
This means that your gel nails will not chip or peel and they will last longer than acrylic nails.
Acrylic nails also don't require an adhesive, making them less likely to cause skin irritation or allergic reactions.
However, acrylic nails can also be more difficult to remove than gel nails, and they may require a higher-quality remover.
Ultimately, it's important to choose a nail polish that will work best for your personal style and needs.
In conclusion, there are many alternatives to acrylic nails available.
While they may not be as long-lasting as acrylic nails, they are a more natural option that is still chic and stylish.
So, if you are interested in trying something new, or you are looking for an alternative to acrylic nails, consider one of the following options: nail stickers (wraps), gel nail polish, dip powder, or gel nail extensions.
You May Also Like: