This post may contain affiliate links, which means I may receive a small commission, at no cost to you, if you make a purchase.
Looking for the best eyelash curlers for Asian eyes? Then you've come to the right place. In this article, I listed my top 7 picks to help you choose the best Asian eyelash curler for you.
So if you're ready, let's get on it.
Choosing the Best Eyelash Curler For Asian Eyes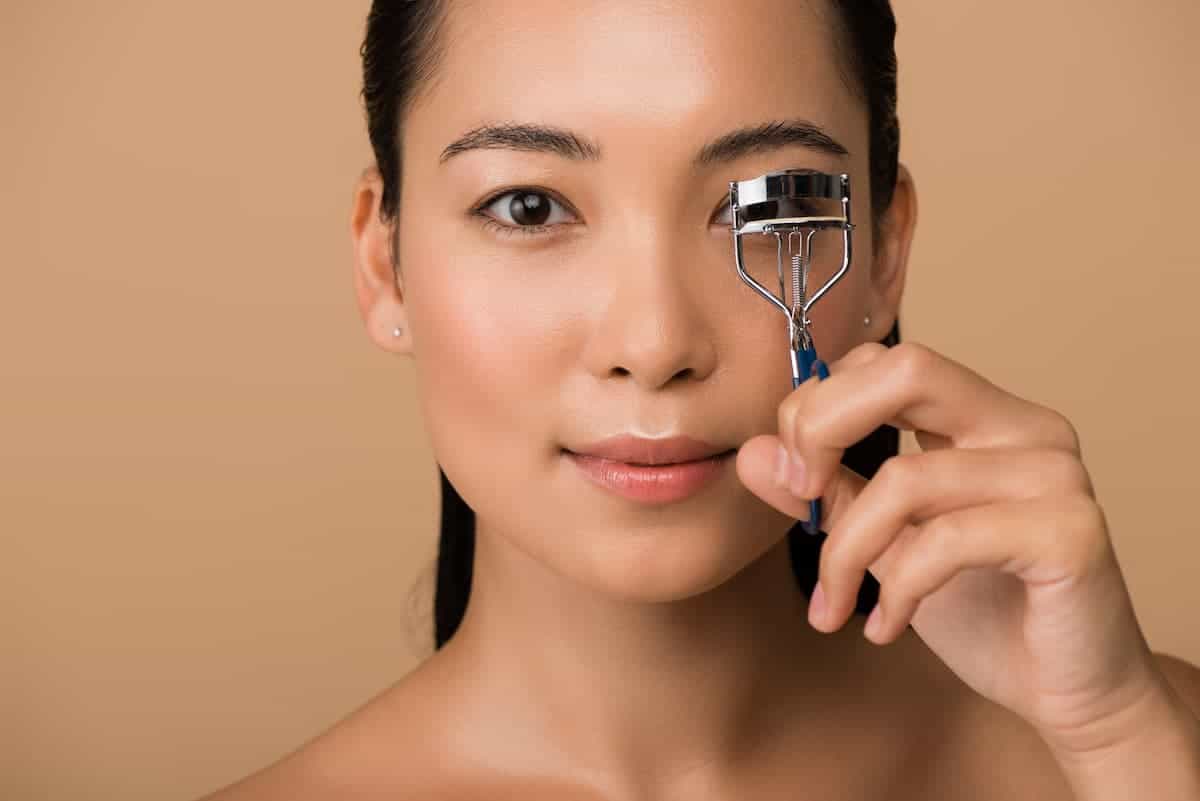 As they say, our eyes are the windows to our souls. So what does that make of our eyelashes?
I'd like to believe our eyelashes are the curtains to the windows of our soul. LOL, I'm not sure if I got the analogy correct on that one. But I hope you get my drift.
If you ask me, I like having long curved eyelashes. They look pretty and add to the overall aesthetic that I'm getting at. They also frame the eyes and provide an air of romanticism and mystery.
Don't you want that for your lashes? I know I would.
So what better way to achieve that is to use a tried and tested beauty tool? The eyelash curler.
Not All Eyelash Curlers Are Created Equal
Yes, you read that correctly.
Some eyelash curlers work best under certain conditions.
And as if curling eyelashes isn't difficult enough by itself, our Asian sisters also face another obstacle.
They have monolid eyes.
This adds to another set of challenges. As cumbersome as the task may be, it's even more testing to one's cosmetic abilities.
What makes monolid Asian eyes different, you might ask.
They usually have straighter upper eyelids that feature a low crease.
And as much as its alluring shape is so captivating, the lashes are difficult to curl. Their lashes are stubbornly straight. And they also tend to point downward.
So that being said, using a regular eyelash curler may not do the trick of prettifying them.
You Need An Asian Eyelash Curler
If you've run into this challenge, you'll be happy to know you're not alone.
Did you know there are a lot of eyelash curlers that are designed with Asian eyes in mind?
So if you have the Asian eye shape, fret not. The market is full of beauty technology that can prettify and make your lashes hold a curl for hours.
Buyer's Guide for Getting an Asian Eyelash Curler
Before going into my top picks, let's look into what you should look for when buying an Asian eyelash curler.
There are two things that you need to consider if you have Asian eyes: curvature and cushion.
That's because Asian eyes typically are almond-shaped and don't have a crease. So it can be painful when you use regular eyelash curlers on them. Imagine accidentally clipping a lid as you try to curl it. Ouch!
Another thing, Asian eyes have characteristically straight eyelashes that point downward. So this is challenging to curl. It may require a stronger curling force to get the desired aesthetic.
Curvature
Curlers with less curvature work better on Asian eyes.
As rounder eyes need rounded curlers, Asian eyes, on the other hand, need a flatter curler. That's because a flatter curler can better accommodate straighter eyelids.
For Asian eyes, you want an eyelash curler that fits just right along the eyelash line. A rounded curler may miss half of your eyelashes. Or worse, pinch your eyelid.
Cushion
Asian eyelashes tend to be straight and thick. So to get the curls done, you need more cushioning so the lashes hold their shape all day long.
To do this, you need curlers that have thicker pads. The thicker the better because it allows you to apply more pressure on the lashes without damaging them.
Additional Factor to Consider: Heat
Does the cushion conduct heat well?
You need to warm it up before using it on your lashes. Because doing so will result in a longer and more dramatic hold.
Some curlers have a built-in heater. If none, you can use a blow dryer to heat it up.
The Best Eyelash Curler for Asian Eyes
Wondering what is the best Asian eyelash curler for you?
First, it has to be durable. And it also needs to be easy to use.
With regular eyelash curlers, you may find it difficult to groom your eyelashes. But not when you use an Asian eyelash curler. That's because it is designed with your Asian eye shape in mind. You'll curl your lashes effortlessly and without issue.
In this article, I gathered my top 7 picks to help you choose which one will work best for you.
So if you want to achieve dramatically flirty eyelashes all day long, check out this selection.
1. Shiseido Makeup Eyelash Curler
Based out of Japan, this is one of its best brands when it comes to Asian eyelash curlers. And it's not just eyelash curlers, it's also a very popular brand for other beauty products.
Check out Shiseido Makeup Eyelash Curler.
With its shallow curvature, Shiseido Makeup Eyelash Curler perfectly captures the eyelashes on your almond-shaped eyes.
This wonderful eyelash curler also packs a punch. It has soft cushioning that works well, even on stubbornly straight lashes.
Shiseido Makeup Eyelash Curler also does a great job on hooded eyes, owing to its degree of curvature.
If you want to achieve gorgeous lashes, you'll love Shiseido Makeup Eyelash Curler. It's comfortable and easy to use as you create long-lasting, beautiful curls.
Get a high-quality smooth finish that stays all day with Shiseido Makeup Eyelash Curler.
2. Revlon Extra Curl Lash Curler
Here's another popular brand that's on top of the beauty industry.
Create gorgeous lashes with Revlon Extra Curl Lash Curler.
With this product, you can achieve the perfect shape and dramatic effect that you want for your lashes.
Revlon really outdid itself with this one. The brand is pretty successful in creating a tool that captures the ideal eyelash for Asian eyes.
Here's what you can expect from this product.
Revlon Extra Curl Lash Curler features a unique curvature. Compared to the other eyelash curlers on this list, this one has a little more dramatic curvature. But it does the job without pinching on any part of your skin or skipping some lashes.
You may also notice Revlon Extra Curl Lash Curler is smaller compared to the other curlers on this list. But that's a good thing. You see, it can fit most eye shapes. Well, for some eyes, you probably need to use it twice on the same eye.
The compact size also allows you more freedom and control. So this lets you curl the eyelashes regardless of the eye size or shape.
And it has a soft cushion feature, so you can press it down further when needed. Even the stubborn lashes will curl with enough force pressed down on them. How's that for beautiful curls that will last from morning to night?
Try Revlon Extra Curl Lash Curler.
3. Shu Uemura Eyelash Curler
Check out this cool eyelash curler that received a massive following among Asian consumers.
Introducing Shu Uemura Eyelash Curler.
Because it works well on Asian eyes, it has become a cult favorite for many with almond-shaped eyes.
Don't believe the hype? Well, guess what, it's a top favorite among celebrity makeup artists. And this beauty contraption won countless awards.
Let's take a closer look at Shu Uemura Eyelash Curler.
First, you'll notice its gentle curve. This is perfect for creating natural-looking eyelashes on deep-set and hooded eyes.
Second, the hinge at its center helps regulate the amount of pressure to apply. So you get just the right amount of curl that will last you all day long.
Most of the reviews that this product got are overwhelmingly positive. It seems that the common feedback is that this curler doesn't crimp the lashes. Plus, the beautiful curls last long.
On the other hand, a common observation by many is that this product looks like an old metal curler. But don't let its appearance fool you. Trust me, this simple-looking tool is the real deal.
Check out Shu Uemura Eyelash Curler.
4. Brilliant Beauty Eyelash Curler
This one looks super gorgeous. With its multi-toned chrome coloring, it looks so pretty.
Discover the uniquely beautiful Brilliant Beauty Eyelash Curler.
The first thing I noticed about Brilliant Beauty Eyelash Curler is its distinct yet appealing aesthetics. But the pros don't stop there.
Brilliant Beauty Eyelash Curler features a 48-degree curve. It's not completely flat, but it's also not round like the regular curlers. However, it does a pretty good job on Asian eyes.
In addition, it has an elongated cushion, which is perfect for almond-shaped eyes. Why? Because it gets all the lashes in one go. From one corner to the other. So it's easy to use.
Brilliant Beauty Eyelash Curler also comes with two extra silicone pads and a nice pouch. With the spare pads, you don't have to worry about running out of silicone. And it's not like the material wears out fast. They are quite thick. So it's great for creating extra dramatic curls.
And if ever you run out of silicone pads, you can get more from the seller. Isn't that great? You'll be using the same set of silicone pads for as long as you like.
Don't want to take my word for it? Well, check out the thousands of people who rated it five stars.
5. Japonesque Travel Go Curl Lash Curler
Also highly popular among Asian beauties is this great brand. And because it's made in Japan, it's designed for monolid and deep-set eyes.
Check out Japonesque Travel Go Curl Lash Curler.
What I love about its design is that it's perfect if I'm on the go. You also get extra cushion pads in its compact handle too. That way, you'll have something to use when the current one wears out. Or if you lose the latter.
I just love these thoughtfully added features in its design. There's its shape, which allows you to easily grip it. Perfect when you want to achieve dramatic lashes without fear of accidentally poking or pinching yourself.
6. Pigmoon Heated Eyelash Curler
Want to make your lashes look glamorous all day?
Check out Pigmoon Heated Eyelash Curler.
What makes this product awesome is its heated curler. It can help you create incredibly beautiful lashes all day long.
Pigmoon Heated Eyelash Curler heats up in about a minute. Once it's good to go, you can easily create curled lashes.
Worried that it might be too hot? Not a problem. Pigmoon Heated Eyelash Curler has a feature that automatically regulates the heat. There's never a point where it gets too hot that you'll burn your lashes or eyelids.
Truth be told, I love the gentle warmth that it gives off. It's relaxing and nice.
You'll also notice that Pigmoon Heated Eyelash Curler has a shallow curve. Perfect for curling lashes on almond-shaped eyes.
And check out its hinge. This feature allows you to get uniform pressure on your lashes. Gorgeous curls every use.
Pigmoon Heated Eyelash Curler uses AAA batteries. It's an ideal beauty tool because you can bring it anywhere. And you don't have to worry about bringing a charger every time.
So if you have stubbornly straight lashes, this sleek curler will get the job done. Give Pigmoon Heated Eyelash Curler a try.
7. Kaasage Eyelash Curler
Here's the last one on this list.
If you love a durable beauty tool, you'll surely love this.
Introducing Kaasage Eyelash Curler.
This sturdy lash curler includes five more soft cushions and tweezers. And they are all in its storage pouch. Isn't that a great bargain?
But here's the best part. Check out its features.
The curvature of the Kaasage Eyelash Curler is flatter than most curlers on the market today. By about 25 degrees. So that's why it fits snugly on most eye shades, including almond-shaped ones.
With its wonderful curvature, there's little risk of tugging on the skin. Or pinching the eyelids.
As for its handle, it allows a steady hold. Great for precision. And the silicone cushions, are thick and pretty good at curling lashes, which can last all day. Plus, the silicone material doesn't stick to the lashes, so there's no breakage or pulling.
I'd have to agree with most of the reviews I read about Kaasage Eyelash Curler. Not only is this beauty tool durable, but it's also comfortable. And definitely one of the most affordable out there.
So if you want the most bang for your buck, this is the Asian eyelash curler for you. Check out Kaasage Eyelash Curler.
What is your favorite Asian eyelash curler?
What do you think is the best eyelash curler for Asian eyes? Share it with us below!
You May Also Like: