This post may contain affiliate links, which means I may receive a small commission, at no cost to you, if you make a purchase.
Eyelash curlers are amazing tools used to create dramatic, lifted, and long-lasting curls in lashes. But do they work as well on Asian eyes as they do on other eye shapes?
If you are an Asian-eyed beauty who finds hunting for the best Asian lash curler a bit of a challenge, we're here to end your misery!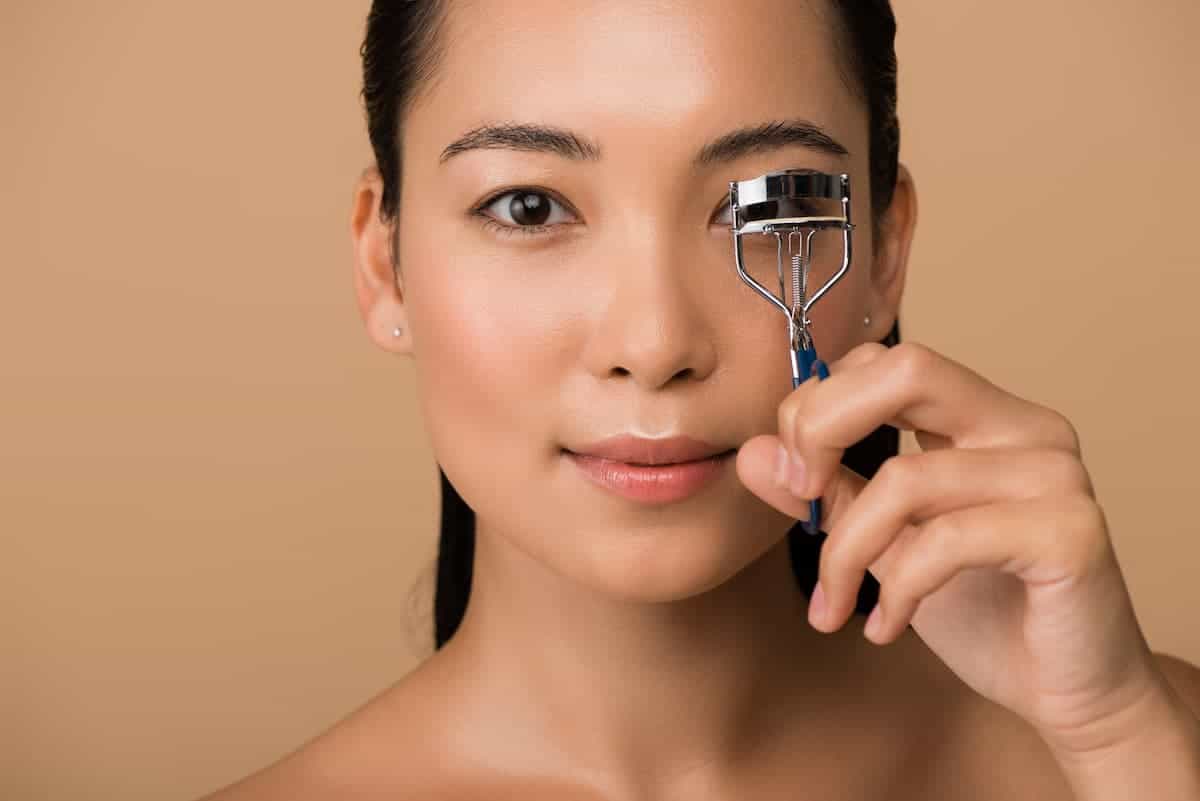 We've rounded up the best eyelash curlers for Asian eyes on the market! Plus, we'll discuss what makes curling Asian eyelashes challenging and which features to look for when buying Asian eyelash curlers online.
Excited to find your hero eyelash curler? We're as excited as you are!
Broad curve that suits all eye shapes
Grabs all lashes
Prevents lid pinching
Anti-scalding comb teeth design
Suitable for all lash types
Rechargeable
Curls inner and outer lashes easily
Has a non-slip grip
Crimp- and pinch-free
Best Eyelash Curlers for Asian Eyes
Ready to have the most amazing lash lift and curl? Check out our hottest picks for the best lash curlers for Asian eyes on the market!
1
Shiseido's eyelash curler is a best-seller because it crimps and curls lashes to perfection!
Key Benefits: Grabs all lashes; curls lashes fast; prevents lid pinching
Features:
Broad curve that suits all eye shapes
Edge-free design
Flat clamp
Been searching for the best eyelash curlers for Asians? You should totally get your hands on this product now!
Shiseido is among the top-rated beauty brands, and their eyelash curler suits every eye shape and grabs every single lash.
Not only does it curl lashes quickly, but its broad curvature also prevents pinching of the lids, making it one of the gentlest and safest lash curlers out there.
This tool also features a flexible silicone pad that provides the right amount of pressure to create long-lasting curls for thin and straight lashes.
2
Looking for a lash curler for Asian eyes that can curl both your upper and bottom lashes? Check this one out!
Key Benefits: Easy maneuverability; captures every lash without pinching; long-lasting curl
Features:
Made of stainless steel
Unique curvature that's ideal for all eye shapes
Comes with an extra red silicone pad
Its slim body allows for easy, comfortable use. Don't sleep on this product!
Turn your dreams of having perfectly curled lashes into a reality with this professional-quality eyelash curler by Kevyn Aucoin!
This award-winning and easy-to-use lash curler is designed to curl your upper and bottom lashes without a miss, creating the perfect eye-opening look.
Also, its signature red silicone pad stands out in contrast to your ebony-colored lashes, which allows for ultimate precision. Love it!
3
This famous eyelash curler is a top-rated product that gives the coveted lift and curl for monolid beauts!
Key Benefits: Efficient curling of lashes; easy to use and clean; lashes stay curled nicely all day
Features:
Made of alloy steel
Silicone rubber pad that releases the right amount of pressure
Curvature that suits all eye shapes
Check out one of the best eyelash curlers for Asian eyes and fall in love with your gorgeously curled lashes.
This iconic eyelash curler from Shu Uemura prides itself as a versatile premium tool that can curl lashes from all types of eye shapes, especially Asian monolid eyes.
It features a silicone rubber pad that releases just the right amount of pressure to help lift and curl lashes nicely without damaging them. Even frequent squeezes won't pinch or hurt your lids!
Many have also attested to the product's durability when properly cared for. Definitely a great buy!
4
Tried several brands that still couldn't help you get beautifully fanned lashes? Check out this premium eyelash curler from Surratt!
Key Benefits: Creates beautifully fanned lashes; doesn't pinch skin; prevents breakage
Features:
Made of metal
Ergonomic design
Flat curvature
A great lash curler that's designed to put less pressure on your eyelids while ensuring smooth lash curling.
Why is this product one of our best eyelash curlers for monolid eyes? It ensures little to no chance of lash damage due to its ergonomic design.
The lash curler's flat curvature makes it super ideal for Asian eyes, so you'll never have to worry about awful pinches to your lids.
Although Surratt's curler is a little heavy on the wallet, its benefits far outweigh the cost!
5
This product is a great choice for Asian beauties who are always on the go!
Key Benefits: Travel-friendly; great on monolid and deep-set eyes; prevents clipping of lids
Features:
Gentle lash pad
Compact design
Comes with an extra pad
Expect deep sweeping lashes with this travel-friendly Asian eyes eyelash curler!
Thanks to Japonesque's Travel Eyelash curler, you can easily switch up your look by getting curled lashes, even when you're on the subway or on a plane!
It features a compact, open-cage design that creates soft, sweeping lashes without pinching your outer lashes.
Also, it comes with an extra pad that's conveniently tucked inside the curler, so you can easily change up the pads when necessary.
6
Want to steer clear of ordinary lash curlers that can't do the job perfectly? Try this special partial eyelash curler from Prima Shogyo!
Key Benefits: Durable; curls inner and outer lashes easily; portable
Features:
Special partial lash curler
Made of stainless steel
Comes with six silicone rubber pads
Its ergonomic style allows you to curl inner and outer lashes effortlessly!
Made of high-quality Japanese stainless steel, this partial lash curler is primarily designed to effortlessly curl inner and outer lashes that are hard to reach when using ordinary curlers.
Since this precise curler has a very narrow width, it prevents lid pulling and pinching when used on monolid eyes.
This product also comes with six silicone rubber pads for refilling. When replacing pads, all you need to do is remove the rubber pad and add the new one.
7
A lash curl that lasts for 24 hours? Check out this heated eyelash curler from Ayasal!
Key Benefits: Suitable for all lash types; long-lasting curls; safe to use
Features:
Anti-scalding comb teeth design
Rechargeable
Has four temperature ranges from 55°C to 85°C
Are you afraid of burning your eyelids with a heated lash curler? Set your fears aside because this product features an anti-scalding comb teeth design.
Want to get that 24-hour lash curl? Heated eyelash curlers are Korean must-haves that you shouldn't miss out on!
One of the best heated eyelash curlers on the market right now is from Ayasal, which features an anti-scalding comb teeth design made of nickel-chromium alloy.
This tool has four level temperature modes that cater to different lash types.
This heated lash curler is rechargeable, and its slim and compact design makes it super travel-friendly. Totally the lash curler you need for your next trip!
8
Another good eyelash curler for Asian eyes that's hot on the market right now is this product from Kaasage.
Key Benefits: Curls lashes quickly; gives long-lasting curl; shapes lashes with minimal pressure
Features:
Flat curvature
Comes with five replacement silicone pads
Ergonomic design
Get that beautiful lash curl in just five seconds with this amazing eyelash curler!
This great eyelash curler features a perfect curve and width that fits most eye shapes. The best part? Its ergonomic design keeps painful pinches at bay!
It also has a soft silicone pad that creates a long-lasting curl in seconds, and it never damages lashes despite frequent use.
Get that perfect lash curl you deserve with the help of Kasaage now!
9
Revlon's eyelash curler features the perfect size and shape that fits most kinds of eye shapes!
Key Benefits: Curls lashes quickly; crimp and pinch-free; fits most eye shapes
Features:
Has a non-slip grip
Comes with one replacement pad
Edgeless design
Expect a secure and comfortable use from this excellent eyelash curler. Try this out now!
Revlon's eyelash curler is not too wide and not too narrow, making it one of the perfect choices for curling lashes on all eye shapes.
Unlike other lash curlers, it comes with a silicone strip that's very sturdy and doesn't wobble out of place.
Designed by makeup professionals, this eyelash curler is great at making dramatic curls instantly and effortlessly.
Best of all? It doesn't tug bare or mascara-coated lashes while curling!
10
Check out this professional eyelash curler that can grab all of your lashes all at once without hurting your lids!
Key Benefits: Curls lashes from the roots up; easy to use; pinch-free
Features:
Flat curvature
Comes with two rubber replacements
Has longer body and handle
If you have extremely small Asian eyes, this product is perfect for you!
This is the ultimate eyelash curler for Asian beauties with small eyes who need a product that can grab and curl their lashes from the roots up.
It features a flat-edge metal head that grabs each lash hair without pinching the eyelids.
This eyelash curler from Japan also has a frame design that follows the measurements of a typical Japanese female eyelid, making it one of the most ideal eyelash curlers for Asian eyes.
11
Looking for a reputable Japanese brand that can give beautifully curled lashes that last all day long? Try this eyelash curler from Muji!
Key Benefits: Works great on short and straight lashes; pinch-free; doesn't damage lashes
Features:
Has a very flat curvature
Comes with an extra silicone pad
Made of steel
The MUJI eyelash curler has one of the flattest curvatures on the market.
Had enough of the annoying lid pinches from your old lash curler? We suggest you check out this Japan-made product from the Muji brand!
What makes this so great is its very flat curvature that works great on Asian eyes with short and straight lashes.
Although this one has a not-so-soft and bouncy cushion, it still gets the job done pretty well!
What Makes Curling Asian Eyelashes Tricky?
Monolid eyes are commonly found in people of East Asian descent.
They're characterized by a less apparent crease. In fact, the scientific name for monolid eyes is epicanthic folds, which refers to the skin fold of the upper eyelid covering the eye's inner corner.
Asian beauties often find curling their eyelashes tricky because the monolid forces the lashes to point straight down. Also, the lid covers the base of the lashes, making them appear shorter than they actually are.
Features To Look Out for When Buying Eyelash Curlers for Asians
Sadly, many Asian women with monolid eyes are now avoiding eyelash curlers because of the traumatizing pinch they get from the wrong ones!
We don't want you to suffer the same fate. So we've come up with a quick guide on how to pick the right type of Asian eyelash curler.
Flat Curvature
The eye's curvature plays a vital role in the number of lashes the lash curler will be able to grab.
As such, it's wiser for you to own an eyelash curler that suits your specific eye shape. Flatter curlers work better with straighter eyelids or monolid eyes.
Quick Tip
Avoid rounded lash curlers at all costs. They're the most common culprits of pinching monolid eyes because they curl over the inner and outer corners of monolid eyes. 
Thicker Cushion
Most Asians have eyelashes that are straight. So they need eyelash curlers with thicker cushioning than standard products to apply more pressure without injuring their lashes.
Having a thicker-cushioned eyelash curler ensures a stronger hold, resulting in a more dramatic lift and curl that last all day.
Heated
If you have already tried all sorts and types of eyelash curlers but can't get long-lasting results, a heated eyelash curler may be your best bet.
Just like curling irons for your hair, heated eyelash curlers are basically curling irons for your eyelashes.
Note
Keep in mind that this type of curler is a big purchase because of the technology used and the added safety features that come with it, such as the temperature setting that allows for heat adjustments.
But it's a small price to pay for its great benefits, don't you think?
Frequently Asked Questions
How Do You Keep Asian Eyelashes Curled?
When it comes to keeping Asian eyelashes curled, there are several techniques one can use.
Use an eyelash curler with a flat curvature. Aside from being a good fit for your Asian eyes, this will also grab all your lashes and give them a nice lift and curl. 
Apply a thick layer of mascara on the top and/or bottom lashes.
You can also use heated eyelash curlers or strip lash curlers to add an extra curl. 
What Is the Difference Between Asian Eyelash Curlers and Regular Ones?
The difference between an Asian eyelash curler and a regular one lies in the shape of the curler. An Asian eyelash curler is designed with a flatter curvature, while a regular one has a slightly curved shape. 
Also, the stronger coil of an Asian eyelash curler works to improve curl retention with minimal effort and provides incredible results that last all day long. 
These differences can help create longer-lasting curl effects. 
No Lid Crease? No Problem!
We understand that curling your lashes may be quite a struggle because of your short lashes and no-crease eyelids. But honestly? The problem is not you. It's the eyelash curler.
Not all eyelash curlers are created the same. Monolid eyes require a different kind of curl than regular eyes, so it's important to find an eyelash curler specific to your eye shape.
We hope you were able to find your hero lash curler with our favorite lash curlers! Get that dream curl you deserve, girl!
Want More Different Lash Products?
Check out these articles: