Happy Holidays! To celebrate the year that was, we're bringing you trios of the best and most popular posts of 2013. We know our readers love our reviews of the latest products on the shelves, but they love a good beauty tutorial even more. Let's take a look back at our most shared beauty tutorials of 2013! ~ wht
Zooey Deschanel Makeup Tutorial by Elle Leary
We were honored to have celebrity makeup artist Elle Leary drop by wht this year with a few of her fun and informative videos. In this video, the lovely Elle shows us how to get that Zooey Deschanel wide-eyed flirty look in just minutes.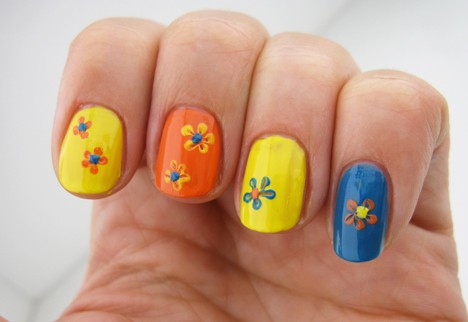 Nail Art Tutorials for Beginners – and Pros too!
Everyone loves nail art, but some of us lack the skills to create our own. Luckily, Stef came to the rescue with two fab designs (a simple floral trick and a free hand graphic look) that can be done by beginners and pros alike.

False Lashes 101: 13 Tips and Tricks
If you have a New Year's Eve party to attend, or just want to add some extra oomph to your look, false lashes are a must. For those that need a little guidance, Marilyn helps you get those lashes straight with her 13 Tips and Tricks.
we heartsters – What beauty tricks did you learn this year?
Tyna is a former editor and co-founder of we heart this that worries about becoming a crazy cat lady, reads at least a book a week, checks in at a Flyers fan forum every morning and is forever organizing her closets and drawers.
skin tone: NW 20/25
skin type: combination
favorite beauty product: eye shadows and lip balms