This post may contain affiliate links, which means I may receive a small commission, at no cost to you, if you make a purchase.
Have you been looking for your next chic and sophisticated manicure?
We've got just the thing! Gorgeous black almond nails!
Almond nails are a trendy mani favorite because they are elegant and make your fingers look long, sleek, and sexy. Add black to that, and you've got nails that are timeless, elegant, and look fabulous in so many ways.
But diving into the world of nail designs can be daunting, even when you have a shape and color in mind. There are so many designs, shades, and choices, which can get overwhelming.
Well, fear not! We've researched for you, filtered through the vast ocean of options, and handpicked some incredible designs you'll definitely want to see.
So if you're ready to discover the best black almond nail designs, dive into our top picks!
50 Black Almond Nail Designs To Wear Right Now!
Look at these gorgeous black almond nails that you can try to show off your unique sense of style.
1. Pink and White Bow
Looking for colors that pair well with black? White and soft pink are a perfect choice!
Create pink and black almond nail designs by combining paint smudges with pink dots, crocodile patterns, a heart nail art, and a pink gift bow topped with a centric rhinestone for a sleek yet feminine look.
2. Glittery Celestial Nails
These gorgeous black almond nails feature purple, blue, turquoise, and green glitter adorned with a golden moon and stars reminiscent of a magnificent galaxy sky.
3. Sexy Matte Black Stars
Get sexy style with these long black almond nails in a matte finish combined with accent nails featuring thin, black snowflakes with rhinestone centers and a matte nude nail with a thin black V-tip.
4. Subtle Glitter
These shiny and short black almond nails are your best bet for subtle shimmer.
Paint your nails with black nail polish and top it with chunky gold glitter for a simple yet chic look.
5. Purple and Orange Glitter
Capture mesmerizing twilight hues on your nails with a dramatic black base layered with sparkling flecks of orange, pink, and purple glitter.
This design evokes the ethereal fiery skyscape, making your nails a canvas for nature's masterpiece.
6. Black and Glittery White
Make a statement with white and black almond nails featuring accent nails decorated with varying purple, gold, and silver glitter and stars on a milky-white base.
7. Thick Black French Tip Almond Nails
For those who prefer a subtle approach to stark black nail polish, consider this sophisticated design and try bold black French tips on a refined nude base.
It offers a contemporary twist to the classic French manicure, providing just a hint of edginess.
8. Silver Glitter on Black Almond Nails
Combining black almond nails with silver glitter is a gorgeous recipe for glamor.
Combine full black glossy nails with accent nails in silver glitter and split nails with black on top and nude on the bottom with silver glitter splashed across the middle.
9. Rhinestone Polka
Turn your manicure into a posh nail design.
These striking glossy black almond nails feature rhinestones meticulously placed in a polka dot pattern that adds sophistication and sparkle to your look.
10. Metallic Silver Mani
Add flair to your mani design with black and silver almond nails.
Whether you highlight one nail or adorn the tips of your black nails with a shimmering silver hue, the combination of colors is effortlessly stylish.
11. Purple Geode Nails
Try this trendy mani if you're looking for a cool almond nail design. Embrace the enchanting allure of chic nature with geode-inspired nails.
Boasting a vivid center that emulates real life crystal formations, these nails shine brilliantly against a harmonizing black base.
12. Glossy Black, Matte Black, and Leopard Prints
Spice up your matte black nails with leopard print, alternating them by painting them on the tips or the bases of different nails.
Add even more oomph to the look with an accent nail in brown glitter, then paint the rest of the nails in glossy black polish to complete this chic mani.
13. Snake Skin
Looking for a one-of-a-kind black nail design? Dive into textures inspired by the animal kingdom, like these intriguing snakeskin nails.
They are guaranteed to be a conversation starter and make your mani the center of attention.
14. Batty and Beautiful
Get goth and gorgeous with glossy black nails, accent nails with a red-black gradient, and clear nails decorated with red glitter and white tips.
Final touch? Fun bat nail art! Beautiful for Halloween and all year round!
15. Orange Smoke Accents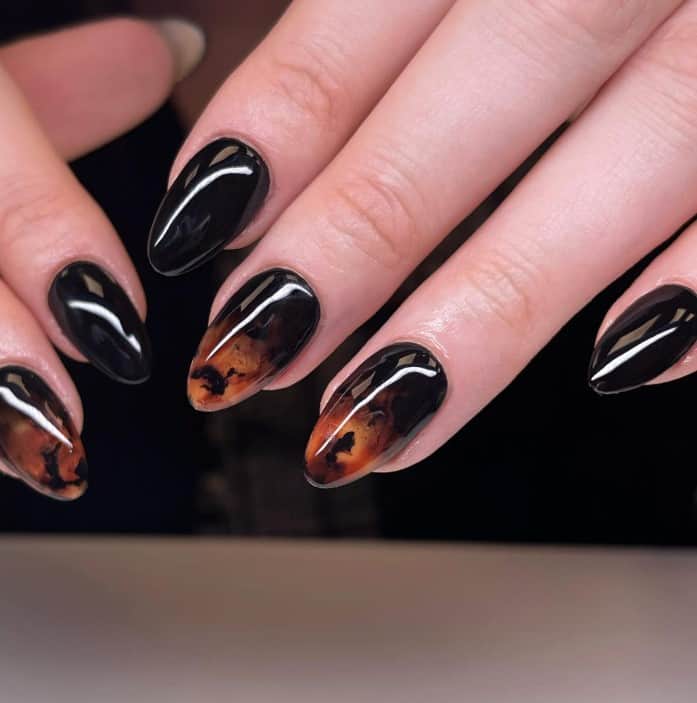 Elevate the elegance of glossy black almond nails by adding orange smoke accents near the tips.
This subtle touch of color adds a mysterious allure to an already chic design.
16. Silky Pink Nails With Gold Flecks
These long almond nails showcase matte black polish topped with abstract white smears and shimmering gold flecks.
To add more oomph, accent nails are painted in a delicate silky pink hue, giving you a feminine yet bold style.
17. Glam and Floral
Unleash a fusion of styles with these gorgeous black almond nails that perfectly blend gorgeous color and texture.
It features nails dusted in black glitter, French tips with a 3D floral embellishment, a two-toned design of glitter and glossy black tips, and shiny black nails decorated with golden rhinestones.
18. Tattoo Nails
Transform your nails into an art masterpiece by featuring delicate flowers, fluttering butterflies, elegant lilies, dreamy clouds, and graceful deer nail art against a soft nude backdrop.
Intricate detailing will undeniably make your hands the center of attention.
19. Doodle Foliage
Give short black almond nails a pretty and striking contrast by adding accent nails in a muted nude base with whimsical and delicate black foliage doodles.
20. Foliage Borders
Celebrate gorgeous black minimalism with matte black nails paired with delicate white foliage borders on each nail, striking a perfect balance between bold and subtle, creating an effortlessly chic look.
21. Glittery Green and Black Cat's Eye
Elevate your mani with a gorgeous cat eye effect in beautiful green glitter. The glimmering sheen offers a perfect blend of depth and dazzle.
22. Pink and White Lines and Floral Art
Enjoy contemporary flair infused with a hint of floral elegance by painting glossy black nails with vertical stripes in shades of pink and white.
Embellish each nail with delicate foliage or floral motifs for a chic finish.
23. Black and White Galaxies and Plants
Create a textured galaxy design using a monochromatic black and white palette.
Enhance this dreamy look with celestial and floral nail art, like the moon, stars, and delicate leaves. It's a heavenly garden right at your fingertips.
24. Celestial Pink
Decorate your black nails with pink, purple, and blue flecks, glitter, and colorful sparkles.
Add more to your accent nails with star and moon sequins for a whimsical galaxy-inspired design. This cute black almond nail design will surely make you shine with cosmic charm.
25. Overlapping Hearts
Want to rock a modern Valentine's Day look?
Spread the love by taking orange, red, and pink nail polish and using them to paint overlapping heart outlines on your black nails!
26. Golden Sunflower and Reverse French Tips
Use glittery gold polish to create shiny reverse French tips on your black nails, and then add some sunshine with a sunflower art accent with an intricate center painted in metallic gold for a dainty and elegant mani.
27. Neon and Smokey Black Nails
Decorate clear nails with a smokey black design and use neon colors of green, blue, pink, and yellow for reverse French tips.
Add a touch of punk to this mani by adding accent nails with bold vertical neon streaks, and finish the look with a dynamic black and white snake design.
The blend of neon vibrancy and edgy artistry ensures your nails make a statement.
28. Daisy Pattern
Go for a simple pattern by painting black almond nails with daisies with gold centers and white petals.
Top it with glossy nail polish to achieve an elegant and feminine manicure.
29. Thin Swirls
Elevate the classic black nails with a design that showcases just two colors.
Gold and red-orange swirls dance across the black almond canvas, providing an eye-catching contrast and turning the manicure into wearable art.
30. Outlined Black Nails
You can never go wrong with combining black and silver.
Enhance your almond, black nails by outlining each gorgeous black aura nail thinly in silver glitter.
31. Gold Glitter and Black Nails
Boost the look of matte black nails by adding accent nails shimmering in golden glitter and a luxe blend of black and gold glitter ombré.
This combination adds depth and a stylish touch to the overall design.
32. Moon Art on Matte Black
Elevate your matte black nails by crafting a delicately and intricately detailed crescent moon design on your gel black nails near the cuticles for a touch of celestial charm.
33. Gothic Heart and Roses
Use negative space of your bare nails as a canvas for standout accent designs like in this nail design.
Sketch a heart's silhouette and embellish it with intricate rose details for a touch of gothic glamour.
34. Silver Glitter
When in doubt, sprinkle some silver glitter to turn simple black almond nails into a mani that exudes understated glamor.
35. Black Ombré Almond Nails and Lines
Experiment with varying intensities by blending ombré black seamlessly with your natural nail hue. Add geometric patterns like crisp crisscrossing lines and dots to make a statement.
The result? A manicure that mirrors contemporary art that's guaranteed to grab attention.
36. Glossy Black Nails With Sugar Accent
Break the sleek finish of hi-gloss black almond nails with a textured sugared accent nail.
This added dimension gives a new look to the timeless design, offering a modern twist to the classic aesthetic.
37. Modern Art
The timeless duo of red and black never disappoints.
By adding nude-colored nail accents decorated with a slender black line adjacent to a shorter red line, you'll achieve a modern art look that's stylish and classy.
38. Subtle Sparkles
Any black mani exudes elegance even without intricate designs.
Opt for a refined appearance by adorning your acrylic black almond nails with chunky glitter, delivering a touch of subtle glamor right at your fingertips.
39. Black and Gold Almond Nails
Create a unique, bold, and feminine manicure by combining hues. Incorporate a seamless ombré transition of black fading into glittery gold on one nail and a blend of mauve into black glitter on another.
For an extra dash of opulence, overlay a shimmering gold vertical line. This combination offers a luxurious fusion of feminine elegance and style.
40. Black Tips and Black Accents
You can always go for the timeless French manicure or spice it up by adding beautifully designed accent nails. The first is painted in two shades of matte black, embellished with a centric rhinestone.
The second adds texture to the look, with a grainy 'S' pattern on a black base topped with glossy nail polish. This design marries the timeless with the contemporary, offering a chic aesthetic.
41. Orange Flecks
Elevate your black nails with metallic orange sponge flecks.
This striking contrast draws the eye and infuses a unique blend of edginess and glam. Perfect for those looking to make a statement!
42. Vintage Border
Sometimes, adding a simple design can transform your look.
Give matte black nails a touch of elegance by painting a white vintage border design on the sides of your accent nail. This will give your mani a classy retro look.
43. Planets and Stars
Dive into the mysteries of the cosmos with gorgeous glossy black almond nails adorned with delicate accents of planets and stars.
While the design is simple, its intricate details transport you straight into the heart of the galaxy, making every gaze at your nails a celestial journey.
44. Royal Blue and Black Nails
The regal shade of royal blue isn't named in vain. Highlight your black velvet nails with shimmering royal blue flecks and elevate the design with matte accent nails gracefully embellished with rhinestones near the cuticles.
This look exudes nothing but pure royal elegance.
45. Red Velvet Nails
These red and black almond nails strike an irresistibly alluring and visually captivating balance.
Add red flecks to your black velvet nails and highlight one nail in sultry red velvet for a complementary finish.
46. Black and Silver Gradient
Upgrade your black nails with silver and blue glitter. Apply a black base to your nails and sprinkle subtle blue glitter sealed with a glossy top coat on two nails. For texture, paint a silver glitter ombré on accent nails.
47. All Sparkle and Glam
Add glam to your matte black almond-shaped nails with silver foil on accent nails and rhinestone embellishments on other nails to bring shimmer and sparkle everywhere you go.
48. Liquid Metal Nails
Elevate your glossy black nails by incorporating holographic silver splatters that look like liquid metal accents.
This blend offers a sophisticated flair with a modern yet edgy appeal.
49. Silver Glitter
Boost your black almond nail mani by topping it with a glossy finish and accentuating your nails with a silver glitter accent nail to create a minimalist yet shimmering nail design.
50. 3D Moon Accent
Capture the moonlit night on your nails with a realistic moon nail art design surrounded by stars on a matte black base.
Complement this lunar look and your black almond nails with pearls for added elegance.
FAQs
Why Choose Black for Almond Nails?
Black has long been hailed as a classic in fashion, and it's no different in the realm of nail art. Its timeless appeal transcends seasonal trends, making it a go-to choice for many.
But what really sets black apart is its inherent ability to add an air of sophistication and a hint of drama to any look. When you pair this with the naturally elegant and sleek shape of almond nails, the result is nothing short of striking.
The juxtaposition of the dark shade against the refined contour of the almond shape amplifies the modern, edgy vibe, making black almond nails a stylish statement that can adapt to both casual and formal settings.
Are Black Almond Nails Suitable for Short Nails?
Absolutely! While the almond shape is often associated with medium to long nails because of its elongated form, there's no rule saying short nails can't join the party!
With the correct filing technique, even shorter nails can be shaped to mimic the soft, tapered look of almonds.
The key lies in the shaping and design. The black color on a shorter almond nail can make the nails appear more refined.
How do I Care for my Black Almond Nails to Ensure They Last Longer?
Caring for your black almond nails is crucial to maintain their beauty over time.
Firstly, be mindful of daily tasks. Using your nails as tools can weaken and chip the polish, so always be gentle.
Protective gloves are your best friend for tasks that can be tough on your hands, like washing dishes or cleaning. Not only do they prevent direct contact with chemicals that might strip away the polish, but they also reduce the risk of breakage.
Additionally, a top coat is a lifesaver.
A fresh application every few days can act as a shield, locking in the design, enhancing the shine, and providing an extra layer of protection against daily wear and tear.
Choose Your New Look With These Black Almond Nail Ideas
Black almond nails have emerged as a true frontrunner for timeless nail designs, blending the timeless allure of black with the elegant silhouette of the almond shape.
Whether you love to keep things classic or are all about experimenting, this trend offers something for everyone. The versatility, the sophistication, the sheer drama of it — there's just so much to love!
So, give one of these designs a whirl next time you are at the nail salon. Who knows? It might just be your new favorite look.
Want To Discover More Nail Designs?
Check out these articles: