This post may contain affiliate links, which means I may receive a small commission, at no cost to you, if you make a purchase.
These days, more and more women have been embracing the movement of loving their bodies and celebrating all body types!
Inclusive brands have come up with endless options for flattering plus-size clothing, letting full-figured beauties reach for glam outfits and accessories that show off their luscious curves.
But when it comes to hairstyles, curvy women still tend to get left behind. Even beauty gurus have outdated ideas on the best haircuts for plus-size faces!
If you're confused about which hairstyle suits your face shape and body type, don't panic. We've compiled a list of the 30 most flattering haircuts for plus-size babes to give you inspiration before your next salon appointment.
Dos and Don'ts: Choosing the Best Haircut for Plus-Size Women
Before we explore the best haircut styles for plus-size ladies, let's take a look at some important guidelines to keep in mind:
Dos
Choose top-heavy hairstyles to elongate the face and even out facial fullness.
Go for haircuts that frame your face and draw attention to your best features.
Try layered hairstyles that counter excess weight in your face by adding volume to your hair.
Pick loose curls when possible.
Have fun with different types of bangs.
Opt for dark hair colors to achieve a slimming effect.
Don'ts
Don't settle for a hairstyle or a particular hair length that doesn't express your style or personality.
Don't go for chunky layers stacked up next to your chin or cheeks to avoid adding unnecessary visual weight.
Don't choose blunt cuts that stop at the chin to avoid accentuating your soft jawline.
23 Gorgeous Haircuts for Plus-Size Women (+7 Fab Hairstyles!)
Ready for a total hair transformation? Consider getting one of these stunning cuts and styles:
Short Haircuts for Plus-Size Women
Buzz Cut
Who says only size 4s can rock buzz cuts? This statement hairdo can look phenomenal on anyone with a full figure, especially those with equally thick or kinky hair.
That said, you can pull off the bald and beautiful look even with straight locks!
Just remember to moisturize your shaved head and dye it with bold, deep colors for extra volume.
Fade Haircut
Few styles mesmerize onlookers quite like a fade haircut. Both modern and low-maintenance, it keeps you looking snazzy even on busy, no-shower days.
Women with round faces will benefit from having their hair close-cropped at the top while fading gradually toward the bottom.
This technique adds length to the face and cuts through full, round cheeks.
Short Pixie
Pixies never go out of style for a reason! A short pixie cut suits women of all sizes and hair types.
Mature women with curves particularly love this casual, no-nonsense cut.
Paired with a light color, it softens harsh lines in the face while lending a sense of firmness to full cheeks and soft chins.
Long Pixie
Not ready to commit to a short pixie? No problem! You can go for a long pixie cut with a quiff or a pixie bob combo.
Aside from de-emphasizing problem areas like double chins, this fun and playful cut also gives you free rein to experiment with varying lengths for more oomph.
This is a great choice for women with wavy hair who want a drastic cut!
Short Curls
If you're already blessed with textured, voluminous hair, you can let your ringlets do all the work in slimming down your face!
A head full of short curls stacks extra height and volume at the top of your head to make your face look longer.
Curlies with high cheekbones and full lips will also find that this cut highlights their best features.
Mid-Length Haircuts for Plus-Size Women
Classic or A-Line Bob
Plus-size model and "Euphoria" star Barbie Ferreira has switched up her hairstyle more times than fans can count, but this particular cut radiates elegance like no other.
Versatile and polished, a classic bob that stops below the jawline is perfect for cherub-faced darlings.
Ask your stylist for subtle layers or curves at the ends to sculpt your chin.
Mid-Length Curls
Wary about letting your curls grow out? Don't fret; small, coily curls can also complement your face!
A mid-length curly cut with layers at the chin can lengthen a round face shape, striking a beautiful balance between adding volume and framing the face.
Plus, a short fringe or layered bangs with this cut can make your face look slimmer!
Feathered Layers
Layers that seem to melt into each other? Yes, please!
If you're going for a softer, less striking look but still want layers that cut through your cheekbones and jawline, this is the a lovely wearable cut for you!
Even better, it adds life and body to your strands, making it perfect for women with thin hair.
Asymmetrical Lob
Asymmetry is all the rage these days, especially when it comes to haircut styles for plus-size women!
Heavy on one side and light on the other, this trendsetting cut relies on sharp angles and visual trickery to narrow the face.
It's ideal for round-faced or square-jawed curvy gals who may want to tamp down excess facial width.
Middle Part Lob
For curvy women with oval faces, a layered lob parted at the center can balance your features and give you a more slender appearance!
A few strategically layered sections prevent this simple yet sophisticated style from erring on the too-flat side.
Dark roots at the top can also draw the eye up and create extra density that looks natural.
Tousled Lob
Thin hair and plump faces often don't mix!
Luckily, a tousled lob is one of the most slimming haircuts for chubby faces, making your face look sharper and accentuating your exquisite features effortlessly.
Loose waves with textured ends skim the shoulders ever so slightly, highlighting your jawline and cheekbones.
Women with straight hair will also love its unique way of creating fullness without going overboard on volume.
Long Haircuts for Plus-Size Women
Beach Waves
Long, flowing mermaid waves will always give you that fresh-off-the-beach vibe even in winter!
Whatever your face shape or hair type, this look injects life and movement into your strands for a casual, lived-in style.
Remember to go for deeper colors or highlights to balance out a rounder, wider face. You can also get extensions to achieve this look.
Bold Curls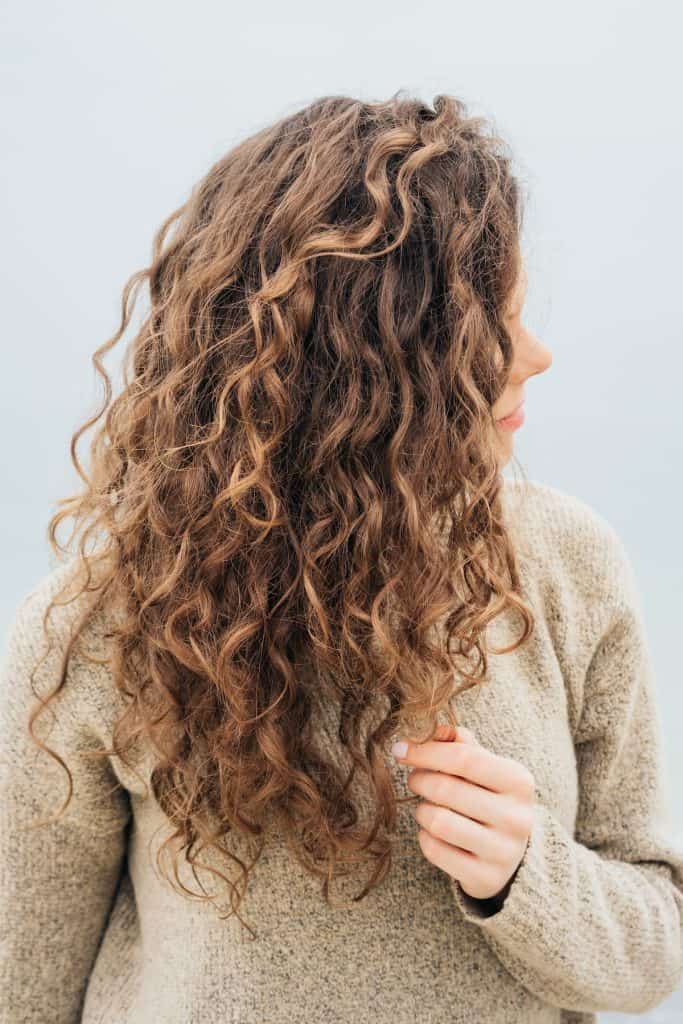 Letting your curls grow wild and free is more liberating — and flattering to boot — than you can imagine!
Techniques like using a deep side part can slim and elongate a round face. Getting started on the Curly Girl Method will also bring out the best in your tresses, keeping them soft, healthy, and bouncy.  
Sleek Straight
It's high time we debunk the myth that sleek, straight hair can't look amazing on plus-size women!
The trick is to find creative ways to lift your hair and prevent those dreaded flat locks. For instance, loud, face-framing highlights work wonders in creating definition to bring out the angles of your face.
Long and Layered
Got pin-straight tresses that weigh down your look and highlight squishy cheeks? Get them layered!
No need to get a major chop to draw attention away from problem areas. Curtain bangs and heavy layers at the ends volumize your hair with less effort.
Side-Parted Locks
A hard side part is one of the most slimming hairstyles! Plus, it can be a quick fix for curvaceous beauties who don't know what to do with flat or unruly locks.
This easy 'do can help tame frizz, make your hair appear thicker, and add a touch of asymmetry that slims broad, wide faces.
Having a hard time with a stubborn middle part? A light-hold hairspray can keep your style intact for the day!
Plus-Size Haircuts With Bangs
Blunt Bangs
Blunt bangs with a symmetrical finish can help you achieve a clean, top-heavy style!
Plus, you can wear a blunt micro fringe that ends above your eyebrows to elongate your face.
Keep in mind that pairing this with sleek styles can weigh you down, so choose a textured cut for contrast instead.
Curtain Bangs
Soft, stylish, and oh-so-sweet, curtain bangs lend an ultra-polished, hyperfeminine look that also makes your cheekbones pop!
These tendrils lightly sweep back from your face to chisel your features, giving you a more defined bone structure.
Sideswept Bangs
Gen Z youth may frown on sideswept bangs, but this style has been slowly making a comeback!
With the right styling techniques like doing highlights and opting for soft bends instead of large curls, these bangs look fresh and modern. What's more, they can slim your face naturally.
Bowl Cut
Searching for an avant-garde haircut that sets you apart from the rest? Your search ends with the bowl cut!
Fun fact: this cut was already popular as far back as the 1100s! The great news is you can bring it into the 21st century by adding bright pops of color and opting for wispy bangs that give your features more definition.
Messy Fringe
"Messy hair, don't care" is a mantra many folks live by these days, and this intentionally choppy 'do is flattering for round faces in particular!
Texture, layers, and sharp lines come together to define your features and divert attention away from your insecurities — all while making you look like you rolled out of bed in style.
Mullet
The '80s mullet is back and it's here to stay!
Feeling like an alt rebel with a voluptuous body and fine hair? This style's for you. It cranks up both your edgy style and hair texture, showing off your cool personality as well as your natural charm.
Go for softer ends and keep heavy cuts above your cheeks to avoid enhancing their roundness.
Shag Haircut
When it comes to adding volume with a punch, a shag haircut is simply unparalleled. No wonder it's one of the most popular hairstyles for plus-sized women!
So if you don't want a cut as extreme as the mullet but still need its slimming, volumizing, and texturizing powers, get a shaggy chop!
3 Hair Color Ideas for Plus-Size Women
Balayage or Ombré
Balayage or ombré hair draws the eye away from puffy cheeks or double chins and creates dimension that makes your strands look lighter yet fuller.
Gray Hair
Getting silver locks or simply embracing your grays can be a way to complement both your skin tone and face shape! Remember to balance both light and dark grays to achieve a contrast that gives your features more definition.
Two-Toned
Get on board the two-toned trend! Not only does this dual hair color look chic on all hair types, but it also gives your hair the illusion of added volume to balance the roundness of your face.
4 Hairstyles for Plus-Size Women
Half-Up, Half-Down
Quick and easy to do, the half-up, half-down hairstyle can lengthen the face as well as give you more volume and texture when your hair looks flat or oily. A sophisticated style done in seconds!
High Ponytail
Worried that a high ponytail will emphasize the soft, round edges of your face? This style lifts your face and tightens your skin to underline your cheekbones and jawline. Make sure to leave a few strands around the face for a framing effect.
Protective Braids
Twists and box braids not only keep your thick hair safely and stylishly tucked away, but they also frame your face and elongate your neck.
Top Bun
Want a hairstyle that transitions seamlessly from day to night? Put your hair up in a thick bun! Like a high ponytail, it adds density to the top of your head for a well-balanced look.
FAQs About Plus-Size Women Hairstyles & Haircuts
Is Short or Long Hair Better for Plus-Size Women?
Short hair is typically a much more aesthetically pleasing choice for curvy gals. Layered, textured cuts tend to frame a round face better and make it look longer and slimmer.
That said, there are plenty of flattering hairstyles for plus sizes with long hair! The key is to find the right layers and colors for maximum volume.
What Haircut Looks Good on a Plus-Sized Face?
Most of the beautiful hairstyles above are great for women with plus-sized faces! But the ones that stand out in particular are:
Long pixie
A-Line bob
Asymmetrical lob
Tousled lob
Keep in mind: any cut that ends at the jaw can help create definition on a rounder face!
What Are the Best Plus-Size Hairstyles for Double Chins?
The best plus-size hairstyles to conceal a double chin include:
A-Line bob
Asymmetrical bob
Shag haircut
Flaunt Your Curves and Waves with the Right Haircut for Your Plus-Size Figure
Every woman — no matter what size — struggles with finding the best haircut that matches their style and face shape.
So if you're a plus-size babe who's worried about whether your next cut will highlight your insecurities, don't worry. You're not alone!
The key is to find a cut that accentuates your best features and helps you conceal certain issues. Remember as well that the best hairstyles for plus-size women emphasize layers and texture.
Feel free to pick one from our list above and see if it makes you look — and feel — like the best version of yourself!
On the hunt for more hairstyle ideas?
Check out these articles: