This post may contain affiliate links, which means I may receive a small commission, at no cost to you, if you make a purchase.
Looking for a Milani Stay Put Waterproof Eyeliner Pencil Review? We've got you covered!
I'm a movie buff, which makes things easy for my loved ones when my birthday rolls around on the first day of spring.
This year, I got a Netflix renewal, a movie theater gift card, and a Redbox gift card, too. You know what that means… time for a movie marathon!
The past few weeks have been a binge of film after film, all the blockbusters and award contenders from last year, including an inordinate number of heart-wrenching tearjerkers.
Milani Stay Put Waterproof Eyeliner Pencil Review
What a great time to test Milani Stay Put Waterproof Eyeliner Pencil (available here).
This new gel formula is just what I needed to get through the heartbreak of Hollywood's features in one piece. There are five tear-proof, super-saturated colors to choose from.
Milani Stay Put Waterproof Eyeliner Pencil Colors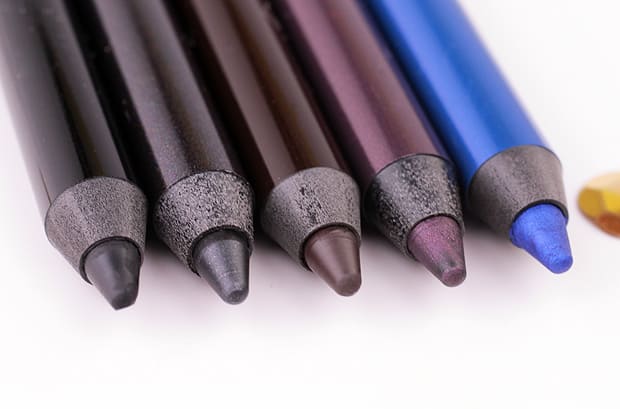 Linked On Black – matte black
Stay With Slate – pearl charcoal
Hooked On Espresso – matte brown black
Fixed On Plum – pearl plum
Keep On Sapphire – pearl sapphire
See a theme with the names?
Once you put these liners on, you have a brief window during which they stay creamy and blendable, then they're ON.
Blending requires fast work.
After about a minute, the color is not going to budge.
Milani calls Stay Put "transfer-resistant," but I'm guessing you could sleep in them and still wake up with fresh-looking liner.
Related: 10 Best Eyeliners for Sensitive Eyes
The gel formula is extremely smooth and seems to glide on. It only takes a little bit of pressure to get the perfect line.
"All-day wear" has a new meaning when you spend the day boo-hooing.
Milani is not exaggerating about Stay Put's extreme water resistance.
True story: after crying my eyes out while watching Fences, my eyes were red and puffy, but my Keep On Sapphire liner was fully intact. In fact, I had to work to remove it when the show was over.
Milani Stay Put Waterproof Eyeliner Pencil Swatches
Linked On Black, Stay With Slate, Hooked On Espresso, Fixed On Plum, Keep On Sapphire
Just to be clear, I'm not talking about a few light Lala Land tears; these babies have the kind of staying power that could last through a marathon of Moonlight, Hidden Figures and Manchester by the Sea!
It's my birthday party and I'll cry if I want to—with perfect liner, thanks to Milani's pretty (and cruelty-free) Stay Put.
Have you tried the Milani Stay Put Waterproof Eyeliner Pencil yet?
You may also like these Milani reviews:
Latest posts by turboterp
(see all)