This post may contain affiliate links, which means I may receive a small commission, at no cost to you, if you make a purchase.
We all want to find the perfect nail design that suits our style.
But did you know that there are particular nail colors that best suit your skin tone too?
It's true!
But it's also important to note that there are no hard and fast rules for selecting nail polish color. Like makeup, you have a creative license to try whichever colors your heart desires.
That said, it is good to know which nail polish shades go better with certain skin tones.
So if you have a light complexion, we've gathered the best nail colors for fair skin just for you!
With our guide, knowing which colors work best with your complexion can be helpful in understanding the different types of nail polish hues, finding the most flattering shades, and achieving the perfect manicure.
Beautiful full coverage
Streak-free
Easy application
Cruelty-free
Best value for money
Non-toxic formulation
Clean ingredients
Long-wearing and chip-resistant
With bamboo extract for stronger nails
Understanding the Different Skin Tones
Knowing your skin type and undertones is essential for many important reasons. It can help you choose clothes, makeup, hair color, and nail polish too!
There are four basic skin tones and three potential undertones. 
The four skin tones include the following:
Fair 
Light
Medium
Deep
The three potential undertones include the following:
Warm
Cool
Neutral
This article will focus on fair skin and the nail colors that best suit it.
But before we look at all our favorite nail colors for fair skin, let's determine your undertones too.
Knowing your skin tone or the surface color of your skin, is step one. To help you further understand your skin and find the best nail color for light skin tones, you should consider your undertones too.
Your undertones are the hues that come through from beneath the skin's surface. They also interact with the products you put on your skin.
Skin undertones are divided into three different types: cool, neutral, and warm.
How To Identify Your Skin Undertone
There are five simple tests you can do to determine your undertones:
Test 1: The Vein Test
One of the simplest and fastest ways to test for your undertones is to look at the veins on your wrists.
| Vein Color | Undertone |
| --- | --- |
| Blue or purple | Cool undertone |
| Green or greenish | Warm undertone |
| Colorless, brown, or both green and blue | Neutral undertone |
Test 2: The Jewelry Test
Another test you can try is by seeing which jewelry suits you best.
| Jewelry That Suits You | Undertone |
| --- | --- |
| Silver jewelry | Cool undertones |
| Gold jewelry | Warm undertones |
| Both gold and silver | Neutral undertones |
Test 3: Sun Test
Another simple test is how your skin does in the sun. If you have skin that tans easily without feeling like it's burning, you most likely have warm undertones.
Those with cool undertones tend to burn easily under the sun.
If your skin both tans and burns easily, then you have neutral undertones.
Test 4: White Paper Test
Another simple test is to hold a piece of plain white paper against your skin. If your skin looks more yellow, you have warm undertones. And if it looks more pink, you have cool undertones.
If it just looks brown, then you have neutral undertones.
The Best Nail Colors for Fair Skin
Now that you know more about skin tone and how to determine your complexion and undertones, let's look at which nail colors look beautiful with light skin.
Having fair skin means you may explore and try a wide variety of colors. Just try to avoid colors that make your skin look washed out.
Here are some of the best colors you can use that look amazing with fair skin:
1. Pale Pink (Sweet)
Pastels are often the first shades recommended for fair skin because they look beautiful against a fair skin tone.
Of the pastels, one of the most highly recommended is pink, which makes your nails look lovely and sweet.
2. Soft Mint (Trendy)
Another soft shade to try is subtle mint green. This color became quite popular among nail enthusiasts because it nicely complements fair skin and makes your manicure look pretty and trendy.
3. Light Gray (Serene)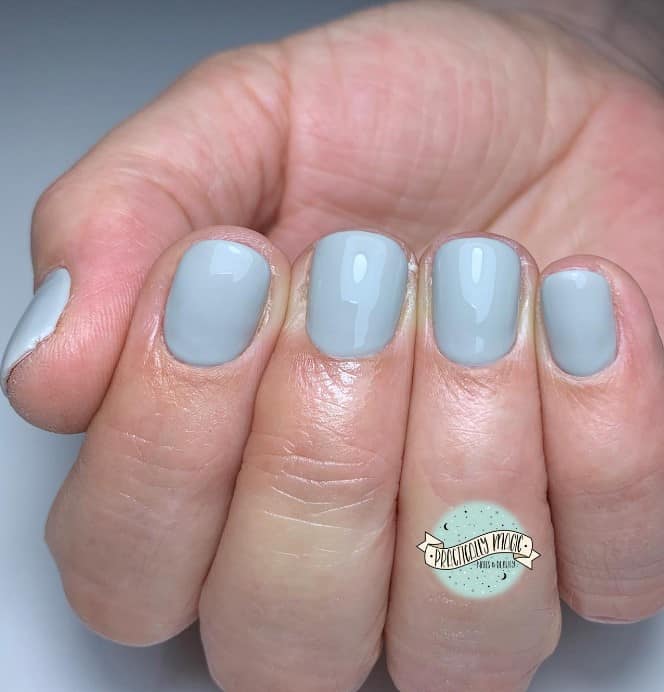 Gray is a fantastic color for fair skin if you choose the right shade to match your undertones. Choosing light or pale shades of gray is usually best.
Not only does gray polish make your mani look serene, sleek, and trendy, but it also matches almost everything.
4. Deep Yellow (Bright)
If you want brighter shades on your nails, vibrant yellow is a great color. Go for a deep yellow to stand out beautifully against your fair skin. It's the perfect pick for stunning spring nails that are bright and beautiful.
5. Bright Coral (Youthful)
An excellent way to keep your hands looking youthful and pretty is to add a nice pop of color to your nails.
For fair skin, a good choice is a gorgeous coral color. It helps mask the veins on your hands and makes your manicure look perfect for that summer beach trip!
6. Forest Green (Stylish)
Forest green is a fantastic choice if you want a darker color that looks amazing on fair skin. It looks sophisticated and highlights fair skin without washing it out.
Also, dark green is an excellent choice for something pretty and super stylish.
7. Crimson Red or Burgundy (Bold)
Looking for a sexy and eye-catching manicure? Then red is the perfect choice.
You can opt for two types of red polish if you have fair skin. The first is a bright crimson red with blue undertones, which brings out your best features.
Alternatively, you can also choose a deep maroon or burgundy for understated but bold nails that looks fantastic against light skin.
8. Nude and Beige (Elegant)
Nude and beige always look fantastic against fair skin. The combination is elegant and flawless and results in a subtle yet stunning manicure that works for every season.
9. Rich Navy (Sophisticated)
Blue is an excellent place to start if you are looking for polish colors for cool undertones. For those who love blue and want a blue polish, deeper blues work with fair skin.
A gorgeous navy blue is perfect for a stunning and sophisticated-looking manicure.
10. Gold and Silver (Joyful)
If you want jubilant and celebratory nails, metallic or glitter gold or silver is an excellent color choice.
Both colors look great on fair skin, and you make them even more fun by opting for a holo or glitter option.
Things To Consider When Choosing the Best Nail Polish for Fair Skin
Now that you know your skin tone and undertones as well as what colors look amazing on fair skin, the next step is to understand what factors you should consider when buying pretty nail colors for light skin.
Here are some considerations to keep in mind:
1. Colors and Shades in Comparison to Your Complexion
Generally speaking, pastels and nude colors always look good with fair skin. When selecting your specific nail polish, it helps to let your skin's undertones guide your decision.
Here's an idea of which colors look good with which undertones:
Cool undertones go best with pastel colors: light pink, mint, teal, gray, and even gold and silver.
Warm undertones look best with dark yellow, coral, and shades of warm greens and reds.
Neutral undertones often match well with light pink colors, pastels, nudes, and deep blues and reds like navy or burgundy.
Knowing which colors suit your undertones well right off the bat can help expedite the process of selecting the perfect nail polish shade.
2. Polish Type and Longevity
Another good factor to consider when selecting pretty nail colors for light skin is how long your nail polish product lasts.
If you don't want your manicure to fade or chip right away, look for a good polish product that doesn't require frequent touch-ups or reapplication.
Another good option is gel nail polish if you want something to last longer.
The drawback is that you will need a UV/LED lamp and a good base and top coat to ensure your polish lasts longer, like the Essie Nail Care All-in-One Base Coat and Top Coat.
3. High-Quality Ingredients
Like with most makeup products and anything you put on any part of your skin (nails included), you want to choose a product with good ingredients and avoid products that contain harmful chemicals.
You can look for nail polish products with non-toxic formulas that are good for the skin. Ingredients to avoid include toluene, formaldehyde, camphor, and DBP.
4. Polish Finish
When choosing good nail colors for light skin, one last consideration is the finish of your nail polish. Each finish can give off a different vibe.
A traditional glossy finish will always look pretty and stylish. A matte finish is trendy but also tends to chip easily.
Chrome and glitter nail polish colors are great for festive occasions or nights out. They are also a great choice for accent nails, although they're often harder to remove.
12 Nail Polish Colors for Fair Skin You Need to Try!
Ready to find the best nail polish options for fair skin? Let's look at some of the best polish choices per undertone.
Best Nail Colors for Fair Skin With Cool Undertones
1
This gorgeous pale pink nail polish is perfect for fair complexions with cool undertones and is one of the best nail colors for pale skin.
Key benefits: Glossy finish; flawless coverage; easy to apply
Features:
Non-toxic formula
Streak-free
Vegan and cruelty-free
A classic pink polish that perfectly complements fair skin in a non-toxic, easy-to-use formulation.
This nail polish has been the favorite of style mavens and influencers alike and is one of the best nail polish colors for fair skin.
It applies easily, provides flawless coverage, and allows you to achieve salon-quality nails in the comfort of your own home.
Plus, you can use this trendy and timeless sheer pink color again and again with a wide variety of looks. The shade is delicate, pretty, and flattering on fair skin.
It's also fragrance-free, streak-free, and free of nasty chemicals like formaldehyde, toluene, and DBP, making it gentle on your nails and skin.
2
This polish gives you gorgeous and glowing mint nails with just one coat!
Key benefits: Quick to dry; easy to use; gorgeous glossy finish
Features:
3-in-1 formula
Bold, vibrant color
Contoured brush for perfect application
Sally Hansen Insta-Dru is the perfect choice for beautiful mint nails in a hurry!
Sally Hansen is a beloved nail polish brand that always makes products with top-quality ingredients. Their beautiful mint polish is an excellent choice if your fair skin has cool undertones.
And it's great for those who want to do a mani quickly. The 3-in-1 formula contains a base and top coat, so you just need to apply one or two coats of this, and you're good to go!
The best part? It dries in just 60 seconds. It's a beautiful mint color that provides easy, no-hassle application!
3
Zoya's gorgeous, glittery deep space blue polish looks fantastic on cool fair skin!
Key benefits: Buildable coverage; smooth and easy application; glittery finish
Features:
Vegan
Does not chip
Free of harmful chemicals
If you need something bold and festive, this glittery option is perfect.
Fair skin doesn't only match wells with pastels and pale colors. If you want something darker, there are great options for you. This deep blue polish has cool undertones and looks great on fair skin.
This glittery option from Zoya is an excellent choice if you're looking for something for a fun girl's night out or a big party! The polish looks pretty, glides on smooth, and has a glossy and glittery finish.
Plus, Zoya is a highly-rated brand that focuses on creating a healthy nail polish free from all harmful chemicals.
4
A gorgeous gray is an excellent choice for cool fair skin tones.
Key benefits: Resists chipping for long wear; fade-resistant; gorgeous shine
Features:
Clean ingredients
Shock-resistant polymer technology
With bamboo extract for stronger nails
Butter LONDON's fabulous gray polish looks elegant and sophisticated on light skin.
Gray is an excellent choice for cooler undertones. It's timeless and classic, and it can instantly brighten your hands.
This choice from highly reviewed Butter LONDON is reminiscent of the soft and light London fog. It's perfect for everyday wear or an important dinner date.
Plus, Butter LONDON's shock-resistant polymer technology ensures long-lasting wear and chip resistance. It also has UV absorbers to prevent fading, and diamond power keeps the color bright and vibrant.
Best Nail Colors for Fair Skin With Warm Undertones
5
This limited-edition deep yellow color from essie looks stunning on fair skin with warm undertones.
Key benefits: Flawless full coverage; durable and long-lasting; streak-free application
Features:
Highly pigmented
Glossy finish
Free of harmful chemicals
This deep yellow gorgeously complements fair skin and provides long-lasting and durable shine.
Fair skin with warmer undertones looks beautiful when paired with deep and vibrant yellow. And this delightful color from Essie's limited-edition collection perfectly fits the bill.
The polish is durable and comes with an easy-glide brush that ensures even and smooth application. And it's one of the most beautiful summer nail colors for pale skin.
Plus, its long-lasting coverage ensures you can have a gorgeous manicure for longer.
It's also vegan and free of harmful chemicals, making it an excellent choice for your nails and safe for everyday wear.
6
A gorgeous stand-out coral gel polish that gives you a mani that can last up to 21 days!
Key benefits: Bright pigments; fast curing; can last up to 21 days
Features:
Easy to apply
Toxin-free and low-odor
Best-selling gel polish brand
If you want longer-lasting manicures, this gel nail polish in eye-catching coral is a fantastic choice.
Gel polish is your best bet if you want a long-lasting option. Beetles is one of the best-selling gel polish brands available.
And their bright coral nail polish looks fantastic on fair skin with warm undertones. Its orange-pink shade makes it one of the best spring nail colors for pale skin.
However, like most gel polish products, you'd need an LED lamp to cure your nails when using this polish. Each coat requires roughly 60 seconds to cure.
The result is a gorgeous, glossy manicure that looks fresh and fab for up to 21 days.
7
This bold and vibrant red gel nail polish looks stunning on fair skin and ensures gorgeous, long-lasting manicures.
Key benefits: Easy to apply; dries quickly; gives a rich red finish
Features:
Ergonomic brush for smooth application
3-in-1 formulation
Great coverage and buildable color
This bright red polish is a fabulous choice for fair skin and provides long-lasting style and luster.
If you are looking for sexy red nail polish that perfectly highlights your fair skin tone and warm undertones, this bright red is an excellent choice.
The red color provides a bold contrast to the lightness of your skin while complementing your warm undertones making it a fantastic nail color on pale skin. It also adds a rich vibrancy to your manicure.
With its 3-in-1 formula, this nail polish is also easy to use with a built-in base and top coat. All you need to do is swipe one coat on, let it dry for 60 seconds and you're done!
8
Deep green looks great on fair skin and works for fun events, parties, or days out with the girls.
Key benefits: Heavily pigmented; fast-drying; chip-resistant
Features:
Pro-wide brush for easy application
Glossy finish
Free from harsh chemicals
This dark green is a timeless and beautiful option if you want a darker, more dramatic nail polish shade.
Fair skin doesn't mean you must steer clear of darker colors. If you want a dramatic and bold polish, a gorgeous deep green is a great choice.
It's also free of chemicals like formaldehyde, DBP, and toluene.
This polish from the trusted global brand OPI provides a heavily pigmented dark green lacquer that's easy to apply with the patented pro-wide brush.
It gives a vibrant color, dries fast, and provides a shiny and stunning finish.
Best Nail Colors for Fair Skin With Neutral Undertones
9
Love pastels? This powder blue pastel polish is perfect for fair skin with neutral undertones.
Key benefits: Semi-matte finish; gorgeous pigmented color; long-lasting and durable
Features:
Fanned brush for end-to-end coverage
Nail products focused on natural nails
Cruelty-free
Try this boutique nail polish brand if you want a pretty pastel that is perfect for every occasion.
You can't list the best nail colors for fair skin without including gorgeous pastels. Perfect picks include lilac, baby pink, or powder blue, like this soft shade from Duri.
This boutique brand from Brooklyn, New York, focuses on producing high-quality nail polish and nail care products that focus on natural nails with no acrylics and gel.
This pastel blue glides on easily with a wide fan brush, providing full coverage and a shiny finish. Plus, its formulation is free from formaldehyde, DBP, and toluene.
10
You can pull off nude nail polish with fair skin beautifully with this deeper velvety nude shade.
Key benefits: Long-lasting color; quick drying; rich color pigments
Features:
Chip-resistant formula
Non-toxic and vegan
Glossy and vibrant finish
This deep nude hue from Ella and Mila is perfect for accentuating and highlighting fair skin.
Ella and Mila are known for creating acetone-free nail polish products that are good for your nails and skin, and this variant in Cup O'Latte is no exception.
This deep nude color is also perfect for highlighting fair skin and neutral undertones. It glides on smoothly and looks stylish and elegant.
It's vegan, non-toxic, cruelty-free, and formulated with nail health and the planet's health in mind.
The polish glides on smoothly and lasts long, with a built-in chip-free formulation for longer-lasting manicures.
11
This fabulous silver glitter polish is perfect to wear alone or as a topper to another color.
Key benefits: Chip-resistant; glides on smooth; easy to remove
Features:
Made with premium ingredients
Vegan and cruelty-free
Glossy and sparkly finish
ILNP's Tinsel is an excellent choice for a shimmering glitter polish that beautifully highlights fair skin.
Who doesn't love glitter polish? They automatically add the perfect shimmer and shine to your nails, whether used alone or with another color.
For fair skin with neutral undertones, gold or silver glitter polish works beautifully, and we love this one from ILNP in Tinsel.
The polish glides on smoothly and the glitter is fine, making the polish finish sleek and sophisticated. The formulation is also chip-resistant, long-wearing, vegan, and cruelty-free.
Plus, it's easy to remove, which is often a challenge with glitter polish in general.
12
If you want a dark shade, a seductive burgundy color like this one looks beautiful on fair skin.
Key benefits: High-shine formula; smooth application; easy to apply
Features:
Cruelty-free
Value for money
Non-toxic formulation
This gorgeous deep red choice is excellent if you are looking for a dramatic and sophisticated manicure.
While dark colors like black and dark gray can work on fair skin, they tend to wash out lighter skin tones and make them look pale.
Opt for deep reds like burgundy or plum if you want a darker color. This rich burgundy from Wet n Wild is a fantastic choice for a bold and sexy manicure.
This polish glides on smoothly and provides a high-shine, glossy finish. It lasts up to five to six days when well maintained.
If you want to make it last longer, pair it with a chip and fade-resistant top coat like Sally Hansen Dries Instantly Top Coat.
Frequently Asked Questions
Which Shades of Nail Polish Should You Avoid for Fair Skin?
Many shades of polish look good with fair skin, but some darker shades like black or dark gray may make your light skin look washed out because these dark hues give a stark contrast to your fair skin.
If you want to use these shades, experiment to see which works. For example, if you want to use gray, opt for a lighter tint like the Essie Express Quick Dry Nail Polish in Light Gray.
Or for black, choose a bluish-black hue or holographic black polish like the ILNP Black Magic Holographic Nail Polish. You can also combine black with other shades.
Are There Specific Nail Colors for Pale Skin That Can Make You Look Younger?
Definitely! If you want to make your hands appear more youthful, a good choice is any nail polish that is orange or peach-based.
Orange is a bright and youthful color that is uplifting and fresh, while pink's undertones help bring out the skin's youthful glow.
Is There a Nail Color That Looks Good on Everyone?
Beige or nude is a color that can look good on every skin tone!
Choosing the exact shade of nude polish, whether lighter or deeper, can vary depending on an individual's skin tone. However, in general, beige or nude nail polish is a versatile and excellent choice all around.
The Perfect Polish Beautifully Highlights Fair Skin
There are a lot of fun and stylish choices to consider when looking for the best nail colors for fair skin.
And if you take the time to understand your skin better and learn what kind of nail polish colors best reflect your moods and styles, you can narrow down your choices quickly and find your favorites.
While there are no hard and fast rules about what nail polish you should or shouldn't use, you'll notice a gorgeous difference when you choose shades that best complement your fair skin tone.
So have fun and experiment as you find the nail polish of your dreams!
Want More Nail Ideas?
Check out these articles: