This post may contain affiliate links, which means I may receive a small commission, at no cost to you, if you make a purchase.
Manicures have evolved over the last several years.
Nails have taken center stage for every beauty-loving gal, and everyone has started experimenting with more than just nail color.
One of the most popular trends today is playing around with nail shapes. Shapes can make (or break) a mani.
And two of the most popular nail shapes that celebrities and nail lovers are choosing now are coffin and ballerina nails. But wait — aren't these nail shapes the same?
Nope! They may look similar, but they differ in distinct ways.
So what exactly are the differences between coffin vs. ballerina nails? Which one should you choose?
In this article, we'll look closer at coffin and ballerina nails. Find out what these shapes look like, how to get them, and how to rock them!
Understanding How Coffin- and Ballerina Stack Up Against Different Nail Shapes
Before we compare coffin vs. ballerina nails, we first need to discuss how they stack up against different nail shapes.
Now that you know how diverse nail shapes are, let's examine why choosing the right shapes matters and how they can make you feel.
As mentioned previously, nail shapes can help set the tone and mood of your manicure. After all, you can use the same nail polish on different nail shapes and get a completely different outcome.
Let's look at some of the most popular nail shapes and the mood or tone they typically set.
| Nail Shape Name | Description | Mood/Tone |
| --- | --- | --- |
| Round | Round-shaped nails are the most common and easiest to maintain as they follow the nail's natural shape. | Classic, clean, timeless |
| Square | Square nail shapes, whether long or short, are shaped like a square at the tip. | Professional, chic, and modern |
| Oval | Oval-shaped nails are filed down to create an oval tip. | Elegant, sleek, tasteful |
| Squoval | The squoval shape combines square and oval. | Elegant, trendy, and fun. |
| Almond | Almond nails are filed to resemble the silhouette of an almond nut. | Feminine, stylish, and sleek |
| Ballerina | Ballerina nails resemble the shape of a ballet slipper. They are long with a rounded flat edge. | Stylish, sophisticated, and feminine |
| Coffin | Coffin nails are flat with square edges to resemble the shape of a coffin. | Eye-catching, edgy, and trendy |
| Stiletto | Stiletto nails are long, and they end in a sharp point. | Sexy, bold, and striking |
Now that you have a basic idea of the popular nail shapes and how they can make your manicure look, let's look closer at ballerina vs. coffin nails.
Understanding Coffin and Ballerina-Shaped Nails
If you're like us and you love trendy and unique manicures, then coffin- and ballerina-shaped nails might be perfect for you.
These two nail shapes have become increasingly popular as more and more people share their stunningly designed ballerina and coffin-shaped nails.
Some celebrities who love these shapes include Kylie Jenner, Rhianna, and Zendaya, and their gorgeous manicures are definitely #nailinspo!
But are these two nail shapes different?
While many believe these two names refer to the same type of nail shape, there is debate about ballerina vs. coffin shapes. Professional nail technicians will tell you that they are different.
So before heading to the nail salon or pulling out your clippers and your nail file, make sure you understand how these two nail shapes are similar and different.
Here's a quick guide to ballerina vs. coffin nail shapes:
| Specifics | Coffin Nails | Ballerina Nails |
| --- | --- | --- |
| Shape Inspiration | Inspired by the flat end and straight edges of a coffin | Inspired by the flat end and soft rounded edges of a pointe shoe |
| Sides | Tapered | Tapered |
| Length | Usually longer | Usually longer |
| Tips | Flat with sharp and flat edges | Flat with rounded edges |
| Best Achieved With | Long acrylics or gel extensions | Long acrylics or gel extensions |
| Best for | Long fingers with long, narrow palms | Long fingers with wide palms |
Now that you have the basics covered, let's take a closer look at each shape.
Ballerina Nails
First up, ballerina nails.
As mentioned, ballerina nails take their name from a ballerina's pointe shoes, especially how they look at the tip.
Ballerina nails have a tapered look and feature long and flat tips that have rounded edges.
Coffin Nails
Coffin nails, on the other hand, are similarly elongated and tapered at the sides, and they end in a flat tip with sharp edges.
They resemble the edges of the top of a coffin.
Similarities Between Ballerina and Coffin Nails
As you can see from the table above, ballerina and coffin nails share traits like tapered sides and flat tips. Additionally, both of these shapes are best suited to longer nails.
This is an essential factor to consider when deciding to do either coffin or ballerina nails.
As such, it's highly recommended that you opt for acrylics or gel extensions to achieve these shapes to ensure they look good and last long.
While you can shape your natural long nails into coffin and ballerina shapes, it's not advisable as these shapes are prone to breakage, so your mani may not last long.
Differences Between Coffin vs. Ballerina Nails
The key difference between coffin vs. ballerina nails is that the tips of coffin nails have flat and sharp edges, while the tips of ballerina nails have softly and subtly curved edges.
To ensure a proper coffin-shaped manicure, it's essential to get the edges correct. You must ensure perfect edges with 90-degree angles on your straight and flat tip.
On the flip side, you'll need to create tips with less sharp and more rounded edges if you want ballerina-shaped nails.
Which Hands Go With Coffin and Ballerina Nails?
Now that you know the primary similarities and differences between coffin vs. ballerina nails, let's take a moment to understand them more and explore which types of hands go with which shapes.
Generally speaking, there are no hard and fast rules about which nail shapes you can do. If you want to try them all, go for it!
But some shapes are better suited to some types of hands and nail beds than others.
What Type of Hands Suit Ballerina Nails?
As mentioned, ballerina nails are often longer and taper off at the tip, leaving less room for the natural nail bed.
The shape of this nail looks best with those with long and slender fingers and wide palms.
This is because the long and tapered shape of ballerina nails is enhanced when your long fingers are balanced by a wide palm.
However, if you have slender fingers, this nail shape can suit you, even if you have narrow palms.
On the flip side, the delicate shape of ballerina nails may look awkward on those with shorter fingers and wider nail beds.
What Type of Hands Suit Coffin Nails?
Coffin nails, on the other hand, are also tapered on the sides leading up to the tip.
Like ballerina nails, coffin nails are best suited to those with long fingers and long palms.
Why? They match the lengthy look of coffin nails and complement their straight edges. Those with shorter hands and fingers may find this nail shape unflattering.
Like ballerina nails, they can also work with longer fingers and wide palms, depending on how wide you cut the flat tips of your nails.
Again, this is just a rule of thumb. If you have smaller hands or shorter fingers, you can still rock coffin or ballerina nails. You may just want to make them shorter in length to ensure they don't overwhelm your hands.
Coffin vs. Ballerina Nails: How To DIY These Shapes
You can achieve both of these nail shapes at home. All it takes is a little practice with nail shaping, and soon you'll be a pro.
So how do coffin and ballerina nails stack up against each other when it comes to shaping them?
For the most part, many of the steps to achieving coffin and ballerina nails are the same. But there is a distinct difference in the final step of the shaping process.
Here's a step-by-step guide to how to DIY ballerina and coffin nails.
How To Shape Ballerina Nails
Gel or acrylic ballerina nails are relatively painless to shape. However, shaping your long natural nails into ballerina nails can be tricky.
Plus, the nature of this nail shape makes it more prone to breakage. So it's advisable to get either acrylic or gel extensions with a ballerina shape instead of growing your nails long to achieve it.
Here's how to create ballerina-shaped nails:
Cut a flat tip with your nail cutter at the end of your nail.
Begin filing the edges of your nails straight out, working toward creating a narrower tip with tapered edges. You'll need to file each side evenly toward the middle. To do this successfully, you can temporarily draw a line in the middle of your nail with a pencil.
Once you have tapered the edges of your nails, create rounded edges on the tip by filing in a smooth circular motion to ensure the edges aren't sharp.
How To Shape Coffin Nails
Like ballerina nails, coffin nails are best achieved with extensions to achieve your desired length and avoid breakage.
Some of the most gorgeous coffin nail designs are super long and sleek, and not everyone can achieve the length needed without extensions.
Plus, after all the work involved in creating them, you'll want to make sure they last!
If you are shaping your nails yourself, here's how to create coffin nails:
Cut a flat tip with your nail cutter at the end of your nail. Cut straight across the tip to create the signature flat, sharp edges of the coffin shape.
Use your nail file and smoothen the sides of your nails, tapering them toward the middle. You can also draw a temporary guide on your nail to ensure you file evenly.
Once your nails are perfectly tapered and smooth, smoothen the flat tip at the end of your nail with your nail file.
Be sure to only file straight across the tip in one direction and then straight up on the edges in one direction, so you maintain the crisp edges and avoid making them rounded.
Coffin and Ballerina Nail Inspo
So now you know what the difference between these two iconic nail shapes is, how to decide which suits your hands and vibes best, and how to achieve the shape at home. Here comes the fun part: looking at mani inspiration.
Here are some fun nail designs you can try with your ballerina and coffin nails:
Ballerina Nails
1. Love Is Love
Ballerina nails are beautiful and sweet, making them perfect for a love-inspired gel heart manicure with a rainbow palette.
Just create the perfect clear gel base and paint on gorgeous multicolored hearts with gel polish and glitter on each nail. The result is a super adorable manicure that will catch everyone's eye!
2. Peach Creamsicle
If you don't want the hassle of super long nails, you can also go for a shorter ballerina nail manicure. Opt for soft pastels to match the soft edges like these creamy peach nails.
You can add a sleek style to break up the monotony by adding an accent nail with a blue glitter tip.
3. Gorgeous Gradient Glitter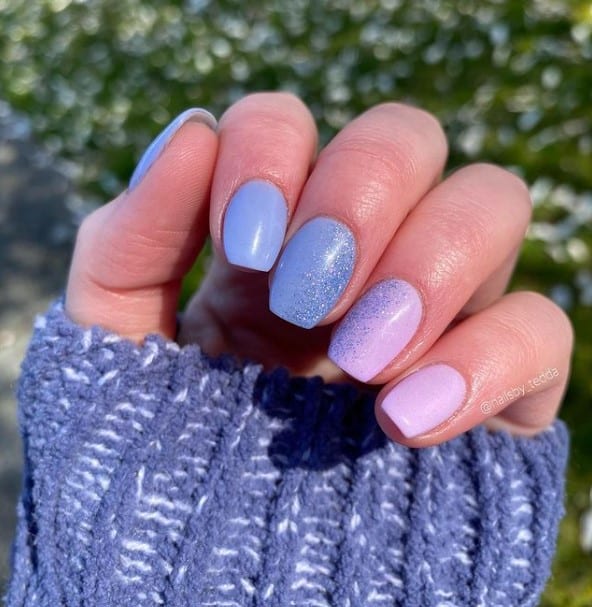 Who said gradient nails have to go down each nail? In this beautiful short ballerina mani, the color changes per finger, going from deep lilac to mauve to pink.
The solid color nails get a nice feminine touch with streaks of glitter on the nails where the color changes happen. It's unique, pretty, fun, and feminine.
Coffin Nails
1. Chevron Tips and Rhinestones
Coffin nails are already gorgeous, but you can highlight this shape even more with a manicure that matches its sleek appearance, just like this one.
This mani with stunning white chevron French tips is stylish and elegant, with a glossy finish and glittery rhinestone accents.
2. White Mani and Butterflies
If you prefer something minimalistic but still pretty, this simple but stunning white set is the perfect manicure. You can also add a nice feminine touch to it with beautiful butterfly nail art.
3. Glitz and Glam
Go for glamorous with this mix-and-match manicure that combines glossy white polish, shimmery glitter, and glimmering rhinestones and beads.
It's perfect for a night out but still understated enough for daytime party glam.
Frequently Asked Questions
Which Is Better: Coffin or Ballerina Nails?
One isn't better than the other. Each nail shape has pros and cons, so choosing one will depend on your style and preference.
If you want something slightly softer, perhaps the ballerina shape is better for you. But if you prefer a more trendy or edgy look, give the coffin shape a try.
Both shapes are great at elongating the fingers and making them look sleek and beautiful.
Acrylic Ballerina Nails vs. Coffin Nails: Which Lasts Longer?
Both nail shapes usually last as long as most acrylic nails last, approximately six to eight weeks. Remember, though, that you'll need an acrylic fill every two to three weeks.
Get Gorgeous Coffin or Ballerina Nails
Nails have become such a trend that the hashtag #nailstagram on Instagram has millions of posts. People love experimenting with their nails and love sharing their creations.
And now there are so many more shapes to explore than just square and round; coffin and ballerina nails have been gaining popularity too!
Both shapes are gorgeous and glamorous, and they can instantly boost your manicure and add a pep to your step.
While the differences between these two shapes may be subtle, their effect on your manicure is still distinct. And if you look closely, you'll see what makes one look different.
Whichever one you choose, if you shape them right and maintain them carefully, you can enjoy gorgeous and sleek nails that provide diverse possibilities for stunning manicures.
Looking for More Nail Articles?
Check these out: