This post may contain affiliate links, which means I may receive a small commission, at no cost to you, if you make a purchase.
The beige color has a reputation for being plain and boring.
Such is why this hue is usually used for work clothes and office walls.
But nowadays, people are starting to sport this neutral color more, especially in the fashion and beauty industry, wearing beige tops, accessories, and even nails.
Beige has become a popular nail color! Some people even add a creative touch to this nude manicure using the ombré effect.
While beige ombré nails are usually paired with white, they can also be combined with other lighter or darker colors for a beautiful yet subtle charm.
Moreover, you can use ombré beige nails as a base for intricate nail art or showstopping jewels.
Whether your preferred style is simple, cute, or glamorous, we've prepared a list of beautiful beige ombré nail designs to inspire your next manicure.
What Are Ombré Nails?
Ombré is a French word that means "shaded". This design typically features two colors in the same color family or two shades of the same color that blend into each other. It's similar to a gradient effect.
The term "ombré" describes a hair color technique that involves blending one light shade and one dark shade.
But it's also becoming an official jargon in the nail design world, as ombré nails are becoming increasingly popular.
The effect created in ombré manicures is similar to the one achieved by hairstylists: a color gradient is created with two nail colors. The color can go lighter or darker toward the tip or in a vertical direction.
Ombré nails that are lighter at the tips are also called baby boomers or faded French tips.
This nail color technique can be done in several ways.
Here's YouTuber Cutepolish showing us the five easiest ways to create ombré nails:
43 Beige Ombré Nails
Whether you want light or dark tips, plain or decorated nails, designing your ombré beige nails is up to you.
But if you don't have time to think of your own nail art, we're here to help. We've gathered the most beautiful ombré nude nail designs, so you can choose one for your next manicure.
Simple Nude Ombré Nails
1. Barely There Beige
What better way to start our simple manicure looks than with the simplest ombré nails in nude and white? This glossy look is done on medium-length oval nails using builder gel.
2. A Touch of Gold
If you don't want a look that's too laid-back, you can add a little bit of personality to your nude ombré nails by adding extremely thin cuticle cuffs to select nails.
This manicure is simple yet refined — a perfect representation of someone who has class.
3. Long Faded Perfection
Oval nude ombré nails can also be made longer. Longer nails provide more space for the blend of nude and white to stand out.
4. Creamy Squoval Ombré
You can also try the similar look above with a different shape, like squoval nails. This dainty manicure has a crème finish.
5. Elegantly Long
Beige ombré nails look fantastic when they're long, and this manicure proves it. The pink beige creates a great base for long faded white tips.
6. A Little Scribble
Nude-colored ombré nails are perfect for any design you can add, even if it's as simple as white scribbles on one nail. It adds a little personality to an otherwise plain look.
7. Ring on Your Nail
Aside from handpainted designs, you can also use rhinestones to customize your beige and white ombré nails. This manicure has tiny stones lining the cuticles to give your hands a subtly glamorous accessory.
8. Holo Ombré
Catch people's attention with these beige ombré nails with glitter tips. The holographic effect doesn't create too stark a contrast with the beige base, but it will surely not go unnoticed.
9. Supreme Beige Goodness
A rich beige shade can also look good with translucent ombré tips. And as if that's not enough, this set combines ombré nails with a few solid beige nails decorated with gold and others embellished with tiny jewels.
10. Demure Shimmer Nails
Who'd have thought glitter can be muted? These beige ombré nails with glitter certainly do the trick. One layer of a glittery top coat over the nude-and-white gradient lends a soft shimmer to the manicure.
11. Cream-Colored Talons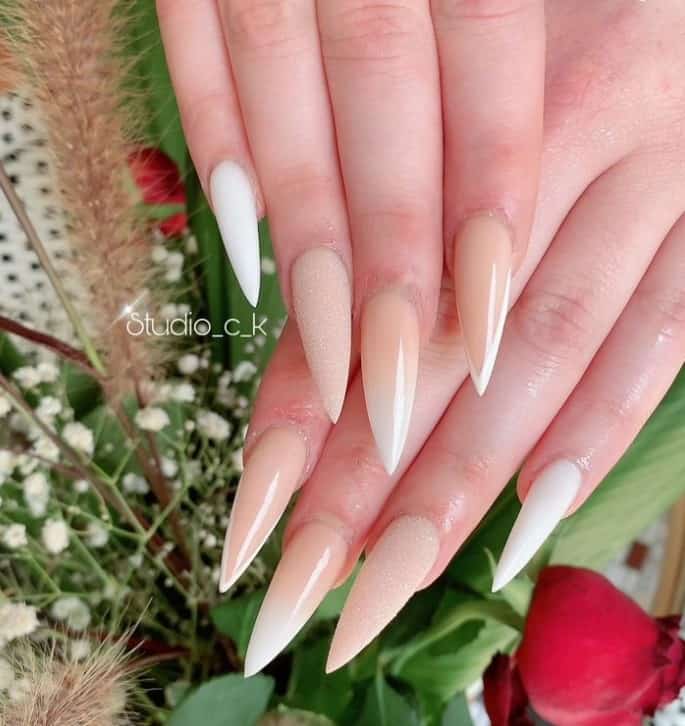 White-and-nude ombré nails can be combined with other nail designs. For instance, this set also features matte whites, textured nudes, and thin French tips.
And to add a touch of drama, the look is done on stiletto nails.
12. Mixed Coffin Nails
These beige ombré acrylic nails are something that the Kardashians would approve of, especially Kim, who loves long nude nails.
In this manicure, there's a mix of solid, ombré, and diagonal tips that blend together beautifully.
13. Sophisticated Beige Nails
What do you get when you mix beige ombré nails with beige marble nails? Absolute sophistication.
This is a chic way to update your nude coffin nails. And to add more elegance to the look, opt for a sheer finish.
14. Sheer White Glam
White nails are one of the most coveted manicures. But to be honest, they're really hard to pull off.
In this look, white nails and white V-tips are combined with nude ombré nails to make the manicure more flattering to the skin tone.
15. Soft Sparkle
If you want a little sparkle on your manicure, use glitter. But to make it easier on the eye, try this nail design.
Here, only two beige ombré nails are slightly covered with garnet glitter powder. This manicure proves that glitter doesn't have to be too loud.
16. Flecked with Gold
Whether natural or fake, your nails can stand out with a pop of color, especially if that color is as stunning as gold.
If you need the perfect accessory when attending a wedding or a small gathering, these beige ombré nails with gold flakes are for you.
17. Wealthy-Looking Nails
Here's a version of the look above with more gold foil flas on the accent nails. This will make your nude-to-white ombré nails stand out more.
18. Tropical Nails
These light ombré nails are ideal for hot summer days. And they're made even more refreshing with dark green fern accents.
Cute Ombré Nail Designs
19. Pretty as a Peach
This design is perfect for our younger readers because the color isn't too intense. The peach tips are slightly muted when paired with beige. In addition, the tiny metallic heart details are so cute.
20. Spring Beige Nails
Short nails can don ombré designs too. Plus, you can add handpainted details to make short nails look cuter.
Take these tan-and-white ombré nails, for example. They are handpainted with colorful flowers to make the manicure spring-ready.
21. Edgy Spring Nails
How about an unconventional take on spring floral nails? Instead of pastel colors, this design has bold red and black flowers and diamond buds.
22. Chill Bride
There are a lot of things that can stress out a bride when planning her dream wedding, but her manicure shouldn't be one of them!
So if you're a bride-to-be, try something as relaxed and flawless as these creamy baby boomer nails, which are adorned with little white cherry blossoms.
23. Intricate Bridal Nails
If you think the previous one's too easy, go for a more detailed floral design to complete your beige baby boomer nails. This nail art can be done with the help of a creative nail technician or by simply using a nail decal.
24. Ready for Date Night
While hearts are usually used to decorate Valentine's nails, the beige ombré base makes this look wearable any time of the year.
25. Silver Sparkle
Add glitz to your almond beige nails for an eye-catching look. In this design, stars are created using metallic silver polish.
26. Edge and Elegance
Can a manicure be both edgy and elegant? This look can answer that query with a resounding yes. To give these chic ballerina nails an edgy look, the accent nail is decorated with brown glitter tips and white chevron lines.
27. Nature-Inspired Nails
Achieve your dream of being a green fairy with this manicure. The beige ombré nails are used as a base for simple green leaf art and diagonal tips. And for a stylish touch, silver glitter lines are added to select nails.
Glamorous Beige Ombré Nail Art
28. Dazzling Birthday Nails
Make your day extra special with these bejeweled birthday nails.
The crystals in various shapes and cool colors that adorn the beige ombré nails, plus the subtle blue glitter tip on the pinky finger, make this manicure perfect for your celebration.
29. Lined-Up Jewels
The tiny rhinestones with iridescent color are arranged in different directions, creating waves, straight lines, short lines, and cuticle cuffs. Yes, these almost clear beige ombré nails have a lot going on, but we're loving it.
30. Pink or Blue?
Gender reveal nails are typically done with pink and blue polish, but to make yours more distinctive, fuse the two classic colors with beige.
In this manicure, the pastel color gradually transitions to a beige base. And for more cuteness, there are bear-shaped crystals on the accent nails.
31. Yellow and Nude Galore
How do you make matte nude ombré nails stand out? Add a bright color.
As you can see in this remarkable design, the matte nails are adorned with yellow ombré and textured tips. To top it all off, white 3D flower stickers are added to each nail.
32. Extravagant Square Nails
Rhinestones are the best way to take your manicure to the next level.
Case in point? These long beige ombré nails. What used to be plain-looking are now lavishly adorned with golden rhinestones and 3D florals.
33. Luxurious Bride
If you're a bride who's not up for something simple, then you can try this manicure.
Long coffin nails are beautifully painted with a peach beige ombré. And to spice up the look, the accent nails are embellished with large silver crystals.
34. Champagne Charm
Getting ready for your Christmas or NYE party? Wear these beige and champagne glitter nails. The uniform base and crystal gems create a perfect balance between all-out glamor and restrained sophistication.
35. Majestic Emerald Nails
In this nail design, the nude nails are coated with a shimmery and jelly finish. Then they're topped with emerald crystals. Be the star of the show with this acrylic nail set.
36. Glitz and Glass
This manicure may have blinded us with the glass finish, large blue crystals, and chunky glitter, but the beauty is still visible. And for that, we've got the beige base to thank.
The neutral color provides a subtle base that prevents the whole look from being over the top.
37. Alluring White Nails
Aside from the wedding dress, beautiful nails can make the bride a vision in white. Take this manicure, for instance.
The sheer white blends beautifully with the beige base, and the white and silver swirls are a charming detail. And to complete the look, tiny white flowers are added to the mix.
38. Regal Nude Nails
If you're trying rhinestone nail art for the first time, don't go crazy and stick several gems on your nails.
Instead, try this manicure. Get ombré beige nails, then decorate only one of the nails with muted bronze rhinestones. This will make your hands look magnificent, not tacky.
39. Frisky Mani
Decorate your nude mountain peak nails with gold flakes, pearls, and attitude. With this manicure, you can express your strong personality.
40. Prom Princess
Light-colored nails with soft romantic details are perfect for prom, just like this one. These long coffin nails are adorned with tiny rhinestones and pearls for a mellow bejeweled design.
41. Crystal Frames and Marbles
Nothing is boring about this look. The beige ombré nails are paired with marble and nude nails and crystal borders to form a head-turning manicure.
42. Dior-Labeled Nails
Some nail designs are also inspired by luxury brands like Louis Vuitton, Gucci, Chanel, and Dior. This nude manicure is one of them. While it's a playful tribute to Dior, you can customize this look by using the logo of your favorite brand.
43. Fit for a Queen
The humongous crystals swirling over shimmery pinkish beige-and-white ombré nails scream royalty. Try this look on almond nails or any other nail shapes.
Frequently Asked Questions
Is Beige a Professional Nail Color?
Since beige is a neutral, muted color, it is considered professional-looking. This means you can wear beige nails to work.
How Can You Make Beige Ombré Nails Last Longer?
After spending much time and effort on your manicure, you'd want it to last as long as possible. Here are some tips on how you can make your beige ombré nails look good for a long time:
Be careful when painting the polish. Use two to three thin layers of polish instead of one thick layer when applying to make sure that the polish goes on smoothly.
Apply a top coat to seal and protect the nail design.
Moisturize your nails with cuticle oil to keep your nails healthy and strong. The healthier your nails are, the longer they can hold on to your polish.
Get Ready for Beige Ombré Nails
Beige is a beautiful color that can be made more stunning with an ombré effect — and gorgeous nail art. You can rock a simple nude ombré nail design or something special like bejeweled ombré nails.
Whatever your style, a beige ombré will make a great base.
Now you see that beige nails aren't boring. Break this stigma by sporting beige ombré nails!
Check out these other nail ideas!