This post may contain affiliate links, which means I may receive a small commission, at no cost to you, if you make a purchase.
When it comes to creative nail designs, the possibilities are limitless.
From abstract patterns to intricate lines, there's no shortage of ways to express your personal style through your fingertips.
And if you're a fan of minimalism, you'll love the latest nail trend — nail designs with lines.
Whether they're bold and graphic or delicate and subtle, lines can add a sophisticated touch to your manicure. And the best part? There are so many ways to incorporate lines into your nail art.
You can opt for classic stripes, geometric shapes, or even freehand designs that mix and match different line styles.
The options are endless, and the result is always eye-catching.
So whether you're heading to the office or hitting the town, our trendy 40+ creative nail designs with lines are sure to turn heads!
Designs That Pair Well With Line Nail Art
Line nail art is a versatile design that can be paired with a variety of other designs to create unique and eye-catching looks.
Here are some of the styles that complement line nail designs.
Geometric Shapes
Line nail art can be easily enhanced with geometric designs like triangles, squares, and diamonds. The clean lines of the nail art work well with the sharp angles and shapes of geometric designs.
Negative Space
Another design that pairs well with lines is negative space nail art. By leaving part of the nail bare, you can create a beautiful contrast between the blank space and the lines.
Florals
Line nail art can also work well with floral designs. The curves and lines of floral designs can complement the straight lines of line art on your nails. The two designs work together to create a cohesive and visually appealing look.
Abstract Designs
Nail designs with line art also work well with abstract designs. Abstract designs allow for a lot of creative freedom and experimentation, making them a great complement to line nail art.
You can play around with different shapes, colors, and patterns to create a unique design that reflects your personal style.
Polka Dots
Pairing line nail art with polka dots is a great way to add playfulness to your nails. You can use the lines to create the outlines of the dots or use them to connect the dots together.
Line Designs for Nails
Have fun and be creative in expressing yourself through your manicure!
Be inspired by our magnificent collection of trendy nail designs with lines, and don't forget to pin your faves.
1. Multicolored Neon Lines
These long coffin nails with multicolored vertical lines on a matte black base exude a striking and edgy nail style that is sure to grab a second look from everyone.
The sleek and elongated coffin shape adds a touch of glamour, while the vibrant lines against the dark background create an eye-catching effect.
2. Ombré Lines and Glittery V-Tips
Get ready to add some serious bling and color to your long white coffin nails with playful ombré lines in blue-green and red-orange, tiny gold studs, and eye-catching glittery v-shaped tips in hot pink and dark green!
3. Pink Grids
Want a mix of modern and feminine for your next nail style? Paint your oval-shaped nails white and adorn them with pink grids using clean lines for a delightful and trendy design!
4. Black And Gold Curved Lines with 3D White Polka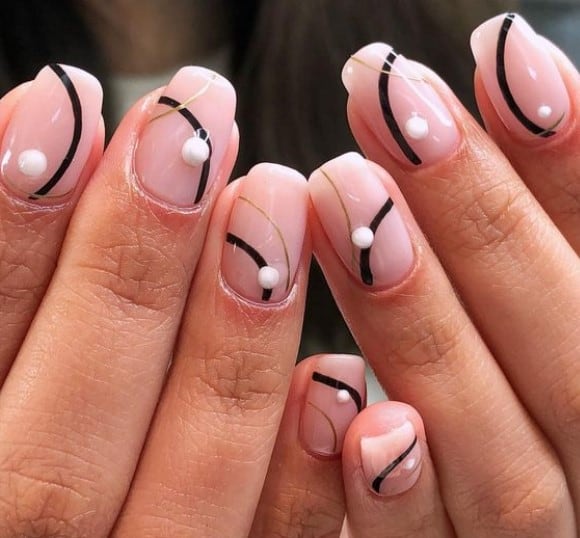 Featuring sheer pinkish-nude nails, this look is elevated with the addition of overlapping gold and black curved lines that create a hypnotic effect. To add a touch of whimsy, each nail is adorned with a white dot.
5. White Grids with Florals
Looking for a chic line nail design? Change up the look of your round clear nails by decorating them with clean white lines that form trendy grids. Then add pastel-colored flowers on top of each nail!
6. Pastel Grids with Daisies
Another way to take your bare nails up a notch is accentuating them with pastel-colored grids and adding two mini daisies opposite each other for a playful vibe!
7. Tetris
This design features a light nude base adorned with a range of colorful Tetris-inspired shapes. The lines and geometric patterns create a fun and modern look — perfect for anyone who loves retro video games.
8. Fingerprints
For your next nail design, consider a sheer pale blue base with white curvy lines that resemble fingerprints. Don't forget to fill the center of each fingerprint pattern with white to elevate the whole design!
9. Silver Streaks
Love to stand out in a crowd? Try stunning acrylic nails with a pinkish-peach base decorated with metallic silver streaks that add a touch of sophistication to your fingertips.
10. White Double X and Gold Gems
Channel your chic and glamorous personality by painting select nails with glittery baby pink and pink ombré! Adorn the accent nails with gold gems and white X-shaped line patterns to turn heads wherever you go without fail.
11. Brown Streaks on Mocha Frenchies
We are so in love with this simple yet trendy nail design with lines that features mocha-toned French tips decorated with dancing streaks in a darker shade of brown.
12. Creative Abstracts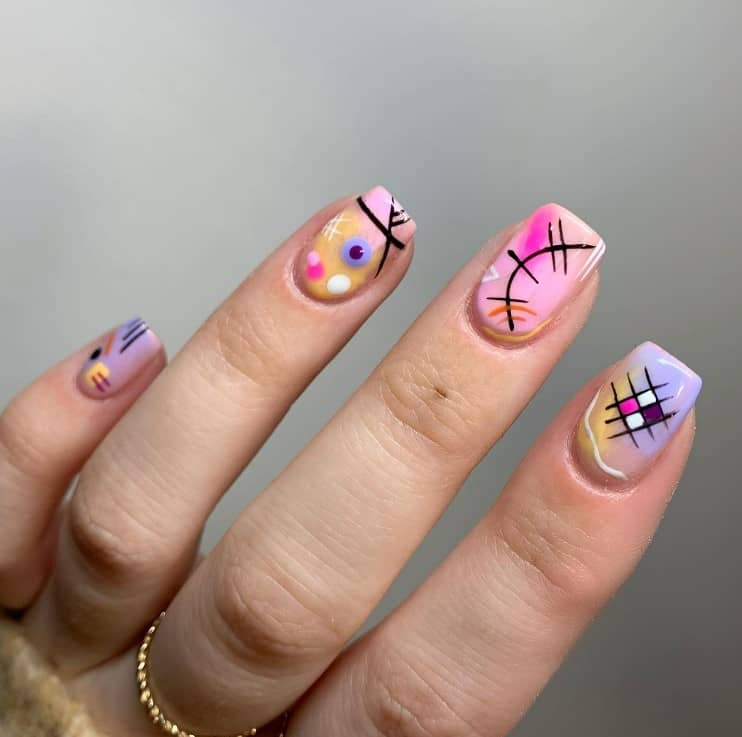 Be one of a kind and get this mesmerizing look that features abstract patterns of lines and spheres on a multicolored base!
13. Black Streaks on Neon Pink Frenchies
For a bold and edgy nail style, try neon pink French tips with wavy black lines that resemble tiny rattlesnakes. This striking nail design with wavy lines is perfect for adding a touch of fierceness to any outfit.
14. Lines and Triangles on Nude
Want a modern mani? Opt for short nails in a classic nude beige shade paired with three accent nails that feature black and red triangles as well as bold red lines forming the letter Y.
The random placements of the nail details are totally charm boosters!
15. Lines and Dots on White and Yellow Smudges
Showcase your creativity by incorporating negative space nail art into your design by using white and yellow smudges as a base, then adding curvy lines and irregularly shaped dots in black to each nail!
16. Green Horizontal Lines
One of the easiest line nail art designs you can replicate at home features short milky nude nails decorated with a single horizontal green line in the middle of each nail!
17. White Side Tips With Black Outlines
This trendy nail design features a nude beige base that is perfectly complemented by white diagonal side tips.
The black line outlines along the bottom of each tip add a touch of sophistication and balance to the overall look.
18. White Lace on Nude Pink
Get beautiful long square nails in nude pink and amp them up with white wavy lines that look like delicate laces.
19. Black and Gold Lines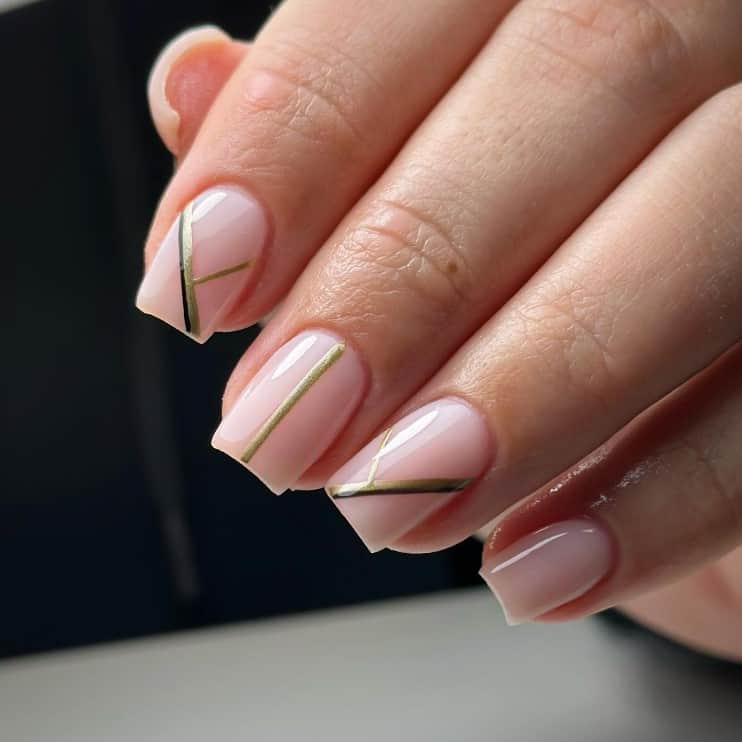 The gold and black lines taking center stage on a sheer pink base is one of our favorite combinations ever! The design is not overpowering, and it's also not too simple — it's just right for those who want a trendy yet minimalistic vibe.
20. Black Lines on Blue and Pink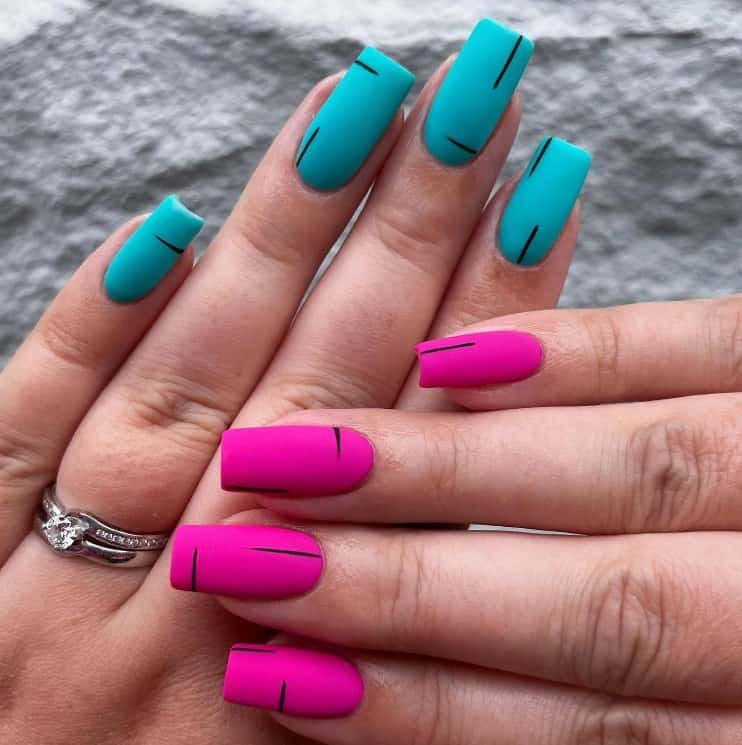 Be bold by sporting bluish-green nails on one hand and hot pink nails on the other! Style them with vertical and horizontal lines near the tips and the cuticles for a fashionable upgrade.
21. Pastel Lines and White Dots
Prove that short nails are never boring by decorating them with irregularly placed pastel-colored lines. Then add tiny white dots near select lines for some extra quirk.
22. Black Lines and Dots
Get a subtle yet chic mani by painting your short nails light beige and decorating them with alternating black dots and fine horizontal and vertical lines!
23. Pastel Blue Sideway Frenchies and Gold Lines
Short nails in a sheer pink shade can be transformed into a unique design with the addition of pastel blue side French tips that overlap with diagonal gold lines. The combination of colors and patterns creates a fun and stylish look!
24. Rainbow Ombré Lines
A matte peach base creates a soft and feminine backdrop for colorful nail art with line designs. Adding vertical lines in different ombré rainbow shades to the center of each nail creates a colorful twist that's so addicting to look at!
25. Line Face Art
Make a statement by getting long almond nails in matte peach and accentuating them with line face art in black, such as minimalist and abstract lips, noses, and other facial features.
26. Black Lines and Neon Ombré Tips
Nails in a milky nude color provide a soft and delicate base for a playful nail design.
Irregularly placed black lines and multicolored neon ombré French tips create a vibrant look that's perfect for those who want to be the talk of the town.
27. White Frenchies With Black and Blue Lines
In this nail design, the classic white French tips get a modern twist with the addition of bold black lines tracing the right corner of each nail.
Topped with either single or double thin blue lines on the other side of each nail, this unique design is oozing with creativity.
28. Abstract Art With Multicolored Smudges
Short nails with a nude base become an instant fashion statement when decorated with multicolored smudges, lines, and dots that create a tribal-inspired look.
These vibrant nails are great for those who want to add a touch of exotic flair to their everyday style.
29. White and Blue Squiggles
Squiggly lines in different shades of blue and white create a mesmerizing effect on a neutral backdrop, giving you a mani that will make everyone look twice.
30. Black Line With Heart
On a hunt for nail design ideas with lines that are easy to DIY? Try dark peach-colored oval nails, and decorate the accent nail with a black vertical line piercing through a tiny black heart. This design is simple yet very intriguing!
31. Double White Squiggles
Another minimalist yet interesting nail design with lines you can do at home is doodling two squiggly white lines on a pink base! Don't forget to top them off with clear nail polish for added shine.
32. Rose Gold Squiggles
This stunning nail style features long square nails painted a soft peach hue, complemented by a unique twist of a lone squiggly line in rose gold adorning the top of each nail.
33. Criss Cross in Pink Shades
Love pink? Enhance your pale pink nails by embellishing them with stylish elements such as criss-cross lines, polka dots, and hearts in varying shades of pink!
34. Arrowheads and Leaves
Show off your uniqueness by adorning your pretty pink almond nails with intricately designed lines that form arrowheads in green, white, and red, delicate leaf stems in pink, and glittery gold smudges that add sparkle.
35. White Paint Stains
Consider painting your nails dark blue and pink alternately and combining both colors for the accent nails. Then create a smudged and stained effect on the accent nails using white nail polish.
Complete the look with white squiggly lines for a style upgrade!
36. Pastel Blue Sideway Frenchies with Terra Elements
For a stylish, modern look, try pairing pastel blue with black for contrast.
Then add a pop of pink to the accent nails and decorate them with pastel blue side Frenchies, diagonal lines, and terra elements such as leaves, tiny dots, and golden studs.
37. Pink Squares and Black Lines
For a fun nail style, combine hot pink nails with sheer white accent nails that feature irregularly placed straight lines for an artsy touch.
Add some dimension by placing pink squares either at the tips or at the cuticles, and enjoy a very eye-catching manicure.
38. Grids, Squiggles, and Gold Foil
Multicolored nails are super in now, so try combining black, white, and honey yellow in your next manicure!
Add a hint of modernity by decorating the black nails with white grids while giving a touch of elegance to the white nails with black squiggly lines and gold foil flakes.
39. Black Lines on Matte Gray
Paint most of your nails gray and top them off with a sleek matte finish, then give your mani a touch of drama by using matte black polish for the nails on your pinkies.
Lastly, decorate select nails with one or two bold black lines for an attention-grabbing twist.
40. White Lines on Lavender
Want dreamy-looking nails with line designs? Opt for lavender nails and adorn them with a variety of white-line styles. You can mix and match cross, crisscross, and horizontal lines for a trendy update!
41. White and Pink Lines
Get ready to have some fun with hot pink and sheer beige nails! Make the look of the sheer beige nails even more stylish with playful, irregularly placed black and pink lines.
42. Dots and Lines on Negative Space
Looking to try something new and fresh for your next manicure?
Cream-colored nails with a diagonal cut above the cuticles that expose a small area of your bare nails are a chic and modern option! Add some edge to the design with dots and asymmetrical lines.
43. Pink and Silver Triangles
Combine peach and mint green colors for a fresh and fun mani, and add some sparkle with accent nails featuring two triangles that face each other.
The triangle near the cuticle base is silver, while the other triangle near the tips is peach, making a funky manicure that's perfect for summer.
Frequently Asked Questions
How Can I Make Sure My Line Designs Look Neat And Precise?
To ensure the line designs on your nails look neat and precise, there are a few things you can do.
First, make sure your nails are completely clean and free of any oil or residue before you start painting them. This will help your chosen nail polish product adhere better and prevent smudging.
Next, use a thin, pointed nail brush such as the Winstonia Nail Art Brush to create the lines, and take your time to ensure each line is even and straight.
If you make a mistake, don't worry; you can always clean them up with a small brush dipped in nail polish remover.
Finally, use a top coat to seal your design, prevent chipping, and allow your nails to dry completely before doing anything that may cause smudging or smearing.
How Can I Create Line Designs That Complement The Shape and Length Of My Nails?
There are a lot of considerations when you have nails with line designs, such as being mindful of the right line style that complements the shape and length of your nails.
For example, if you have short nails, you may want to opt for thinner, more delicate lines. On the flip side, long nails can look incredible with thick lines and bold designs.
Additionally, you can use lines strategically to create the illusion of longer or shorter nails. Vertical lines can make short nails appear longer, while horizontal lines can make long nails appear wider.
When it comes to shape, you can use lines to accentuate the natural curves of your nails or create geometric shapes that complement your nail shape.
For example, if you have almond-shaped nails, you can create triangular or diamond-shaped designs that accentuate the pointed tip.
Ultimately, the key is to experiment with different line designs and techniques to find what works best for your nail shape and length.
Get Creative With Our Line Designs For Nails!
Wow! With over 40 different nail designs with lines in this article, there's no shortage of inspiration for your next manicure!
Whether you prefer bold and graphic designs or delicate and intricate details, there's something for everyone.
And with a little creativity and practice, you can experiment with different colors, shapes, and line patterns to create a unique and personalized line nail design that truly reflects your style.
So go ahead and get ready to have some fun with lines!
Looking for More Unique Nail Designs?
Check more of them here: