This post may contain affiliate links, which means I may receive a small commission, at no cost to you, if you make a purchase.
Looking for fun and trendy ways to elevate your nail style?
Try pink French tips!
French tips are classic and evergreen — they never go out of fashion.
And when you replace the usual white tips of a French mani with the perfect shade of pink, you'll have a winning combination that's sure to steal a second look from everyone you meet.
So if you want to put a little pep in your step and add some spice to your nails, check out our list of over 50 attractive pink French-tip nail designs!
From soft blush hues to vibrant hot pinks and everything in between, these pink-tip manicure designs will have you feeling like a true beauty queen.
Ideas For Pink-Tip French Manicures
Give your nails a chic upgrade with these beautiful collections of pink French-tip nail designs!
Scroll down and pin your faves from our list to elevate your nails to a whole new level of fabulous.
Budding Spring Flowers
Decorating accent nails with pink flowers preparing to blossom gives a fun spin to this lovely set of pink-on-pink French tips.
Soft Pink V-Tips
Attractive and easy to wear, V-tips in delicate colors of white and different shades of pink stand out on a neutral backdrop.
Pink Arrowheads
Not only is this design pleasing to the eye, but it's also pretty simple to recreate. Simply paint the tips of one set of arrowhead-shaped nails light pink and the other blush pink.
Neon Pink Tips
Get ready to dazzle with a chic and trendy manicure by painting the tips of your nails neon pink! This design keeps things simple but gives your nails a fun touch.
Thin Pink French Tips
We love how this set looks super tidy and trendy at the same time, with thin pink tips on a milky white base creating a lengthening effect on short nails.
Butterfly Silhouettes
Here, light pink Frenchies are smudged with bold pink polish and painted with butterflies in the same shade of pink as the base color for a silhouette effect. Extra long square acrylic nails are perfect for this look, as they give you plenty of space to work with.
Embossed Curvy Hearts
This nail design features long acrylic nails with tips painted white, red, and pink and decorated with several embossed curvy hearts.
Pink Cherry and Polka Toppers
Make your next mani unique by combining V- and U-shaped pink French tips and adorning select nails with pink cherries and polka dots on extra-long square nails. The shade of pink in this design complements the nude base beautifully.
Twinkling Stars on Pink Tips
Add some fairy dust-like glitter to pastel pink tips with twinkling golden stars for a magical effect.
Chrome Studs on Hot Pink Tips
Looking for an edgier design while still looking chic? Take your hot pink French tip nails a step further by topping them with chrome studs.
Pink Heart-Shaped Tips
If the classic French flair is too simple for your taste, feel free to restyle it by getting heart-shaped tips in pastel pink instead of the typical white-lined tips.
Pink Streaks on Magenta Tips
Got a bold personality? Match your mani to your fearless spirit by painting the tips of your long square nails magenta and accentuating them with hand-painted funky streaks in hot pink.
Spectrum Pink Tips on Almond
Can't decide which shade of pink you want to have on your tips? Get gorgeous tips in several shades of them instead and pair them with long almond nails!
Baby Pink Tips and Heart Details
This design features baby pink-tipped nails and accent nails fully painted with baby pink polish and topped with dainty hearts in red, pink, and gold.
Tiny Heart on Pink Spectrum
Pink French tips on acrylic nails are already stunning, but choosing a unique shade of pink for each tip and topping it with a lone tiny heart creates a super stylish effect that we cannot resist.
Lone Heart and Tips in Soft Pink
This lovely set has light pink French-tip nails and two accent nails painted in nude peach and adorned with a big light pink heart at the upper left corner.
Rose Gold Outline
Want pink French-tip nails with glitter? Try this nail design! You can recreate it by outlining U-shaped tips with rose gold glitter.
Bright Spring Fun
This nail design combines hot pink and neon orange tips with nude accent nails topped with 3D yellow flowers. To make the look a little quirkier, the pink-tip French nails are outlined with yellow polish and decorated with gems placed near the cuticles.
Framed Pink Tips
Get a trendy nail design by giving the pink tips of your French mani a cool frame. All you need to do is outline your French tips with a darker shade of pink, and you're all set!
Sweet Details on Pink Tips
There's something captivating about using cute and sweet designs like lipstick kiss marks, cherries, and hearts as accents for thinly lined pink tips.
Pink Zebra Print
We're crazy about this nail design that features mid-length oval nails with hot pink zebra stripes on pastel pink tips! This is definitely one of the best ways to change up your pink Frenchies.
Pink and Red Tips
Get alternating red and pink French tips and paint hearts at the center of each one. Make sure to paint red hearts on pink tips and pink hearts on red tips for added fun!
Pink Tips and Gold Cuffs
The gilded cuffs of these short pink nails with French tips make the overall look extra elegant and sophisticated. It's only a minimal upgrade to your pink Frenchies, but the impact is astounding.
Pink and Orange Marble
Elevate a classic French manicure with marble tips. Use a mix of bright orange with different shades of pink for a bold, attention-grabbing combo!
Hot Pink French Tips
Looking for nails with pink tips that are easy to DIY? This style is totally for you! Just paint the tips of your long almond nails hot pink and seal them with a clear and glossy top coat for maximum shine.
Colorful Polka Dots
Get multicolored polka dots on the tips of long almond nails and line them with rose gold glitter to make them sparkle. These pretty accents take center stage on a nude pink backdrop!
Thin Pink Tips with Lone Hearts
This nail design features thinly lined pink French tips on long oval nails and a pretty pink heart placed along the accent nail's cuticle.
Glittery Magenta Tips
These glittery purplish pink French-tip square nails look so sophisticated and stylish that you won't be able to stop staring at them!
Tortoiseshell Tips on Pink
This nail set has tortoiseshell French tips with a neon pink outline, creating a distinctive contrast and a very remarkable style.
Pink Long Coffin Nails
Get pink French tips on coffin nails for your next nail appointment! Try different shades of pink to make the look more interesting. Then go from lighter to deeper shades, starting from your thumb to your pinky.
Studded Pastel Pink Almonds
Your pink French-tip almond nails will look extra elegant if you top them off with tiny, shiny silver studs!
Shimmery Stars and Pink Gradient
The French manicure with pink tips in different shades already looks pretty, but we think adding twinkling golden stars to the mix would make it more magical and alluring.
Hot and Light Pink Tips
Get hot pink Frenchies on one hand and light pink on the other. Both shades of pink stand out against a sheer peach ombré backdrop!
Heart Overload
This nail design features four nails with French tips in red, white, and different shades of pink, and an accent nail that's loaded with adorable little hearts.
Baby Pink Tips and Red Hearts
Prefer a girly nail design? Try baby pink French tips on long almond nails and decorate each nail with a red heart near the cuticle.
Hot Pink Tips with Hand-Painted Art
This manicure has hot pink tips on a pastel pink base. For extra flair, the accent nails are accentuated with a hand-painted red rose and a white heart with a red cross in the middle.
Glittery Pink Tips and Multi-Colored Gems
Draw the crowd's attention by getting this nail set! It features a mix of glittery pink tips and two solid pink tips decorated with golden rays, multicolored gems, and tiny golden dots.
Colorful Smiles
This nail design will surely put smiles on everyone's faces! Not only does it have delicate-looking pastel pink Frenchies, but it also decorates each of the nails with a colorful smiley face.
Glittery Hot Pink Frenchies
Channel your inner sass by getting glitter French-tip nails in hot pink. Perfect for your next date night!
Shimmer on Pink Gradient Tips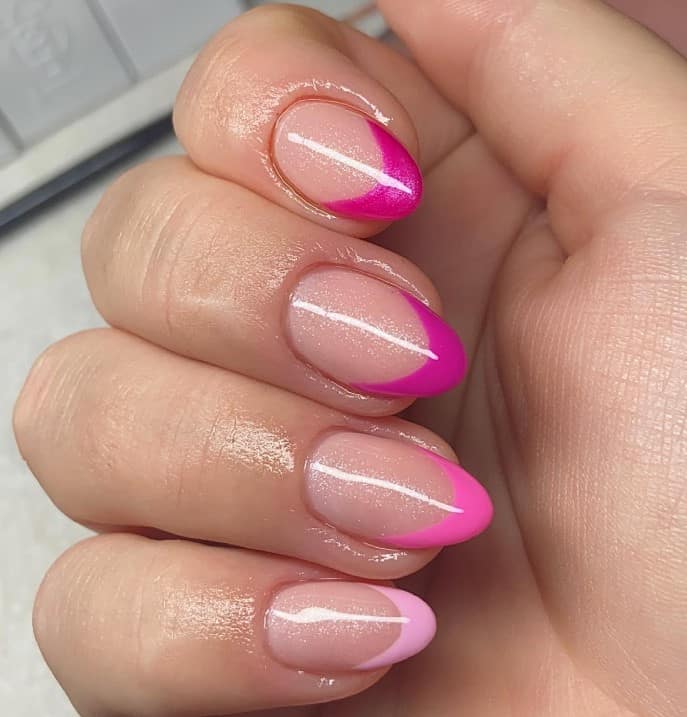 Add a shimmery, glittery top coat to your French tips in various shades of pink for a sophisticated look.
Pink On Pink
Who says you can't mix two bright shades of pink? Pair hot pink tips with a bubblegum pink base for a funky take on the classic French mani!
Watermelon Nails
Decorate dark pink French tips on long square nails with tiny orange studs for a creative nail design that mimics the look of the refreshing watermelon fruit. This is the perfect mani for summer!
Sweet Cherries on Pink Tips
A light pink French manicure with red cherries stamped on the accent nails makes short square nails look so sweet and appealing.
Strawberry Milk
These mid-length square nails have a fun strawberry theme. It features pink tips adorned with strawberry art that remind us of our favorite childhood snack: strawberry milk!
Pink and Orange Dots
Both odd and interesting, this nail design has funky orange and purple dots arranged in irregular patterns on French nails with pink tips.
Whimsical Pastel Frenchies
Express your playful and imaginative side by adorning select nails with pink and blue French tips and embellishing each nail with fun designs such as strawberries, clouds, polka dots, and flowers.
Pastel Hearts on Pink Gradient Tips
Achieve this look by getting French tips in different shades of pink and adorning your cuticles with charming pastel hearts for a delightful touch.
Orange and Pink Tips
Put a playful twist on your French mani with a bold color scheme! Opt for vibrant orange French tips that add a pop of energy on one hand and adorn the nails with bright pink tips that exude femininity on the other.
Silver and Pink V-Tips
Elevate your nails with a stunning design featuring glittery silver and dark pink V-shaped French tips on a soft pastel pink base. The silver and pink hues create a captivating contrast against the gentle pink backdrop.
Winter Femme
This winter-inspired look features select nails painted with luxurious glittery pink polish and glittery pink tips and cuffs on the rest of the nails. The intricate snowflake details add a festive touch to the overall look.
Fuschia Pink Sunflowers
Instead of the traditional baby pink or pastel pink flowers, get fuchsia ones as details on nude pink accent nails. Make this set extra stylish by giving the rest of your nails fuchsia pink French tips!
Rose Gold Tips
Exude chic elegance by getting short square nails with a soft, dreamy nude pink base that serves as the canvas for creativity. The real showstopper in this nail design? The dazzling rose gold glitter gracing the tips of your nails!
Framed White Tips
Hot pink French tips add a pop of intense color to your nails that's impossible to ignore. Pair them with accent nails that feature crisp white tips framed with a sleek hot pink border to create a striking contrast that stands out from the crowd!
Frequently Asked Questions
Are Pink French-Tip Nails Suitable For Short Nails?
Yes, pink French tips can be a great option for short nails. Here are a few reasons why:
Optical Illusion — Pink tips against a sheer or nude base can visually extend the length of the nails, creating the illusion of longer nails.
Versatility — Pink is a versatile color; it comes in different shades to suit different skin tones and personal preferences. You can choose from a wide range of pink shades — from soft pastels to vibrant neons — to find the perfect hue that complements your skin tone and suits your style.
Minimalistic Look — Pink French-tip nails are known for their simple and clean design, with just a hint of pink at the tips. This minimalist look can stand on its own even without the addition of elaborate nail art.
Timeless — Pink French tips have been a popular nail trend for many years! Their classic and timeless appeal makes them suitable for all occasions, whether it's a formal event or a casual day out with friends.
Nail Health — Keeping your nails short and well-groomed is essential for maintaining healthy nails. With pink French-tip nails, you can keep your nails nice and trim while making them look polished and elegant.
Can You Use Nail Wraps Or Decals For Pink French Tip Nails?
Absolutely! Using nail wraps can be a fantastic way to achieve stunning pink French tip nails with ease.
Nail wraps are adhesive stickers that can cover your nails entirely as an alternative to traditional manicures. They come in a variety of designs, including French-tip styles.
When it comes to pink French tip nails, nail wraps can be a convenient and time-saving option.
You can find them in different shades of pink, allowing you to choose the right one that matches your desired look.
Apart from making your nails look unique, nail wraps are generally long-lasting, durable, and gentle on the nails. They do not use any harsh chemicals or require excessive buffing to be applied to the nails.
Also, once applied, they act as a protective barrier for the nails, shielding them from everyday wear and tear.
However, keep in mind that the longevity of your nail wraps may vary depending on the quality of the product and the technique used for application.
Embrace The Beauty of Pink French Tip Nails With Our Over 50 Alluring Designs!
Pink French-tip nails are a timeless and versatile choice that can add a touch of sophistication, femininity, and playfulness to your nails.
With a plethora of designs to choose from in our dazzling collection, you can easily find the perfect pink French-tip nail design that reflects your personal style and makes a bold statement.
Go ahead and embrace the allure of pink French tips, and let your nails steal the show!
Searching For More Nail Designs?
Check these out: