This post may contain affiliate links, which means I may receive a small commission, at no cost to you, if you make a purchase.
In the quest for beauty, pink has always been a top color of choice for many women.
After all, pink is feminine, flirty, and fun. And as a nail color, it lends character to the wearer and makes things extra interesting.
Neon pink nails, in particular, elevate the aesthetic appeal of the shade and give your hands that bold and daring pop of color.
But don't just take our word for it.
Here are pink neon nail designs that you can try right now.
55 Designs and Ideas for Neon Pink Nails
One great thing about this color is that you can choose from various designs and ideas. From cute neon pink nails to solid neon pink accents, you can mix and match styles to suit your mood or look.
Here are some design inspirations if you need help with where to start!
Pink Nails and Fabulous French Tips Outlined With Silver
How do you instantly add elegance to your ensemble? Easy! Neon pink nails with French tips!
Try this gorgeous nail design with glossy neon pink nails and V-cut French tips outlined in stunning silver glitter.
Hot Pink Nails With Lines and Polka Dots
If you're a fan of long nails and aren't scared of wearing them loud and proud, this nail design with black glitter tiger stripes and white polka dots is perfect!
Neon Pink Nails With 3D Swans
Elevate bright popping neon hot pink nails with 3D nail art like these gorgeous translucent swans. They're pretty, feminine, and fierce.
Solid Pink Nails With Flower and Swirl Accents
Who says simple is boring? Keep casual days fun by pairing nails with neon pink and drawing hot pink squiggles and white flowers on sheer white accent nails.
Elegant Ombré Almond Nails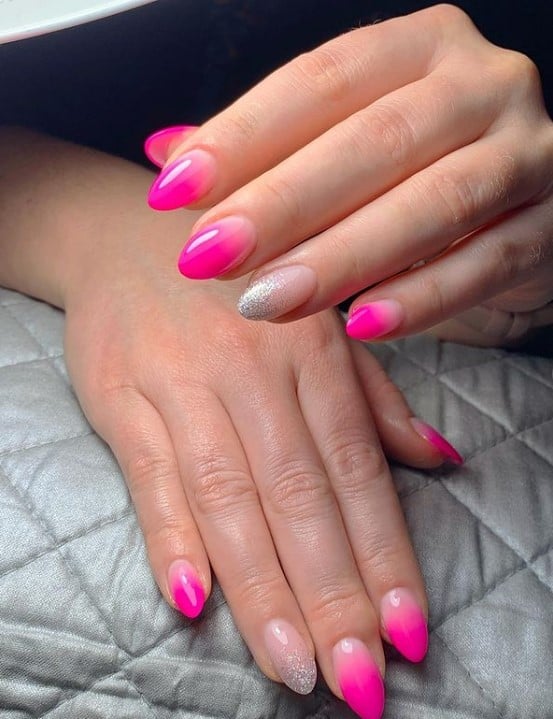 Feel like the belle at the ball wherever you go with gradient hues that beautifully taper to smooth almond edges in neon pink and silver glitters.
Hot Pink Nails With Racing Details
On your mark, get set, go! Wow everyone with these unique racing-inspired nails that feature not only neon pink nails but also bright green, silky mocha, and checkered patterns.
Two-Tone Almond Pink Nails
Two-tone nails like the ones in this design are a fashionable way to sport two colors. This mani features neon-pink base nails, topped off with flesh-colored tips for some stylish contrast.
Dreamy Neon Pink Ombré Nails
Also a stunning nail design, these neon pink ombré on nude almond nails offer just the right amount of romanticism and a hint of sass.
Glossy Hot Pink Short Nails
If you'd rather opt for neon pink short nails that still deliver that oomph, these highly glossy oval hot pink nails are a perfect pick.
Ombré Pink Nails With Neon French Tips and Hearts
Indulge your romantic side with these ombré nails sprinkled with multicolored hearts and neon pink French tips. The whole set looks dreamy, cute, and spellbinding.
Decadent Neon Pink French Tips With Rhinestone Accents
If you like your French tips extra decadent, these nude nails with neon pink deep V-cut tips and rhinestones will give just the vibe you're going for.
Futuristic Pink Nails
These gorgeous neon pink nails are out of this world. Go futuristic alien by pairing light neon pink nails with hot pink accents and "melted" silver scales. Trust us; everyone will be looking!
Ombré Nails With French Tips, Glitter, and Rhinestones
Amp up the extravagance of neon pink ombré nails with this design. This matte set does not hold back from dazzling with its length, swirly glitters, scale nail art, rhinestones, and Chanel bling.
Hot Pink and Orange Nails
Can't decide between two colors? Why not use both? Amp up your neon pink nails with the addition of bright orange swirls. These two colors look super fab together!
Ombré Nails With Neon Pink Tips and Hearts
Or if you'd rather go with something simple and subtle, this set with pale pink hearts set against neon pink French tips as the accent is feminine, chic, and romantic.
Neon Pink and Yellow Ombré Flames
If you want something tasteful but with a stylish edge, these coffin nails with yellow and hot pink flaming tips are perfect for you.
Stylish Long Hot Pink Acrylic Nails
Who says you can't have length, gloss, and neon pink nails all in one fabulous mani? These gorgeous nails are perfect whenever you want to bring your A game and turn up the attitude.
Light Pink Short Nails With Neon Tips and Black Swirls
For something that's still simple but also more stylish, these light pink short nails have neon pink French tips and black swirls. They're chic and cosmopolitan but also cute for casual days.
Nude Nails With Neon Pink and Silver Accents
Need something classy but unique? This set is fabulously stylish and features three hues of pink with swirls in neon pink and silver glitter.
Bright and Bold
Can't get enough of orange and pink? Neither can we! This gorgeous mani combines both beautifully with bold and bright colors on the ends of your hands, coupled with abstract art nails in between.
Pink, Orange, and Gold Glitter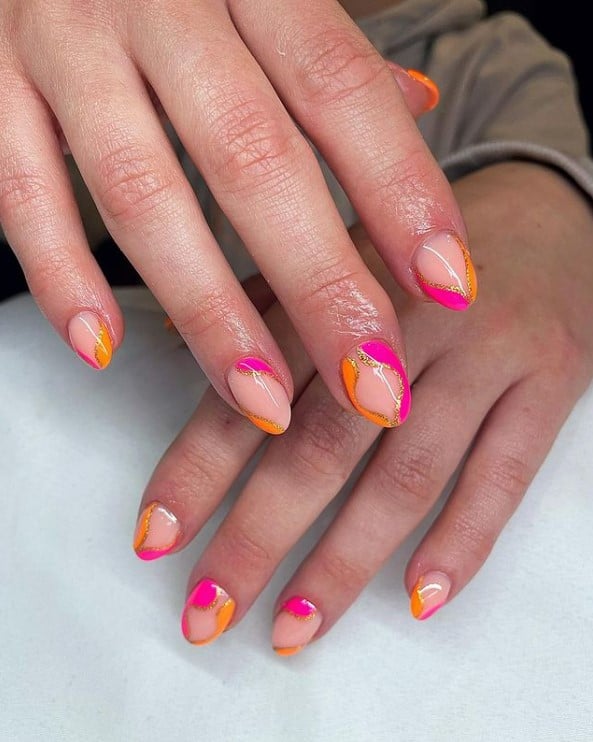 There are various nail shapes to try, and these almond nails decorated with random patches of neon pink and neon orange outlined with gold glitter deserve some of your attention!
Tips and Tiger Stripes
Go for the unexpected and pair hot pink and white tiger striped nails with sold bold and tiger print French tips. It's a unique way to spice up your mani!
Simply Chic Pink Nails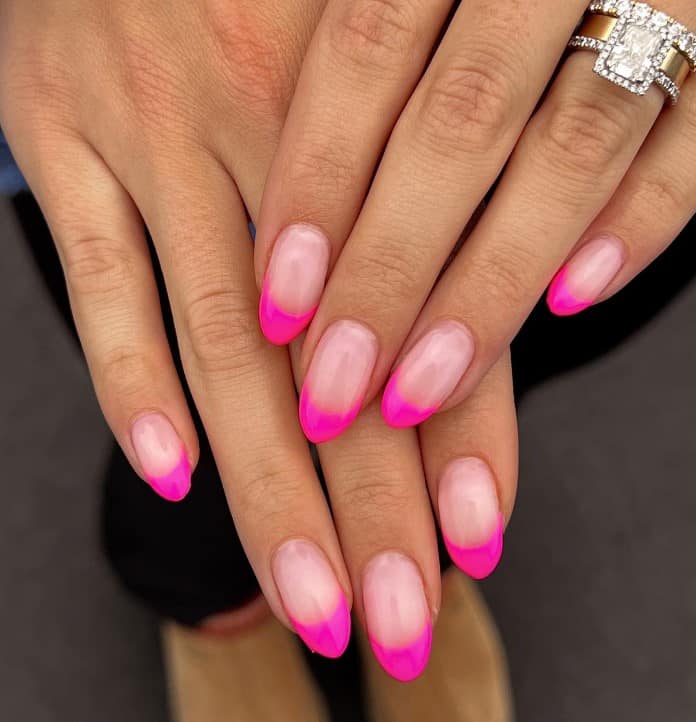 Prefer something understated but elegant? These glossy pale pink nails that end in neon pink tips are ideal for various occasions, from casual to upscale.
Multitoned Pink Nails
One can't have too many pinks. Work this stylish combination of light, hot, and regular pink hues with stunning clear nails with neon tips.
Pink Neon and Nude Nails With Abstract Nail Art
If you want something subtle but still stylish, try this design! With its set of neon and nude pink nails complemented by stripes and dots, it's a great option that's restrained yet riveting.
Sweet Pink Cow Print
These gorgeous short square nails combine hot pink with pale pink nail accents featuring fun and pretty neon pink cow print nail art.
Multicolor Nails With Neon Accents
Headed to a festival soon? Let everyone know you've arrived with these stunning nude nails with sunny French tips and multicolored graphic line designs.
Pink Coffin Nails With Neon Edging
If you want structured nails that don't look too overwhelming, this design is exactly what you want. These gorgeous pale pink coffin nails, topped with neon pink edging, are neat and classy.
Neon Pink Almond Nails With White Swirls
This set is another option for those that want a neon pink mani but want something to break the monotony. Use gorgeous white swirls to add some accents to your pink polish.
Light Pink Nails With Hot Pink and Orange Accents
Want something a little more subtle but still packs a punch? Start with a nude pink nail base, then build it up with neon pink and neon orange corners with some streaks of white for depth.
Smiley Neon Pink Nails
Add happiness to your mani by combining bright smileys, flowers, hearts, and sprinkles to bold neon pink nails. Your Lisa Frank-loving heart will swoon!
Oval Neon Pink and Tortoiseshell
Create a trendy hot pink mani by creating accent nails with a gorgeous tortoiseshell design and gold outlines. The combination will make your nails look super sophisticated.
Hot Pink Cheetah Prints
Go all pink with this gorgeous nail art mani. Add some oomph to a light pink mani with hot pink cheetah print accents!
Glossy Pink Nails With Encapsulated 3D Glitter
Make your acrylic manicure stand out with an eye-catching mix-and-match mani. This one features gorgeous neon pink nails, cheetah print, chunky glitter, ombré, and so much style and sass.
Zebra, Cheetah, and Hot Pink
Opt out of the ordinary with these solid pink nails combined with zebra stripes and cheetah print accents. A good tip is to add a hint of another color, like blue, to break up the pure pink palette.
Sophisticated Rounded Ombré Nails
Or if you'd rather stick to something sweet and effortlessly stylish, go for ombré nails that start with nude or pale pink and end them with hot pink at the tips.
Neon Pink Nails and Chrome Pink Glitter
Elevate your gorgeous neon pink nails using chrome pink glitter as your accent. The distinct holographic rainbow effect is shining, shimmering, and splendid.
Disco Fever Neon Pink Nails
Throwback to disco fever by combining neon pink nails with disco-inspired nail art. This funky mani combines neon pink nails with black accent nails and neon beams of light.
Oval Pink Neon Nails With Black Lines
Want a whole set of neon pink nails? This design allows you to fulfill that fantasy and add a little twist of black lines and curves.
Squoval Barbie Pink Nails
Or if you need short squoval nails that say "Barbie," this design is for you. Feel resplendent in an ultra-feminine, neat, and classy manicure.
Nude Nails With Thick Neon Pink French Tips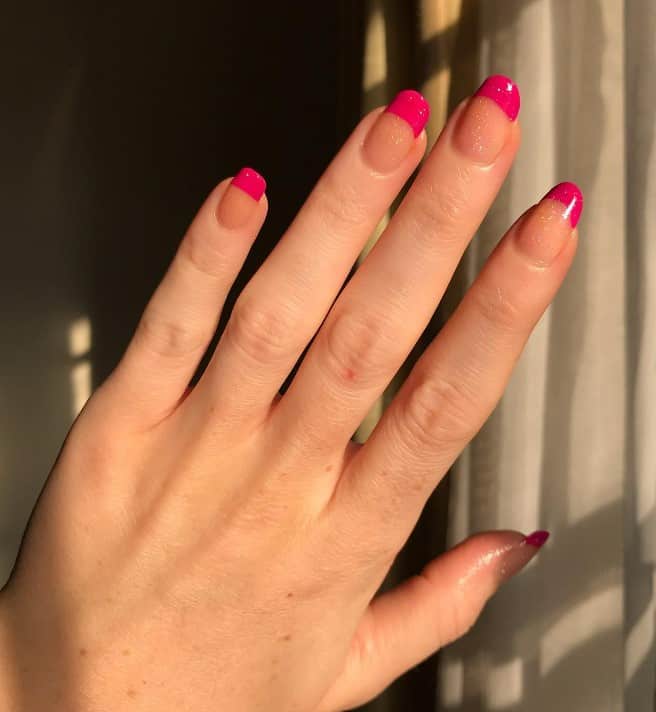 If you like your French tips bright and noticeable, this set is what you need. It features a nude set of nails with a subtle glitter finish in thick bands of neon pink at the tips.
Neon Pink Nails With Silver and Blue Glitter and Snowflakes
Who's to say you can't channel the holiday mood with neon pink? With these neon pink nails with glitter design, you get a shimmering neon mani with super cute snowflake stickers.
Matte Pink Gradient Nails
If you like mixing textures, these matte neon pink nails with vertical gradient accent nails are a fabulous breath of fresh air from the usual glossy designs.
All That Glitters
This design offers a stylish contrasting take on neon pink nails by combining them with nails featuring glittery blues, black, silver, and stars.
Neon Pink and Periwinkle Coffin Nails With Silver Glitter
For even more dimension and character, opt for this acrylic nail design with neon pink nails and purple periwinkle accent nails decorated with white flames and sprinkled with silvery glitter.
Glossy Neon Pink Nails
Then some designs are done so well you just have to let them shine on their own, like this manicure. Revel in a set of medium-length oval neon pink almond nails, made better with high gloss.
Short Round Pink Nails With Multi-Color Dots
Make neon pink nails pop even more with this set of short and round pink nails, featuring paint splatters in multiple colors on nude accent nails. Great for those who want something artsy without being too overwhelming.
Multi-Character Almond Pink Nails
For those that don't want just one look, this design is for you. Combine your hot pink nails with classy nude, pale pink, and nail art like hearts, dots, and lines.
Rounded Shiny Pink Nails
Another design that's so unapologetically pink, this set enhances the femininity of the color with its rounded and smooth edges, clear gloss, and simple design.
No-Fuss Nude Nails With Hot Pink Tips
Yet another contender for nail designs that look chic but also effortless, this no-fuss set features glossy short square nails with thin neon pink tips.
Hot Pink Almond Nails With Marble Accents
Speaking of dainty, this one is for all the romantics. Amp up your gorgeous hot pink mani with stunning pink and white marbling on your accent nails.
Triple-Hued Pink Nails
For an even more subtle style, we recommend these clear hot pink nails. Use neon pink and pale pink as V- cut French tips on a neutral light pink base. The overall effect is stylish and elegant!
Neon Pink Nails With Silver Glitter Accent Nails
Keep things smooth and straightforward with neon pink nails balanced by silver glitter accent nails. It's bold, beautiful, and perfect for the boss babe that you are.
Juicy Bright Neon Pink Chic Nails
Or you can always keep it straightforward yet eye-catching with a cute set of round and bright neon pink nails with a juicy, jelly finish. It does the job, looks sexy, and highlights your slender fingers.
Romantic Spring Square Ombré Nails
Want something that reminds you of spring? This mani incorporates glossy neon pink ombré nails with a potpourri of plant silhouettes and lavender and gold chunky glitter at the cuticles.
Frequently Asked Questions
What Skin Tone Does Neon Pink Polish Flatter the Most?
There are no hard and fast rules about which polish you can use if you have a specific skin tone. Although, some colors do look more flattering on certain types of skin.
Since neon pink falls under the warm shades of pink, it looks exceptionally good with skin tones with warm undertones.
But if you have cool undertones or fairer skin, you can still use hot pink. Pair it with paler pink, contrasting colors, or neutrals to cool it down.
What Other Polish Colors Go Well With Hot Pink?
Hot pink is very versatile and goes well with almost everything. If you want your hot pink mani to look chic and elegant, pair the color with white, black, or gray in any finish.
You can also pair hot pink with neon orange and yellow for a bright and bold mani. And if you want something more subtle and sophisticated, you can pair hot pink with deep colors like navy or burgundy.
Neon Pink Perfection
Neon-pink nails are always a good idea. And they look good on everyone!
With the beautiful nail inspirations we've shared, you can create the perfect neon-pink mani that matches your style.
So pull out the polish, review our neon pink recommendations, save your favorites, and get ready to experiment!
With a bit of patience and practice, it won't be long before you are rocking the perfect neon pink manicure.
Want Other Nail Design Inspirations?
Check out a few more like this one!