This post may contain affiliate links, which means I may receive a small commission, at no cost to you, if you make a purchase.
Gold French tips are one of the most elegant and glamorous nail designs out there. They're perfect for a night out, a wedding, or any day you want to feel fancy.
Whichever nail shape or style you prefer, there's a gold French tip nail design out there for you — you can pick a simple and understated mani or go for a bold and dramatic one.
Of course, you can't go wrong with a traditional French manicure with gold tips. But there are also more modern variations like rose gold French tips and gold glitter French tips.
Don't know where to start? We're here to help with 50 different ideas for gold French tips that you can choose from! With this collection, you'll never run out of inspiration for your next nail appointment.
What Are Gold French Tips?
A French tip is a style of nail design where the tip of each nail is painted in a different color from its base color. The base color is usually nude or peach while the French tip can have any color.
Gold has become one of the most popular color choices for French tips! In fact, French nails with gold tips are now considered a timeless classic.
What's more, gold French tips can be used to achieve any style. If you're looking for something dramatic, you can go for an all-out glam look with a gold French manicure decorated with gems and rhinestones.
If you want something artsy, you might like gold French-tip nail designs that feature delicate patterns or ombré effects.
50 Ideas for Gold French Tips
To help you incorporate gold French tips into your mani, here are 50 stunning nail ideas for inspiration!
The Perfect Touch
These short oval-shaped nails feature a soft peach base with diagonal French tips in gold glitter for a fun and playful twist on a classic design.
Immaculate
You can get glammed up on your nights out by pairing your flashy cocktail dress with almond-shaped nails that feature sparkling gold French tips embellished with a thin white outline.
Elegant Extensions
These soft gel nail extensions boast a beautiful design with side French tips in white that are outlined with gold glitter. But to add sparkle and glamor, some nails showcase gold-and-white line designs.
Double French
Featuring a beautiful combination of gold, blue, and green shades, this manicure is sure to turn heads. The accent nails stand out in particular with a double French tip design in gold glitter.
Golden Nails
In this design, a beautiful peach base is decorated with gold French tips and stunning gold rhinestones in different sizes on each nail.
Gold Sets
These nude-to-clear coffin nails are a true showstopper! The gold tips and clear tips adorned with oversized sequins look spectacular, and the large attention-grabbing rhinestones on select nails add to the drama of this mani.
Lace
This short round nail design features a unique lace-inspired look in black complete with thin gold French tips, which give the entire mani a daring and mysterious allure.
Glitter Nails
Perfect for making your mani blindingly bright, this medium-length nail design features thick gold glitter French tips that are made all the more sparkly with the addition of large iridescent glitter flakes.
Side French
This beautiful nail design features stunning side French tips in rose gold lined with delicate rose gold borders.
Rose Gold French Tips
Another rose gold French manicure that's sure to impress! This one sticks to the look of the traditional design but uses a darker shade of rose gold glitter for the French tips, allowing them to stand out against the clear base.
Pink and Gold
This bold nail design features a fun combination of pink and gold glitter! The accent nails have stunning gold glitter French tips, while the rest of the nails are painted bright pink.
Outline French
How do you update a classic French manicure? Simple — just combine brownish-nude nails with a gold glitter finish and delicate outline French nails created with rose gold glitter polish.
Cha-Ching Fade
This gorgeous nail design features a pink base with ombré French tips in gold glitter that fade into the middle of the nail.
Everythaaang Gold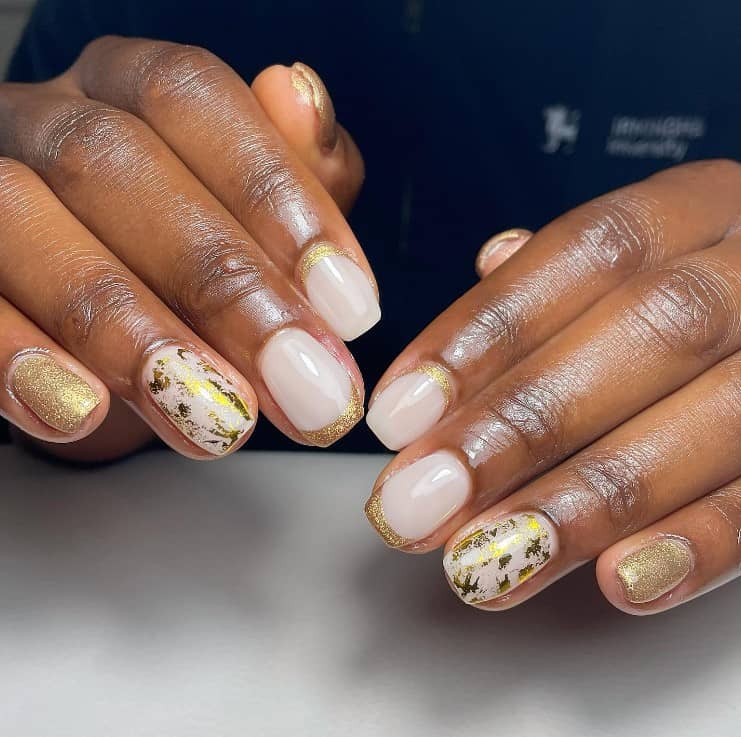 For a manicure that incorporates gold into its design in different ways, try this one. From full gold nails to white nails with gold flakes, from gold French tips to gold cuticle cuffs, this look has it all!
Hypnotic Gold
Add some flair to your nude nails by outlining each one with an eye-catching gold glitter border.
V-Tips
This style adds a modern touch to the timeless French nail design. Here, one side of the V-shaped solid brown French tips is topped with gold glitter for a hint of contrast.
Winter
Bring some winter magic to your look with these stunning two-toned French tips in blue and gold glitter, amped up with delicate white snowflakes on select nails.
Xmas
Get in the festive spirit with this beautiful look! With glittery gold French tips, intricate gold foil designs, and large gold stars with small gems that look like sparkling Christmas balls, this manicure brings your holiday cheer to life.
Rose Gold Sparkle Frames
Flaunt a sophisticated minimalist mani with this elegant design, which features a vibrant peach base with glittery rose gold frames.
Gold Chrome & Purple
Side French tips in different shades of purple look even sleeker and edgier with double outlines in gleaming gold, which create a stunning contrast against the nude base.
Coffee
Using glittery gold and coffee hues to paint thick waves across the tips and along the cuticles creates sophistication in this mani.
New Year
These almond nails with gold French tips are paired with festive handpainted stars and tiny gems placed on the nude base, making them perfect for ringing in the new year in style.
Christmas Nails
The design features white sweater nails with gold French tips complemented by other Christmas-inspired nails with decorations like snowflakes, gingerbread houses, and reindeer — all accentuated with touches of gold.
Wedding Nails
Looking for a simple yet elegant design? Try this one with shimmering gold foil French tips on a clear base. It's perfect for any occasion but particularly suitable for a wedding.
Stunning Glitter
This is a gorgeous design for medium-length nails. A lovely peach base with dark gold glitter tips will add some sparkle and shine to your everyday look.
Dripping in Gold
These long stiletto-shaped nails feature French tips made of gold sequins and accented with rhinestone borders for a truly luxurious look.
Gold Dust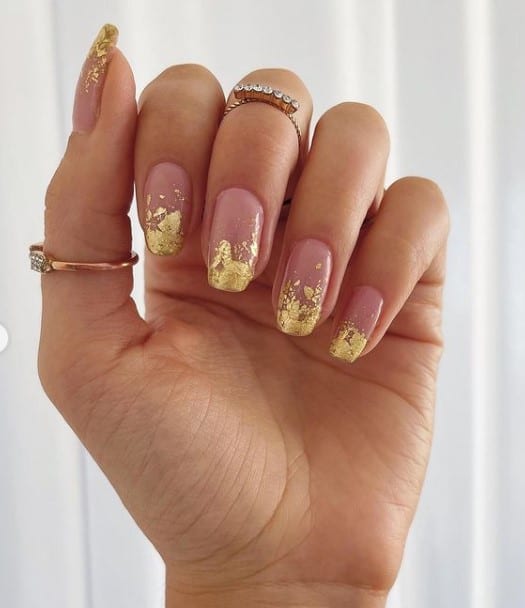 Want nails that will get you compliments from everyone? This gold foil French manicure with a subtle ombré effect is your best bet for giving off a chic and sophisticated vibe!
Sparkle and Snow
Make a style statement with two-toned French tips that beautifully combine white and gold glitter.
French and Glitter
Indulge in the luxurious elegance of sleek medium-length nails accentuated by the glamorous shine of French tips made with powdery gold glitter.
One Coat Gold
A chic and sophisticated look can be achieved with a French manicure in deep gold glitter. This versatile design can go with any of your outfits and accessories!
Christmas Party
Bold and trendy, this mani is perfect for a night out with its glossy nude base and black-and-gold-glitter French tips.
Fancy French
Transform your nails into a luxurious statement piece with these stunning nails that have French tips with chunky gold glitter and bold outlines in solid gold.
Want and Need
How about a nail design with a peach-colored base and extravagant gold French tips? This modern and stylish combination is sure to glam up your everyday look.
Shimmery French
A glittery nude base with chrome gold tips creates an ultra-sparkly mani that makes your nails shine.
Gold and Silver
Adorn your nails with sparkling gold glitter French tips accented by delicate chrome silver chains outlining each nail.
Green and Gold
Featuring a few nails with a solid green base and others with classic gold glitter French tips, this design is perfect to go with a formal dress.
Christmas Eve
Classic gold French tips and festive green leaves adorn the short nails in this design, making this the perfect manicure for a Christmas Eve celebration!
Gold Hearts
Make a statement with your nails with this stunning design! See how well the almond-shaped nails in a deep bluish-green hue complement the elegant heart-shaped French tips in luxurious gold.
Simply Luxe
The subtle contrast of the soft pink base and the glistening gold French tips creates a simple yet classy look that you can wear to parties!
Groundbreaking
For a chic and sophisticated look, go for a classic solid gold manicure, but add a twist to it with a subtle gold French tip on the ring finger and a gold cuticle cuff on the middle finger.
Classy Vibes
Try gold glitter nails, gold French tips with a black outline, black French tips with gold cuticle cuffs, and simple black French tips for a mani with a fierce, edgy vibe.
Chrome
Want a trendy look that isn't over-the-top? Adorn your nails with sleek gold chrome French tips. It's so simple yet so chic!
Striking
This nail design features a solid black base and clear tips adorned with shimmering gold foil. For an showy touch, gothic-style gold ornaments are added to a few nails.
Liquid Gold
A mesmerizing design with tips that look like they're dripping liquid gold gives your manicure a one-of-a-kind appeal.
Charm and Elegance
Why not try round nails with elegant gold French tips? To amp up this look, adorn the center of your nails with various eye-catching gold ornaments like turquoise-and-gold charms, gold stars, and round gems.
White and Gold
A white base with double French tips in gold glitter would make an elegant choice for your next manicure!
Perfect Match
Achieve a chic manicure with delicate French tips in gleaming gold glitter highlighted with matching gold cuffs for a perfectly polished look.
White Gold
For a winter-inspired look, try a white base with a gold French tip that showcases a fading ombré effect. Complete the design with delicate white snowflake accents.
Harmony
For a fresh and modern take on the classic French manicure, try a clear base with deep green side French tips accented with shimmering gold borders.
Gilded Grace
Make your nails look stylish and modern with short nails with classic white French tips. But to give this look a trendy makeover, add gold French tips to the accent nails.
Frequently Asked Questions
Can Gold French Tips Be Done on Any Nail Shape?
Yes, gold French tips can be done on any nail shape, whether it's almond, coffin, square, or any other shape.
Coffin nails with gold French tips are a spectacular choice for anyone who wants to make a style statement. Their long and tapered shape is perfect for showcasing intricate designs on gold French tips.
On the other hand, almond nails with gold French tips are a more subtle option that adds a touch of luxury to your manicure without going overboard.
What Are Some Design Variations for Gold French Tips?
There are many design variations for French nails with gold tips, such as adding glitter or rhinestones, creating an ombré effect, or using a colored base coat instead of a nude one to create a unique look.
Some people also like to add designs like stripes or polka dots to the base of the nail to complement the gold French tip.
Sparkle and Shine With These Gold French Tips!
Embrace the allure of gold and let your nails shine with style by going for nails with gold tips.
The timeless beauty of gold merges seamlessly with the classic French tip, creating a harmonious fusion that exudes confidence and refinement.
Experiment with different shades of gold — from warm and radiant tones to cool and dazzling hues — to find the perfect match for your skin tone and overall aesthetic.
The versatility of this nail art makes it perfect for any occasion, from everyday wear to special events like weddings and parties.
With its timeless appeal and ability to complement a wide range of outfits and occasions, it's no wonder that this nail design has become a staple in the beauty world.
So why not try out one of these stunning gold French tip designs for your next manicure?
You'll be sure to turn heads with your sparkling and shining nails.
Get More French Manicure Ideas Here: