This post may contain affiliate links, which means I may receive a small commission, at no cost to you, if you make a purchase.
Ever wonder why pink often brings out positive feelings? That could be because the color has been associated with beauty, charm, romance, femininity, and passion.
Gold, on the other hand, often signifies elegance, luxury, and victory.
It's a great thing that they also look great together. They both ignite desirable emotions while also being visually pleasing.
So if you have yet to consider using both colors for your nails, this is a sign that you must try them together the next time you get your nails done.
Keep reading to find the right pink and gold nails design to wear for an everyday look or an upcoming special event.
Pink and Gold Nails Designs to Inspire You
1. Lovely Pink and Zodiac Signs in Gold
Wear your zodiac sign beautifully with this nail design of baby pink polish with clouds for a touch of white. Then spell out your sign and draw its symbol in lovely gold glitters!
2. Simple Yet Elegant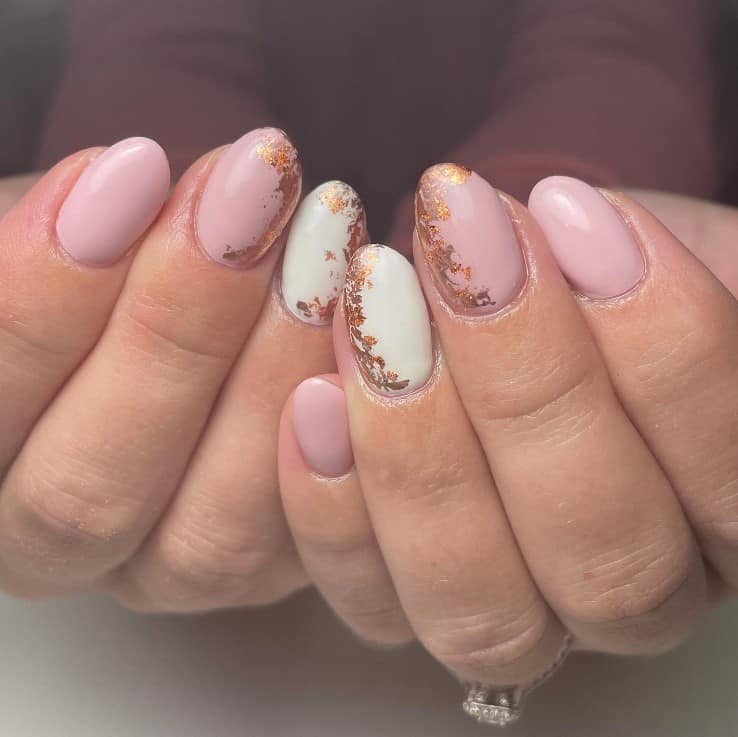 Pink nail polish doesn't always have to be flashy like these light pink nails with gold foil design. Try this for a simple yet chic nail look that you can wear any time of the year!
3. Gold and White Streaks
Wear a lighter shade of pink polish while showing off your creative side like this one! Choose pale pink for your base and top it with gold, white, and brighter pink lines or streaks.
4. Classic Pink and Hearts
The great thing about this design is you can use different shades of pink, and they will all work! Add tiny heart designs in white and just a hint of gold foil to make it a little more sophisticated.
5. Stunning Gold Tips
This isn't exactly like the classic French tips, but there's no harm in innovating timeless nail designs! Use a flesh pink base and gold foils for a distorted, artsy take on the French nail tips.
6. Bling It Up!
You can't think of gold nails and not think of adding bling. How about pink and gold nails with rhinestones, gold foil, and gold glitter that you can wear the next time you and your friends hit a party?
7. Artsy Strokes, Dots, and Gold
Want an artistic design that takes less time to make? Put abstract pink, gold, and white splashes with black dots on your ring and index fingers, then fill the rest with solid pink polish.
8. Hot and Light Shades of Pink
Don't limit yourself to using just one shade of pink! Use light pink with hot pink and gold nail designs, then impress everyone by adding abstract shapes to show your creative side.
9. Mystical Streaks of Pink, Gold, and Black
Are you into otherworldly yet gorgeous designs? Paint random-shaped frames in pink polish and top it with mystical-looking streaks of black and add flakes of gold foil.
10. Pretty and Fancy
We can't overstate how posh this pale pink and gold nails design is! This shade of pink can match any skin tone and add glamor with just a couple of minimalist lines in gold polish.
11. Gold Is the Best Shimmer
If you loved the previous design but want to add more pizzazz, you'll love these longer pink and gold glitter nails! Leave your pinky and half of your ring fingernail clear and layer those with chunky gold glitter or gold foil for extra charm.
12. Curves of White and Gold
Pink, white, and gold nails are the best polish combination in this rather easy design. Use a nude or light pink base, and with your trusty acrylic nail brush, add curves of white and gold.
13. Tie Dye Inspired Pink and Gold Nails
Bring the always-trending tie-dye design to your nails. The best thing about this design is using different shades of pink and defining the corners with a wave of gold polish.
14. Lovely Glossy Illusion
Make your minimalist pink gold nail designs consistently pop by using hot pink. This will surely be a great conversation starter for its blend of minimalist lines and a maximalist shade.
15. Stamped Gold
This looks complicated, but it's an easy pink and gold nails design with the magic of nail stamping and gold foil. You can impress your friends without actually doing an intricate design.
16. Bold Gold
Pink and gold short nails can be an eye-catching design as well. You can go for a light pink base and stamp on a generous layer of gold foil to make it stand out!
17. All Sorts of Pink With a Hint of Gold
Mix different shades of pink in a design that mimics a beautiful marble with an elegant streak of gold. The number of colors you must showcase makes this design great on long nails.
18. Feminine, Glittery, and Alluring
Coffin nails are the best canvas for adding gold V-shaped lines over a light pink base polish. The addition of glitters will make this design a perfect match for an evening date or a girl's night out.
19. Enchanting Gold Butterflies
Rose pink and gold nails make for an enchanting look. Go for lighter base shades to highlight the encapsulated gold butterflies better.
20. Gold on Clear and Pink Acrylics
Long stiletto nails will give you more space to create incredible pink and gold nails designs like this one! Draw lines of gold on a pink base and decorate clear nails with gold foil and butterflies.
21. Glitzy With a Splash of Pearlescent
Looking for ideas for pearlescent pink and gold nails? The pearlescent finish imitates holographic and glossy polish without overpowering the gold dots and stars on the pink nails.
22. Classic French Tips and a Hint of Gold
Here's a design closer to the classic white French tips over a light pink base, then add an isolated swipe of gold glitters on one nail. You can rock this as an everyday look or for a date night!
23. Pink Palette on Nails
Put a single streak of hot pink in the middle of each pale pink nail, then add some glamor to it by outlining the hot pink streak with gold.
24. Holiday Pink and Gold
You can have pink with gold glitter nails for Christmas too! You'll certainly have the holiday spirit with pink, frosty white, and gold glitter bases topped with chunky hearts, embossed dots, and Christmas balls.
25. Mauve and Gold Nails
That trendy shade of pink with a hint of purple is called mauve, and it's an amazing base polish for intricate stamp-on or embossed gold accents. It looks magical and fashionable!
26. Sophisticated Two-Tone Pink
Bust out that hot pink polish and pair it with dusty pink on the corners outlined with gold polish to achieve this sophisticated yet versatile design on nude nails. Match it with your lovely dress for a romantic dinner!
27. Plaid Pink Gel Look
Here are classy pink and gold gel nails inspirations. Go for a light pink base on all nails and level up an accent nail with white, gold, and dusty pink strips to create a simple plaid pattern.
28. Pink and Gold for Summer
This shade of pink with red tones with gold dots all over will likely remind you of strawberry or watermelon. And that makes this design perfect for the summer!
29. More Butterflies!
If you can't get enough of butterfly-inspired looks, here's another one. This works best if you want a modest design because it uses a light shade of pink and just a few gold butterfly stickers.
30. Gold Lines and Glitter
Matching pink and white with royal blue adds more elements to this design while still looking cohesive. Of course, you can add lines of glittery gold and sprinkles of gold glitter for more flair.
31. Like Magical Gold Pottery
This one highlights the flow of jutting gold polish on every nail. While the design is easy to achieve with just two different shades of light pink, it will remind you of the intricacy of kintsugi pottery.
32. Half and Half With a Touch of Gold
Here's an easy design with white, gold, and pink nails for you. This simple half-and-half of pink and white with a touch of gold in the middle can be your go-to design for any occasion.
33. Pink Ombré With Gold Foil
You can do ombré with any color, but it sure looks extra pretty when used with the so-called Barbie pink shade and baby pink. The addition of gold foil makes it party-ready!
34. Heavenly Acrylics
If you're still learning or simply pressed for time, you can always go for stunning marble pink and gold glitter outlines like this one. You won't need a special occasion to wear beautiful nails like these.
35. Just the Right Amount of Adorable
This may look complex, but it's actually an easy pink and gold nails design. Over matte pink nails, add a lone dot of gold one nail, white polka dots on another, a tiny white heart on another, and stripes of white and gold on another.
36. Dots and Glitters
Here's another easy yet stylish design that alternates a reddish shade of pink and gold glitter on each nail. Leave your middle fingernail for black polish with dots of pink and gold for a nice accent.
37. Glittery French Tips
A captivating design with a light pink base and a concentration of chunky gold glitters on the top edge that look quite like gold ombré French tips. The sparse glitters below the tips are like falling sparkles too.
38. Pink, Half White Accents, and Gold Foil
Pink is amazing for any outfit or occasion. But you can boost its beauty by adding a half-and-half design on your middle and ring fingernails and a splash of gold foil.
Frequently Asked Questions
Do Pink Nails Go With Everything?
Yes! This color resembles the natural color of the nail bed for any skin tone.
If you're looking for a shade that will absolutely match your complexion, you'll most likely find it in the range of pink polish colors.
That also means that a plain polish of the right shade of pink can easily match your outfit or makeup of the day.
Is Wearing Pink and Gold Nails Unprofessional?
It depends on the design you choose. Most workplaces allow wearing nail polish of any color, except if intricate nail art (like 3D decor ) could negatively affect your performance.
It's best to check your workplace's guidelines. But as the list above shows, pink and gold nails don't have to be overly sparkly.
So if you want to wear these nail colors daily for work or on a business trip, it's best to stick with lighter shades and minimalistic designs.
Can I Wear Pink and Gold Nails With a Different Dress Color?
Absolutely! While wearing matching nail polish and a dress is the easiest choice, you don't really have to sport the exact same colors.
You just have to make sure to pick an outfit with a color that complements pink and gold, such as blue, green, yellow, lavender, and orange, to name a few.
Give Pink and Gold Nails a Try for a Captivating Look!
Matching pink and gold works in various applications, such as fashion, interior design, and graphic design. So it's not surprising that you can create tons of gorgeous designs with pink and gold nails.
The beauty of pink polish is that it goes well with just about anything, and with the right shade, it can complement any skin tone as well.
That's why if you want a polish combo that will make your hands and your overall look even more stunning, you may want to try pink and gold nails on your next manicure session!
Discover More Nail Art and Design Inspirations From These Articles: