This post may contain affiliate links, which means I may receive a small commission, at no cost to you, if you make a purchase.
Spring means renewal and rebirth for most people.
To celebrate this and match the lively vibe of the season, many nail fanatics paint their nails pink. In fact, pink has become one of the most popular nail colors in spring!
Why? It's because this color is associated with the light and warmth along with the blossoming of springtime flowers and plants.
Can't wait to have gorgeous pink spring nails? Great news; we have several pretty spring nail ideas in pink below, so you can easily narrow down your choices and choose your favorite!
Pretty Nail Designs For Spring
Check out these joyful spring-inspired pink nail designs to help you welcome the season in style.
Sweet Pink Flowers
Want to transform a simple light pink manicure into a stunning set of nails? Use dark pink tips and gorgeous flowers in different shades of pink as accents!
Hints of Winter in Spring
Missing the coolness of the snowy season? Combine the warmth of spring with the chill of winter by using white and pink colors on your nails. Add white- and gold-colored pearls and studs on them to represent winter elements.
Pink and Polka Dot Tips
Polka dots are always in style! Level up your nail game with white polka dot tips outlined with gold for eye-catching accent nails. Then paint the rest of your nails with a brighter shade of pink for added warmth.
Spring Flowers
A mix of pastel pink and magenta on nails are great colors to welcome the warmth of spring. The matte finish also adds a touch of elegance, along with a few select nails that feature white and pink spring florals.
Spring Garden
This design features nude pink nails adorned with adorable doodles of different types of flowers from a typical spring garden.
Glazed Pink Nails With 3D Flowers and Pearls
Your medium-length stiletto nails will look extra luxe in spring if they feature a gradient pink palette with a clear manicure coat. Plus, you can amp up their charm by adding pink-colored 3D flowers and white pearls.
Daisies, Frenchies, and Swirls
Coffin nails are in this spring season! Make them unique with a pastel pink-coated base and a mix of white daisies, French tips, and swirly accents in different shades of pink!
Flowers and Tips in Pastel Pink
Decorate your medium-length ballerina nails with pastel shades of pink, French tips, and flowers. These will be super fun to wear in spring!
Swirls and Tips in Pink Hues
Another easy and trendy nail design you can try in spring is painting your nails with light shades of pink and accentuating them with swirls and French tips. Don't forget to coat them with a clear manicure for an extra shine!
Daisies in Pink Monochrome
Switch up your nail style with matte nails in a monochromatic pink palette adorned with pretty daisies. You can achieve this style by wearing artificial nails! 
Pink Ombré, Swirls, and 3D Flowers
Go all out with your coffin nails by styling them with hot pink ombré tips, pink and white swirls, and 3D flower accents.
Colorful Flowers on Dusty Rose Pink
This cute spring nail design features multicolored flowers on a dusty rose base that has the right blend of simplicity and fun.
Pale Pink and Accent Florals
Got short nails? Don't worry; you can make them look chic by painting them pale pink and getting beautiful accent floral nails in red, pink, and orange.
Pink-Hued Elements
This pretty spring nail idea evokes joy at first glance! A unique design for short, round nails, it features solid pink hues, swirly tips, wavy streaks, and classic blooms.
Cotton Candy Patterns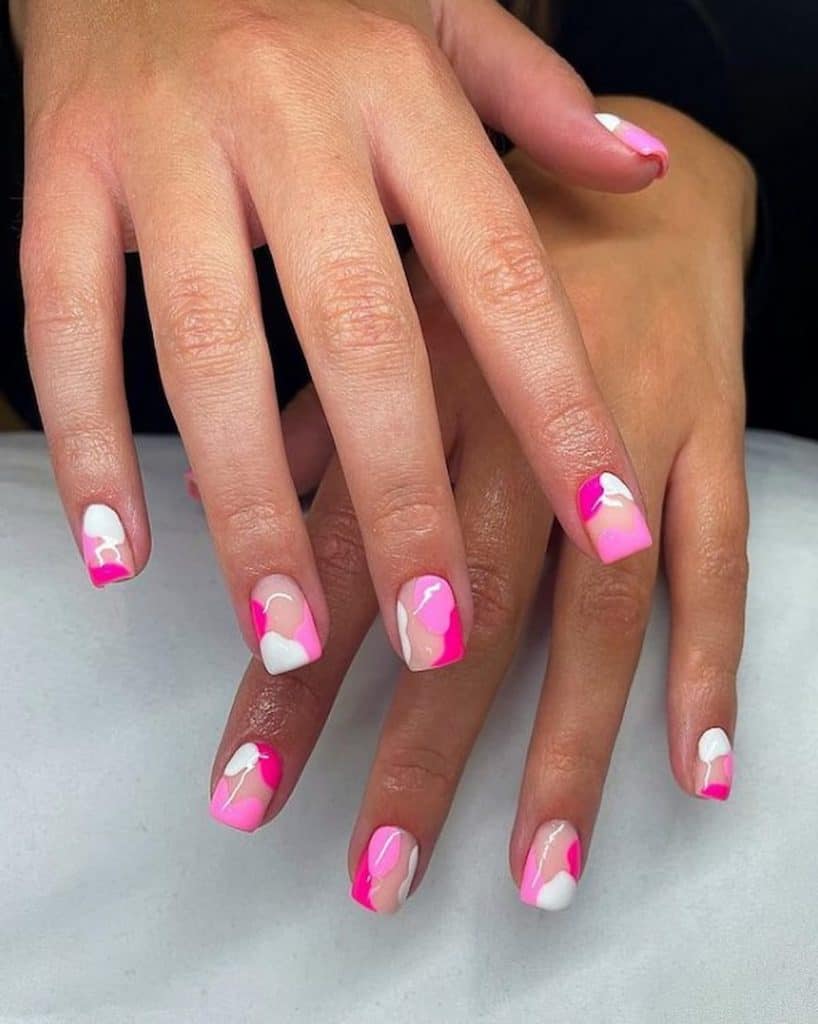 Greet the warmth of spring with sweetness by getting nails with white and pink cotton candy patterns! Top them off with a glossy coat to highlight the details.
Pastel Pinks and White Florals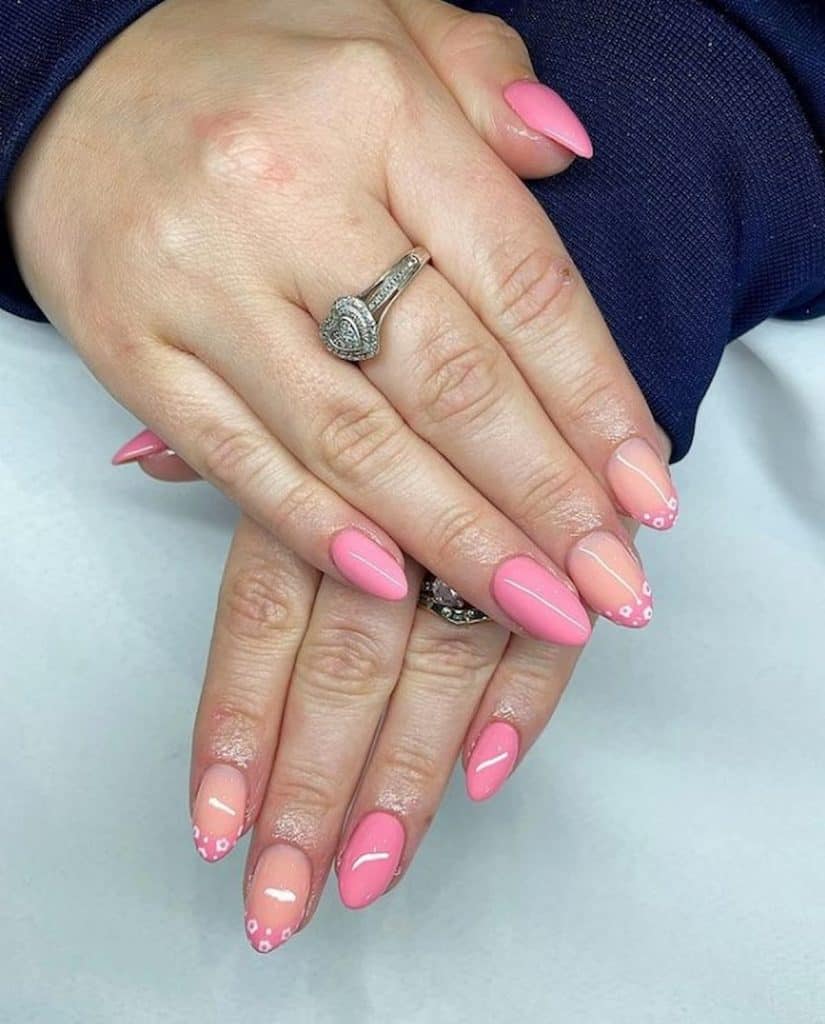 Pastel pink in different shades is always stylish to wear in spring! Get two of your desired shades of pastel pink on your nails, then accentuate the lighter shade with tips in darker pink and white flowers.
Bubblegum Pink and Blue + 3D Florals
Another nail idea for spring that's sure to get compliments from everyone is long stiletto nails in bubblegum pink and blue! Interestingly, this color combination, along with the 3D flower charms, can be likened to the cool spring air breezing through blooms.
Pink Tips and Glitter Flakes
The glitter flakes and marbly pink tips in this nail design stir up feelings of nostalgia. The tiny gold foils and the multicolored dots as accents are like out-of-focus lights that remind you of the good old days in spring.
Cherry Hearts on Pink Frenchies
Pink French tips stamped with heart-shaped cherries make this a cute nail design for spring! Plus, the glossy hearts and stars add texture to the flat look.
Clouds and Magic
Pay homage to spring skies by painting your nails blush pink and adding stardust-like glitter and sequins as accents on one hand. Then paint your nails light pink on the other and decorate them with blue stars and clouds to make the design come to life.
Pink Streaks and Glitter
Celebrate the beginning of spring by painting your short nails with streaks of pink in different shades! Sprinkle a little glitter on them as well to give the design a twist.
Watercolor and Sparkles
A pastel pink manicure goes well with sparkly glitter and watercolor leaves and flowers, especially in spring.
Yellow, Pink, and Daisies
Pink and yellow hues on your nails represent the warmth of spring perfectly. To make the whole look even more appealing, add a few lovely daisies to your middle nail.
Spring Is Here
When spring arrives, the cold melts away as leaves and flowers start to blossom. Capture this image by getting pink-on-pink French tips and accent nails with budding flowers.
Flame, Florals, and Yin-Yang
Achieve this attention-grabbing nail design with French tips in white and watermelon pink. Then create a unique combination of elements like yin and yang, flames, and 3D flowers to make your nails pop.
Velvet Pink and Roses
Velvet pink manicures are fashionable all year round, but you can make them spring-specific by using lavender floral nails as accents.
Sweet Cherries
Searching for an easy nail design for spring? Just paint your nails soft pink and draw sweet, ripe cherries on select nails.
Glitter and Blooms
Give off a glamorous spring vibe with these long acrylic nails in different shades of pink, polished off with intricate details like waves of glitter and 3D flower charms.
Creative Magic
Showcase your limitless creativity by designing your long stiletto pink nails with dancing butterflies, flowers, swirls, and glitter!
Pink Carnations
Pink carnations typically bloom in early spring. Take inspiration from them and use them as accents on your blush pink nails with a glitter top coat.
Flowers Bloom in Spring
Paint all your nails pale pink except for your ring nails, which should be filled to the brim with stamped flowers. With this design, it's easier to show your inexplicable joy on spring's arrival!
Pink and Roses in Full Bloom
The classic soft pink color always looks good on long stiletto nails. Make them even more beautiful by decorating some of the nails with roses in full bloom!
Pastels, Flowers, and Stardust
Can't decide whether you should have pastel colors, flower accents, or glittery nails in spring? This cute spring nail design lets you combine all of them!
White, Pink, and Glitter
Abstract designs in white and pink distinguish this spring design from the rest, along with full glitter accent nails and painted sparkly streaks.
Pixie Dust and Butterflies
Indulge your inner child with a fairy-tale springtime look! Alternate soft pink and lavender colors on your nails as a base, then decorate select nails with purple sequins and a stamped pink butterfly.
Cute Doodles on Pink
If you find classic soft pink manicures boring, you can always add a little bit of creativity by doodling cute elements, such as flowers, smiley faces, and irregular polka dots, in red only on one set of your fingernails.
Wrapped With Daisies
Pull off a minimalist nail style by painting your nails soft pink and making tiny daisies hug the bottom of select nails.
Cute Pressed Designs
If you prefer simple, DIY-friendly nail designs you can try at home, this is for you! All you need to do is paint your nails a warm medium pink and stamp fruit, flower, and butterfly designs on top.
Barbie Pink and Petal Accents
This feminine design features nails in Barbie pink and accent nails with crowded petals. So on trend for spring!
Spring Beginnings
The combination of soft pink nails and white nails with growing flowers depicts the arrival of the spring season.
White French Tips With Floral Borders
White French tips are great for any season! Customize yours for spring by adding pink and white floral borders to your manicure.
Roses and Stud Accents
Many say that spring is actually the season of love. Get into a romantic mood by painting your nails pink and white, then decorating them with red and pink roses. Don't forget the studs on the accent nails for an elegant finishing touch!
Creamy Pink and Floral Accents
This spring nail design features creamy pink nails with one nail sporting a white flower and green-, blue-, and gray-colored leaves. Also, it includes studs to elevate the style!
Dandelions in Sight
Another pink spring nail design you'll totally love features baby pink nails and white accent nails decorated with spring dandelions in pink, purple, and blue.
Cherry Blossoms in Spring
Anyone can quickly tell you're wearing spring-inspired nails if your design features cherry blossoms. To do this, paint select nails with white nail polish and add watercolor cherry blossoms. Then paint the rest of your nails soft pink.
Pink Frenchies With Spring Petals
Change up your pink French tips by adorning your ring nails with yellow and pink ombré-colored spring petals.
Glittery Flecks on Pink
Get these captivating spring sparkle nails by adding gold and silver flakes on a light pink base. Don't forget to coat your nails with your favorite clear polish!
Pastel Streaks
One of our favorite matte spring nail designs features light pink nails with pastel pink, blue, and yellow streaks on select nails!
White Flowers and Pink Frenchies
Take your pink French manicure to the next level by adding beautiful white flowers and shiny studs. Also, line the bottom portions of the tips with white dots to make the style more striking.
Florals and Sparkles on Pink
Want a classy spring-inspired nail look? Get a pink manicure with white accent nails that are decorated with hand-painted flowers and leaves.
Don't forget to add a dash of glitter at the bottom of a few nails for a little extra magic!
Pink and Purple Marble
Another way to crank your classic pink manicure up a notch is to add a purple marble texture to your accent nails. Looks simple yet elegant!
Goodbye, Winter; Hello, Spring
Getting tired of the typical French mani? Try this unconventional design, which features tips resembling falling snow. Plus, it makes pink streaks dominate the white base, embodying the way the first days of spring say goodbye to winter.
Pressed Flowers on Pink
Placing pressed flowers on light pink ombré nails sounds like an exciting idea to try in spring!
Pink Tulips in Bloom
If pink tulips are your favorite flowers, go ahead and use them to decorate your nails! Simply paint your nails hot pink and create tulips on a bare nail base. Also, add gems and jagged stripes on a few nails for a little more edge.
Leaves and Butterfly Wings
Another breakout design in spring? Butterfly wings on white nails! Pair them with leaves on pink nails for a unique nature-inspired combo.
Trendy Themes for Spring Nails
Not sure how to get started on your nail design? Take a look at some of the popular nail themes for spring to give you ideas on how to match the season's aesthetic to your unique personal style.
Floral Designs
Adding colorful spring flowers, leaves, and other botanical elements to your nail design is a great way to embrace this period of growth and new life.
Pastel Colors
Pastel hues, such as lavender, powder blue, soft pink, light yellow, and mint green, are popular in spring because they are associated with the season's tenderness and femininity.
Gradient or Ombré
Another stylish option for spring is gradient or ombré nails! The transition from one color to another symbolizes the changes in nature that happen during this time of year.
Glitter Accents
Sparkly glitter accents add a touch of fun and glamor to any spring nail design. They're definitely not going anywhere this season!
Frequently Asked Questions
Are Pink Nails Professional?
In general, pink nails are appropriate for a variety of events and occasions, including in a professional setting.
However, if you want to err on the side of caution, we recommend a pale or muted pink shade, which is a subtler and classier way to add a touch of color to your nails while still maintaining a professional appearance.
How Do I Make My Pink Spring Nails Stand Out?
There are a few things that you can do to make a statement with your pink spring nails.
First, experiment with different shades of it. You can try brighter or bolder shades of pink, such as fuschia or hot pink, to make your nails striking.
Second, you can add a glittery or shimmery top coat to add some sparkle and dimension to your pink spring nail designs. Applying a holographic or iridescent top coat onto your nails can also give them a unique and eye-catching look. 
Finally, you can add creativity and personality to your nails by painting floral designs, creating abstract or geometric patterns, or even placing 3D embellishments on them. 
Celebrate the Return of Spring With Pink Spring Nails
Wear pink spring-themed nails that reflect the energy and spirit of the season!
Remember that the key to making your pink spring nails stand out from the rest is to always have fun and be creative.
Don't be afraid to try new designs and experiment with different colors and shapes until you find a nail style that you love.
Go and get those trendy pink spring nails, love!
Excited To Try Other Trendy Nail Designs?
Check them out here: