This post may contain affiliate links, which means I may receive a small commission, at no cost to you, if you make a purchase.
Do you find yourself overwhelmed by the endless options for your next nail appointment? We know the feeling! It can be tough to find the perfect nail design that's both trendy and unique.
So if you're looking for a fun and vibrant nail design for summer, look no further than pink and orange. These colors can add a pop of color to any outfit.
We've done the research and put together a list of 44 amazing pink and orange nail design ideas for you to achieve the perfect summer nails.
Read and get ready to be inspired by these gorgeous nail designs. You'll be the envy of all your friends with your trendy and stylish manicure!
Combining Pink and Orange Nail Colors
Combining pink and orange nail colors can create a fun and playful look that's perfect for spring and summer.
Orange is a bright and bold color that adds a playful touch to any nail design.
On the other hand, pink is a classic and feminine color that's versatile enough to use as a base color or an accent color.
You can design your nails using these colors by using pink as the base color and then adding orange accents. This is a great way to add a pop of color without going too crazy.
Another option is to create a geometric design using both colors, such as stripes, dots, or triangles.
The possibilities are endless, so don't be afraid to experiment with these colors and see what kind of creative combinations you can come up with!
44 Pink and Orange Nail Designs
Check out these pink and orange nail art designs to be inspired for your next manicure.
1. Floral Orange and Hot Pink Nails
This mani is a vibrant design perfect for spring and summer, especially with the little gems on the floral nails.
Remember to paint one nail with an orange French tip and paint the other nails fully with hot pink nail polish to complete this beautiful look.
2. Artsy Splatters
Neon pink and orange nails give off a playful vibe. Balance the bright colors by painting two nails with splattered designs of the same colors on the accent nails.
3. Gold-Outlined Pink & Orange Nails
Play around with the placement of orange and pink swirls along the tips, sides, and edges of your nails, and outline them in gold nail polish. We love how the sleek oval nail shape of this manicure complements its designs.
4. Pink and Orange Swirl Accents
Go for a trendy look by using orange nail polish to create swirls on the accent nails to make your hot pink nails pop.
5. Pink Skies
These ombré pink-and-orange nails elevate the oval-shaped nails that already look elegant. This design reminds us of pink skies during sunsets in the summer.
6. White, Pink, and Orange Nails
These are the nails that you'll want to wear at pool parties or at the beach. We love the flower designs, the orange French tips outlined in gold, and the glittery pink nails that work together to create a festive and fun look.
7. Pink, Silver Glitter, and Orange Swirls
For the chic minimalist, go for nude nails and add thin swirls in pink and orange near the tips of your nails. Then paint silver glitter between them for extra flair.
8. Confetti Accents
Bring attention to your orange and pink nails by adding clear accent nails decorated with colorful speckles.
9. Pink, Orange, and Turquoise Summer
A trendy look like this is a great way to elevate your pink and orange summer nails. Mix and match using other colors like turquoise or add black dots for an artsy look.
10. Abstract Swirls
Elevate traditional French tips by using two shades of pink and orange for your version of them!
Then decorate the rest of your nails with swirl designs along the tips and the sides using the same orange and pink shades for a trendy abstract mani.
11. Smokey Pink and Orange Nails
Get this artsy nail design by painting a smokey orange-and-pink design on each nail. Then add a gold, thin horizontal line near the nail roots for a touch of elegance.
12. Yin Yang, Checkers, and Smileys
Decorating your nails with bright patterns is a great way to perk up your whole look. Bright pink and orange nail art may be as simple as checkerboard nail art or as elaborate as yin yang or happy face art.
13. Gradient Pink, Purple and Orange Nails
Use different shades of orange and pink on each of your nails for a unique take on ombré nails. We love the gorgeous solid colors in this design — it's easy to achieve this look without going to the nail salon.
14. Pink, Yellow, and Orange Nails With Swirls
Adding yellow swirls to your accent nails is a perfect way to make your design pop. We also love the pretty shades of orange and pink on the rest of the nails!
15. Varied Designs
If you love plenty of nail designs and can't decide which one to wear, why not wear a different design on each nail?
These multicolored nails use ombré, flames, two-toned French tips, diagonal lines, and abstract designs for a statement-making look.
16. Bright Pink and Orange Nails
Want a simple orange and pink nail design that adds effortless flair to your mani? Combine long nails and vibrant colors, like the pink and orange shades in this design. These will surely attract attention.
17. Simple Swirl Accent
Here's a cute pink and orange nail idea that looks like a modern version of vintage art. We love how the thin white swirls add a retro feel to this design.
18. Sugar Nails
This design reminds us of candies with its white splatters on top of color-block pink and orange nails. These are the perfect nails for a party-prepped look.
19. Faux Ombre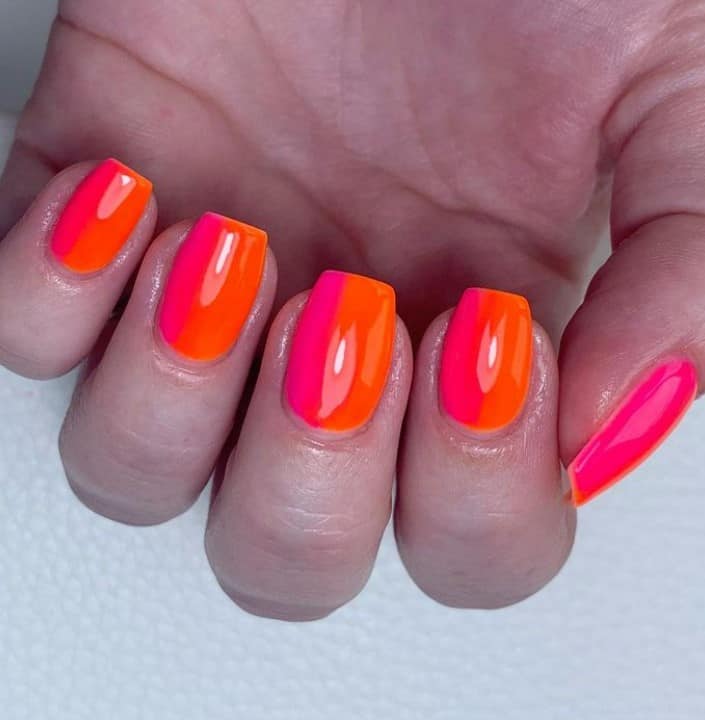 The bright shades of this manicure make it hard to see the color-block art. But look closely, and you'll see the pattern with only a bit of bright pink nail polish on the edges of the bright orange nails.
20. French Tips and Flowers
The two-tone tips and flower nail accents make this manicure an excellent pink and orange spring nail design with fresh and cheerful vibes. It's amazing how two colors in two different shades can make something as eye-catching as this.
21. Silver Glitter and Swirls
Paint pink and orange French tips on two nails with silver glitter cuticle cuffs. Then add swirls to the accent nails. This look is perfect if you want to go for a retro design that has a bit of sparkle.
22. Pastel French Tips and Swirls
If you can't make up your mind between a French mani or swirly nail art, why not get them both? Plus, the combination of pastel orange and baby pink can help you create a sweet and harmonious style.
23. Bubble Nails with French Tips
Top your ombré pink French nails with pink-and-orange bubble nail art for a quirky look.
24. Design Assortment
Why not paint each nail with a different design?
Decorate them with tiny flowers, yin-yang art, swirls, traditional and inverted French tips, and wavy outlines using bright yellow, pink, and orange nail polish to make your manicure look fresh.
25. Tropical Vacation
We love how the ombré accent nails go well with the tropical flower design and the fully painted nails. This design takes us back to summery adventures and cozy nights.
26. Swirls and Butterflies
There are lots of designs that use swirls for accents, but if you want to make yours unique, pair it with butterfly decorations for an easy statement look.
Then paint some of your nails with different shades of oranges and pinks for a funky retro vibe.
27. Abstract and Tie-Dye Accents
This colorful nail art is so addicting to look at. We love how the two blush pink nails are decorated with tie-dye and marble nail art. The added blue speckles are also a great addition to take a break from the pink and orange shades.
28. Pink And Orange Flames
Want to try an edgy pink and orange mani? Try flame nails! Don't forget to wear long nails and use a dark-colored base to highlight the pink-and-orange flames.
29. Sexy Pink and Orange
If you're feeling bold, choose a deep shade of orange and pink. Then paint orange on one hand and pink on the other. Don't forget to add lots of gloss for a sexy appeal.
30. Pretty Stars
We love how the pink, orange, and yellow shades in this design are easy on the eyes. Create negative space nail art by stamping stars of the same colors on two nude-colored nails.
31. White Flowers and Swirls
Paint some swirls and white flowers on nude-colored nails for a simple yet chic manicure! This design is great for summer picnics and dates.
32. Coral Nails
We love the combination of white and shades of pink and orange in this nail art that reminds us of corals and the sea. The little white dots also look like bubbles underwater. This look is perfect to wear when you hit the beach!
33. Outlined Swirl Edges
Paint the edges of your square-shaped nails with pink and orange swirls and add thin white lines to create a unique look.
34. Swirly French Tips
Try playing around with different shades of orange and pink nail polish to make wavy French tips. It adds a quirky and fun vibe to your mani!
35. Dots, Swirls, and Flowers
Decorate your white French tips by dotting pink and orange nail polish on them. Then add swirl designs on nude nails and orange nails and create flower nail art for a stylish and lively look.
36. Berry and Orange Swirls
Instead of the usual pink, white, and orange swirls, give your mani a dreamy look by switching the white color with purple.
37. Orange Outlined Pink Tips
Elevate your French mani by outlining a dark shade of pink with pastel orange. This is a perfect night-out look for parties with your friends!
38. Checkers and Flowers
This playful nail set has all the possible designs for pink-and-orange nail art in it. Feel free to mix and match yours with an array of designs like checkers, flowers, swirls, retro lines, French tips, and tiny hearts.
39. Black and White Outlines
Grab everyone's attention by painting black-and-white dots to outline ombré pink-and-orange French tips.
40. Ombré Tips and 3D Flowers
Wear a pretty and feminine design by adding a 3D flower accent to one nail and decorating it with rhinestones. Paint the rest with diagonal French tips in magenta and tangerine for a lovely summer vibe.
41. Swirls and Rhinestones
Tiny gems can add glitz to your swirly French tips. But don't stop your design there! Add more sparkles by painting subtle flowers on one French tip and decorating the rhinestones along the cuticles.
42. Bright Swirls
To create a bright design like this swirl mani, create warm, vivid orange swirls to match your warm, vivid pink base. The pattern's difficult to see at first glance, so people may need to take a second look.
43. Hibiscus Nails
Wear a deep shade of pink nails on one hand and orange on the other. Then decorate your nails with hibiscus flowers and dots using white nail polish for a tropical summer aesthetic.
44. Sparkly Orange and Pink Nails
Rock short pink and orange nails by using glittery nail polish. Add some rhinestones on an accent nail to complete the look.
FAQs About Pink and Orange Nails
How Can You Get Pink and Orange Nails?
You can get pink and orange nails by either doing them yourself at home or going to a professional nail salon.
To do them at home, you'll need to purchase pink and orange nail polish and any additional tools you may need, such as a base coat, top coat, and nail file.
If you're not confident in your ability to do your own nails, it's best to visit a nail salon and have a professional do them for you.
What Do Pink and Orange Nails Mean?
Pink and orange nails don't necessarily have a specific meaning, but they can be associated with fun, playfulness, and creativity.
These colors are often used in spring and summer nail designs, as they can add a pop of color to any outfit.
Ultimately, the meaning behind your pink and orange nails depends on how you choose to express yourself through your nail art.
Join the Pink and Orange Craze
Pink and orange nails are a fun and vibrant way to add some color to your summer look. Whether you prefer a bold and bright design or a more subtle and muted look, there are endless options to choose from.
Achieve the perfect pink and orange nail design that's both trendy and unique. So go ahead and try out some of these ideas for yourself and see if you'll love the results!
Want more nail art ideas?
Check out these articles: