This post may contain affiliate links, which means I may receive a small commission, at no cost to you, if you make a purchase.
Can't choose between pink and purple for your next nail color?
Be a trendsetter and don't just settle with only one color for your fingertips!
These two feminine and romantic colors have always been among the popular choices when it comes to nail art because not only do they look stunning together, but they also evoke a sense of playfulness and sophistication that's hard to resist!
The best part? You can easily amp them up with a variety of trendy styles such as ombre, glitter, floral, and geometric patterns.
So why wait?
Scroll through our gallery and get inspired to elevate your nail game with our over 40 gorgeous pink and purple nail designs that will make everyone's hearts flutter!
Whether you're a fan of solid colors or want to experiment with more daring styles like a holographic finish or 3D embellishments, our selection has it all!
Purple and Pink Nail Designs
If you're looking to add some feminine flair to your nail game, pink and purple hues are the perfect shades to achieve that.
Get ready to wow hearts by transforming your fingertips with a variety of patterns, textures, and embellishments that create a unique and eye-catching nail look!
1. Pink Velvet and Roses On Lavender
This nail set is a standout choice that's sure to turn heads! It features soft and luxurious glittery pink velvet nails and lavender accent nails with delicate pink rose stamps that add a beautiful pop of color and texture.
2. Pink and Lavender Tips With Squiggles and Daisies
Steal a second look from the crowd by alternating pink and purple tips, but add a playful twist. Here, the purple tips feature a pink squiggle at the left corner, and vice versa. Then, each nail has a carefully placed daisy to magically complete the look.
3. Pink, Purple, and Silver Streaks
Prepare to impress with short periwinkle purple nails paired with accent nails in a soft nude pink shade! The playful squiggles of pink, purple, and glittery silver topping off the accent nails appear funky and chic.
4. Leopard Prints in Purple and Pink
Paint your mid-length square nails in a lovely peach base color, complemented by eye-catching leopard prints in pink and lavender. Watch how the combination of the soft pastel and bold animal print creates a whimsical look perfect for any occasion.
5. Tiger Prints on Hot Pink
Want more animal prints? Change up your matte hot pink and purple nails by decorating the accent nails with glossy, black tiger prints!
6. Barbie's Pathway
This dreamy nail design boasts a subtle nude base color, elevated by lovely streaks of blue, magenta pink, and pastel purple. Adding white tiny dots and twinkling stars creates a fancy look reminiscent of Barbie's magical pathway.
7. Pink and Purple Nails with Abstract Accents
Do you like to mix and match colors for your nail style? This one's for you! It has pink and purple nails cpaired well with peach-toned accent nails that are adorned with a mesmerizing abstract design.
The irregularly shaped circles in pink, lavender, light blue, and white, as well as the black strokes, add a unique and artistic touch to the overall look.
8. More Abstracts on Nude
We have another abstract nail design with pink and purple nails! This set features a beautiful blend of pink and purple nails, completed with accent nails that boast multicolored irregularly shaped corner patterns on a chic nude peach base.
9. It's Raining Polkas!
Step your nail style game with this stunning nail set that features short square nails in periwinkle purple and accent nails in nude pink, decorated with tiny polkas in pink, purple, white, and glittery silver.
The perfectly placed polkas, extending from the tip and covering ¾ of the nail space create a very impressive overall design.
10. Funky Designs on Pink and Purple
Looking for a cute pink and purple nail design for short nails? The search is over because we found a nail set that has an adorable collection of peach, pink, and purple nails.
Most of them are expertly decorated with cute and colorful abstract designs like petals, streaks, dots, and irregular patterns.
11. Pretty Floral Overload
This gorgeous long square nail set screams "springtime chic"! Most of the nails are painted in a lovely lavender hue and are paired with accent nails that are loaded with a beautiful array of white, pink, and purple embossed florals.
12. Pastel Swirls and White Hearts
Pink and purple nails in pastel shades complement well with accent nails painted in nude peach! This set is one of our faves because its accent nails have pastel-colored curved lines, tips, and hearts that make the overall look charming.
13. Geometric Tips
Make a statement with your next nail look by having lavender, peach, dark purple and pink nails! The intricate geometric patterns adorning the tips of the peach-colored nails make this set a true work of art.
14. Orient Pearls
This nail set is reminiscent of the beautiful pearls of the oriental seas. The nails have a pearly white base that glimmers with holographic pink and purple tones when it catches the light.
15. Purple and Pink Velvet
Introducing the latest addition to your nail style collection: a stunning set of velvety, glittery purple and pink nails! In addition, the pink nails are adorned with shimmery fine glitter in red and silver that add a touch of glam to the entire design.
16. Sparkling Hot Pink and Purple
We are super in love with this set that has hot pink and light purple acrylic nails with glitter! The fine glitter really gives a glamorous touch to the whole look.
17. Purple and Pink Center Ombre
Be playful with your interpretation of ombre pink and purple nails just like this nail design! This features a fab ombre effect that blends seamlessly from the purple middle to the hot pink ring fingernail. Truly a unique set, don't you think?
18. Glitters on Pink and Periwinkle Purple
This design of pink and purple gel nails is truly captivating to look at. This set has our favorite light pink and periwinkle, with the accent nails topped off with stunning chrome glitter that add just the right amount of holographic sparkle.
19. Embossed Streaks on Pink and Purple
A fashion-forward nail art lover like you will love this two-tone pink and pastel purple nail set! The fun part? All of the nails are accentuated with embossed streaks made from high-quality mineral nail powder.
20. Glittery Sideway Pink and Purple Ombre
This set includes a combination of pink and purple nails with a glitter finish, and accent nails that boast a stunning vertical ombre design that transitions from pink to purple. This design will undoubtedly draw anyone in for a second look!
21. White V Tips and Pastel Streaks
Want your nail look to have the perfect balance of understated elegance with a hint of playful color?
This coffin nail set features classic white V tips on a neutral base, paired with the same neutral-colored accent nails decorated with streaks of purple, white, and pink!
22. Pink and Purple LV Nails
Amp up your long pink and purple acrylic nails with elegant pink and purple French tips, adorned with tiny rhinestones at the cuticle.
To take things up a notch by including accent nails in a stunning purple ombre design, finished with iconic Louis Vuitton symbols with rhinestones to add a touch of luxury.
23. Silver Flames on Purple
Turn up the heat with this neon pink and purple acrylic nail design! Here, the purple nails are adorned with eye-catching white flames and finished with a touch of fine silver dust.
24. Hot Pink Edges and Gems
Prefer having pink and purple nails with diamonds? This luxurious nail set is for you!
This style features lilac nails, with select nails lined with playful hot pink edges. All nails are adorned with sparkling diamonds that are strategically placed either at the middle of each cuticle or at the lower middle of the nail.
25. Purple and Pink Pulsating Hearts
If you'ree been a fan of the Powerpuff Girls, this nail design will give you that childhood nostalgia! It features beaming hearts in purple and pink hues on accent nails and French tips with outlines in the same color scheme.
26. Pink, Purple, and Vibrant Multicolored Streaks
This baby pink and purple nail design is perfect for those wanting a playful look! The addition of vibrant streaks in blue, green, purple, pink, and glittery silver draws the crowd's attention to your hands.
27. Pink, Purple, and Glittery Rose Gold Streaks
The thin streaks of pink, purple, and glittery rose gold take center stage on a soft nude backdrop. Finishing off the look with twinkling white North Stars makes the overall look extra enchanting!
28. Pink and Purple Ombre Streaks
Instead of having pink and purple nails in ombre, why don't you try having pink and purple ombre streaks that stand out on a soft peach base? Complement these with delicate and sparkly silver outlines to add glamor.
29. Lightning Bolt on Purple and Pink Glittery Ombre
Want a memorable style for pink and lilac ombre nails? Have a vertical ombre of lilac and pink glitter for your short square nails. Then adorn each nail with a solitary, eye-catching white bolt with black shadows.
30. Chrome Foil on Purple and Pink Stilletos
This stunning nail design features long stiletto nails painted in a charming combination of matte pink and purple and smudged with chrome foil.
The middle accent nail steals the show with its striking two-toned design, showcasing that it's half pink and purple.
31. Floral Tips in Purple and Pink
Another design you'll love combines two stunning colors, periwinkle purple and salmon pink, in an alternately colored flower stamp on the nail tips.
32. Pastel Smudges on Nude
For a fun and creative nail design, have a nude base on all nails. On your right hand, add a touch of whimsy with pale blue and purple smudges, while your left hand features a playful combo of pale blue and pink smudges.
Outline some smudges with thin chromatic silver polish, and you're done!
33. Charming Accents in Purple and Pink
Express your creative side and have different designs on your nude nails! Just add playful accents on every nail such as beaming hearts, streaks, and French tips in pink, pale pink, and periwinkle.
34. Pink and Purple Florals with Gold Foil
We love how dainty the vibrant and real-looking tiny pink and purple florals look on a sheer pink base! Apart from that, the shimmery gold foil that comes with them as accents make the whole look extra posh.
35. Multicolored Streaks on Dusty Rose
Short nails with a gorgeous dusty rose pink base, decorated with thin streaks of pink, purple, white, and glittery silver will surely catch the eye!
36. Purple and Pink Nails with Rainbows
Channel your creativity with this lovely nail design featuring a mix of pink and purple nails, complemented by ombre nails and a rainbow design on peach accent nails, topped with white hearts, dots, and stars!
37. Silver Foil on Pink and Purple Marble
Transform your nails into an impressive work of art with this nail design, featuring a luxurious marble base in shades of pink and purple, further accentuated by silver foil for an extra touch of sophistication.
38. Glittery Springtime Charm
Leave a lasting impression wherever you go by elevating your nail game with this stunning set of glittery pink and purple nails, perfectly paired with accent nails in matte nude.
The pastel flowers that adorn the accent nails will remind you of the well-loved season of spring.
39. Funky Doodles on Purple and Pink
Add some quirk to your nails with this nail design, featuring light pink nails on one hand and purple on the other, all adorned with geometric doodles in blues, purple, pink, and white.
40. Purple and Pink Gradient Styles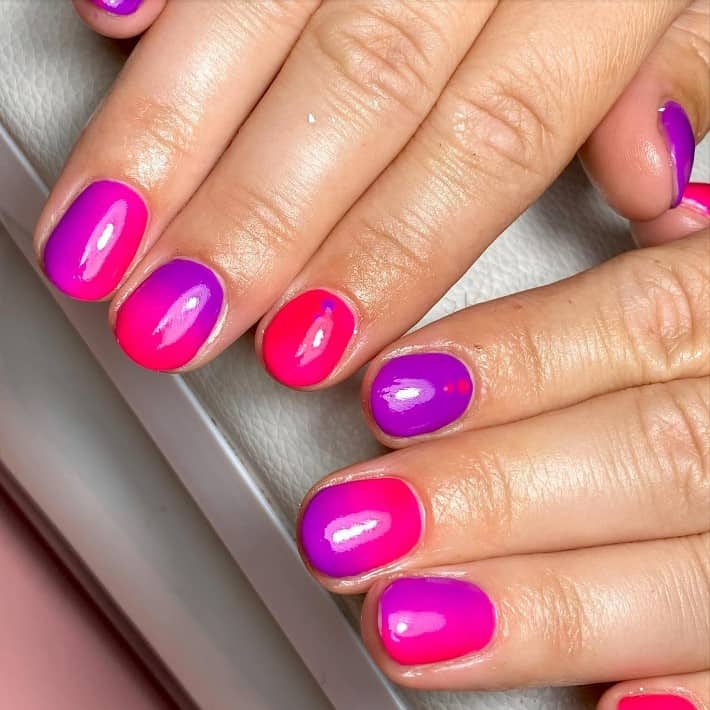 This nail set is one of the most unique pink and purple ombre nail designs we've found because it boasts vertical and horizontal gradient styles on the accent nails. Finish with dots in plain-colored nails.
41. Purple, Blue, and Pink Smudges on Pale Pink
This vibrant and playful nail set features a unique combination of purple, pink, light pink, and blue nails. The light pink nails are decorated with smudges of blue, pink, and purple, topped off with a touch of glam from the gold foil.
42. Hearts and Streaks on Pastel Pink
This light pink and rose gold nail set is the epitome of cutness! Some of the light pink nails were embellished with a pink lone heart, and blue, peach, and rose gold streaks that give your fingertips an instant charm boost!
43. Pastel and Silver Streaks on Milky Pink
This milky pink-based nail set is an absolute delight. It has accent nails with pink, purple, and peach streaks, and a lone glittery silver streak added in the opposite direction.
44. Purple and Pink Chunky Glitters on Ombre
Prepare to leave everyone in awe with this purple and pink ombre nail set that's topped off with chunky pink and purple glitter!
45. Purple and Glittery Hot Pink Accents
This beautiful nail set features lavender nails, while the middle accent nail stands out with a glittery hot pink base. The ring and pointer accent nails are painted in half-hot pink and half-lavender. The effect is mesmerizing!
46. Matte Purple and Pink Nails with Half-Floral Details
Match matte pastel purple and pink nails and watch how they instantly become a showstopper combo! The pink accent nails are adorned with half-floral detail and three tiny rhinestones to balance style and glam.
47. Dark Purple and Light Pink Ombre
This striking set features a combination of dark purple and light peach ombre nails, creating a gradient that's both alluring and dramatic. The accent nails, painted in light pink and peach ombre, add sweetness to the overall look.
Frequently Asked Questions
Can you wear pink and purple nails to a formal event?
Yes, you can absolutely wear pink and purple nails to a formal event!
The key to making pink and purple nails work for a formal event is to choose shades that are more muted.
For example, instead of a bright bubblegum pink, opt for a more subdued blush pink or a dusty rose. When it comes to purple, a deep, rich shade like plum is a great choice.
In addition to choosing the right shades, it's important to keep the overall design simple and elegant.
A sleek and modern design featuring geometric shades or metallic accents in shades of pink and purple can be a stunning choice as well.
It's also worth noting that there may be some formal events where a more conservative nail color is expected, such as a black-tie event. In these cases, a neutral shade like nude or pale pink may be a better choice.
However, for most formal events, pink and purple nails can be a fun and unexpected way to add some personality to your overall look.
Will pink and purple nails complement any skin tone?
If you're considering having pink and purple nails, you may be wondering whether these shades will complement your skin tone. The good news is that pink and purple can look beautiful on almost any skin tone!
Here's a quick guide to choosing the right shade of pink and purple for you:
Cool undertone — This type of undertone has a pink or bluish hue. Lilac and bubblegum pink are some of the shades that complement cool undertones best because they have pink or purple-blue undertones.
Warm undertone — If you have this undertone, your skin has a yellow, peach, or golden hue. Coral pink and berry are a few of the shades with red or orange undertones that best complement warm undertones.
Neutral undertone — The skin that has a balance of both warm and cool tones is called a neutral undertone. Therefore, you can pull off a wide range of pink and purple shades.
Of course, these are just guidelines, and there's no one-size-fits-all answer when it comes to choosing nail colors. The most important thing is to choose shades that you love and that make you feel confident and beautiful.
Be a Showstopper By Having Pink and Purple Nails!
Pink and purple nail designs offer endless possibilities for those like you who are looking to express themselves through their nails.
From classic French tips to playful polkas, the designs featured in our selection showcase the versatility and creativity of pink and purple nails.
So go ahead and paint your nails pink and purple, and don't hesitate to steal the show!
Looking for Other Cute Nail Design Inspirations?
Check these out: