32 Stunning Purple Ombré Nail Design Ideas
This post may contain affiliate links, which means I may receive a small commission, at no cost to you, if you make a purchase.
If you're a nail polish enthusiast, you know how much fun it is to experiment with different colors and designs. Purple ombré nail designs are one of the latest trends in the ombré nail art world.
This stunning and versatile design can be created in many different shades of purple, making it a perfect match for any occasion.
In this article, we'll explore the different types of purple ombré nails and their unique advantages, so you can choose the perfect style for your next manicure that will make your nails stand out.
What Is the Purple Ombré Nail Design and Color Combination?
Purple ombré nails are a nail trend that involves blending two or more shades of purple to create a gradient effect on the nails.
"Ombré" is a French term that means "shaded," and in the case of nails, it refers to the gradual blending of two or more colors from light to dark or vice versa.
The purple ombré nail design can be achieved using various techniques, including using a makeup sponge or a nail brush. The easiest way to achieve the ombré effect is by using a makeup sponge.
To start:
Apply a light purple shade as the base color, and allow it to dry completely.
Apply the darker purple shade to the tip of the sponge and gently press it onto the nail.
Repeat step 3 until you achieve the desired gradient effect.
Finish off with a top coat to seal in the design and add shine.
The beauty of the nails' purple ombré design is that it can be customized to suit individual preferences. For those who prefer a subtle and understated look, lighter shades of purple can be used to create a soft gradient effect.
On the other hand, those who want a bold and edgy look can opt for darker shades of purple, such as eggplant or plum. The nail purple ombré design is not limited to just one style or shape of the nail.
It can be applied to different nail shapes, including coffin, almond, or stiletto. Short nails can also rock the purple ombré look, as the gradient effect can make them appear longer and more elegant.
In recent years, nails with purple ombré designs have become more popular, and new variations of the trend have emerged. For example, some nail artists have added creative elements to the design, such as butterflies or diamonds.
Others have experimented with different color combinations, such as purple and blue or purple and pink ombré nails.
Now that we know what a nail purple ombré is, let's take a closer look at some of the different variations of this trendy ombré nail design you can try!
32 Purple Ombré Nail Design Inspirations
Lilac Light Purple Ombré Nails
These light shades of purple create a soft gradient effect that is perfect for a delicate and feminine look. These nails are especially great for spring and summer as they pair well with pastel and light-colored outfits.
Pastel Purple Ombré Nails
The light shades of purple and the gradient accent nails with white glitter create a playful and youthful look that is perfect for spring and summer.
Purple Ombré Coffin Nails
The coffin shape elongates the fingers, and the soft pink-to-lavender gradient effect adds depth and dimension to the nails.
Purple Ombré Nails With Chunky Glitter
Use chunky glitter to add pizzazz to your purple gradient nails. Try adding them to the tips of your nails.
Short Purple Ombré Nails
Short nails don't have to be boring. Add some personality with a gorgeous ombré of purple, pink, green! Try adding purple floral nail art on accent nails to really make them pop!
Purple Ombré French Nails
French nails can be upgraded with an ombré twist. Try it with a metallic gradient of lavender. Add some extra bling by featuring a standout nail adorned with chunky holographic glitter.
Pink and Purple Ombré Nails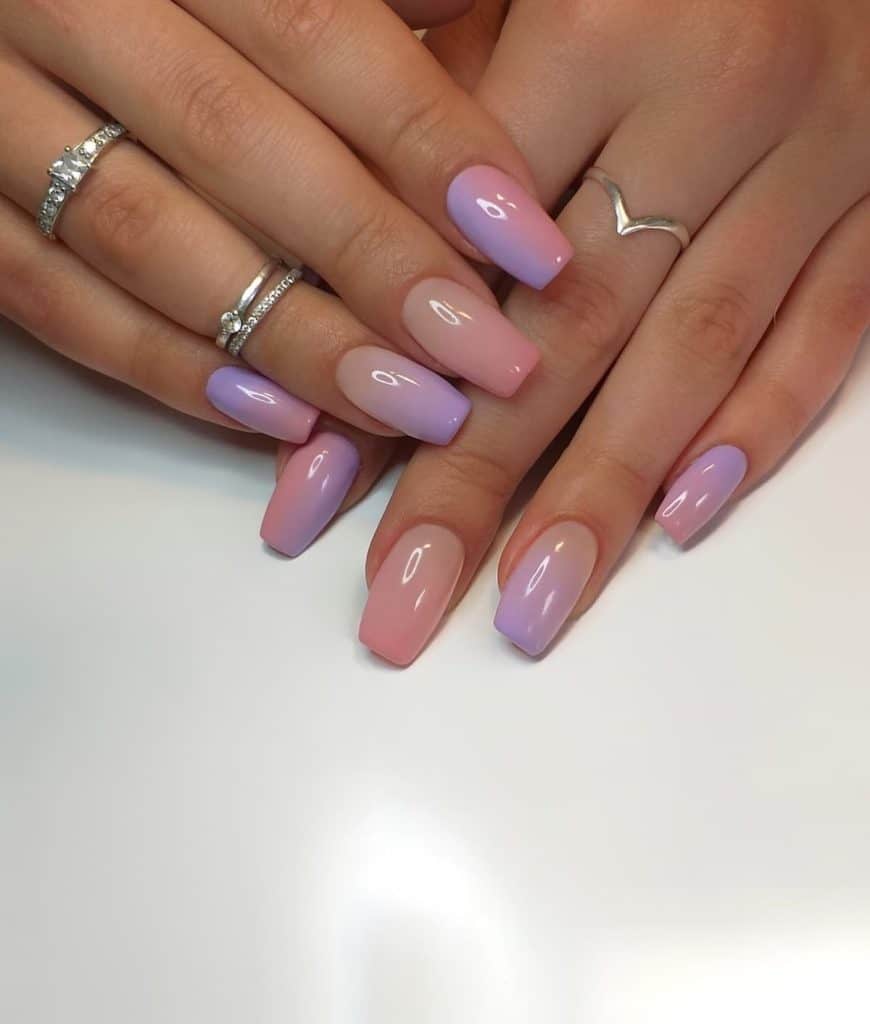 If you're a fan of both pink and purple, then combining both colors in a gradient design is a great idea. The combination of pink and purple creates a playful and girly look that's perfect for spring or summer.
Dark Purple Ombré Nails
These dark and matte shadese create a bold and dramatic look that can elevate any outfit. Dark purple ombré nails aside from black and purple ombré nails are perfect for formal events such as weddings.
Shimmery Lavender Ombré Nails
Looking for a classic and timeless look? Shimmery lavender ombré nails are the perfect fit for you. The combination of lavender and paler tones creates a fresh and clean look that is perfect for any occasion.
Purple and Blue Ombré Nails
Purple and blue ombré nails are perfect for individuals who want to add a pop of color to their nails. Purple and blue hues create a cool, playful, and fun set that is perfect for summer.
Pastel Purple and Green Ombré Nails
Purple and green may seem like an unlikely combination, but when done in a pastel ombré style, it creates a unique, childlike look.
Purple Orchid Ombré Almond Nails
The almond nail shape is a popular choice for those who want to elongate their fingers and create a sleek, sophisticated look. When combined with a purple orchid ombré design, this nail shape can take on a new level of elegance.
Purple Ombré With 3D Butterflies and Pearls
Want to take your purple ombré nails to the next level? Adding 3D butterflies and pearls is a great option. The 3D elements can be placed strategically on the nails along with white North Stars and dots to create a cutesy design.
Purple Ombré DreamWorks Vibes
If you're a fan of DreamWorks movies, you might be inspired by the colorful and playful world they create. A purple ombré inspired by the DreamWorks intro can capture the fun and vibrant spirit of their beloved movies.
Pinkish Purple Butterfly Ombré Nails
Butterflies are a popular choice for nail art, and when paired with a pinkish lavender to clear ombré, they create a delicate and feminine look. The result is a stunning and ethereal manicure that is perfect for spring and summer.
Lila Story and Pink Smile
This mani incorporates shades of light purple and pastel pink, with the middle finger showcasing an ombré of both to bring them together. Decorate with diamonds and rhinestones for a magical-looking set!
Lilac and Butterflies
This design features pink that fades into lilac and is accented with delicate butterfly decals or hand-painted designs. The result is a dreamy and feminine mani.
Purple Ombré With Nail Art
Looking for a more personalized look? Add some white flower nail art to your lavender ombré nails. From white dots to hand-painted details, the possibilities are endless.
Lavender and 3D Decor
Lavender is a perfect base color. Level it up by adding 3D flowers, a 3D butterfly, white swirls, and a glitter-filled accent nail to make your mani stand out.
Lavender and Indigo Combination
Combining lavender and indigo creates a unique and captivating ombré effect. The darker indigo shades can provide a rich and dramatic contrast to the lighter purple hue, making it an ideal choice for a night out or a special occasion.
Purple Ombré With White Flames
For those who want to add a little edge to their nail art, purple ombré nails with white flames are the way to go. This design combines the softness of purple ombré with the boldness of white flame nail art.
Purple Ombré With Rhinestones
A purple ombré with rhinestones and subtle glitter is a magical design that adds a touch of whimsy to your nails.
The gradient effect created by blending shades of purple is enhanced with the addition of shimmering dust that catches light and sparkles.
Purple Tones
This design is a unique take on the classic ombré nails, where each nail is painted with varying shades of purple, decorated with rhinestones and accented by blue shimmery nails.
Flaky Blurple Dip
This technique involves applying layers of flakes over the blue-purple (blurple) ombré base to create a mesmerizing shimmer effect that looks 3D.
Milky Nyx Ombré
Featuring a milky white base that gradually fades into a deep and rich shade of purple at the cuticles. The soft, dreamy, effect created by the gradient makes it perfect for special events.
Builder Gel Beautiful Ombré
Builder gel ombré nails are a popular choice for those who want a long-lasting manicure. For this one, the ombré effect starts with a lavender and fades to a beautiful pale pink shade.
Glitter Fade
This is a stunning design that adds sparkle and glam to your purple ombré nails. Add purple glitter to the tips or the base of silver and black nails, depending on your preference!
Buckeye Nails
These are popular design featuring an intricate design of white powdery swirls and delicate 3D flowers with a stunning color gradient that begins with a soft lavender and fades into a nude hue.
Zodiac Sign (Virgo) Nails
Zodiac sign nails are a fun and unique way to incorporate into your nail art. The color palette used in Virgo designs sometimes includes shades of purple and white.
Don't forget the Virgo symbol as the central design element!
Long Pink and Purple Ombré Nails
These long pink and purple ombré nails show a stunnning design of alternating gradients. This design can be further elevated with the addition of rhinestones and a clear yet holographic accent nail.
Purple Sparkles
Purple sparkles are a dazzling way to add glamor to your purple ombré nails. By adding glitter to your rich shades of purple ombré, you can take your look to the next level.
All the Purples
This is a design that incorporates different shades of purple, ranging from light to dark, to create a gradient across nails. This design is perfect for those who can't choose just one shade of purple as the ombré showcases all your favorite shades.
Frequently Asked Questions
Can I Create a Purple Ombré Look at Home?
Yes, with the right tools and a little bit of patience, you can create a beautiful ombré look at home. Explore our selections of purple ombré nail inspirations and find your next favorite design!
What Occasions are Purple Ombré Nails Suitable For?
Purple ombré nails are suitable for any occasion, whether it's a formal event or a casual day out with friends. You can choose any design above that suits your personal style and the occasion.
Can I Combine Purple Ombré Nails With Other Nail Art Designs?
Absolutely! Purple ombré nails can be combined with other nail art designs, such as butterflies or diamonds, for a unique and personalized look. Get creative and experiment with different combinations to find a style that you love.
Purple Ombré Nails: The Colorful Trend You Need to Try Now!
Purple ombré nails are a chic and adaptable way to briteghten up your appearance.
Whether you prefer a soft lilac light purple ombré or a daring purple-and-black ombré, there is a design to fit any event and fashion preference.
With the proper equipment and a bit of perseverance, you can produce a stunning ombré style that will impress everyone around you.
So why not take a chance and try out a purple ombré nail design for yourself? With such a wide range of possibilities, you are sure to find a look that suits you perfectly.
Get More Nail Design Ideas Here: