This post may contain affiliate links, which means I may receive a small commission, at no cost to you, if you make a purchase.
Spring is here!
With everyone ditching their low-maintenance winter looks, the pressure is on to glam it up. So you might feel the urge to match those lengthy, flashy nails with your fab spring wardrobe.
But who says you need long nails to be spring-ready? Short nails can be bright, bold, and bodacious enough to greet the season's arrival with finesse!
Don't believe us? We've rounded up 40 cute and easy nail designs for spring on short nails to change your mind and give you a little inspo before your next salon appointment.
Get Inspired by These Spring Designs for Short Nails
Flower Garden
Celebrate the spirit of growth that springtime brings with this luscious garden design. Flowers blossom alongside thick, deep green foliage, with a subtle purple ombré to tie all the elements together.
Christmas in March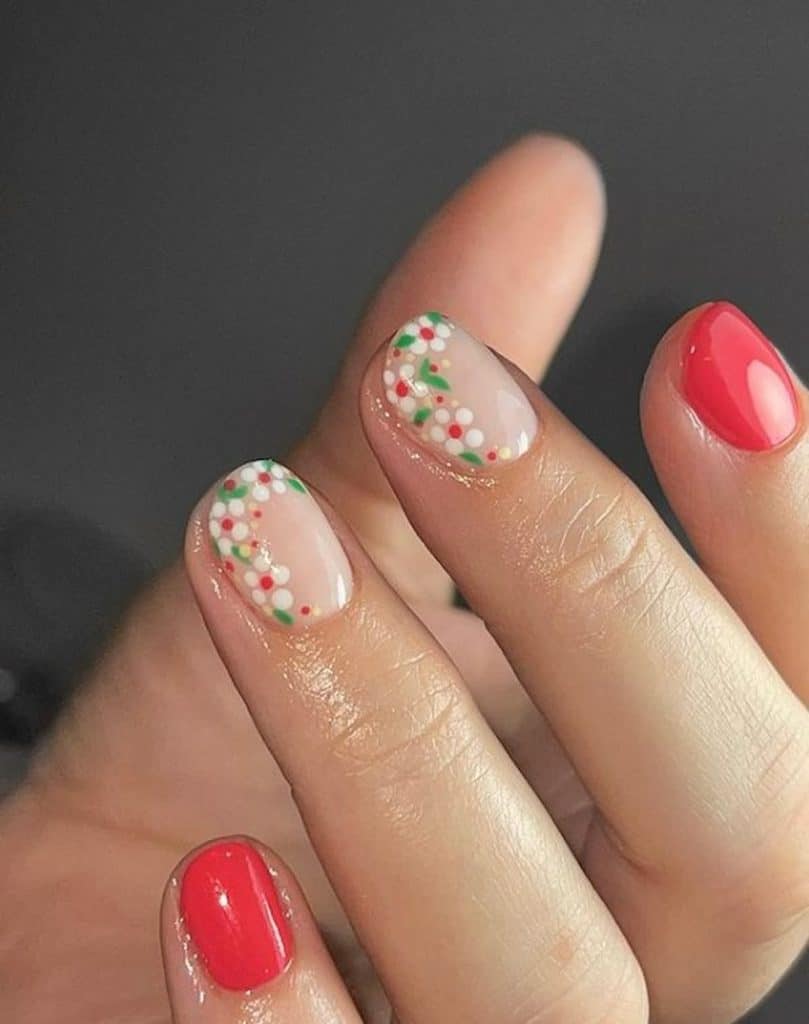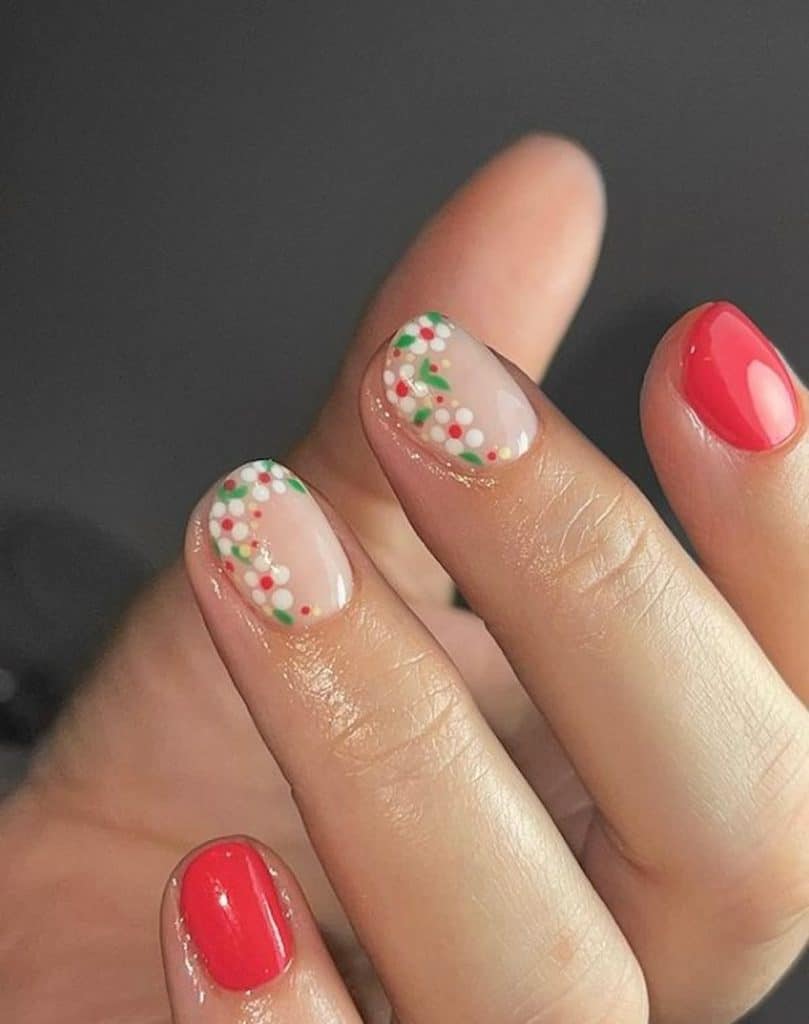 A design that transitions seamlessly from winter to spring! Red, white, and green hues may be reminiscent of the holidays, but enchanting blooms and robust leaves encapsulate the look and feel of the warm season.
Dreamy Romance
Fall in love with the warm tones and dreamy florals of the season with this simple spring nail design. Its coffin shape may add a little more length to short nails, but the dramatic effect is more than worth it.
Cartoon Classic
The iconic rainbow sunflower of Japanese artist Takashi Murakami is now in plushies, shirts, and even short spring nails! After all, what captures the joy of spring more than a wide smile and peppy hues?
Green and Pink Palette
Opposites do attract, at least according to these green and pink nails. Complementary shades and alternating patterns create visual interest, yet the soft palette and tiny blossoms maintain a light, dainty aura.
Surprise Splash
The secret to upgrading a boring ol' manicure? A splash of white! Not only does this add texture to fully painted nails, but it also creates a swirl that's on trend for spring.
Dynamite Blues and Yellows
Why limit deep, rich blues to winter? This spring-themed nail art softens the imposing presence of royal blue with accents of yellow and white blooms.
Lovely and Laid-Back
The perfect balance between cool, muted tones and warm, dazzling shades of these old rose spring nails embodies the season's cozy comfort.
Delicate Warmth
Sun's out, flowers are blooming — springtime has truly arrived with these radiant nails. The round shape only enhances the look's delicate allure.
Wondrous Whimsy
Florals in spring may not be groundbreaking, but these zesty, bright, whimsical colors prove why they'll never go out of style. This look is also beginner-friendly, giving you the freedom to create irregularly shaped blossoms and leaves.
Delightful Florals
With blooms in powdery shades and varying sizes on a milky, translucent base, these cute and short spring nails are endearing in their simplicity.
Fun and Funky
Remember: clashing patterns become harmonious with the right color palette. These pastel nails flawlessly toe the line between the opposing styles of modern geometric art and upbeat, girly charm.
Enchanting Purple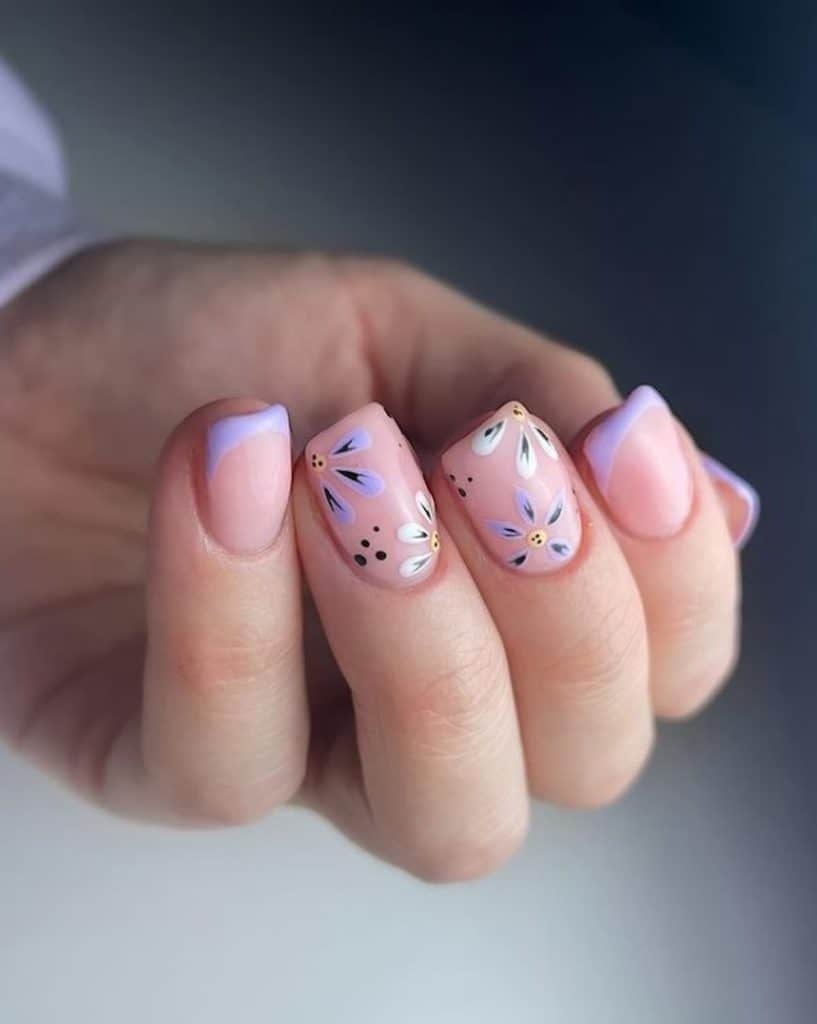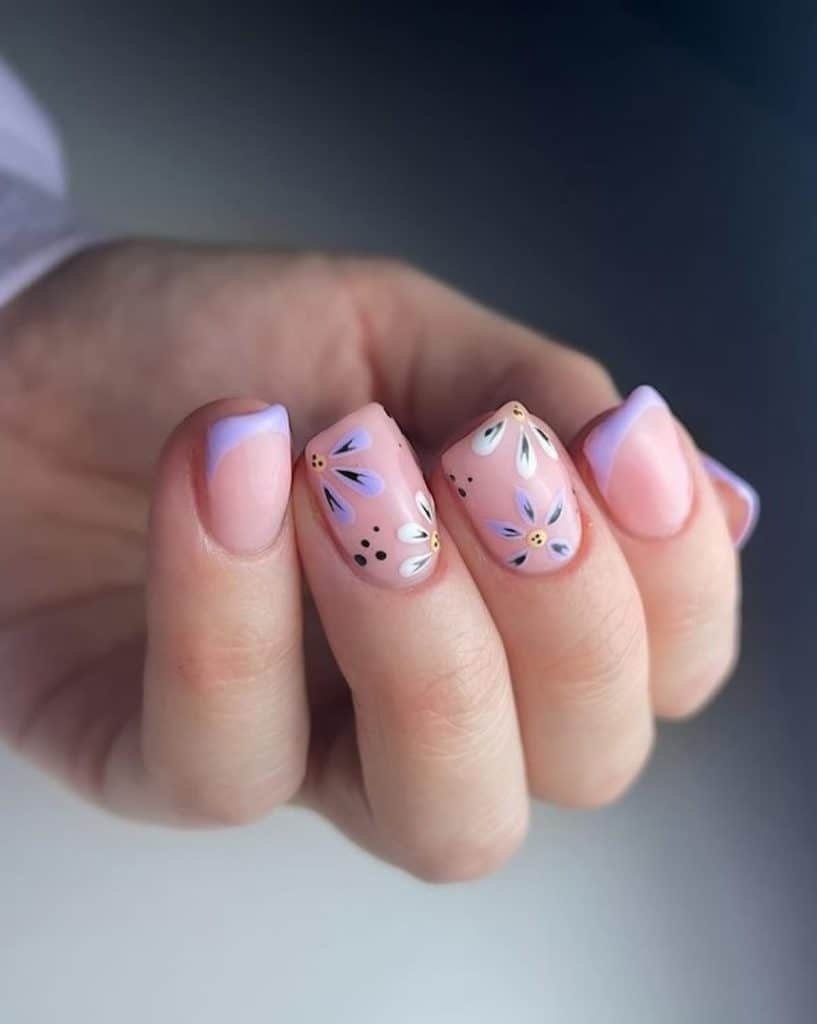 No color captures the first sunrise of spring like light purple, which headlines this intricate design. Black details and thin white petals further bring this fleeting moment to life.
Foliage Art
Love foliage but hate green? Consider this spring nail art for short nails with pastel-colored foliage and accents of icy whites, evoking the image of snow melting away as lush flora emerges from the ground.
Vintage Elegance
Retro is in! Featuring antique floral patterns from decades long past, this effortlessly elegant nail design with a matte finish adds texture and color to nude, barely-there hues.
Cherry Sweet
Cherry trees bloom in spring, and so should your nails! Red and green hues pay homage to the tree's sweet fruits and abundant leaves. In turn, pink florals call the famed cherry blossom to mind.
Popsicle Party
What better way to enjoy the warm, sweet season than with warm, sweet colors? Softer than summer but brighter than winter, these creamsicle-inspired nails scream spring like no other.
Playful Celebration
Down with a bad case of spring fever? Roses, sunflowers, greenery, and glitter brimming at the tips of this showy yet tasteful design serve as a reminder that there's no better season to let loose and have fun.
Fine Metallic Flecks
Short nail designs for spring need not be boring. Butterfly tips with flecks of silver make eye-catching design truly flex-worthy.
Sparkling Season
A little glitter never hurt anyone, least of all these nails! With only a few hand-painted blooms against a clear base, the touch of sparkle adds a little magic to this casual look.
Floral French
The classic French mani gets a springtime makeover with this clean yet vivacious design. Top it off with a yellow flower each nail and a glossy finish, and your manicure will stay flower-fresh all season.
Mesmerizing Gradient
Don't like the look of a full gradient? Go for this gradient-and-French combo with an understated rainbow palette for exquisitely classy spring nails.
Short Square Pastel Frenchies
Pops of pastel colors inject a little more life into French tips on short square nails. Subtle enough to be missed at first glance, but eye-catching enough to merit a second look.
Dainty Daisies
For cute and simple spring nails, you can't go wrong with a few delicately placed daisies on natural nails — a DIY-friendly alternative to complex floral designs.
Blushing Beauty
Two spring staples in one! Pale pink nails embrace the rosy hues of the season, while floral accent nails kick the full-set mani's style and color up a notch.
Poppin' Pretties
Go mad for spring with this impossibly adorable look! A micro French manicure serves as the base and lets colorful blossoms at the base take the spotlight.
Crafty Fun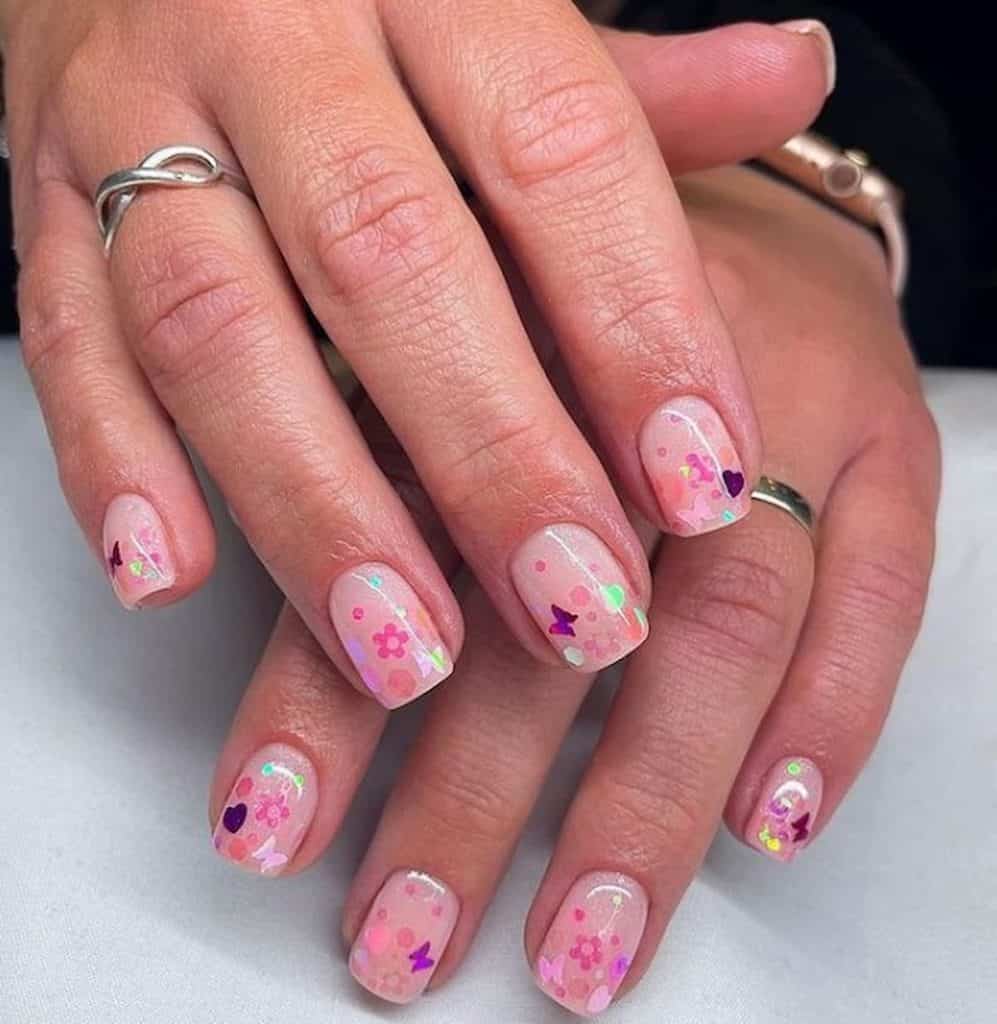 Translate your love of craft into nail art with sweet pink blooms and metallic purple nail stickers. Top tip: builder gel leaves a sparkly, solid finish on these oh-so-cute nails.
Hint of Print
Animal prints don't have to be confined to fall. With ombré pastels and solid white lines, this soft croc print is right at home in spring.
Bright Blooms
Another floral twist on the ever-popular French tips, this stunning design highlights profuse greenery, open blossoms, and light hues against a nude base to welcome warmer, brighter days.
Micro French Tips
Elevate your French manicure with these ombré-colored micro tips! Luscious candy hues create a carefree and lighthearted vibe, while the subtle gradient adds a touch of sophistication.
Baby Blues and Lilacs
Let breathtaking wildflowers inspire the spring colors in your nail design! Baby blues and lilacs dominate this palette, but a few small gems and a slight watercolor texture complete the look.
Fresh Radiance
Short spring nails invite you to get creative as you maximize the small amount of space you've got. Here, bold, radiant flowers line the tips and cuticles to make trim nails appear lush and full.
Patterns Galore
Gradient tips, rainbow hues, and pinwheel florals — why choose one when you can have them all? Top tip: this nail design achieves cohesion by reining in different nail designs on a bare base.
Soft Glamor
If you're not crazy about cutesy looks, choose a refined palette with powder blues, luxurious golds, and creamy whites for a glam nail design. Plus, using rhinestones as pistils? Brilliant!
Cool and Crisp
Cool tones can carry over from winter to spring, as seen in this design. Marrying greens and petite blossoms with frosty blues and whites recall how chilly winds change into the fresh, crisp breeze of spring.
Sunny Field
A slight fade effect offsets saturated yellows and cheery blooms on this showy design. What's more, it mimics the sight of the sun's rays beaming down on a field of flowers.
Over the Rainbow
Bright colors are on trend this season! But are you worried your rainbow nails will look tacky? Are you bored of colored yet classic French manis? Get the best of both worlds with these bold matte nails!
Angled French
Slanted tips create the illusion of extra length in this short nail design. To recreate this at home, make sure to start at the midpoint of your nails and work your way up to create clean, sharp strokes.
Pastel Tips
French tips keep you looking sharp and sophisticated all through the day. Paint them pastel and you'll have fun spring nails that are both work-appropriate and party-prepped.
Color Block
Thinking of minimalism on short spring nails? Don't knock it 'til you've tried it! This trendy nail art features solid color blocks that lean into the season's relaxed hues.
Quick FAQs
What color nails should I get for spring?
You can't go wrong with warm pastel colors like soft red, baby pink, peach, and pale yellow. But don't count cool tones out altogether. Baby blues and mint greens can also match the mood of spring.
Make sure the color/s you pick match your skin tone, though! Go for bright, vivid hues if you have a deeper tone and airy pastels if you have a lighter tone.
How can I do spring nails?
Of course, the easiest way to get your nails done for spring is to visit your trusted nail artist or nail technician. However, you can DIY short spring nails with the right tools!
For instance, you can create floral nails with gems by using stickers like the KINGMAS Nail Art Stickers (Flowers) and the Pimoys Rhinestone Stickers.
A full set of nail art brushes like the TEOYALL Nail Design Tool Kit can also help nail newbies get started the right way.
Embrace the Season of Renewal with Short Nail Ideas for Spring
Even a simple manicure can remind you of the hope and wonder springtime brings.
Whether you choose traditional nail polish, gel, or acrylic, short spring nails can help you welcome the new season with open arms!
Feel free to use our list of inspirations for the most awe-inspiring spring nail colors and designs to help you choose a new nail look that matches your unique style.
Obsessed with nail trends?
Take a look at these related articles: