This post may contain affiliate links, which means I may receive a small commission, at no cost to you, if you make a purchase.
Do you want to add a touch of summertime to your manicure?
How about adding sunflower nail art to your nails?
Sunflowers make a great design choice. They're bright. They look cheerful. Plus, they're perfect for summer. However, finding the perfect nail design can be challenging.
But don't worry! We've done the research and taken the guesswork out of selecting some of the best sunflower nail designs you can recreate or ask for during your next appointment at the nail salon.
Whether you're looking for something simple and understated or bold and eye-catching, we've got you covered.
Read on to get inspired by these beautiful nail designs with sunflowers.
42 Sunflower Nail Art Designs You Need to Try
1. Sunflower Edges on Olive Green Polish
If green is your favorite color, add half-sunflower nail art designs near the nail cuticles. This makes a unique look different from the usual yellow color scheme of sunflowers.
2. Dainty Sunflower Nails
Looking for a simple sunflower manicure? If you have short nails, choose a nude base and add different sunflower nail art on each nail for a dainty yet chic look.
3. Polka-Dot Sunflowers
These cute sunflower nails are perfect to wear with a flowy summer dress! We love how the black-and-white polka dots and the realistic sunflower nail accent make the whole look pop.
4. Orange Tips and Rhinestones
The color combination of this mani reminds us of sunflower fields during the sunset. We love the clean look of the orange and yellow French tips on this mani.
Add oomph to this look by adding a few rhinestones to the sunflower nail accents.
5. Sunflowers and Purple Tips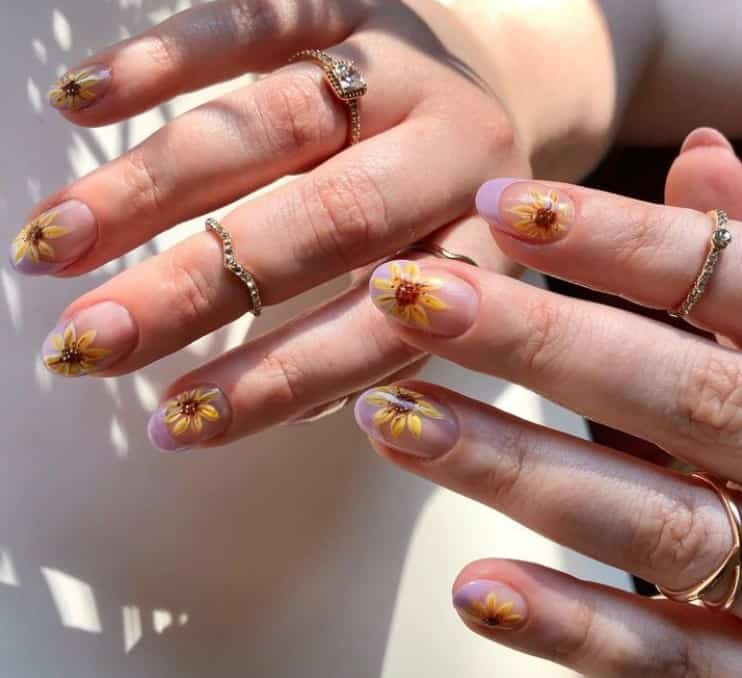 If you're looking for a summer sunflower nail design decorated with sunflowers on each nail, this manicure is for you! Don't forget to add lavender French tips on each nail for an elegant look.
6. Pastel Yellow Sunflower Design
This monochromatic manicure gives off a fun vibe by using cheerful shades of yellow to create sunflower and polka dot designs. We also love the sunflower accent's clean white outlines on each petal.
7. Sunflower Floral Art
If you want a stunning sunflower nail design, go for this look. We love the detailed sunflower art on each nail that makes the manicure look like a work of art.
8. Square Polka Sunflowers
Another version of the polka dot and sunflower design — this time with a square nail. It also looks stunning!
9. Subtle Dots & Sunflower Accent
Elevate your natural nail polish by adding a charming sunflower accent. Enhance the nude-colored nails with delicate yellow dots, bringing a touch of flair to this chic and minimalistic look.
10. Purple Almond Nails
Paint your nails with a light color like lavender nail polish, and add an accent nail with half-sunflower art to make your manicure stand out.
11. 3D Orange Ombré Sunflowers
Want sunflower ombré nails? How about trying this design that reminds you of sunsets? Paint stiletto nails with a matte yellow and orange ombré and add a 3D sunflower accent to make it unique.
12. Tiny Sunflowers
Oval nails with nude-colored nail polish already look stylish. But adding intricate sunflower nail art on each nail makes a statement. We love how this design looks like you're growing sunflowers on your nails!
13. Red-Orange Nails with Sunflower Accents
If you're feeling bold, use a vibrant red-orange nail polish to paint your nails and add half-sunflower nail art on two nails. Complete this mani by finishing it with glossy nail polish for a sexy appeal.
14. Tiny Sunflower French Tips
Using tiny sunflowers as French tips on each nail will always make a wonderful go-to design you can pair with any outfit.
15. White Sunflower Nails
If you're looking for a sunflower nail design for short nails, this manicure is for you! It's decorated with one polka-dot nail and two sunflower nail accents on a clear base that gives it a versatile look you can wear to work or on date nights.
16. Quarter Sunflowers
Make your sunflower nail art for each nail stand out by painting them in different corners over nude-colored nails.
17. Moody Sunflower Nails
If you want to wear a dark shade of mani, go for deep-brown nail polish and add two sunflowers to your nude accent nails. This color palette blends well with the hues of real sunflowers. Gloss your mani up for a classy look.
18. Red & Yellow Sunflower Coffin Nails
The gorgeous shade of this red manicure gives off an independent woman vibe. We love the nail accents of this design — one with a 3D sunflower and the other with a black rhinestone-embellished nail on a yellow-colored base.
19. Royal Blue Sunflower Stiletto Nails
For a short stiletto nail design, use bold colors like royal blue. We love how the gloss and sparkle of the blue nails make the sunflowers on the nude-colored accent nails stand out.
20. Yellow Sunflower Floral Art
Paint your nails yellow and add sunflower art and floral accents to clear nails for a touch of sophistication and elegance.
21. Baby Blue Nails
There are no rules when it comes to what base color to use when painting sunflower art on your nails. So if you want a unique and refreshing look, go for a baby blue manicure! Then paint sunflowers on top of one nude-colored nail.
22. Nude Nails With 3D Sunflowers
For those with long nails but want a simple look, paint all your nails nude, and don't forget to ask your nail artist to add a 3D sunflower to one nail for flair.
23. Chunky Glitter and Ombré Yellow Nails
To create an all-glam look, use gold glitter and yellow ombré nails. Then paint a 3D sunflower on one nail. This design is something we recommend wearing at formal events!
24. Sunflower Paintings and White Lines
We love the yellow manicure and clear nail polish with white marble line accents on this design. The beautifully detailed sunflower art on one nail gives this manicure a feminine look you'll want to wear for elegant nails this summer!
25. Matte Red & Yellow Nails With Rhinestones
If you're looking for a sunflower design to wear for a dressy occasion, we highly suggest this one! The matte-colored red and yellow manicure looks good.
But to make your accent nails stand out, add rhinestones and 3D sunflowers for a sophisticated appeal.
26. Clear Yellow Ombré Nails
You can elevate short coffin nails by adding a shimmering sunflower accent. We love how this nail shape goes well with the sparkly ombré manicure.
27. Fancy Sunflower Nails
Going for an all-yellow ombré manicure is a fun way to add different nail accents. We love how the glittery swirls, 3D flowers, and sparkling rhinestones blend together to create a quirky look.
28. 3D Sunflowers & Sugar Nails
Use two of your nails to create different 3D sunflower designs to show off your long nails. Then design the rest of your nails with traditional and diagonal French tips using yellow polish and sugary glitter.
29. Ombré White Sunflower Nails
For the prettiest sunflower nail design that's also versatile, opt for this one! With its nude-and-white ombré color combination embellished with 3D sunflowers on the accent nails, you can wear it with almost any outfit!
30. Yellow French Tips on Almond Nails
Instead of painting all of your nails with yellow French tips, add a 3D sunflower to one nail as an accent.
31. Purple and Yellow Glitter Nails
This is a great design for those who want to add a purple color and half-sunflower nail art to their nails. Paint one nail with yellow glitter for a glitzy look.
32. Pastel Yellow Nails
We love the yellow shade and the simple sunflower accent used in this design. The shades of this manicure gives off a soothing feel.
33. Sunflower And Yellow Mani Rows
Instead of painting one nail with sunflower nail art for accent, why not paint each of the nails on one hand with sunflower art? Create a playful look by painting the nails on the other hand with yellow nail polish.
34. Nude Polka Dot Sunflowers
If you want something simple for your next nail design, use a nude-colored base and try decorating your nails with black polka dots and sunflower nail accents.
35. Edgy Black and Yellow Sunflowers
Looking for a black sunflower nail design? You can never go wrong with combining yellow, black, and white.
Paint two nails with black nail polish, then decorate one with white polka dots on one nail and create sunflower art on the other for a unique look. Then paint the rest of your nails yellow.
36. Golden Dots Sunflower
What we love about nude-colored nails is that you can add simple designs like glittery polka dots to transform your manicure into something more stylish.
You can get more creative by adding two sunflower nail accents to your nails.
37. Trendy Sunflower Nails
Let's take a break from the usual sunflower colors. For a playful look, use baby blue, purple, and polka dots on each nail. Don't forget to save one nail to add a sunflower accent!
38. Pink & Deep-Magenta Diagonal French Tips
We never imagined that pink nails with diagonal deep magenta French tips could create a powerful look — even with a sunflower accent on top of a magenta-colored nail.
39. Pink Garden
We love how this design makes it look like you have a garden on your nails with its floral accents. Match the nail art by painting the rest of your nails with an adorable shade of grapefruit pink nail polish.
40. Nude and Pastel Yellow
Boost these pastel yellow nails by painting two nails with nude-colored nail polish, then painting sunflowers on them to create a dainty look that's pleasing to the eyes.
41. Sunflowers and Bees
This manicure is decorated with cartoon sunflowers, bees, glitter French tips.
It may sound impossible to pull this off, but paired with a summer-themed outfit with more muted colors, this manicure can look playful and grab everyone's attention.
42. Sunflower Blue Tips
There is something about colored French tips that makes your nails pop. The sky blue tips on this manicure are eye-catching, especially when you add detailed sunflower accents to them.
Frequently Asked Questions About Sunflower Nails
How Do You Make 3D Nail Art Stay on Your Nails?
To make 3D nail art stay on your nails, proper nail preparation is key. Start by ensuring your nails are clean and free of any oils or residue. Trim and shape your nails as desired, then gently buff the surface to create a smooth canvas.
Next, apply a base coat to provide a strong foundation for the 3D design. Allow the base coat to dry completely before proceeding with the nail art application. Then use nail glue to attach any 3D pieces you want to add to your nails.
You can finish off with a top coat to help secure the embellishment on your nail. However, if you want a matte look, apply the top coat around the 3D art to ensure that the embellishment stays in place.
How Do You Safely Remove Nail Charms?
You can safely remove nail charms by using a pair of nippers to dig up the edges glued to your nails to lift them a bit. You can also file around the sides until the charms pop off.
The reason for doing these methods instead of soaking them in acetone is that acetone will tarnish the color of your nail charm, which is not ideal if you plan to reuse them.
How Do You Paint Sunflowers on Nails?
To create a sunflower manicure, you'll need some yellow, brown, and green nail polish. You'll also need a small brush or dotting tool.
Here's a step-by-step guide on how to paint sunflowers on your nails:
Start by applying a base coat to each of your nails. Then apply a coat of yellow polish.
Once the yellow polish is dry, use your small brush or dotting tool to create the center of the sunflower with brown polish.
Use the same tool to create the petals with yellow nail polish.
Finish off the design by painting some green leaves and stems.
Voila! You now have beautiful DIY sunflower nails.
Pick a Few Sunflower Nail Designs To Flaunt This Summer!
We hope these 42 sunflower nail designs have inspired you for your next summertime mani!
Remember to take your time and have fun with it; after all, your nails are a canvas for creativity!
So go ahead and choose your favorite design, grab your favorite brand and color of nail polish, and get ready to brighten up your summertime with some sunny sunflower nails!
Want More Articles About Nail Designs?
Check these out: