This post may contain affiliate links, which means I may receive a small commission, at no cost to you, if you make a purchase.
If you're looking to elevate your nail game, there are plenty of beautiful designs of nail art to choose from.
Whether you prefer a simple but elegant nail design or a more intricate and detailed one, there's always something for everyone.
Classy nail art can make a huge difference in your overall look, and nice elegant nails can add the perfect finishing touch to any outfit.
One popular option for those who want a classy elegant nail art design is to go for a minimalist approach.
Simple, beautiful nails can be achieved with a few carefully placed dots or lines while still making a statement.
Another pretty design for nails is to add a pop of color to a neutral base, creating a cool nail painting that is both subtle and eye-catching.
For those who want to step up their game, there are many elegant nail art ideas to try.
No matter what your style or preferences are, there are plenty of beautiful nail art designs to choose from.
Here are 32 elegant nail designs from chic to intricate and glamorous, these designs are sure to make a statement and elevate your look!
Pink Ombré Fade With a Touch of Diamonds
This spring-inspired nail design features a soft pink base with faded white tips on accent nails, perfect for welcoming warmer weather.
The real showstopper? A single nail on each hand is adorned with sparkling diamonds near the cuticle, adding a touch of luxury to your manicure.
Delicate Pink Nails and Metallic Accents
These matte nails are anything but basic! A light pink hue serves as the perfect backdrop for stunning silver gems and gold foil and lines, adding texture and dimension to your look.
Peach Nails and Diamond Accents
Get ready to sparkle with this peachy nail design featuring diamonds and gems on the middle and ring fingernails. The stiletto length adds a touch of drama, while the peach hue is perfect for spring and summer.
Pink, Glittery Green, and Diamond Accented Nails
Add some personality to your nails with this peachy pink and chunky glittery green design! The pink nails feature minimalist geometric lines while a triangular 3D decor on the cuticle and small gems add a touch of luxury!
Nude Pink with Gold Nail Art
Add some sparkle to your day with this beautiful nude pink nail design, featuring intricate gold designs on the middle and ring fingers that look like they're flowing like liquid. This sophisticated design is perfect for any occasion.
Glazed Donut Inspired Long Nails
Make a statement with these unique and eye-catching nails inspired by the mouthwatering glazed donut!
Featuring long light peach nails with a smooth and shiny pearlescent finish, this design is the perfect way to add some playfulness to your look.
Abstract French
Looking for a fresh and unique take on the classic French manicure? Try this abstract design.
Featuring a light glossy brown base and abstract lines or diamonds that skirt the tips and meet in the middle of the nails, this style adds a touch of playfulness to your nails.
Long, Clear Nails and Floral Accents
Embrace your inner goddess with long, clear nails topped with delicate 3D floral accents on both the ring fingers and shimmering diamonds on the pointer fingers. Perfect for adding a touch of luxury to any look!
Army Green and Pink Colors
Looking for some inspiration for your next manicure? Check out this mix of playful army green on a pale peach base and multiple designs.
The design is a mix of a plain green polish, V cut French tips, plaid, and 3D green flowers. These long square nails are sure to turn heads and add some personality to your style.
Brown and Pink Ombré
If you're looking for a way to spice up your nail game without spending hours at the salon, try this classy easy nail art design with a beautiful brown and pink ombré.
With stunning encapsulated gold confetti and just the right amount of gold diamonds, these long square nails are perfect for those who want a touch of elegance and playfulness.
Nude and Silver Sparkles
This cool, easy nail design is perfect for those who want a touch of glamour without being too over the top. Featuring a nude base with silver dots and stars, this design is both elegant and playful.
Shimmer and Shine
Bring a touch of sparkle and shine to your look with these stunning crimson-colored nails with silver glitter. The elegant design is perfect for any occasion, and the glitter adds just the right amount of glamor.
Metallic Hue Nails
For those who want to elevate their style with minimal effort, these long metallic silver almond-shaped nails are the perfect solution.
Winter Magic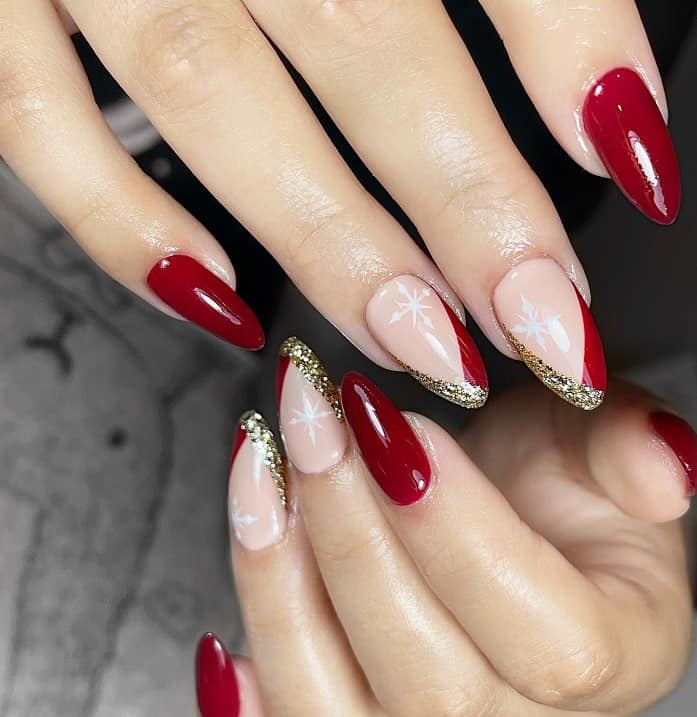 Get in the winter spirit with these elegant nail designs in blood red and pale nude adorned with a snowflake each. The beautiful snowy nail art and half gold glittery French tips make it perfect for the holiday season.
Soft White Ombré
Achieve a soft and sophisticated look with these elegant nail designs featuring beautiful white and nude peach ombré nails. The addition of rose gold glitter on two accent nails makes this design perfect for special occasions.
Metallic Red
These simple yet elegant pale nude nails with metallic red tips and metallic rose nail art accent are the perfect way to add a twist to classic French manicure.
Plus, the short length is a brilliant inspiration for anyone who wants a low-maintenance yet stylish manicure.
Shiny Black
Get ready for winter wonderland with this black beauty!
The glossy black base is gorgeously completed with metallic snowflakes and dots to add a touch of snowy festivity to your dark and moody look.
Pink and Red Geometric Nails
Make a statement with these playful yet elegant elegant nail designs in nude pink accented with geometric accents painted in gold glitter, black, and red.
Adding a bold twist, one nail is painted in full luscious red, creating an eye-catching focal point.
Sparkling Pink Nails
Gold triangles at the cuticle mark the borders of the rest of these nude pink nails filled with a thin layer of fine gold and silver glitter! It's a playful yet elegant look for any occasion.
Citrine Nail Design
This nail design features a citrine base that has a subtle sparkly finish to it. The overall effect completes any fall season outfit.
Down the Midline
This elegant nail design features a soft nude pink base color and down the middle of the nail is a striking white and gold sideline that creates a stunning contrast against the pink backdrop.
The clean and minimalist design of this nail art ensures that it will never go out of style.
Magpie Glitter Rosie
Looking for a sparkly and glamorous nail design? Look no further than these almond-shaped nails in a glittery rose gold hue.
Unlike traditional glitter tips, these nails are fully coated in glitter, making them stand out in any crowd.
Colorful Glitter Ombré
Make your hands sparkle and shine with this medium-length square nail design in a pearly base with an ombré of holographic glitter.
White Glitter Nails
This nail design features short white nails with an abundance of white glitter. The glitters are evenly spread across the nails, creating a dazzling effect that catches the light.
White Roses and Beads
These stiletto nails are sure to make heads turn with their pale pink base color, decorated with 3D white roses and rhinestones on accent nails.
Stardust and Extreme Shine
These short almond shaped nails are simple yet glamorous. The magic comes from the mixture of gold and silver glitter and the extremely glossy top coat, adding a captivating sparkle to the nails.
Short Navy Blue Nails
These short nails are painted with a beautiful navy blue shade with a smooth and shiny finish for a sleek and sophisticated look, perfect for special occasions.
Paint Strokes, Gold Foil, and Small Hearts
This chic and stylish nail design features a nude base color, making it the perfect neutral canvas to showcase the artistic hand-painted hearts and paint strokes at the middle of the nail. Top it off with gold foil for extra pizzazz!
Rhinestone Polka Dots
Get ready to add some sparkle and glamor to your look with these black nails and strategically place shimmering rhinestones in a polka dot arrangement. These nails are for anyone who wants to make a statment.
Rose Gold Side French
These elegant nails feature a nude base with a chic twist on the classic French tip. Instead of the traditional white tip, these nails have a glimmering rose gold side tip, outlined with rose gold polish.
Nude and Glittery
These stunning long ballerina nails with a hard gel extension come in a chic nude-pink shade. One accent nail is filled with taupe glitter for a dazzling stunner in an otherwise minimalist set.
Neutrals and Glitters
These nails offer a chic and trendy combination of nude shades and a white accent nail all sprinkled with rose gold glitter in varying amounts. The white accent nail features a lovely glitter ombré.
Glittery Black
A black base with white glitter is a classic and elegant choice for short almond-shaped nails. The contrasting colors create a striking effect that is perfect for formal occasions.
Black and Cream
These edgy yet elegant nail designs feature glossy black polish in full or as French tips with a matte nude base on pointer and ring fingers. Delicate pearls add a touch of sophistication at the cuticles of accent nails.
Frequently Asked Questions
How Can I Make My Nail Polish Dry Faster?
You can try using a quick dry top coat, dipping your nails in ice water, or using a hair dryer on the cool setting to speed up the drying process.
How Often Should I Get My Nails Done?
It depends on the individual's nail growth and personal preference. Some people prefer to get their nails done every week or two, while others may only get them done for special occasions.
How Do I Remove Glitter Nail Polish?
Glitter nail polish can be difficult to remove, but soaking a cotton ball in acetone and placing it on the nail for a few minutes can help loosen the glitter.
Alternatively, you can try using a peel off base coat under the glitter polish.
Can I Paint My Nails If I Have a Nail Infection?
It's not recommended to paint your nails if you have nail infection as it can worsen the condition. It's best to seek treatment from a health-care professional and wait until the infection has cleared up before painting your nails.
How Can I Strengthen My Nails?
Eating a balanced diet with plenty of vitamins and minerals, avoiding harsh chemicals and excessive water exposure, and using a nail strengthener or cuticle oil can help strengthen nails.
Nail Art Galore: Get Inspired With These Glamorous and Elegant Nail Designs!
There is an endless variety of elegant nail designs and ideas to choose from, whether you prefer short or long nails, bold or subtle colors, simple or intricate patterns, and everything in between.
Nail art is not only a form of self-expression but also a way to showcase your personality and creativity. Don't be afraid to experiment with different colors and styles to find the perfect nail design for any occasion.
With a little bit of effort and creativity, you can achieve the perfect manicure every time. So go ahdead and get inspired by these nail designs and ideas, and let your creativity run wild!
Get More Nail Design Ideas Here