This post may contain affiliate links, which means I may receive a small commission, at no cost to you, if you make a purchase.
Countless hair products promise to give you healthy, beautiful hair.
But nothing beats the nourishing powers of hair oils. These all-natural ingredients can improve your hair health and give you soft and silky locks.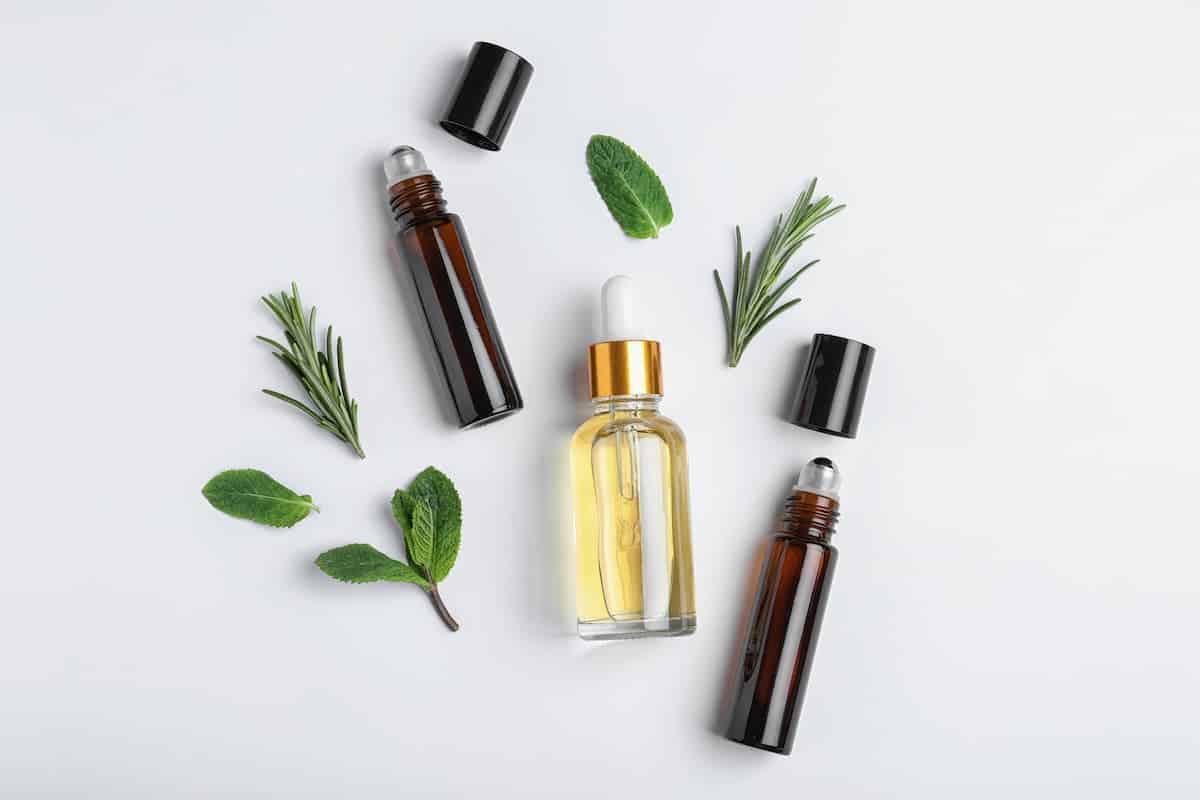 However, you may be worried that oils can make your hair greasy.
Well, the fear is not unfounded, but the truth is that not all oils make your locks greasy. Say hello to lightweight hair oils!
These oils can add shine to your strands and smooth them without weighing your hair down. You can use products infused with oils from natural ingredients, or you can apply the oil directly to your locks.
But remember that these oils' effects may differ for each hair type and condition.
So with all the various incredible light oils available, how do you know which is best for your hair?
We'll help you find the answer. We look closely at the best lightweight hair oils for daily use and how you can benefit from them.
What Are Lightweight Hair Oils?
People have used oils derived from natural ingredients for many years for health and beauty purposes. One of those uses is moisturizing the hair.
But up until now, you might have been thinking twice about using hair oils because you didn't want to end up having greasy locks.
And that's where light oils for hair come in. These oils allow you to enjoy the benefits of hair moisturizing oils without the added heaviness.
Light oils have smaller molecules and thinner consistency. That's why they can penetrate the hair shaft more quickly and won't weigh your hair down.
They are so light that they feel like your hair's natural oils.
Heavy hair oils, on the other hand, are dense and have bigger molecules.
For this reason, these are perfect for filling the strands and sealing the cuticles.
But what's the best lightweight oil for hair? Let's find out how you can choose.
Which Light Weight Hair Oil Should You Use?
However, despite hair oils serving specific purposes, it's still not a one-size-fits-all situation when it comes to hair oils and hair care.
What works for others may not work for your hair, and vice versa. That is true for hair dye, shampoos, conditioners, and, yes — hair oils.
There are several excellent options if you're looking for the best light oil for hair. But which one is right for your locks?
To answer this, it's essential that you determine your hair type. Knowing your hair type, you can customize your regimen based on your hair's specific needs.
Hair types are based on four things:
Hair Density
Density refers to the number of strands in your head.
And it's pretty straightforward when it comes to identifying your hair density:
You have thin hair if you can see your scalp underneath the strands.
If you barely see your scalp at all, your hair is thick.
If it's somewhere in between, then your hair has medium density.
Thin hair easily gets weighed down, so it's advisable to go easy on using moisturizing products. On the other hand, thick hair needs more viscous products to saturate all the strands.
Hair Porosity
Porosity refers to the hair's ability to absorb and retain moisture.
People are born with different hair porosity levels based on the condition of their hair cuticles. To understand this better, picture the cuticles as roof shingles.
| Level | Hair Cuticle Condition |
| --- | --- |
| Low | The cuticles lay flat and tightly packed, so water and products take a long time to absorb. |
| Normal | The cuticles are slightly lifted, giving enough room for moisture to enter but not tight enough, so the moisture doesn't quickly fall out. |
| High | Cuticles are wide open, with gaps and tears caused by damage. This means the strands soak up water and products quickly but cannot retain the moisture as moisture quickly falls out too. |
There are different tests you can use to determine your hair porosity.
So what does hair porosity have to do with hair oil?
Your porosity level can help you choose which oil to use. Hair with low and normal porosity can benefit most from light hair oils because the oil can better penetrate the hair shaft.
While for highly porous hair, it's best to use heavy oils to help fill and seal the cuticles.
Hair Diameter
The most common way product manufacturers categorize hair is through the size of the hair strands. These are the most common hair types according to diameter:
To find out your hair's diameter, take a strand of your hair.
You have fine hair if you can barely see or feel the strand.
If it looks and feels thick, then your hair is coarse.
If it's somewhere in between, you have medium or moderate width.
Coarse hair needs more moisture and protein, so invest in hair care products infused with those nutrients.
As for fine hair, you can use lightweight hair oils sparingly or in moderation so as not to overwhelm your locks.
Curl Pattern
You can determine your curl pattern by the shape of your hair follicle. The more oval your hair follicle, the curlier the strand that grows out of it. Here are the types of hair according to the shape of hair follicles:
Type 1 — straight
Type 2 — wavy
Type 3 — curly
Type 4 — coily
Straight and wavy hair tends to be oily because the sebum (hair's natural oil) can easily reach the tip of the strands.
That said, those with curly hair should choose lightweight hair oils and use them in moderation to avoid heavy and greasy hair.
Unlike the first two hair types, curly hair is more prone to dryness. To ensure proper moisture, heavier oils, and other deep moisturizing products are recommended for type 3 hair.
Lastly, type 4 is trickier. The reason is that types 4a and 4b are highly porous, while 4c (kinky) hair has low porosity.
Now you see why understanding your hair type is paramount in choosing the right hair oils.
10 Light Natural Oils for Hair
Natural oils are extracted from plants and can be used for various hair care needs.
Now that you've identified your hair type, you can better understand its needs.
Let's find out which oils are best for your hair.
1. Argan Oil
Best for low-porosity or damaged hair.
Key Nutrients
Oleic and linoleic fatty acids
Vitamin E
Hair Benefits
Argan oil has been used for cooking and cosmetics for centuries, and for a good reason. The fatty acids in argan oil can strengthen your hair strands and make your scalp healthy.
Moreover, argan oil is rich in vitamin E, an antioxidant that is proven to help promote hair growth.
Research also shows that argan oil has protective properties that prevent protein loss. It can be used as a pre-treatment before bleaching, perming, or coloring.
How To Use Argan Oil for Hair
While many products are infused with argan oil, you can also buy unrefined, pure argan oil like Cliganic 100% Pure and Natural Argan Oil.
For deep conditioning, massage the oil to your hair and scalp for a few minutes, then leave it overnight.
2. Jojoba Oil
Best for wavy and curly hair and thin, brittle strands.
Key Nutrients
Vitamin C
B vitamins
Vitamin E
Zinc
Hair Benefits
Research shows that this amazing oil can protect the hair strand and improve its resistance to breakage.
This liquid goes deep into your follicles and stimulates hair growth.
Furthermore, jojoba oil is the most similar to your natural sebum, so it's perfect for daily use on curly hair. However, it's not recommended for deep conditioning.
How To Use Jojoba Oil
Pure jojoba oil can be used directly on your locks as a pre-poo treatment or added to your conditioner for extra nourishment.
For this purpose, you can try Now Solutions Certified Organic Jojoba Oil.
You can also use hair products that contain jojoba oil.
3. Grapeseed Oil
Best for fine hair and premature graying.
Key Nutrients
Linoleic acid
Vitamin E
Proanthocyanidin (OPC)
Hair Benefits
Studies show that grapeseed oil promotes hair growth because it's rich in linoleic acid.
Aside from that, the moisturizing properties of this oil can also help relieve dandruff caused by a dry scalp.
Additionally, grapeseed oil contains vitamin E, which can fight hair damage from environmental stresses.
Lastly, the OPC in grapeseed oil can help prevent oxidative stress in your strands that result in premature graying.
How To Use Grapeseed Oil
Apply grapeseed oil such as Handicraft Blends 100% Pure Grapeseed Oil directly on your hair daily to de-frizz your strands or use it as a hair treatment once or twice a week.
4. Rosehip Oil
Best for all hair types, particularly dry hair prone to split ends.
Key Nutrients
Vitamins A, B, C, D, E, and K
Linoleic acids
Antioxidants
Hair Benefits
Rosehip has a high amount of vitamin C compared to other fruits and vegetables. This nutrient helps boost collagen production, which creates protein for the hair strands.
In addition, rosehip oil is used to maintain a healthy scalp, and the vitamins and antioxidants it contains help strengthen your hair strands.
How To Use Rosehip Oil
This hair oil is inexpensive, and you can easily buy it from your local store or online. But make sure you use the best product for your hair.
We recommend Pura D'or Professional Organic Rosehip Seed Oil.
Add about five drops of rosehip oil to your hair and scalp, and work the product in by massaging it throughout your crown. Rosehip oil is great as an overnight treatment.
5. Japanese Camellia Seed Oil
Best for dull hair and a sensitive scalp.
Key Nutrients
Omega 3, 6, and 9
Vitamins A, B, D, and E
Hair Benefits
Japanese camellia or Tsubaki seed oil is known for its many health and beauty benefits.
It coats the strands, making them glossy and creating a barrier against pollutants.
According to studies, this oil also helps moisturize the scalp and protect it from irritants.
Moreover, the omega-3 content can help protect against the sun's harmful UV rays.
How To Use Japanese Camellia Seed Oil
This oil is best applied to your locks as a leave-in conditioner after showering. Focus on the ends because the ends of your strands tend to be drier and more damaged.
You can also use this oil as a hair mask for 30 minutes before you shower.
Our favorite is Sweet Essentials Organic Camellia Oil.
6. Marula Oil
Best for dry, frizzy hair, brittle strands, and high-porosity hair.
Key Nutrients
Amino acids
Fatty acids
Vitamins C and E
Hair Benefits
Marula oil is a popular hair care ingredient because it has effective moisturizing properties.
This oil replenishes lost moisture in skin and hair.
Its thin consistency gives the tresses a natural-looking sheen but won't weigh down your hair.
What's more, vitamins C and E nourish and add moisture to the hair follicles too.
How To Use Marula Oil
Marula oil is present in many cosmetic products but can be purchased as an essential oil too.
We love Pure Body Naturals Marula Oil for hair and skin. Use it as a hair conditioner by rubbing it into your locks from the middle of the strand to the ends.
7. Almond Oil
Best for dry, damaged hair and dandruff-prone scalp.
Key Nutrients
Protein
Omega 9
Vitamin E
Biotin
Hair Benefits
Almond oil is an emollient that can fill the gaps in your hair cuticles, making the strands smooth.
The fatty acids and protein in almond oil also improve hair elasticity, making your locks healthy and strong.
Moreover, almond oil has antifungal properties that can combat dandruff.
How To Use Almond Oil
Use almond oil as a dandruff treatment by massaging it to your scalp.
Additionally, you can rub it directly into your hair or mix it with coconut oil and avocado for a conditioning hair mask.
Our product recommendation? Try Now Solutions Sweet Almond Oil.
8. Avocado Oil
Best for coarse hair, curly hair, and dry scalp.
Key Nutrients
Oleic acid
Vitamins A, B-5, and E
Biotin
Antioxidants
Hair Benefits
The vitamins found in avocado oil promote hair health.
Biotin is effective in treating hair loss. Plus, the fatty acids seal the strands to lock in moisture.
Additionally, the antioxidants and phytochemicals found in avocado oil defend your tresses from UV damage and other environmental stress.
How To Use Avocado Oil
Avocado oil can be used as a carrier oil for essential oils like peppermint and lavender. Together, they can make your strands stronger.
You can also use it alone as part of your LOC (leave-in, oil, conditioner) method. Try Maple Holistics Avocado Oil.
9. Baobab Oil
Best for all hair types, particularly frizzy hair and dandruff-prone scalp.
Key Nutrients
Omega fatty acids
Vitamin C
Hair Benefits
Baobab oil is known for its moisturizing properties, which can help reduce frizz.
Furthermore, this oil is infused with fatty acids that help restore hair damaged from coloring, perming, or bleaching.
It's also rich in vitamin C, which assists collagen in creating protein for your strands.
How To Use Baobab Oil
Baobab oil is commonly used in hair treatment products mixed with other nourishing oils.
But this gentle, light oil can be used on its own or mixed with your favorite conditioner.
Get Shea Terra Tanzanian Boabab Cold-Pressed Extra Virgin Oil for hair treatment at home.
10. Tea Tree Oil
Best for thinning hair and dandruff-prone scalp.
Key Nutrients
Hair Benefits
Tea tree oil is usually found in clarifying shampoos because it can help prevent the buildup of products, chemicals, and dead skin on your scalp.
In addition, the oil has antibacterial and antifungal properties that can treat dandruff.
Tea tree oil helps your scalp stay healthy. As a result, your follicles will be healthy, and there will be uninterrupted hair growth.
How To Use Tea Tree Oil
You can use tea tree oil in its pure essential oil form or as an active ingredient in your shampoo.
However, this oil tends to irritate sensitive skin, so it's best used with a carrier oil and added in small amounts.
Dilute tea tree oil with almond oil or other carrier oils in a 1:10 ratio and apply the mixture to your hair.
FAQs About the Best Hair Oil
What Is Considered a Lightweight Oil?
Light oil is considered as such because it has a smaller molecular structure than other oils. It has a thin viscosity, allowing it to penetrate the hair more deeply and easily.
Which Oil Is Lighter, Jojoba, or Argan?
Both jojoba and argan are light oils, but jojoba is lighter. In fact, it is similar to our hair's natural oil, allowing hair strands to absorb jojoba oil faster.
Nourish and Moisturize With Lightweight Oils for Hair
When your hair feels dry, oils can help moisturize it. The ultra-nourishing oils from plants will moisturize your hair, regardless of your hair type.
And if you're worried about your hair feeling greasy, you can use lightweight oils to treat dry, brittle ends and make your strands shiny and smooth.
Want To Find Other Products Can You Use for Your Hair?
Add these to your hair care routine: