This post may contain affiliate links, which means I may receive a small commission, at no cost to you, if you make a purchase.
Purple is a versatile color, given its wide range of shades. You can find deep, bright, warm, and cool purples.
As such, it's an easy color to work with in nail art since there is a purple shade for every skin tone.
By itself, purple is an elegant and regal color that also can be soft and fun at the same time. Add to that the sparkle of glitter, and you can definitely create incredible, head-turning nail designs that are perfect for everyday wear.
Looking for inspiration for your next manicure? Check out some of these awe-inspiring ideas for purple nails with glitter that you can try out.
Why Use Purple in Nail Art?
Many love using purple in nail art because it exudes elegance, royalty, mystery, and even power.
Additionally, purple never goes out of style. Other than the luxurious look it gives you, purple comes in many shades that you can go for. Pastel purples go well in spring, while bright neon purples go well in summer.
Deep plums are perfect for autumn, while darker, cool-toned purples capture the essence of winter.
Additionally, purple pairs well with neutral tones and colors like nudes, black, white, gray, and silver. It also provides a good base for glitter and nail art to pop.
47 Purple Nails With Glitter Designs to Try
Ready for your sparkly purple manicure? Here are some designs you can try.
We've broken them down into three categories: long, medium-length, and short to help you find the right design for your preferred nail length.
Long Purple Nails With Glitter
1. Sparkly Lilac Tips
Fancy purple acrylic nails with glitter but still want a softer, more sophisticated look? Try these tips that alternate between pastel purple and shimmery purple. Blingy but elegant!
2. Pearly Purple Glitter Tips
If you want to go bold, these long acrylic nails with pearly purple tips are for you. The swirly lines and accent nails with purple glitter make it even flashier.
3. Purple Glitter and Transparent Tips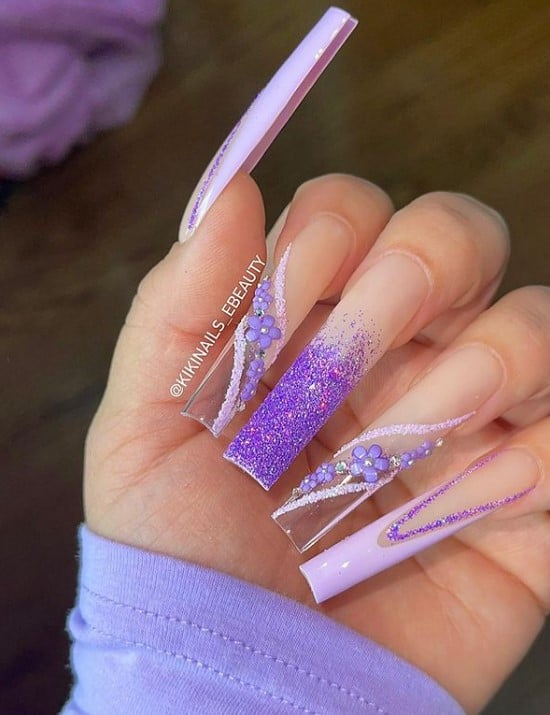 Dark purple glitter really pops against a light or even a clear base. Add ombré purple glitter tips to one of your acrylic nails with a nude-to-clear ombré base, then make the rest stand out by decorating them with glittery streaks, 3D flowers, and lavender tips.
4. Purple Marble and Graphic Tips
Want to try a cute purple glitter nail design for long acrylic nails? These beautiful, soft lilac tips outlined with matte glitter and adorned with cute accents like hearts, lips, and sparkles are worth the try.
5. Purple Acrylic Nails with Glitter Accents
Play with contrasting purples by pairing lilac and deep purple glitter. Add raised lines and snowflakes to your lilac nails and French tips for stunning results.
6. Bright Purple Nails With Glitter
Impress your friends with heart-shaped lavender cherries on your accent nails. To make it stand out further, match this delicate design with lavender tips and lavender glitter on the rest of your nails.
7. Purple and Holo Glitter
Holo glitter is always in, and it goes with every color of the rainbow. Try holographic nail polish as a top coat on acrylic nails in different shades of purple.
8. Purple Coffin Nails With Glitter
Light purple chevron tips look gorgeous on long coffin nails. Add a gold chevron to add some complementary bling and sparkle.
Medium-Length Purple Nail Designs With Glitter
9. Deep Purple Nails With Silver Glitter
Give your nails the definition of glam with these classic amethyst purple glitter nails. Pair it with glittery silver and white feathery accents for a nice touch.
10. Black and Purple Glitter Nails
Express your love for glitter with a nail design that makes it the main focus. Chunky purple glitter nails with red and black flecks are a fun design to show off.
11. Plum, White, and Gold Glitter
Short plum nails scream regality and opulence. Step this up even more with accent nails that have white, plum, and gold glitter streaks.
12. Pink and Purple Nails With Glitter
Muted dark purple nails can also pop when combined with pink nails that make a statement. You can make them even more glamorous by adding gold and purple swirls and dark vines on your pink accent nails.
13. Ombré Purple Nails with Glitter Butterfly
Create sparkly periwinkle accent nails by making an ombré with a deep purple base and royal blue glitter. Make things even more whimsical by adding flower and butterfly designs to your other nails.
14. Bright Lilac and Silver
Bright colors like lilac and silver can create an interesting and fun color combination for your manicure. Make the silver pop even more by using it on your accent nails with purple watercolor leaves painted on them.
15. Pastel Purple Nails with Glitter
Normally, putting lavender and off-white together creates a muted manicure. However, you can also jazz them up for a brighter look. Use off-white polish to make chevron nail tips, and add a bit of pizzazz with wavy silver glitter lines.
16. Shades of Purple With Glitter
Can't decide on which shade of purple to use? Paint your nails in different shades of purple and pink, from fuchsia to lavender, for a feminine look. Add a purple glitter accent nail to complete the set.
17. Orchid, Lavender, and Glitter
If you want a design subtly inspired by purple flowers, try a gorgeous combination of orchid and lavender purple. For added glamor, add glitter accent nails with a hint of light purple.
18. Orchid and Turquoise
Another way to combine purple with a bright color is by using a glitter top coat. Use a pretty orchid nail polish color as a base to let your shimmery turquoise glitter shine.
19. Indigo, Lavender, and Lilac
Cool purple tones provide a good hybrid of sophistication and uniqueness. Use different shades of cool-toned purple on your nails, and get holo glitter accent nails to complete the look.
20. Purple and Silver Glitter Nails
Darker lavender glitter nails provide an elegant day-to-day look. But you can amp up the style a bit by adding accent nails with a mix of dark purple and silver glitter flakes.
21. Blue-Violet and Scattered Chunky Glitter
When it comes to purple shades, blue-violet is underrated but still gorgeous. Juxtapose your dark blue-violet nails with nude nails that have tips with chunky, multicolored glitter.
22. Purple Glitter Textures
Why not try playing with different textures for a fantastic purple nail art design? Combine various types of nail polish finish in one manicure, such as glossy, iridescent chrome, and glitter. Add a few flowers to your accent nails to soften the look.
23. Silver Stars and Purple Tips
Inspired by the twinkling stars in the heavens? Add some silver stars to your nails. Accompany it with quirky purple tips that are shaped like cloud edges and lined with silver chrome polish.
24. Chrome Purple Squiggles
Make a bold statement with your nails that's sure to get compliments from your friends. Try a nail design using chrome purple glitter polish to paint funky squiggles on a nude base.
25. Bright Monochromatic Purple Glitter Nails
Show off your nails and keep everyone's attention using a bold, bright monochromatic purple nail theme. Add a glitter nail within the same motif to make things more interesting.
26. Spring Pink and Purple Glitter Nails
Juxtapose sparkly pink and purple nails with glitter against flower designs on nude nails. The lavender and baby pink combination makes it look fresh and captivating.
27. Pastel Blue and Purple Nails With Bling
Pastels with some bling create the right combination of subtle and fun. Add glitter and purple rhinestones to light blue and purple to make the look a little extra.
28. Purple-Tip Nails With Glitter and Silver Accents
Stun everyone with a play on the classic French tips. Mix in deep purple glitter polish for a sophisticated look. The silver outline and heart accents also lend an elegant touch to this mani.
29. Lavender and Gold
Working with complementary colors like purple and yellow or gold on your nails is always a good idea. On a beautiful lavender base, add swirls and curls of gold glitter.
30. Electric Purple and Hot Pink
Combine deep electric purple with hot pink glitter to create a bold look that will impress anyone. Glam tip: create glitter ombré with pink and purple on the accent nails to make the look cohesive.
31. Light Purple Y2K Nails
Embrace the resurgence of the Y2K aesthetic with a more modern look. Go for a glittery lavender base and top them with oversized glitter flakes in different shades of pink, blue, and purple to create a stunning Y2K color scheme.
Short Purple Nails With Glitter
32. Light Purple Glitter
Classic light purple nails topped with glitter scream sweet yet elegant. A small white heart painted on one of the nails adds to its cuteness.
33. Lilac and Deep Purple Glitter Curves
Simple designs like multicolored curved lines are simple yet elegant. Try them for your next short nail set using purple glitter, lilac, and white nail polish.
34. Plum Purple and Snowflakes
Still longing for winter? Purple glitter nails paired with accent nails adorned with wavy diagonal lines and white snowflakes can bring the spirit of winter to your manicure any time of the year.
35. Purple and Chunky Holo Glitter
Short nails can also be fun to design, especially when it involves glitter. Try striking violet nails topped with chunky holo and a blue glitter topper.
36. Short Purple Nails With Glitter
Muted purple nails can make a gorgeous base for iridescent glitter. Bring the fun and funk to your soft and sweet purple manicure by adding a mix of different types and sizes of glitter.
37. Classic, Dark Purple Nails With Glitter
There is beauty in simplicity, and this purple nail design with scattered holo glitter proves it. Use a deep purple shade as a base color to let the vibrance of holo glitter come through even more.
38. Purple Holo Glitter
Do you want to go bolder without going too loud? Try painting holographic purple glitter polish on short square nails to give them a fun pop of color.
39. Soft Lavender Holo Nails
Holo glitter can also be used on a softer, more sophisticated design. Add a layer of silver holographic polish on pale lilac or lavender nails and draw curved lines with white polish for a more subtle look.
40. Dark Purple and Frosty Chunky Glitter
Step up the glam with this look that exudes rock and royalty. Alternate elegant dark purple nails with some chunky, frosty silver glitter ones.
41. Pastel Shades of Purple
Instead of going loud with neon purple nails, try pastel purple shades for a more muted look. Add an iridescent top coat on the accent nails for a hint of sparkle.
42. Chrome Magenta and Purple Glitter
Stand out and make a statement with chrome violet nails paired with cooler-toned purple glitter nails. Then add an accent nail with brush strokes in white, silver, and purple. This look can definitely turn heads!
43. Spring Purple Glitter Nails
Want your nails to look spring-ready? Choose a bright lavender color for a manicure that's perfect for the season. Make it even more interesting by adding charming flowers and fun glitter to your accent nails.
44. Wisteria Flower Glitter Nails
Looking for vibrant purple nail designs? Wisteria purple is a gorgeous shade that you can use along with lilac and lavender. Push the flower theme even more with handpainted flowers along the tips of select nails.
45. Soft Glam Purple Nails
Looking for a glamorous look that's subtle enough for everyday wear? Exude soft glamor by pairing beautiful light purple nails with silver glitter nails.
46. Magenta Glitter Nails
Level up your purple glitter nails by letting the striking bright shades pop more. Add a layer of large chunks of magenta glitter on a light purple base for a fun look.
47. Purple and Holo Ombré Nails
Want some nail designs to wear to a special occasion? Nothing screams "glam" more than sparkly holo glitter. Combine light and deep purples with oversized glitter flakes for a fun mani.
Regal, Versatile, Fun Spring Nails
Purple is a color that can make a statement. Choosing it for your next nail look is an easy way to stand out.
Some find this regal color intimidating, but it's quite flexible thanks to its variety of shades. By itself, purple is already a striking color, but by pairing it with glitter, you can make it more fun, glamorous and unique.
So if you want to impress people with a gorgeous manicure, get inspired by ideas for purple nails with glitter, pick your favorite one, and replicate it at home!
Want to Find More Stunning Nail Designs?
Check these out: