This post may contain affiliate links, which means I may receive a small commission, at no cost to you, if you make a purchase.
Looking for a Temu coupon? Use this link or the code fav18310 for 30% off!
Let's face it. Being beauty-obsessed often comes with a hefty price tag, so much so that even influencers are now hitting thrift shops and ditching physical stores in favor of shopping apps that offer major price slashes.
One app, in particular, has nabbed the attention of many online personalities and everyday shoppers, amassing over 20 million downloads as of this year.
The app in question? Temu!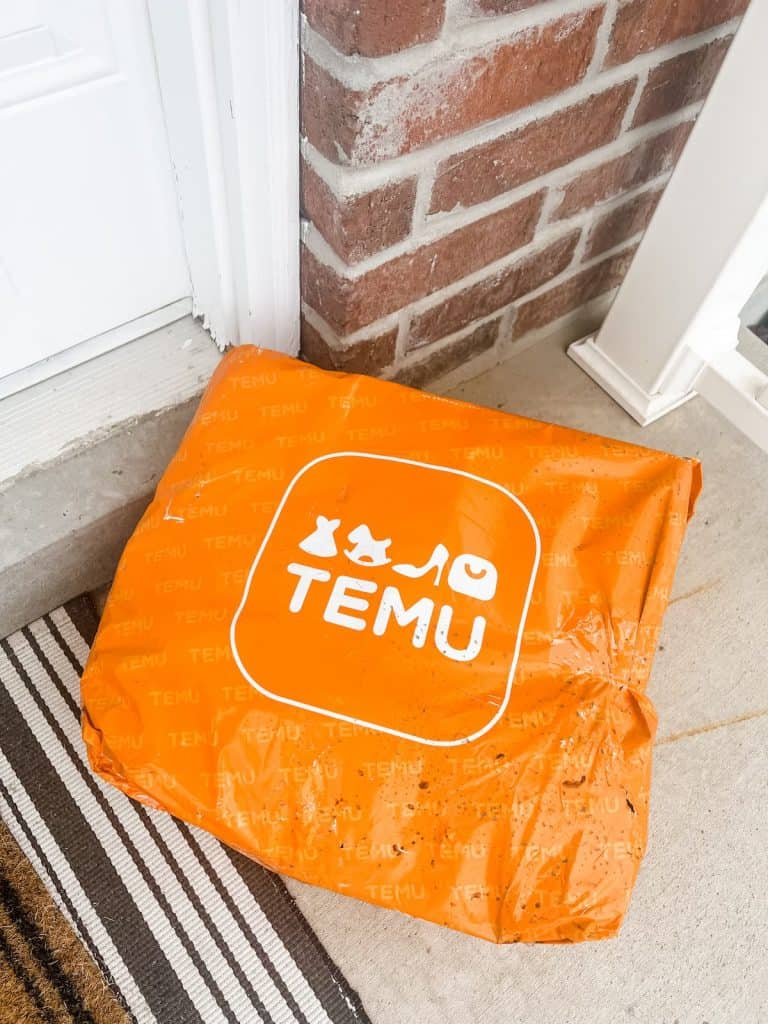 If the name sounds familiar, it's because Temu has been making quite the stir on social media.
In fact, the #temu hashtag has now garnered 24 million views on TikTok and been included in 104,000 posts on Instagram to date, with thousands of creators showing off their latest product hauls from Temu.
The reason behind the buzz is quite simple: Temu offers a seemingly endless array of stylish, practical, and high-performing products at dirt-cheap prices — even cheaper than Amazon and Shein.
They have also run a very large influencer marketing campaign, paying influencers to promote Temu. While we hope all influencers are genuine with their reviews it is to be noted.
This post is NOT sponsored by Temu. We personally purchased all of these items.
But what exactly is Temu? Is it a legitimate business? How do they sell cheap products? What do their beauty products look like, and are they worth the purchase?
Our Temu review will answer all these questions and cover the bases of shopping from this buzzworthy platform, so read on!
What Is Temu?
Pronounced as "tee-moo," Temu is a cross-border e-commerce company with products in more than 20 categories and 200 subcategories — all of which are sold at extremely low prices.
It sells practically everything, from electronics to home appliances, from baby essentials to beauty and fashion must-haves.
For under $1, you can score crafting tools, utensils, and even kitchenware on Temu. For under $50, you can get a complete, ready-to-wear outfit with a $15 dress, $12 sandals, a $15 satchel bag, and a $2 earring and necklace set to match.
Temu also offers shipping discounts, Temu coupons, and in-app games that allow users to win free gifts and other prizes. Sitewide sales are likewise held on a regular basis to keep customers hooked and happy.
Users can shop on Temu by visiting the Temu website.
Click here to get 30% off your first purchase.
On both platforms, you can
search for products or find trendy new items in different catalogs;
view and leave product reviews;
choose between standard and express shipping;
select your preferred payment method;
track your order/s; and
request a return or refund.
Is Temu Legit?
Doubts and concerns about Temu's legitimacy began cropping up online as larger audiences caught wind of its outrageously cheap prices, and for understandable reasons.
After all, it's always best to err on the side of caution when a new, unrecognizable site asks for sensitive personal and financial information.
But is Temu a scam? Short answer: no. Temu is a safe and legitimate online shopping site.
This digital marketplace is owned and operated by PDD Holdings, a NASDAQ-listed multinational holding company with a market cap of over $120B.
So while Temu may be new to consumers in the U.S. and Canada, its owners are anything but neophytes in the e-commerce world.
In fact, Temu's sister company, Pinduoduo, is now considered the third largest e-commerce platform in China with over 700 million active users.
Temu also works with payment service providers like PayPal, American Express, Apple Pay, Google Pay, Afterpay, and Klarna to guarantee data protection and payment security.
Additionally, there have also been no reports of users receiving counterfeit items from Temu sellers. In fact, Temu even partners up with recognizable brands to offer original, high-quality goods on their site.
That said, Temu is not without its issues. Prevailing complaints among customers include slow delivery times and poor customer service.
The good news is Temu responds to customer complaints quickly and attempts to address them as efficiently as possible.
Many satisfied customers have also left several positive reviews of Temu on the site itself, social media platforms, and other customer review sites.
Plus, Temu app reviews on Google Play Store and the App Store indicate that its user-friendly interface makes it easy to navigate.
How Does Temu Sell Products at Cheap Prices?
So if it's not a scam, how then does it offer staggering discounts on typically average- to high-priced items? In a nutshell, it's because Temu eliminates the need for a middleman.
Large brick-and-mortar retail stores like Target and Walmart (both of which have now also entered the digital marketplace) act as middlemen between the consumer and the manufacturer.
They make the manufacturer's products locally available to consumers with a catch: steeper prices. These various products are acquired from different wholesalers, who themselves act as middlemen between the manufacturers and the retail stores.
But online shopping sites like Temu eliminate middlemen from the equation altogether. Temu hosts third-party overseas vendors on its site, who are typically manufacturers themselves, allowing them to sell their goods directly to consumers.
This is what sets Temu apart from e-commerce giant — and, of course, its biggest rival — Amazon.
Temu does not manufacture and sell its own products, unlike Amazon, which has many of its own product lines. As a result, it's able to cut down costs on storage and consequently offer cheaper products.
Temu also uses the supply chains and product sourcing powers of its parent company, PDD Holdings, Inc., to find potential suppliers from China and all over the world.
The company then sifts through and negotiates with thousands of suppliers offering the same products, narrowing them down to a few that sell at the lowest possible prices.
Additionally, Temu keeps prices down by upholding the "team up, price down" concept, which emphasizes the importance of economies of scale.
In financial terms, this refers to cost reductions brought about by a manufacturer's increase in output and efficiency of production in response to consumers' increased demand for their products.
Simply put, the more shoppers, the larger the business. The larger the business, the lower the prices.
Temu Coupon + Discounts
On your first Temu order, you can save 30% with the code: fav18310
In addition to Temu's super-discounted prices, you can also use a Temu coupon.
In my experience after I placed my first order they gave me additional coupons I could use, but they had to be used in the next 24 hours.
After you create an account here, you can get additional Temu coupons for downloading their app, or signing up for text alerts.
Read order requirements for coupons
Temu discount coupons are typically offered with a minimum purchase amount. For instance, you may not be able to use a 30% off coupon without buying at least $19 worth of products.
The company does this to reduce their carbon footprint. By encouraging shoppers to buy multiple products at the same time, they can offset excess waste and carbon emissions from transportation and packaging.
So make sure to check the order requirements before using a particular coupon.
Temu App Discounts
When you download the Temu app you also can qualify for additional discounts, earn free gifts, team up to bring the price down and more.
They definitely have put a lot of creative marketing strategies in place on their app with incentives for inviting your friends, leaving reviews, etc.
Download the Temu App Here.
Shopping on Temu: Tips and Reminders
Ready to take the plunge with a Temu haul? Before you click the "Checkout" button, take a look at the following tips and reminders to help you make the most of your purchase.
Manage your expectations
As is the case with any other e-commerce platform, you may run the risk of getting a less-than-first-rate product when you shop on Temu.
Keep in mind that low-priced items may not measure up to the level of quality that luxury goods from high-end brands.
But, like me, you might just find yourself pleasantly surprised by the quality of some of the products from Temu!
Temu Shipping Times
Take note as well that Temu shipping takes around 7 to 15 business days.
For my first order, the items were to my door in 10 days. My other order had "pre-order" items in it so it took slightly longer.
Temu now offers express shipping, but shipping time will still vary depending on the item of your choice.
The packaging I received my order in was a little sketchy. It was an orange plastic bag that was reinforced with clear packaging tape.
I was worried the products would be damaged, but besides a few squished boxes everything seemed to be in pretty good shape.
Look at the product description
To avoid getting the wrong size or the wrong type of product, be sure to read the product description thoroughly.
Make sure you check the specifications or measurements of each item. When buying clothes, for instance, you may need to size up or size down in some cases.
Check the Temu reviews
Reviews on the Temu app and website show real-life photos and videos of the product and discuss each user's experience using the product in detail. Each Temu review will tell you whether a product looks and performs as advertised.
Top tip: Sort the reviews by "Most recent" to see if the product has recently been purchased. Doing this will also allow you to see more bad reviews, as the "Recommended" tab may hide them.
Recommendations for the Best Temu Products
Now on to the fun part: a rundown of our Temu favorites (and a few misses)!
Ahead, we'll show you actual photos of all the products we tried, including Temu skincare essentials, Temu clothes, Temu shoes, Temu makeup, and more.
We'll organize them by category to help you find the cheapest, highest-quality products for your needs.
Make sure to click here to create your account first so your 30% discount will apply.
Temu Skincare Tools and Products
Caviar Moisturizing Eye Mask
Enriched with caviar essence, this hypoallergenic mask hydrates and nourishes the skin around the eyes to lighten dark circles and reduce puffiness. All that for less than $5!
Jade Roller and Gua Sha
I had high hopes for this roller and gua sha set. Both tools are helpful for boosting blood flow to the face, combating fine lines and wrinkles, and depuffing tired eyes.
However, this one was a bit of a miss for me. The gua sha was great, but the roller felt a bit wobbly. Is it worth it for this price, yes? But could you find a better quality one somewhere else? Definitely.
Lotion Pump Dispenser
Add a touch of luxury to your daily skincare routine without breaking the bank! This ultra-cheap dispenser works with any lotion or moisturizer and features a gold pump for an undeniably elegant look.
Quality-wise, I'd put this somewhere between Dollar Tree and Target. It was cuter and nicer than things at my Dollar Tree but is still made of lightweight plastic. I could see them selling this in the dollar spot at Target for $3-5.
Exfoliating Mitt
For a little over a dollar, you can get full-body, spa-worthy exfoliation with this bath mitt. Made with 100% viscose fiber, it removes all traces of dirt, dead skin, and impurities from your skin, leaving it clean and fresh with a natural glow.
Eyebrow Razors (6 pieces)
Don't have time to hit the salon? Achieve flawlessly groomed brows in seconds with these eyebrow razors, featuring stainless steel blades for efficient yet pain-free removal of stray brow hairs.
Top tip: You can also use these to shave off unwanted facial hair.
Here are more of our favorite makeup products from Temu.
Temu Hair Products
Heatless Headband Curler
Another trendy product that's taken TikTok by storm, this headband curler is both shockingly cheap and incredibly easy to use.
Just attach the headband to the top of your head with the clip, wrap its sides around your locks, and keep it in with the provided scrunchies. The result? Full, bouncy, beautiful curls!
I was impressed with this one. Overall, it seems like a great piece and for the price, it can't be beaten!
Satin Scrunchies (12 pieces)
Kick your classic ponytail up a notch with vintage-style scrunchies. Featuring six colors and soft, lush satin fabric, these effortlessly chic hair ties go with everything — from a casual tee and jeans outfit to a dressy pantsuit for work.
Neutral Hair Claw Clips (6 pieces)
Can't get your frizzy, unruly hair to behave? Tame your mane in style with these claw clips. With their tight grip and sturdy material, they can hold on to thin, straight tresses and thick, voluminous curls with total ease.
Colorful Mini Hair Claw Clips (50 pieces)
Whether to style your little one's hair or to create a fun hairdo that lets your inner child shine, these colorful mini claw clips are perfect for the job.
Best of all, you get 50 pieces for under two bucks, so it won't break your heart if your kiddo loses a few clips.
Continuous Mist Spray Bottle
Want to skip expensive store-bought hair mists? Whip up your own hydrating mist with aloe vera and coconut oil, then place it into this spray bottle to produce an ultra-fine mist that gives your hair an instant, refreshing boost of hydration on hot days.
This was even larger than I expected and for the price, it is a total win!
Temu Makeup Reviews
Eyeshadow Palette
Over $25 cheaper than the Huda Beauty Nude Obsessions, this palette provides a similarly vibrant color payoff minus the steep price. It features rich, highly pigmented eyeshadow in nine neutral hues with understated matte and dazzling glitter finishes.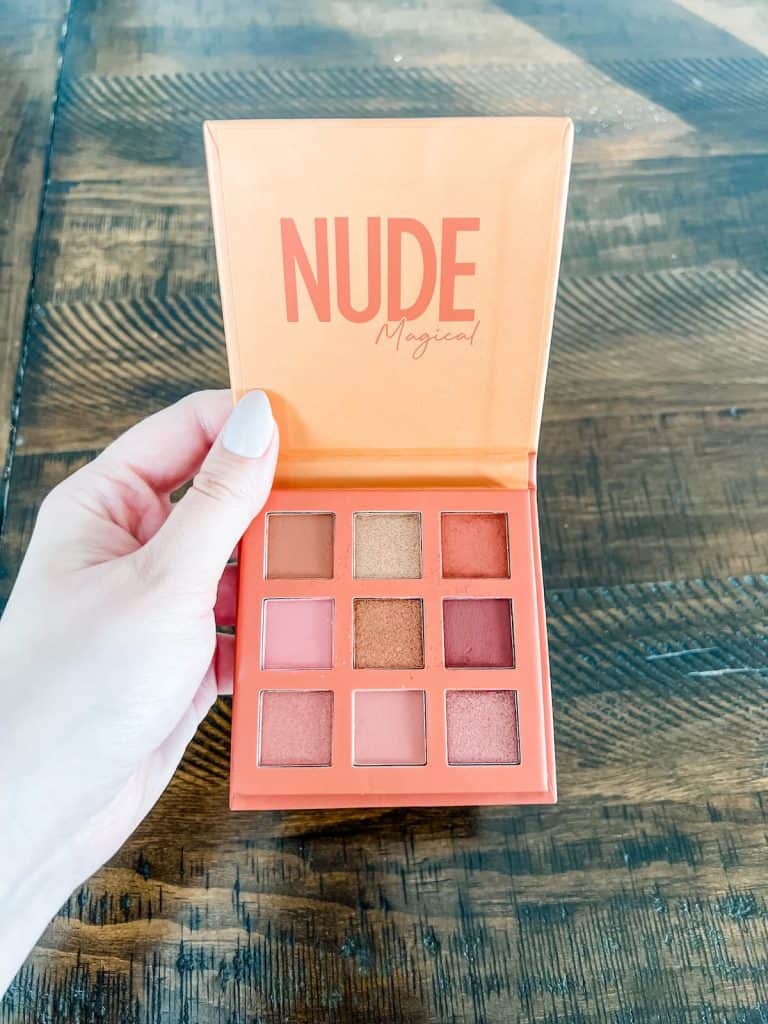 Triangle Powder Puff Set (12 pieces)
Soft and velvety to the touch, these triangle powder puffs are designed for precise, convenient powder application. Even better, they can also be used to apply concealer and bronzer.
Makeup Sponge Set (7 pieces)
Say goodbye to contouring mistakes and streaky foundation. With this makeup sponge set, you can finally blend and contour like a pro!
As a first-time customer to this seller on Temu they offered a discount making this 7-piece set $.24. Yes, you read that right, twenty-four CENTS!
Plus, I used the code fav18310 and got an additional 30% off on top of that!
Top tip: Use the sponge with the rounded base to apply creamy products like foundation and the sponge with the angled side to cover blemishes and blend out your contour.
Temu Fashion and Accessories Reviews
Floral Print Belted Dress
Lightweight fabric and a dainty floral print make this breezy dress a summer must-have. Available in sky blue, navy blue, and deep green, its pleated bottom offers added texture without sacrificing comfort and free movement.
Women's Graphic Tee
For a classic black shirt with a summer-themed print, you can't go wrong with this simple and versatile graphic tee. Pair it with jeans or denim cutoffs for a casual look, or spice it up with a frilly skirt or baggy pants.
Based on the reviews I sized up on this one and it fits perfectly! Size up x1 for a slightly tighter fit and x2 for a looser fit. I usually wear a large and the XL fits more like a medium after washing.
Casual Eyelet Top with Ruffle Sleeves
With the combination of airy eyelet fabric and loose ruffle sleeves, this top marries refined femininity and playful whimsy with ultimate finesse.
The fabric is soft and has some stretch to it. I'd expect to spend way more on an item like this. This is perfect for spring!
However, the tag says it is recommended as dry clean only which is a bummer.
Top tip: Go for the khaki color for a top that's adaptable to any color scheme and season.
Floral Print Dress with Waist Tie and Long Sleeves
Worried that short sleeves look too casual? This floral print dress gives you the best of both worlds: the elegance of long sleeves and the perky energy of floral prints and ribbon waist ties.
This is even cuter in person. The fabric is very light so best for spring or summer wear. I haven't worn it out in the sun yet, but I think this may be best used with a slip.
Make sure to size up! I bought this in my normal size and it was way too tight in the shoulders.
Running Shoes
Quality footwear for a little over $6? Sign us up! These running shoes provide extra arch support to guarantee stability for those with flat feet. Plus, the mesh material makes it extra breathable and lightweight — perfect for quick jogs and long runs.
Bohemian Bracelet Set (6 pieces)
Nothing says boho luxe like a gold chain bracelet, and this set comes with six of 'em! Variations in width and link size make them stackable, creating a carefree yet polished look.
Distressed Baseball Cap
Featuring sturdy, distressed fabric, this ball cap finishes off any outfit with a laid-back, stylishly ragged aesthetic that's on trend right now. It also comes with a hole for your ponytail to complete the messy-hair-don't-care look.
Temu Nail Supplies
Green And White Floral Press On Nails
These nails are just as cute in person as they are online. It comes with glue tabs, an orange stick and a file.
Quality-wise they are pretty similar to dollar tree nails. They aren't as thick or a strong as higher-end nails like Glamnetic, but for just over a dollar they are totally worth the buy.
Pink Ombre Press-On Nails
These are from the same nail brand as the green floral ones and the quality is roughly the same. They are super cute and for a mani on a budget, these are a total score.
Lavender Press-On Nails
These press-ons feature lavender nails and floral French tip accent nails with an ultra-glossy finish and a sleek almond shape to keep you spring-ready all year.
This set of nails felt a bit sturdier than the two previous sets. I would absolutely purchase them again.
Temu Organization Products
Skincare Organizer
This one was a bit of a letdown. It was one of the higher-priced items in the haul (~$7) and I just felt like the quality wasn't there. It felt cheap, it was a bit dirty when it came. This definitely looks cuter online than in person. I would not repurchase this.
Lipstick Organizer
Made with transparent acrylic and 24 grids, it displays each color clearly and helps you sort through your lipstick collection with ease.
It is a thinner acrylic, but overall, it feels sturdy and high-quality. Worth the buy.
Makeup Bag
Why should your makeup bag be boring? Get this plush pink pouch to keep your beauty basics in one place and enjoy its girly, oh-so-adorable furry fabric.
I bought this set that came with matching pink and white bags. They are all cute, soft and pretty well made. If you want a fun affordable makeup bag this is a good option.
Here's a photo with hand as a size reference.
Portable Jewelry Box
Enjoy luxury on the go with this mini jewelry box! No need to choose between your favorite accessories; simply stash them away in this portable case and flaunt them on all your trips, whether for business or leisure.
Purse Organizer
Always traveling? This storage bag can keep up with your hectic schedule and makes frequent packing a breeze. Just stuff your phone, tablet, pens, makeup products, and accessories into the bag, and you're good to go!
Leather Visor Clip
The first step to keeping your car clutter-free? Removing your sunglasses from your dashboard or glove compartment and keeping them tucked away neatly on this leather visor clip!
The magnet on this clip is really strong and overall this feels well-made. I'd expect to pay at least 3x the price for this on Amazon.
Best Temu Home Products
Faux Tulips
Fake flowers often look, well, fake. I've been eyeing some "lifelike" tulips on Amazon that have been super popular but are a bit pricy.
Then I found these sets on Temu for a tiny fraction of the price.
I ordered 3 different sets and there is a clear winner for me.
I ordered these two sets and they do feel pretty lifelike and are beautiful, but the shape isn't as nice and they had a weird smell when I opened the package. Plus, they are almost double the price of this next set.
This pink set I totally love! For under $4 for a set of 10, it is a total steal! I'm going to order another set.
Silicone Baking Cups
I've loved and used silicone baking cups for years. I bought my current a few years ago as a 12-pack for about $10. This 24-pack from Temu cost me under $4.
They are in fun colors and seem to be of decent quality. However, they were dusty so make sure you wash them thoroughly before use!
And if you are more comfortable with something tried and true, this set from Amazon is only a few dollars more.
Oil Sprayer
An oil sprayer has been on my wishlist for months so when I saw this one on Temu for under $2 I had to try it!
The box was a little beat up, but the product itself is great. It is made of glass and is really sturdy.
If you are trying to switch to healthier oils or use your air fryer often this is a game changer!
FAQs About Temu
Is Temu a US Company?
Yes. Established in 2022, Temu is based in the Back Bay area of Boston, Massachusetts.
But while it operates in the U.S. and caters to American and Canadian consumers, its goods are produced by overseas manufacturers and shipped directly from factories and warehouses all over the world, primarily in China.
Is Temu like Wish or Shein?
In certain ways, Temu can be comparable to Wish and Shein. These three companies all sell affordable products that are acquired directly from manufacturers.
However, Temu differs from these brands in many ways. Refer to the table below to see a few of the major distinctions between them.
| | Temu | Wish | Shein |
| --- | --- | --- | --- |
| Variety of products | Wide | Less wide | Focuses mainly on beauty and fashion items |
| Nature of business | Functions as a marketplace with products from third-party sellers | Functions as a marketplace with products from third-party sellers | Functions as its own brand; buys goods from manufacturers and sells them as Shein products |
| Average delivery time | 7 to 15 days | 15 to 30 days | 7 to 15 days |
| Return policy | Accepts returns within 90 days | Accepts returns within 30 days | Accepts returns within 15 days |
Does Temu accept returns?
Yes. Temu offers free first-time returns within 90 days of purchase. The amount of time it takes to process a refund depends on your payment method; for credit cards, it may take up to 18 business days.
For Apple Pay and Google Pay, it may take up 30 business days. To learn more, check out the company's return and refund policy.
Is Temu always free shipping?
Temu offers free shipping without a minimum purchase amount on every new customer's first three orders.
After this, you'll be able to get free standard shipping and even free express shipping with a minimum purchase amount.
The Verdict of Our Temu Review: It's Worth a Try
Now that you've gotten the lowdown on Temu, it's up to you to decide whether you want to give it a shot and start ordering affordable products.
For our two cents, the company's products are definitely worth trying! Not only are they cheap, but the best of Temu products offer downright similar benefits as their more expensive counterparts.
So instead of spending a fortune on everyday essentials, you can reach for a cheaper substitute on Temu and get more bang for your buck.
(Especially when you use this link or the code fav18310 for 30% off!)
To save you the trouble of sorting through the thousands of available items and their respective reviews on the site, feel free to select a few items from our list above for your first Temu haul.
Soon, you'll be able to curate products efficiently, enjoy a full-fledged Temu haul, and even post your own Temu review online!
Looking for more beauty bargains?
Check out these articles: