This post may contain affiliate links, which means I may receive a small commission, at no cost to you, if you make a purchase.
Pink is such a fun color. And when you use it on your hair, it adds a youthful vibe. It's sure to brighten up your mood.
However, pink and other fantasy shades of hair dye require more effort in maintenance because they fade fast.
Now you might know how purple shampoo works for keeping blonde hair bright, but have you ever thought of using it on other hair colors?
If you search online for what happens when you purple shampoo pink hair, you might get contradicting answers.
Some will say that purple shampoo can make pink hair more vibrant, and others will tell you that your rosy hair color will fade or turn into an ugly shade if you use this product.
Well, it's time to settle this once and for all.
Can you use purple shampoo on pink hair, or will purple shampoo take out pink hair dye?
Keep on reading to find out.
What Is Purple Shampoo?
Purple shampoo is a product that's formulated with violet dye.
This pigment is added so that the shampoo can neutralize or tone down brassy yellows on the hair strands.
How is it done?
The science of colors uses a color wheel, in which three primary colors, three secondary colors, and six tertiary colors are divided into warm tones and cool tones.
In the color wheel, colors that are placed on opposite sides are called complementary colors. And when these two are mixed, they cancel each other out and create a neutral shade.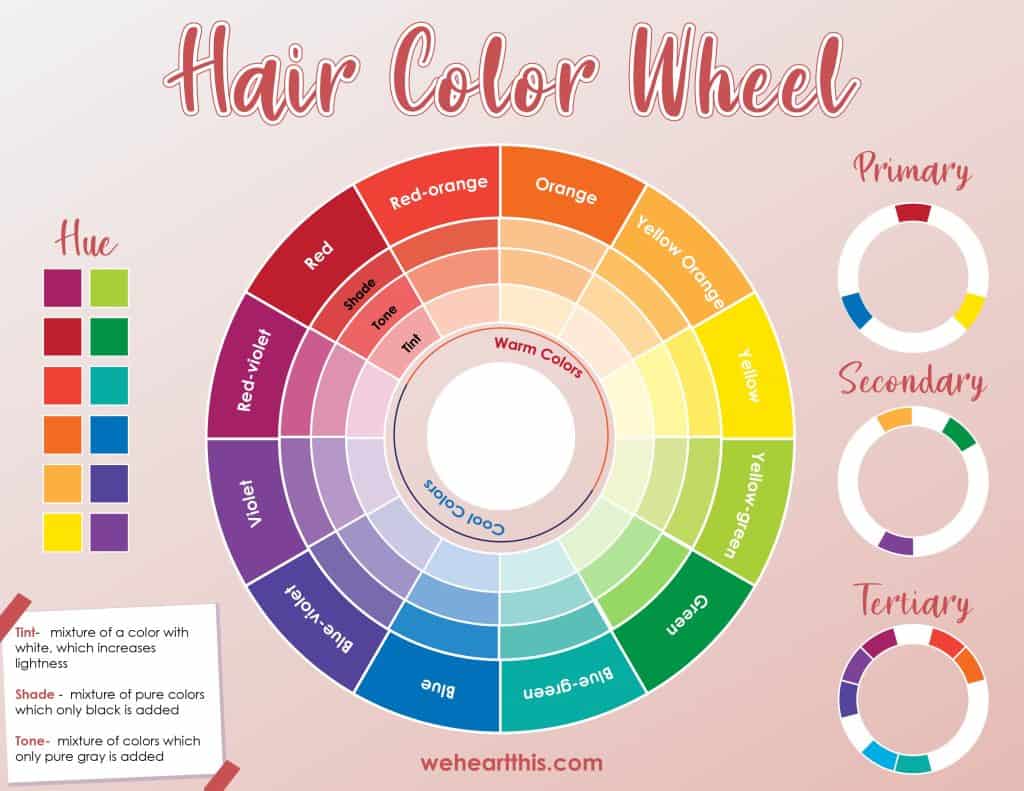 Since purple and yellow are complementary colors, when you use purple shampoo on brassy tones in your hair, you end up with neutralizing them.
That's why purple shampoo is every platinum blonde and silver-haired person's best friend. This works well in maintaining their hair color cool and bright.
What Happens When You Purple Shampoo Pink Hair?
Despite being commonly used by blondes, purple shampoo can benefit many shades too.
But what does it do to pink hair? Will purple shampoo fade pink hair?
Hair Brassiness
Since we're talking a lot about brassiness, it's probably best to explain it first.
Brassiness is the warm tones caused by natural pigments on your hair. Even if you bleach your hair to the lightest level, this warmth will reappear once your hair dye starts to fade.
And that's where hair toners come in. They are used to get rid of the brassiness.
Do take note that brassy tones can be yellow, orange, or red. When we go back to the color wheel, we'll see that purple shampoo can only cancel out the yellow tones.
So if your hair is more of an orange brass, you need to get a blue toning shampoo because blue complements orange. Moreover, if you want to get rid of the red tones, you'll need a green depositing shampoo.
Pink hair is no exception to brassiness. Over time, pink hair will start to look a bit like a faded peach color and look dull.
Purple shampoo helps refresh your hair dye by working on the yellow tones. Because the warm tones are removed, your hair color won't look faded anymore.
Purple Shampoo Over Pink Hair
The purple pigments also deepen the shade of the hair color. That means, your bright pink hair can become cool or ashy.
However, regularly using purple shampoo on pink hair can result in a color that's similar to magenta.
If you're cool with that, go ahead and use a purple shampoo on your sweet hair color.
But if a purplish pink isn't exactly what you want, then purple shampoo isn't for you.
How About Pink Shampoo?
Yes, purple shampoo is becoming more and more popular in the colored hair community. But have you ever heard of pink shampoo?
To be precise, pink shampoo is color-depositing shampoo and toning shampoo in a pink shade. It specifically tones light green tints in blonde, which happens when blonde locks are exposed to too much chlorine.
Color depositing means it's used to color the hair. So each time you use a pink shampoo, you get a boost of pink.
That said, pink shampoo can be your way of touching up your color without actually dyeing your hair again.
What's more, if you have light hair, you can also use pink shampoo to add a beautiful rosy tint to your locks.
But if you don't want to get a pink shade that's too vivid or if you don't have green tints in your blonde hair, we suggest you alternate using purple shampoo and pink shampoo.
Only purple shampoo that can tone very brassy yellows, not pink shampoo. Using pink shampoo on brassy yellows will result in bright orange-ish hair.
If you don't want that, then use purple shampoo once in a while and you'll get something cooler-toned yet not too purplish.
Once your hair is neutral toned, this is the perfect time to use pink shampoo.
Wondering which pink shampoo to buy? We've listed our top 3 picks for the best pink shampoos below!
1
We love that even though this product is actually a shampoo, it still conditions the hair.
It cleanses but doesn't strip off moisture from your strands, keeping the hair hydrated and shiny. Plus, it has natural ingredients that can help strengthen and nourish your locks.
Primary Benefits: Cleanses colored hair gently; refreshes and tones hair color; leaves hair healthy and vibrant
Features:
Contains plant-based proteins and amino acids
Enriched with vitamin B5 and hydrolyzed quinoa
Vegan and cruelty-free
Sulfate-free
With UV protection
Instantly revive your pink hair with Four Reasons Color Mask Toning Shampoo.
Finland's #1 toning mask has come our way!
This shampoo cleanses your hair as gently as possible while depositing pink pigments, giving a vibrant tone to colored blondes or intense pink hair.
It works well to color light hair because the lighter your hair is, the more intense the color will be.
But do take note that this is considered a semi-permanent hair color. That said, the color will fade lightly every time you wash with a regular shampoo.
Use this non-damaging color maintenance product at home to refresh your faded pink tresses.
Just remember that the dye deposits quickly, so don't leave it on for longer than 5 minutes unless your want intensely bright pink hair.
2
This product is a shampoo and conditioner in one, which is why it's gentle enough to be used every day to boost your hair color.
What's more, it has no harmful chemicals such as ammonia, gluten, paraben, sulfates, and PPDs.
Primary Benefits: Instantly intensifies color while cleansing; conditions with every wash; maintains vibrancy and improves shine
Features:
Contains hydrolyzed quinoa, ginger root, and saw palmetto
Has vitamins A, C, and E
Rock your pink hair for a long time by using Punky Colour color-depositing shampoo!
This shampoo not only gives color but also helps keep the color.
With the help of hydrolyzed quinoa, it creates a protective barrier on your strands to avoid color fading.
It's also rich in antioxidants that help fight free radicals and repair cells and tissues of your hair follicles. Because of this, hair loss is reduced.
Punky Colour surely made a nourishing color-depositing shampoo. Just use this and leave it on your hair for 10 to 15 minutes for an amplified effect on your locks.
Or if you prefer a lighter pink shade, you can lather it for 2 minutes, then rinse.
See results after the first wash and get a brighter color every time you use this pink shampoo.
3
This shampoo made it to our list because it doesn't just color, it also repairs.
We know that hair coloring can be damaging to the strands. And to get pink hair, you've most probably bleached your hair, which causes your hair to lose a lot of protein and elasticity.
That's why the bond rebuilder technology in this shampoo formula is a plus for us. It helps restore the damaged bonds of bleached and color-treated hair.
Primary Benefits: Deeply moisturizes; smoothens and strengthens hair; shows full-color intensity on pre-lightened hair
Features:
Bond rebuilder technology
Made from sustainably sourced plant-based ingredients
Vegan
Cruelty-free
Add a tint of pink to your hair or maintain your already pink locks with Celeb Luxury Viral Colorwash.
Give pink tones to your bleached hair or refresh your hair color in 2 to 5 minutes.
This works best to add color to light hair. It can also color even darker hair colors, but with less intensity.
However, just like most semi-permanent dyes, it won't work on virgin hair.
The Extreme Hot Pink variant gives a vibrant pink color payoff which can stay bright for up to 3 weeks before it starts to fade.
Their Pastel Light Pink variant, on the hand, delivers a soft cotton candy shade and fades faster. They also have a Rose Gold variant for that golden tint on rosy hair.
Aside from coloring, it also cleanses and keeps the hair hydrated.
How to Keep Pink Hair for Longer
Semi-permanent hair dyes can fade as early as 1 week or last as long as 6 weeks. Pink, being a fantasy or fashion color, is usually available in semi-permanent dyes. That's why it fades fast.
It's a good thing that there are several ways to extend your gorgeous pink color.
Aside from using purple shampoo and/or refreshing the color with pink shampoo, you can also try these three tips.
1. Use cool water when washing your hair.
Cool temperatures generally seal pores and hair cuticles. When you use cool water to wash your hair, the hair dye's pigments stay inside your hair strands.
On the contrary, washing with hot water can open up the cuticles and cause the dye pigments to escape and wash away, literally down your bathroom drain.
So even though it's hard to shower with cold water, especially during the winter, we recommend that you do this tip to prevent your hair color from fading.
2. Use sulfate-free shampoo and conditioner.
Sulfate is the most common ingredient in cleaning products. It's what makes the shampoo bubble up, but it's also the number 1 culprit in stripping hair color.
Now that you know this, you might want to look for sulfate-free shampoos and conditioners for your regular hair wash routine.
3. Stay away from heat.
According to research, the heat from the sun and styling tools can damage the surface of your hair. It can also dry out your strands.
And the more damaged and drier your hair is, the more likely it will easily lose its color.
If you don't want your pink hair to fade so quickly, avoid getting exposed to harmful heat.
Don't stay under the sun for too long. Or if you really have to, use a hat when going outside on a sunny day.
Similarly, it's best to avoid using flat irons, curling wands, and hair dryers, or you can use a heat protectant before styling to minimize damage.
Frequently Asked Questions
How do you use purple shampoo for pink hair?
Using purple shampoo for pink hair is pretty much the same for blonde hair.
Wet your locks and apply the product to your hair. Next, lather the formula all over your strands. Then leave it on for 2 to 4 minutes and rinse thoroughly with cool water.
Since purple shampoo can be drying to the strands, you can also follow the wash with a purple conditioner, regular conditioner, or a hydration treatment.
What color does pink hair turn to when it fades?
When pink hair dye washes out, it becomes a lighter pink.
Then, what's left of the pink tones mixes with the natural yellow and orange pigments of the hair, making a peachy color.
What is the best way to get pink out of your hair?
If you're planning to remove your pink hair dye, the best way to do it is by doing a bleach bath. It's a mixture of shampoo, developer, and bleaching powder.
This will surely remove the hair color.
However, this solution can dry out your locks. So when you do a bleach bath, we suggest that you also deep condition your hair after.
And if you don't want to use bleach, here's another thing you can do:
Can you use regular shampoo on pink hair?
Yes, you can still use your normal shampoo for cleaning your hair. But don't just use any drugstore shampoo. It's best to invest in color-safe shampoos that are also sulfate-free.
This way, you can maintain your pink hair properly and make your hair more beautiful.
The Best Shampoo for Pink Hair
Maintaining bright, beautiful pink hair can be hard, but it's not impossible. The first thing you need to do is choose the best shampoo for your pink hair.
For toning, you can use purple shampoo on your pink hair to make brassy tones disappear, giving you a cool-toned pink.
You can also use pink toning shampoo on your hair every time it needs a color boost.
And when you wash your hair, the most ideal shampoo is one without sulfates.
With these products, you'll have a youthful pink colored-hair that will make you the center of attention.
Want to know more about hair dye?
Look at these informative articles: