This post may contain affiliate links, which means I may receive a small commission, at no cost to you, if you make a purchase.
Do you want to break your streak of boring, mundane nail styles?
Time to level up and step into a world of luxury and glamor with blue and gold nails — a mesmerizing trend that effortlessly combines elegance with a touch of regal charm!
Delve into an inviting fusion of rich hues and intricate designs as blues blend seamlessly with radiant gold accents.
From bold metallic patterns to delicate motifs, these breathtaking nail art creations capture the essence of luxury!
Whether you are preparing for a special occasion or simply seeking to elevate your everyday style, these meticulously crafted designs offer a captivating canvas for self-expression.
Why wait any longer?
Explore the allure of blue and gold nail designs and prepare to be inspired as we unveil the alluring world of this luxurious nail trend!
Embellishments That Pair Well With Blue and Gold Nails
Adding embellishments to your blue and gold nails can take your nail design to the next level of glam and uniqueness.
Here are some great options to consider:
Rhinestones or Gems
Adorn your blue and gold nails with sparkly rhinestones or gems in various sizes and shapes. You can add intricate patterns, decorate specific areas of your nails, or use them as standalone statement pieces for extra dazzle.
Nail Art Decals
Explore nail art decals featuring intricate designs, such as delicate flowers, geometric patterns, or abstract shapes. These decals can be applied easily and instantly elevate the look of your blue and gold manicure.
Foil Accents
Consider incorporating gold foil accents into your nail designs to create a multidimensional effect. You can apply them strategically or create a marble effect for a touch of sophistication.
Metallic Studs
You can add an edge to your blue and gold nails using metallic studs. These small embellishments can be placed along the cuticles or used to create unique designs and geometric patterns.
Glitter Dust
Add sparkle to your blue and gold nails by brushing them with fine glitter. You can sprinkle it lightly over specific areas or create an ombré effect by concentrating on adding glitter to the nail tips.
Blue and Gold Nail Ideas
1. Glitz and Turquoise
Dive into a shimmering ocean with this glamorous nail design!
Embellished with chunky blue-and-gold glitter, most of the nails sparkle, while the two glittery accent nails in turquoise and nude peach flaunt a lovely combination that captures the look of sun-kissed shores.
2. River and Gold
Most of the nails in this manicure are adorned with stunning blue sideway French tips thinly outlined with gold polish.
The accent nails steal the spotlight with their captivating river-like design, boasting a dreamy marble effect, with edges beautifully outlined with gold accents.
3. White, Rose Gold, and Navy Blue
Take your nails to the next level with white, navy blue, and rose gold glitter nails. Then adorn a few of the navy blue accent nails with white streaks and tiny gold flakes.
4. Midnight Blue Stars
The deep, elegant midnight blue shade coats most of the nails, while the accent nails feature a delicate off-white base decorated with twinkling stars in deep blue nail polish.
The corners of the accent nails are subtly outlined with gold, adding glamor to the whole look.
5. Navy Blue and Gold Bold Lines
Looking for a way to incorporate blue and gold into your next style? Try painting your nails in a sultry midnight blue color.
Paint accent nails with nude polish, decorating them with an artful display of geometrical lines and shapes in gold and midnight blue.
6. Blue Watercolor and Gold Foil
This nail design showcases a stunning watercolor effect in two tones of blue that reminds you of tranquil ocean waves.
The accent nails take on a transparent base adorned with diagonal streaks of powder blue, delicately outlined with golden flecks.
7. Streaks in Blue, White, and Gold on Light Pink
These sky-blue nails transport you to cloudless horizons, while the light pink accent nails are decorated with white, sky-blue, and gold streaks.
This delicate and graceful combination evokes calm and elegance, making your manicure look like a heavenly canvas.
8. Velvety Blue and Gold Sideway Frenchies
These long coffin nails boast a soft peach base embellished with glittery light blue sideway French tips that have gold smears at the bottom. It's a sophisticated look that's bound to turn heads.
9. Midnight Blue and Gold Sideway Frenchies
Try having sideway French tips in midnight blue, and add charm by smearing gold foil below them. This manicure demands a second look from the crowd as its design stands out against the nude-colored background.
10. Gold Splatters on Matte Navy Blue
Elevate your nail game with this enchanting matte blue and gold nail design! The matte blue nails exude a daring allure, while the accent nails steal the spotlight with gold splatters and white leaves and stems at the center.
11. Neon Blue Wash with Gold Patches
This nail design features round-shaped nails in eye-catching neon blue. Enhance your nails with soft peach nail accents nails that have a dreamy watercolor effect in the middle, beautifully painted in shades of blue.
The delicate flecks of gold on the nail accents add a glamorous finishing touch, elevating this design into a true statement of creativity.
12. Black and Royal Blue Madness
These black square nails radiate mystery, while the accent nails take it up a notch with a bold twist.
One accent nail features a design that decorates the cuticle with a regal curved line in royal blue. The other royal blue accent nail flaunts leopard prints created using silver flecks outlined in black, achieving an edgy nail style.
13. Twinkling Midnight Stars
Short almond-shaped nails in soft nude become a canvas for twinkling stars crafted from delicate blue gems with painted golden rays.
To enhance the enchantment, tiny dots in gold and blue adorn the nails, making your nails look like they're shining in the night sky.
14. Turquoise Tips, Flowers, and Stars
Make a charming statement with glittery teal French tips delicately lined with gold at the bottom.
Each nail is adorned with either playful dots and star sequins or intricately hand-painted flowers, adding a touch of whimsy to complete a versatile nail style.
15. Golden Celestials in Space
Embrace celestial beauty with this mesmerizing nail design in blue and gold!
The velvety blue nails are the galactic canvas for painting celestial elements in gold, like sun rays, twinkling stars, and moons that invite everyone to step into a heavenly dreamscape.
16. Quirky Blue Tips With Celestial Line Art
Soft peach nails take on a dreamy twist with cloud-like French tips in deep blue adorned with thin gold glitter. The celestial magic continues as this set features golden line art of stars and moons.
17. Golden Diamonds on Blue Stiletto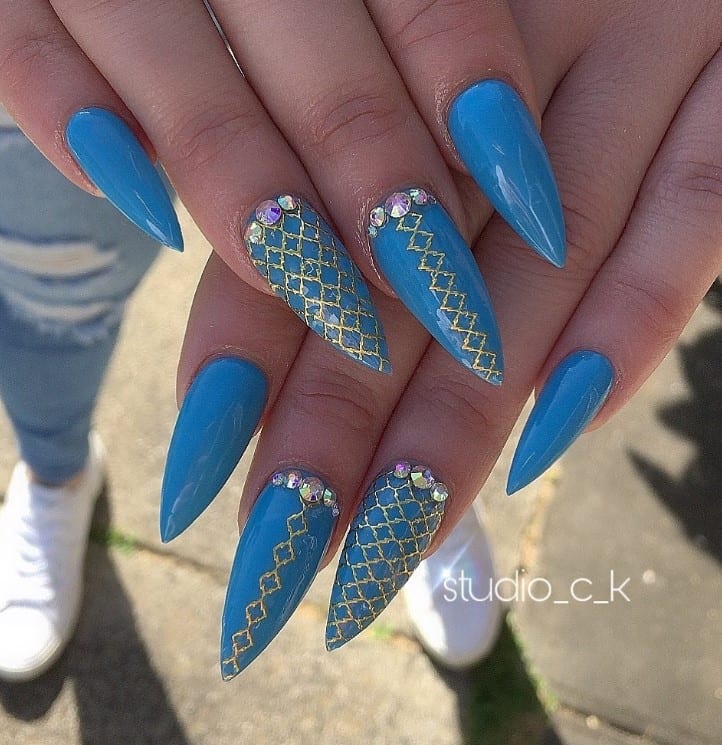 Get ready to stand out from the crowd with these daring stiletto-shaped blue and gold nails!
Different from the ordinary, this manicure features a stunning shade of blue. The accent nails are adorned with a lineup of tiny gems near the cuticles and decorated with a net-like pattern in radiant gold at the center.
18. Gold Lines on Blue Coffin Nails
Boost your manicure with these blue and gold coffin nails that embody sophistication and style!
Here, the sky blue polish sets the stage for accent nails, decorated with a transparent sideway French tip, with bits of gold foil and diagonal gold lines.
The accent nails beautifully combine minimalism and glamor, featuring horizontal or vertical gold lines that create perfect harmony in this nail set.
19. Watercolor Blue, Gold, and Nude Peach
With almond-shaped nails painted in a soft nude peach shade, you have the perfect background to paint a stunning watercolor effect.
Each nail showcases two tones of blue artfully placed on different sides, while a graceful arrangement of gold foil flakes adds a luxurious accent to catch everyone's eye.
20. Starry Night
This blue and gold nail design will remind you of the beauty of the night sky! In this set, glittery deep blue nails serve as the enchanting background for gold crescent moons and twinkling stars.
21. Blue Tie Dye and Evil Eye
For your next nail design, have a perfect balance of trendy and whimsical by painting most of your short square nails in pastel blue and having two charming nail accents to complete the look.
One accent nail features a blue tie-dye with glimmering gold details, while the other showcases a sheer pink nail with a delicately lined gold French tip and a tiny evil eye nail art near the cuticle.
22. Gold Dust and Smudges on Navy Blue
These navy blue square nails shimmer with elegance as they are adorned with fine gold dust. Two standout accent nails steal the show — one half-dipped in smeared gold foil while the other dazzles with glittery gold dust.
Immerse yourself in the alluring charm of this navy blue and gold nail design, allowing your manicure to exude an exquisite sense of glamor!
23. Dark Blue Ovals and Gold Smudges
These oval-shaped nails in midnight blue hue gives off an elegant and mysterious look.
The accent nails on this manicure take it a step further, featuring a mesmerizing deep blue shade near the tips, adorned with luxurious gold foil below them.
24. Gold Smears on Midnight Blue
This nail design features square-shaped nails in an alluring midnight blue color decorated with irregular flecks in radiant gold.
25. Golden Sea Treasures
Transport yourself to a coastal paradise! Wear these sky-blue nails with peach-colored accent nails that have tips adorned with chunky gold dust and sequins shaped like clams, starfish, and seahorses.
26. Space Adventure
Take your style to the cosmic realm with deep navy blue nails decorated with space elements.
The accent nails embody interstellar charm with tips sprinkled with dark blue glitter and embellished with gold sequins shaped like stars, planets, constellations, and spaceships on a nude-colored base.
27. Navy Blue and Peach Nails with Gold Stars
Achieve a playful and elegant look by having short oval nails in a rich navy blue shade with accent nails in a beautiful pinky peach hue. Adorn the accent nails with gold stars to create a galaxy-inspired look!
28. Pale Blue and Abstract Tips
This eye-catching nail set features a solid pale blue base, complemented with two pale blue French tips — one is elegantly lined with gold at the bottom.
The last two nails add a burst of creativity with their multicolored abstract tips, creating a modern and artistic look that is sure to make a statement.
29. Pastel Blue Almonds and Quirky Tips
This nail set flaunts almond-shaped nails in a soft pastel blue shade, paired with nude peach-colored accent nails that steal the show.
The accent nails take center stage with their mesmerizing abstract streaks on the tips, featuring a mix of blue, gold, and polka-dotted white polish.
30. Blue and Gold Bokeh
Impress everyone with this manicure that features two nails in a timeless blue shade. One showcases a chic blue French tip, while two nails are painted in a soft peach hue, embellished with circles in gold and two tones of blue in the center.
31. Two-Toned Blue French Tips and Terra Accents
Steal the crowd's attention with an enchanting combination of blue, black, and gold nails.
Here, the classic French tips take a contemporary twist with two-toned blue hues decorated with delicate black leaves and stems, glittery gold smudges, and tiny black polka dots.
32. Royal Blue, Rose Gold, and Abstract Accents
Take your style to new heights with the allure of royal blue and gold nails! The rich royal blue nails take center stage, accompanied by two stunning accent nails.
One accent nail shimmers with a luxurious display of rose gold glitter, while the other features multicolored abstract tips that beautifully contrast against the royal blue base.
33. Clear Blue Skies
Get ready to soar with this nail design with a mix of long square and stiletto nails.
This design combines classic white French tips with blue swooshes, blue sideway French tips embellished with gold smears, and playful blue nails decorated with airplanes and fluffy clouds that evoke a sense of wanderlust!
34. Watercolor Blue Tips, Gold, and Jewel Drops
This nail design showcases elegant long square nails in nude-colored polish with blue tips delicately painted with a marble effect.
This set is further enhanced with smeared gold foil and a single accent nail topped with sparkling, multicolored rhinestones.
35. Enchanting Sky
These dreamy long almond nails feature sheer peach nails with grayish-blue clouds adorning the tips, further decorated with exquisite gold celestial elements, such as twinkling stars and crescent moons.
This set captures the magic and wonder of the night sky!
36. Midnight Blue Tips and Gold Smudges
Amp up your basic-looking nails with these navy blue and gold acrylic nails! This set features long almond nails dipped in midnight blue nail polish, covering more than half of the nail space.
The artful addition of gold smudges between the navy and nude-colored polish adds a touch of glamor to the overall look.
37. Ombré Blue with Glittery Accents
Delicate and refined, these clean short nails in ombré blue are adorned with thinly lined golden dust at the tips and topped off with a lone gold gem near the cuticles.
Additionally, the accent nails in sheer peach decorated with a blend of silver and gold dust exude sophistication.
38. Blue and Gold Indie Nails
This nail set features short, clean nails painted in sparkly blue, yellow, and nude peach. Each nail flaunts unique designs crafted with a mix of blue, silver, and gold gems and flecks of gold foil.
39. Midnight Blue, Twinkling Stars, and Evil Eye
Give off an enchanting aura with oval-shaped nails painted in midnight blue. The accent nails, kissed by sheer peach, boast an ethereal charm.
One accent nail is decorated with gold twinkling stars, while the second nail is painted with a mysterious evil eye accent near the cuticles.
40. Blue Chunky Glitter and Gold Smudges
Take delight in the harmonious fusion of two shades of blue on your nails that are accentuated with smears of gold foil. The accent nail with blue-and-gold chunky glitter will easily captivate the crowd's hearts.
Frequently Asked Questions
Can I Combine Other Colors With Blue and Gold for My Nail Design?
Absolutely! Combining other colors with blue and gold can result in creating unique and breathtaking nail designs.
Blue and gold form a versatile color duo that harmonizes well with a range of shades. For an elegant and sophisticated appearance, try pairing them with soft neutrals such as blush pink or nude peach.
For a bold and vibrant design, you can mix blue and gold with rich jewel tones like deep purple, emerald green, or onyx black.
Also, don't be afraid to experiment and let your creativity shine by incorporating other colors that resonate with your personal style.
Are There Any Specific Nail Shapes That Work Best for Blue and Gold Nails?
When it comes to blue and gold nails, several nail shapes can beautifully enhance the overall look of your manicure.
Here are a few options that work well with this color combination:
Almond — This nail shape is known for its elegant and feminine appeal. It elongates the fingers and creates a graceful canvas for showcasing blue and gold nail designs.
Stiletto — This type of nail shape is edgy and bold, adding a dramatic touch to your nails. Its pointed tip allows for intricate nail art with blue and gold designs.
Coffin — Characterized by its tapered square shape and flat, squared-off tip, this nail shape offers a sleek and modern look. It provides ample space to flaunt intricate blue and gold nail designs.
Oval — The oval shape is a classic and versatile option. It looks softer than other pointed nail shapes but still elongates the fingers. It works well with blue and gold nails, providing a balanced and elegant aesthetic.
Exude Elegance and Confidence With Blue and Gold Nails!
Blue and gold nails truly capture the essence of elegance and confidence.
The combination of these colors creates a stunning contrast that catches the eye and commands attention.
So exude confidence and a sense of grace, and let your blue and gold nails radiate brilliance wherever you go.
Love Elegant Nail Designs?
Find more of them here: