This post may contain affiliate links, which means I may receive a small commission, at no cost to you, if you make a purchase.
One of the surefire ways to brighten your day is by getting a stunning manicure! Gorgeous nails can instantly make you feel good and give you a boost of confidence.
Plus, these days, manicures are more diverse and exciting than ever. With such a wide range of nail shapes, polish colors, and nail art available, the possibilities are endless and a whole lot of fun!
Are you on the hunt for the next great polish color for your mani? If so, we've got the perfect hue for you: sage green!
Sage green nails have become a trendy choice for nail lovers. The color is a gorgeously rich, earthy tone that is a great way to try green nails in an understated yet fashionable way.
Do you want to give cute sage green nail polish a try? We've rounded up the most beautiful ideas for sage green nails to inspire you.
What Is Sage Green?
Sage green is a beautiful gray-green color that falls in the blue-green range. Yet despite that, sage green nails don't naturally have the feel of the ocean. Quite the opposite, in fact.
Sage green is more earthy and subdued. The shade's name may be a giveaway, but it's reminiscent of the color of herbs and closely associated with nature and new beginnings.
Going for sage green nail polish or nail art is perfect if you want a fresh and fashionable manicure.
32 Stunning Sage Green Manicures
Ready to get sage green nails?
If you're looking for sage green nail inspo, here are some of our favorite ideas you should definitely try:
1. Sage and Shimmer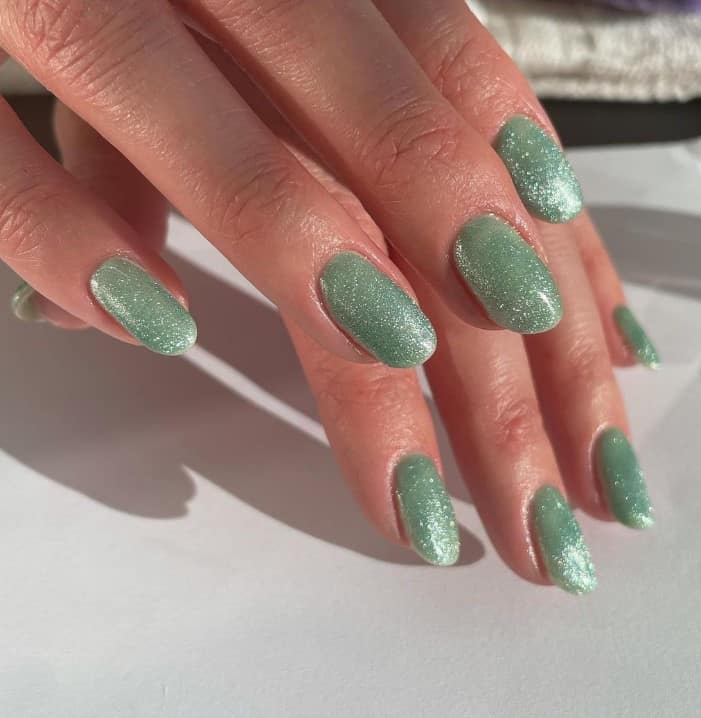 If you love gorgeous and elegant nails, these light sage green nails are a great option. The lightness of the shade helps highlight your beautiful skin tone, and the touch of elegant shimmer gives your nails extra sparkle.
2. Matte Sage and Colorful Swirls
Matte sage green nails are very elegant. But make sure to opt for unique accents like swirls in warm orange and soft yellow to keep this manicure from looking too plain.
Not only will it allow the mani to stand out, but it'll also make it look light and fresh.
3. Sage Green and Plants
Highlight the appeal of your sage green nails even more by adding some unique underwater nail art. This white-and-gold seaweed nail art on the accent nails looks gorgeous next to the glossy gray-green nails.
4. Sage and Zebra Print
Go for something unexpected and pair your sage green nails with animal prints like this classy zebra print. Then add classic and inverted French tips to the mix for some more fun! This is an excellent way to switch your mani up.
5. Shades of Green
If you'd like to add contrast to your sage green nails, pair it with a deeper shade of green and a neutral like white or ecru. These nails are made even more sophisticated with gold foil flakes and classy leaf nail art.
6. Sage Accent Nail
If you don't want an all-out sage manicure, use sage green polish for your accent nails. Its soft, subtle appeal looks beautiful paired with pastel pink nails or black-and-white nails with polka dots. You can even combine all these elements together.
This fun and unexpected mani is so eye-catching!
7. Sage Green Abstract Art
Because it goes so well with just about anything, sage green is a perfect base color to show off intricate nail art designs like this abstract leaf art.
To keep your mani sophisticated, use a neutral color like black or white for your nail art, then decorate all your nails with hints of gold to add some oomph.
8. Sage Matte Swirls
Elevate your matte mani by opting for elegant sage green nails with 3D swirls. These stunning accents make your nails look stylish and sophisticated.
9. Gorgeous Gold Swipe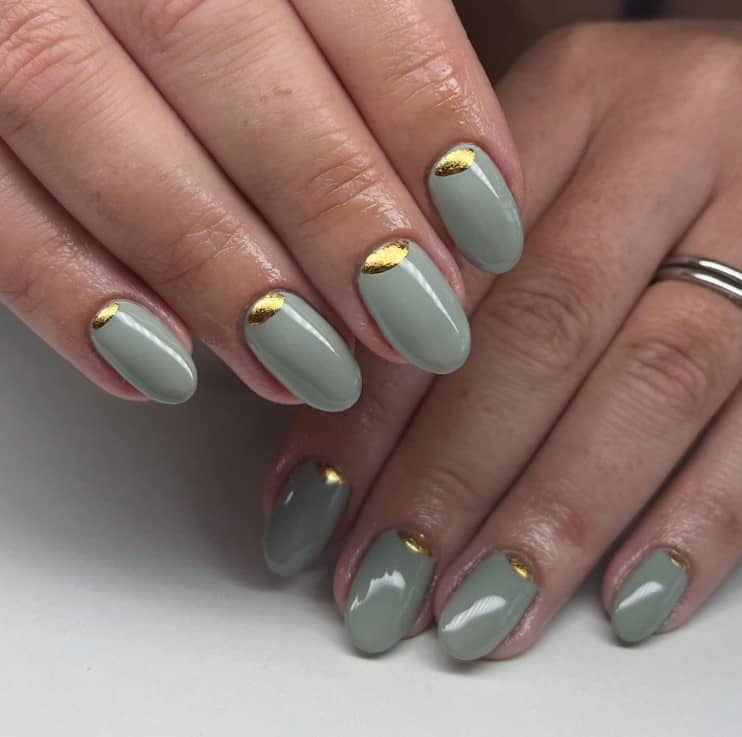 If you want a simple yet luxurious design, opt for an inverted French tip using chrome gold polish. The gold adds a lavish touch to a dark sage green mani.
10. Sage, Black, and Silver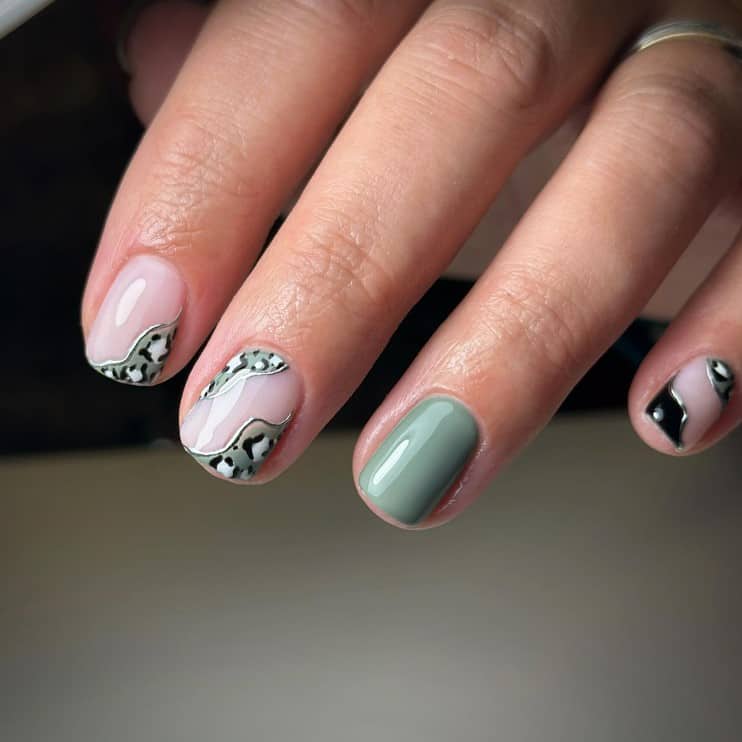 Gold isn't the only accent that works with sage green. If you want a cooler look, combine it with silver and black.
This beautiful mani brings together several elements — light sage green nails, black-and-white leopard spots, and stunning silver swirls.
11. Sage Green and White
Looking to achieve a minimalist aesthetic with sage green nails? Pair them with white nails. You can add charm to this color combination with a subtle but elegant design, like thin stripes or swirls.
12. Pink and Sage Marbled Gold Foil
If you have the time and patience for an intricate design, get gorgeous sage green marble nails, Moroccan tile-inspired nails, and nude pink nails with gold accents.
13. Stunning Sage Accents
This is perfect for you if you want an elegant manicure that goes well with everything! It's a unique take on a French-tip design that combines sage green tips with glossy clear polish and gold line details.
14. Speckled Sage Green Nails
Opting for a speckled sage green manicure is a fun way to spruce up oval or egg-shaped nails. It's stylish and cheeky! Plus, you can try several different colors for the speckles to achieve an interesting look.
15. Green Glitter Accents
If you want just a hint of glitter without getting a full set of glitter nails (we get it — glitter polish can be hard to remove), apply a glittery top coat to just a few of your sage green nails. Opt for fine-glitter polish for a subtle sheen as well.
16. Sage Dots and Splatters
Another unique way to add decorative accents to a light sage green manicure is to combine it with black and white splatter-like dots on nude nails. This makes your accent nails look like fun Jackson Pollock paintings.
17. Long Sage Green Nails
When you have gorgeous, perfectly shaped long nails, they're already stunning as is! All you need to do is highlight them with glossy clear polish.
If you can't grow out your nails naturally, you can opt for sage green acrylic nails instead.
18. Sage and White
The beauty of a sage green manicure is highlighted even more with accent nails with terrazzo-inspired nail art in pink and black against a white background and sage green French tips.
19. Green and Black Dots
Bring out your artistic side and opt for a creative manicure by combining sage green and black in a unique way. This abstract mani uses sage green polish to create a clean canvas and black polish to add dots and speckles.
20. Soft Sage and Gold Leaves
Look sweet and sexy with a soft sage-green-and-milky-white mani that features leaf and floral accents stamped onto each nail.
21. Geode Marble Nails
Swirl together sage green and blue to make unique crystal-inspired nails that resemble a glowing geode. You can amp this up even further by doing a loose gold outline to mimic gold foil.
22. Sage Green and Orange Nails
Sage green can be sultry and mysterious, but it's instantly brightened when paired with orange. This playful manicure combines orange and sage, highlighted by alternating abstract nail art.
23. Green and Gold Kintsugi Nails
Take inspiration from the Japanese art of Kintsugi, which uses gold to put pieces of broken pottery back together, and create a sage green manicure with jagged gold lines.
24. Light and Dark
Get the best of both worlds by combining light and dark sage colors in one manicure. You can also add an accent nail by using these same colors to achieve a fun leopard print.
25. Sage Green, Black, and Gold
If you want long nails without the fear of breaking them, consider getting a design on sage green gel nails.
Gel extensions can help give you perfect nails, which you can paint with a sophisticated combination of sage green, black, and gold to mimic animal print.
26. Tortoise Nail Accents
Pale sage green nails look incredible paired with deep green and white heart-shaped tips as accents. Take this mani one step further with a hint of tortoiseshell nail art.
27. Pink and Sage Swirls
There's just something calming and beautiful about a pale sage green manicure. Add fun drama to it by combining sage green with pale pink and painting delightful swirl patterns in white on your accent nails.
28. Sage and Daisies
Sage green nails with flowers are perfect for a spring or summer manicure. Floral nail designs look beautiful against a sage background, and daisies, in particular, are a refreshing and gorgeous choice for a nature-inspired look.
29. Pink, Gold, and Green
Sage green is made warmer when contrasted with vibrant gold. If you want something elegant and feminine, pair your sage green nails with gold and white accents.
30. Sage Green and Gold Roses
If you want to give your sage green nail design a decadent feel, adding gold embellishments is the way to go! Get gold rose art on your peach accent nails to make your deep sage green manicure look lush.
31. Tropical Sage Vibes
Even though sage isn't as bold and vibrant as other shades of green, it can still look bright and tropical.
If you're going to the beach, pair your glossy sage green nails with bright white tropical-leaf nail art on your accent nails, and you'll be ready to go!
32. Green Gradient Nails and Gold Flecks
Try a different take on sage green ombré nails by painting each nail with a different shade of green instead of combining all the shades together.
You can start with a deep sage and go lighter and lighter, culminating in a white nail. Go for additional glam with beautiful gold flecks!
FAQs
Does Green Nail Polish Look Good?
Yes! If you are looking for something beyond classic nudes and bright reds, green is a fantastic choice.
It's vibrant and eye-catching — not to mention it has a wide range of hues, so you can opt for bold shades or subtle colors.
Sage green belongs in the latter category, but you can pair it with vibrant shades like yellow and orange to make it look bolder.
Which Sage Green Polish Should I Try?
Excited to give sage green nails a try? You'll need the perfect sage green polish to achieve some of the ideas for a sage green manicure we've shared above.
Here are some recommendations for excellent sage green polish products you can include in your nail kit:
Get That Gorgeous Sage Green Manicure
Whether you want simple and sweet nails or unique nail designs, sage is a color that looks good on everyone and goes well with every style.
It's a luxurious color that can be elegant and sophisticated or flirty and fun, depending on the specific shade of sage green you choose.
So feel free to experiment with various shades of sage until you find your favorite one.
With the right nail polish and the perfect nail design, you can get that gorgeous sage green manicure of your dreams.
Looking for more nail inspo?
Check these out: