This post may contain affiliate links, which means I may receive a small commission, at no cost to you, if you make a purchase.
Looking for Urban Decay Vice 3 Palette Swatches & Reviews? We've got you covered!
Press Sample Affiliate Link
I'm a bit of an eyeshadow collector – I might have enough eye shadow for a small country for an entire year. I guess you could say it's my VICE.
I'm particularly weak when it comes to limited edition palettes, and especially when it comes to Urban Decay.
Their stylish and edgy packaging, sassy product names, wide variety of colors and 100% cruelty-free philosophy make it a brand that really stands out for all the right reasons.
Like the brand, the Urban Decay Vice 3 palette (available here) definitely has more virtues than vices.
Urban Decay Vice 3 Palette Review
The most exciting part of this palette: all twenty shades are brand new! Also, I was happy to see that Vice 3 avoids the total glitter bomb shades that plague other palettes.
The length of wear was very good, particularly when combined with Urban Decay Primer Potion, which gives me all-day staying power for my eye makeup, even after a long session at the gym!
While some of the shades aren't quite the same buttery texture and intense pigmentation as the Urban Decay full-sized individual eyeshadows sold in pans, it's not far off.
There were a few that had a tiny bit of fallout, and a few that were sheerer than I had expected from looking at the color in the pan, but nothing terribly disappointing.
Urban Decay Vice 3 Palette Shades
The next most exciting part about this palette: the choice of colors, and how they're organized within the palette.
I love that while some Urban Decay palettes throw in some neutral shades, this palette makes a point of including EIGHT: a set of four matte nude shades on the far left and a four-set of smoky shimmery neutrals on the far right.
Having almost half the Urban Decay Vice 3 palette consists of neutrals, and placing them near each other makes it a lot more "user-friendly" (particularly for makeup newbies and those less comfortable with bright colors) and also makes it a versatile palette suitable for any occasion.
Let's take a look at the shades!
Urban Decay Vice 3 Palette Swatches
Truth, Undone, Downfall, DTF
Column 1:
Truth – pale pink-nude matte
Undone – pink-beige matte-satin with subtle floating tonal pearl
Downfall – warm light brown matte
DTF – taupe matte with subtle floating pearl
Urban Decay Vice 3 Palette Looks
Using Truth, Undone, Downfall and DTF
A closer look at Truth, Undone, Downfall and DTF
Dragon, Freeze, Heroine, Brokedown
Column 2:
Dragon – bright metallic green shimmer
Freeze – metallic medium blue with multidimensional micro-glitter
Heroine – deep navy blue with subtle floating tonal pearl
Brokedown – metallic golden brown shimmer with gold micro-glitter
Using Dragon, Freeze, Heroine and Brokedown
Vanity, Lucky, Reign, Bobby Dazzle
Column 3:
Vanity – smoky metallic eggplant with multidimensional micro-glitter
Lucky – metallic bronze
Reign – rich brown satin
Bobby Dazzle – metallic white with pale gold micro-glitter
Using Vanity, Lucky, Reign, and Bobby Dazzle
A closer look at Vanity, Lucky, Reign and Bobby Dazzle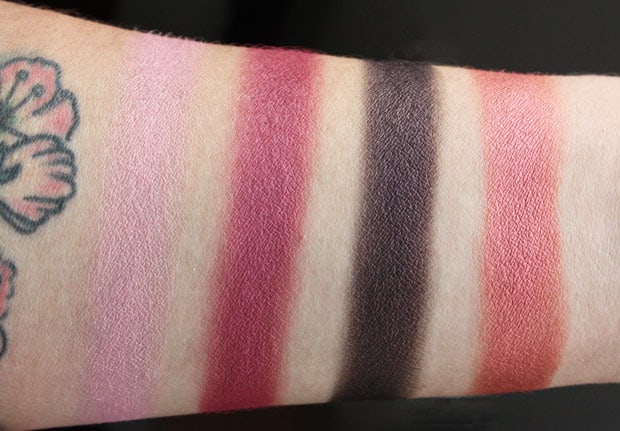 Alien, Alchemy, Bondage, Sonic
Column 4:
Alien – pink-peach with golden shift
Alchemy – deep fuchsia satin
Bondage – deep, smoky burgundy shimmer
Sonic – metallic red-copper
Using Alien, Alchemy, Bondage and Sonic
Last Sin, Angel, Defy, Revolver
Column 5:
Last Sin – champagne shimmer with silver micro-glitter
Angel – light taupe with silver micro-glitter
Defy – smoky taupe satin
Revolver – soft black satin with subtle floating iridescent pearl
There are endless ways to combine the colors in this palette, and Urban Decay also has online instructions for six looks using the Vice 3 palette.
I did four looks using the vertical columns as my guide! (I'm thinking maybe I'll challenge myself and do looks using the horizontal rows next!)
The palette also comes with a dual-ended brush (the denser shorter end works well with these colors), and also a coordinating makeup bag that is used as storage for the palette, or for other items.
I adore the silvery metallic casing with the abstract stripes of color and the beautiful lime green faceted font. The palette is slim and sturdy, with a huge mirror inside.
It stays open on its own and the mirror angles nicely (which some of UD's other palettes don't). It has a secure magnetic closure.
All around, the Urban Decay Vice 3 palette feels and looks like a good quality product, and it performs that way also. I'm glad I could indulge in my eyeshadow vice without too much guilt!
we heartsters – Spill it! What is your makeup vice?
You may also like these Urban Decay Reviews:
Latest posts by lipglossandspandex
(see all)