This post may contain affiliate links, which means I may receive a small commission, at no cost to you, if you make a purchase.
Not satisfied with how the makeup looks on your skin? Did you know that the best Korean primer can make a world of difference?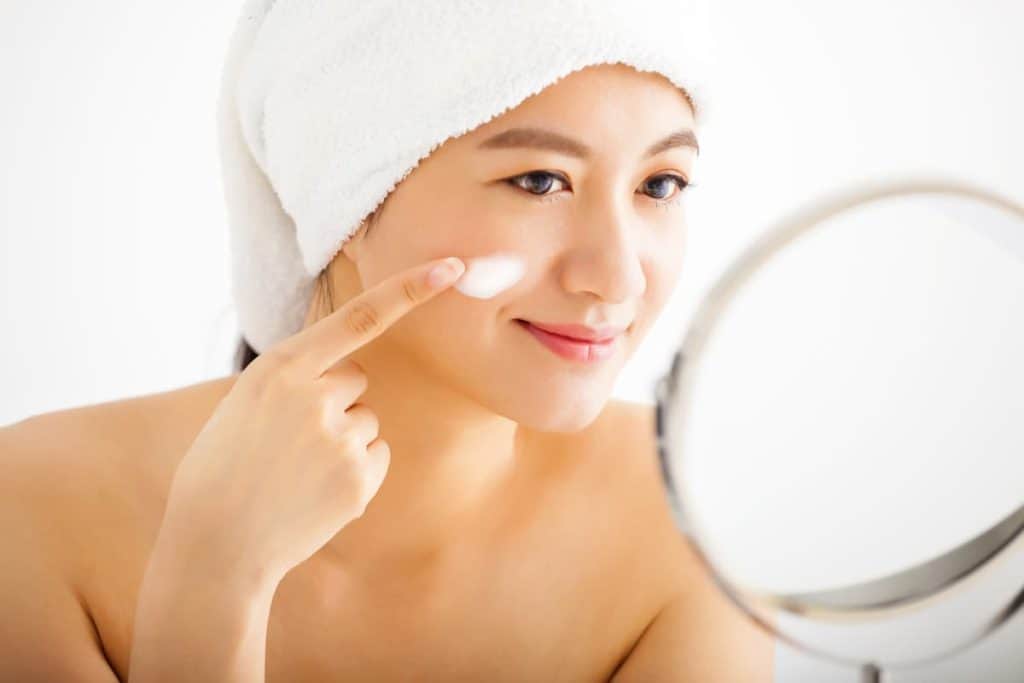 Enlarged pores, uneven skin texture, fine lines, and wrinkles — we all have them. That's why it's nice to have a face primer as the first step of your makeup routine.
Primers create a smooth base for makeup products and keep them in place all day. Korean makeup primers also have skincare ingredients that repair, enhance, and protect the skin.
All of these come together to give you a healthy and radiant appearance.
Ready to see the difference? Here are the best Korean makeup primers that you should try!
What Are The Different Types of Primers?
Primer can be a game-changer for your makeup routine. Just make sure to choose one that is suited for your skin type. Many face primers are available today, so it might feel a bit overwhelming.
To make it easier for you, here are the different types of primers that you can choose from.
Mattifying Primers
Mattifying primers are also known as blurring or pore-filling primers. They usually have a silicone base that fills in enlarged pores, fine lines, and wrinkles.
The primer then creates a smooth layer or barrier that makes it easier to apply your makeup.
Many mattifying primers also feature sebum control to prevent makeup from slipping off the skin. These primers are best suited for those with oily, combination, and textured skin.
Hydrating Primers
Hydrating Primers are best suited for those with dry and dehydrated skin. They typically have an oil or water base, so the primer sinks right into your skin.
These primers can contain ingredients, such as hyaluronic acid, ceramides, and antioxidants— which help hydrate, nourish, and protect the skin. They also target dry patches so that your makeup will apply more evenly.
Illuminating Primers
Illuminating primers are best suited for those with dull or combination skin. These primers can brighten or enhance your complexion. Containing fine shimmers, they can make your skin hydrated and radiant.
These primers can also help you achieve glass skin. Korean primers, in particular, provide a subtle sheen that makes skin look dewy and flawless but still looks natural.
Color-Correcting Primers
Color-correcting primers are used to counteract discolorations on the skin.
For example, you can use green color correctors to combat skin redness. A peach or orange color corrector can neutralize dark circles under your eyes. Meanwhile, a purple color corrector can help brighten up dull skin. 
Gripping Primers
Gripping primers usually have a sticky or glue-like gel formula. This is so that they can "grip" or adhere to the makeup pigments — making your products stay in place for the entire day.
Gripping primers may also feature other skin-loving ingredients that target certain skin concerns, such as hydrating, firming, and oil control.
Non-Face Primers
Apart from face primers, there are also primers for your eyes, lips, and mascara.
Eye primers help make eyeshadow stay on your eyelids for longer. They also prevent eyeshadow from fading due to sweat or humidity. You can also use these primers to enhance the pigmentation of your eyeshadows.
Lip primers can smoothen the natural lines or ridges. These primers are best worn underneath bold colors or matte formulations — as these lip products tend to highlight dry patches and other lip imperfections.
Mascara primers can enhance the appearance of your mascara — whether it improves the curl or maximizes the lengthening effect. Applying a primer beforehand can also prevent the mascara from smudging or clumping.
9 Best Korean Primers for a Great Makeup Base
Check out our list of the best Korean primers for all skin types.
Best Korean Primers for Oily Skin
This K-beauty primer is a lifesaver for oily skin!
The Aritaum Pore Master Sebum Control Primer has green tea extract that helps control excess sebum production and soothes inflamed skin.
It's one of the best silicone-based primers. It blurs enlarged pores and other skin imperfections — giving you a smooth and flawless base for makeup application.
The primer has a velvety texture that dries to a powdery, matte finish. It sheers out, so it's suitable for all skin tones. The mineral polymer gel also means that your skin can still breathe underneath.
Looking for the best Korean primer for oily skin and large pores? The Touch In Sol No Pore Blem Primer is certainly a worthy contender!
This makeup primer creates a seamless canvas by minimizing pores and blemishes. It's also formulated with green tea extract for sebum control and collagen for reducing fine lines and enhancing skin elasticity.
The velvety texture spreads easily and does not leave a sticky residue. It feels hydrating but provides good shine control for those with oily skin.
The No Pore Blem Primer is a good makeup base. With no harsh ingredients, it's also suitable for all skin types.
Best Korean Primers For Dry Skin
The Laneige Glowy Makeup Primer is a product that can do it all — hydrates, illuminates, blurs, and even helps control oil.
It has a dewy, radiant finish, so you can even wear it without makeup!
As a hydrating primer, it preps the skin so that makeup adheres well and can last all day long. You only need 2-3 drops to get the coverage you need.
This Korean face primer has a lightweight formula and is free of parabens and phthalates. It's also great for normal, combination, and oily skin.
Simplify your morning makeup routine with a primer that deeply moisturizes and simultaneously preps your skin for makeup!
The Atopalm Daytime Undermakeup Moisture Cream is an answered prayer for dry and dehydrated skin.
It features a patented MLE formula that restores your moisture barrier and prevents further moisture loss. It'll make skin smooth and plump — a perfect canvas for flawless makeup application.
With antioxidant-rich ingredients like squalene, olive oil, and camellia oil, this primer will help soothe and heal your skin. You can even wear this primer alone for a fresh and youthful appearance.
This makeup primer has a gentle formula, so it is also suitable for normal, oily, and combination skin types.
Best Korean Primers For Dull Skin
Say goodbye to dull skin with the Missha M BB Boomer primer!
It features finely milled diamonds and pearls that give you a healthy, dewy glow.
You can also prolong your foundation wear time as this primer creates a smooth base and adheres well to the skin.
It's not just enhancing your look from the surface. This illuminating primer is packed with skin-loving ingredients that will boost your skin's overall health!
Want to look like you've gotten at least 8 hours of sleep each day?
Then the Missha Glow Skin Balm may be the best makeup primer for you!
This primer can function as a moisturizing cream since it has hyaluronic acid for ultra-hydration, ceramides to boost moisture retention, and jojoba seed oil to soothe and soften the skin.
It creates a natural radiance that enhances the look of your makeup on top.
With 77.8% rose Damascena flower water, the Glow Skin Balm is gentle and hypoallergenic. It's suitable for those with sensitive skin. There is a soft fragrance, so those with scent sensitivities should keep that in mind.
Best Korean Primers For All Skin Types
Prep your skin with the Banila Co. Prime Primer Classic for a seamless and long-lasting foundation application.
You'll see fine lines, pores, and other skin imperfections disappear as you use this highly-rated primer.
The lightweight texture makes skin feel smooth to the touch. An invisible barrier also protects the skin and helps makeup stay on longer.
This smoothing primer is suitable for all skin types. Oily skin types will love it, too, as it can absorb excess oils and even tighten pores for a flawless finish.
Want a blurring primer that won't clog your pores? Check out the Touch In Sol Pretty Filter Icy Sherbet Primer!
As the primer creates a smooth canvas on your skin, it evens out skin texture and minimizes the appearance of your pores.
It has a silky formula that grips onto your makeup, so it won't budge all day. The primer also has a refreshing effect as you put it on your skin.
Enriched with peony extract, this primer is rich in antioxidants that hydrate, soothe, and protect your skin. The gentle formula makes this primer suitable even for oily or sensitive skin types.
Best Korean Sunscreen Primer For All Skin Types
Who needs a digital filter when you have the Etude House Face Blur Smoothing Primer?
As you apply the lightweight cream onto your face, it blends seamlessly and immediately minimizes the appearance of pores. It also fills in fine lines and evens our textured skin.
The primer also serves as a tone-up cream. The pearly coral shimmer base will make your skin look brighter, radiant, and more refined.
With SPF 33 PA++, you can feel protected against the sun's harmful UVA and UVB rays.
Frequently Asked Questions
Do Silicone Primers Clog Pores?
Silicone primers don't clog pores, but because they create a barrier on your skin, there is a chance for comedogenic particles to get trapped underneath.
That's why double-cleanse is vital as part of your nightly skincare routine. This ensures that all the dirt and makeup are removed, allowing your skin to breathe.
Is Using Face Primer Necessary?
Face primer isn't a prerequisite, but it can make all the difference regarding your makeup application. Primers can minimize skin imperfections so that you have a smooth canvas for your makeup.
Primers also help extend wear time, so you use less makeup.
Can I Wear Primer Without Makeup?
Many Korean primers are formulated with skincare ingredients that help improve the skin. So, even if you don't plan to wear makeup, these primers can still make you look healthy, fresh, and radiant.
Can I Wear Primer Over Sunscreen?
Apply sunscreen before primer. Some primers are occlusives, so if you put sunscreen on top, there is no guarantee that you will be protected from the sun's harmful rays.
The Best Korean Primer With Most Benefits to the Skin
There is no single primer that reigns supreme. The best Korean primer will depend on your skin type and concerns.
But, no matter which product you choose, adding a face primer to your makeup routine can really make a big difference.
With our list of Korean primers for all skin types, we're confident you will find the perfect addition to your makeup arsenal!
Want More Of The Best K-Beauty Products?
Discover them here: