This post may contain affiliate links, which means I may receive a small commission, at no cost to you, if you make a purchase.
Elvira, Morticia Addams, Elaine Parks — what do all these iconic Halloween queens have in common?
Apart from their captivating beauty and dark charm, they know how to rock a spooky and stylish manicure.
And what better way to channel your inner Halloween queen than with ghost nails?
Ghost nail art has become increasingly popular in recent years, as it offers a playful and cute alternative to traditional Halloween nail designs.
Often associated with Halloween, ghost nail art has transcended the boundaries of the spooky season, becoming an evergreen trend for those who seek a touch of mystique in their manicure, no matter the time of the year.
Ghost designs offer a perfect balance between spooky and stylish, making them an ideal choice for individuals who want to celebrate Halloween all year round.
Whether you prefer a minimalist and simple ghost design on your nails or cute ghost nail art with elaborate details, there are countless ways to incorporate these adorable and spooky creatures in your manicure.
In this article, we'll explore 38 ghost nail designs that are spooky and stylish at the same time.
So get ready to haunt the night with these ghost nail art ideas!
38 Spook-tacular Ghost Nail Designs
1. Witchy Whimsy
These almond-shaped medium-length nails feature a soft peach base color that sets the stage for a variety of adorable yet chill-inducing designs: scary skulls, tiny ghosts, moon-shaped potion bottles, and witchy cauldrons.
2. Candy Time
Too old for trick or treat? Try candy pink nails instead! Then decorate them with glittery pink tips and Halloween-inspired ghost nail designs to add a touch of sweet, feminine fun to your spooky look.
3. Orange Plaid and Black Tips
These nails with orange plaid patterns and glossy black tips are the perfect canvas for cute ghost nail art in black and white.
4. Daring Neon
If you're looking for a daring and bold Halloween nail design, these long coffin nails in black with neon ghosts are perfect for you.
5. Stars, Swirls, and Smiles
Looking for a cute and spooky Halloween nail design? Try these nude almond nails with playful black-and-white stars, swirls, and smiling ghosts.
6. Autumn Chill
This design is perfect for those who want a classic Halloween look with a black-and-orange fall theme.
It features some nails in full black or orange, while others have a peach base with cute pumpkins, bats, ghosts, stars, and moons and in black, white, and orange.
7. Ghostly Visage
For a chic and spooky manicure, try this design with a clear base and terrifying white ghosts with black details. Perfect for those looking for something eye-catching!
8. Witch's Brew
This mani features a bewitching combination of black, white, pink, and violet hues with various designs, including pinkish-purple drippings, screaming white ghosts, and cutesy hearts, stars, and dots.
9. Skulltivated Blooms
Flaunt a manicure with the perfect combination of spooky and floral elements! Here, a black base is decorated with spiderwebs, moons, stars, and lavender flowers with skull centers that add an eerie touch.
10. Cute Haunting
Want cute ghost nails? Experience the perfect blend of charm and terror with this nail design! It showcases a black base adorned with vibrant Halloween nail art designs, including ghosts, skulls, and pumpkins in bright colors.
11. Sparkle Surprise
This hauntingly beautiful nail design has a soft lavender base with intricate spiderweb, bat, and Ghostface nail designs, all brought to life with the contrast of a touch of glittery silver on one nail.
12. Sleek Matte White
These sleek matte white coffin nails are perfect for anyone looking for a stylish Halloween look. The ghost accents on the tips, complete with 3D gray outlines and black details, add just the right touch of spooky sophistication.
13. Pink Halloween Night
Imagine an all-pink Halloween evening with these long nude pink coffin nails.
Each nail boasts different designs, including ghosts, glittery spiderwebs, matte black moons, smoky designs, and glittery drips that add a touch of glam to the spookiness.
14. Pretty in Pink Halloween
Looking for cute Ghostface-inspired Halloween nails? This mani's for you! These nails feature a mix of pink, white, and black designs, including Ghostface nail art, stitch marks, hearts, and the word "BOO!" scattered throughout.
15. Ghastly Glamor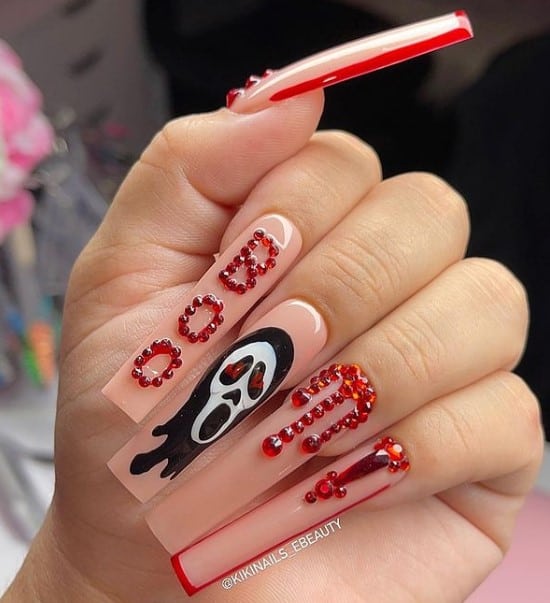 Now if you want Ghostface nails that'll truly scare everyone, try this design.
It features long coffin nails with Ghostface nail art accented with bold red embellishments, including thin red French tips and red gems arranged to resemble dripping blood and form the word "boo."
16. Drip
These short nails feature a charming light pink base with captivating Halloween nail designs. White ghosts, black spiders, twinkling stars, and mysterious drippings come together to create a bewitching combination.
17. Supernatural
Indulge in the spirit of Halloween with this fun and festive nail design. Peach nails are adorned with classic Halloween motifs of pumpkins, bats, ghosts, and stars, while a striking black-and-white marble nail adds a subtle spooky touch.
18. Touch of Terror
These clear round nails with black and white tips, swirls, and ghosts, will add a haunting touch to your Halloween look.
19. Zany Modern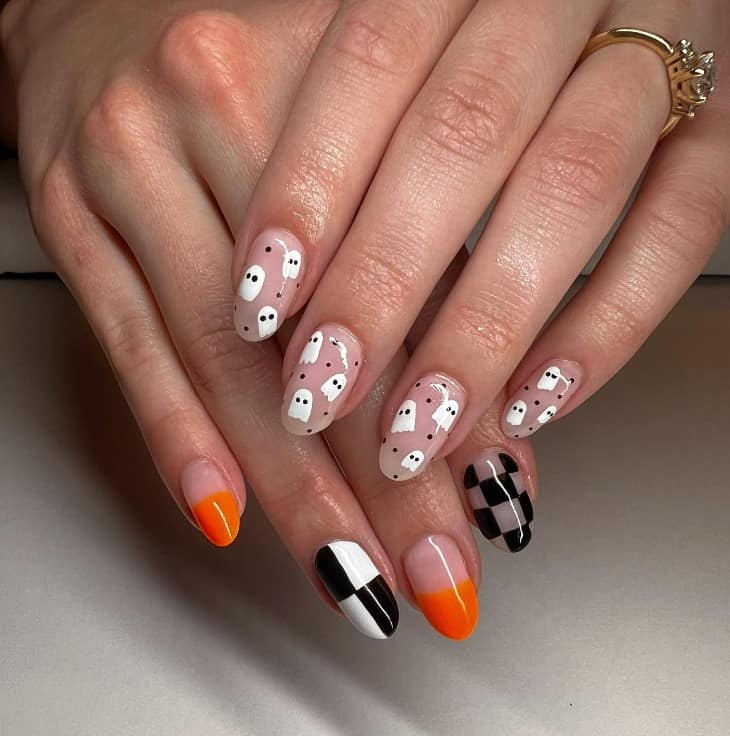 Here's a playful nail design that features a unique mix of orange, black, and white.
One hand showcases spooky ghost designs, while the other hand features alternating blocks of bold orange and checkered black-and-white patterns.
20. Mystical Spirits
The contrast between the solid violet nails and the glittery nails with ghost French tips adds a touch of magic and mystery to the overall look.
21. Gettin' Wild
These medium-length round nails are designed with a playful mix of zebra prints, ghost accents, and shimmery silver glitter, creating a daring and wild look that's perfect for any adventurous spirit.
22. Classic Palette
The nail design features a classic, timeless color palette of black, white, and nude pink. It includes a variety of chic designs such as spiderwebs, checkered patterns, yin-yang ghosts, and classic solid colors.
23. Harmless Funk
Get a funky Halloween manicure with this playful combination of green and white checkered nails and white ghosts adorned with flower accents on peach nails.
The design is completed with white nails embellished with colorful flowers.
24. Scream!
This mani has white and nude brown ballerina nails with white tips that are decorated with light pink Halloween designs like webs and liquid drips.
But the center of attention is the Ghostface nail art on the middle finger, painted on a striking pink base.
25. Halloween Celebration
The sleek black base color of these short round nails beautifully contrasts with the enchanting garden-like tips adorned with delicate floral motifs, while a whimsical ghost on one nail adds a touch of playful mystery.
26. Cat and Ghost
This simple ghost nail design features short vibrant pink nails with a playful touch. One accent nail showcases white ghost nail art, while another features black cat nail art, both adding delightfully spooky elements to the design.
27. Peekaboo
This manicure features nude pink nails with charming white ghosts and sparkling star stickers. Amazing way to infuse the Halloween spirit into any outfit!
28. All Glitter, No Gore
Spooky and glam! The black bat and ghost designs on two nude nails stand out against the overload of glitter on the rest of the nails, making a striking Halloween look.
29. Mummified
Here, a traditional French manicure is accentuated by a ghost design on one nail and a striking mummified look on another, which is created with white crisscrossing lines and black eyes.
30. Eerie Eve
This design features a striking all-black base adorned with spooky Halloween designs in white and orange hues, including spiderwebs, eerie trees, smoky clouds, gravestones, ghosts, and bones.
31. Sweet Twist
For a feminine and playful aesthetic, try this manicure with a peach base and pink tips! Add white ghosts, sparkles, and hearts to each nail as charming finishing touches.
32. Glided Frights
These chic short nails are perfect for Halloween with their light pink base and sparkling glittery gold and white accents. Halloween motifs such as ghosts, spiderwebs, and eerie drippings adorn the nails in an alluring way.
33. Elegance
This manicure features elegant white nails with a unique French tip design in violet and white hues. The design includes ghosts, pink pumpkins, thick purple swirls, and violet flames — all bordered in gold to achieve a mesmerizing look.
34. Ghouls and Blooms
These short round nails are whimsically designed with white ghosts floating among cute flowers on a soft peach base, creating a charming and cheerful aesthetic.
35. Haunted Night in Brown
Want a creepy yet stylish design? Go for this mani with brown nails that are embellished with ghost art, shimmering brown glitter nails, and glittery brown moons on nude nails.
36. Boo-tiful
Amp up your classic black mani with this design! Each black nail boasts a unique ghost design in white, with the word "boo" adding an extra touch of Halloween charm.
37. Magical Delight
This is a charming nail design with peachy tones that blend into a lavender hue with a sprinkle of white ghosts, moons, and sparkles! This ethereal look is perfect for those seeking a whimsical and enchanting style.
38. Eye to Eye
This manicure features a playful mix of skulls and eyeballs. The nails, on one hand, have a pink base with skull tips, while those on the other feature a pink base with fun and quirky eyeballs all over.
FAQs About Ghost Nails
How Do You Do Ghost Nail Art?
Ghost nail art can be achieved using a variety of techniques, depending on the complexity of the design you want to create.
If you're looking for easy ghost nails that you can DIY at home, you can't go wrong with white ghost nails or black ghost nails.
These classic colors offer a versatile canvas for your creations, and they can be paired with other Halloween-themed nail art for a more festive look.
To create your own ghost nail design, paint your nails white or black, then use a dotting tool or a small nail brush to draw the ghost shape on top of each nail.
But if you want a mani that makes a bold style statement, you can opt for ghost acrylic nails, which add a 3D dimension to your design and make your nails stand out effortlessly.
You can also use decals, stickers, or stencils to create more intricate designs.
To add a 3D effect to your ghost nail art, you can use acrylic powder or gel to sculpt the ghost shape on your nails.
What Nail Polish Color Goes With Ghost Nails?
The most common nail polish colors that go with ghost nails are white and black, as they provide a contrasting background for your ghost designs.
However, you can also experiment with other colors, such as pastel shades of pink, purple, or blue, to create a softer and more whimsical look.
If you want to add a pop of color to your ghost nail design, you can use neon or glitter nail polish to accent the ghost shapes.
Ultimately, the choice of nail polish color depends on your personal preference and the overall theme of your Halloween look.
Get Frighteningly Fabulous With Halloween Ghost Nails
Nail art as a form of creative expression has gained immense popularity in recent years. So it comes as no surprise that Halloween nail designs have become popular during the spooky season — and even all year round.
From classic ghosts and pumpkins to more unique designs such as black bats and mummy designs, the possibilities for Halloween nail art are endless.
We have seen how different color combinations and nail shapes can be used to create unique and stunning designs.
Each of the designs has its own unique charm and spookiness.
These designs are not only fun to create but also a great way to show off your creativity and get into the Halloween spirit.
Furthermore, we have seen that nail art can be a great way to express oneself and add a touch of personality to one's appearance.
It can also be a fun activity to do with friends or as a bonding experience with family members.
Overall, the nail designs we discussed are just a few examples of the many creative and exciting options available for Halloween nail art.
Whether you prefer simple and understated designs or bold and eye-catching ones, there is no doubt that Halloween nail art is a fun and unique way to celebrate the spooky season.
Discover More Creative Nail Art Ideas Here