This post may contain affiliate links, which means I may receive a small commission, at no cost to you, if you make a purchase.
Ombré nails are the hottest trend this season.
From fashion runways to red carpets to social media posts, people can't seem to get enough of this gorgeous nail design.
Any color can be used to create ombré nails. And if your favorite color is green, guess what? We've got good news for you: you can totally flaunt gorgeous green ombré nails!
We've found ombré nail art ideas that combine the beauty of ombré with shades of green to create a unique and eye-catching look.
From bold and vibrant color combinations to more subtle and delicate hues, there is something for everyone to try with their favorite salon or recreate at home.
So whether you're looking for an everyday look or a special occasion, these bewitching and super stylish designs are definitely worth trying out today.
Get ready to make heads turn and receive compliments with these gorgeous green ombré nail designs!
What Are Ombré Nails?
Ombré is a French word that means "shadow" or "shade." In nail design, it is the art of blending one color in light and dark shades or two light and dark colors together on the nail bed to create a gradient effect.
The colors typically fade from light to dark or vice versa, with a smooth and seamless transition.
Now you can use any color to create ombré nails. For instance, you can go for black ombré nails for an elegant mani. You can use yellow and orange nail polish to achieve ombré nails reminiscent of a sunrise.
But if you love all things nature, go for green ombré nails! You can use dip powder, acrylics, gel polish, or traditional nail polish to create this look.
It can also be achieved using a variety of tools and techniques, such as airbrushing or dabbing polish onto nails with a makeup sponge or nail brush.
Green ombré nails can also incorporate different textures, such as glitter or metallic finishes, to add extra dimension and sparkle to your nails.
23 Super Stylish Green Ombré Nail Designs
From deep forest greens to vibrant neon green hues, from bewitching gradient designs to subtle ombré nails, we've rounded up the top ideas for green ombré nails that are sure to steal the spotlight.
These designs are the perfect inspiration for anyone looking to add some flair and creativity to their manicure.
1. White-and-Lime-Green Ombré With Silver Embellishments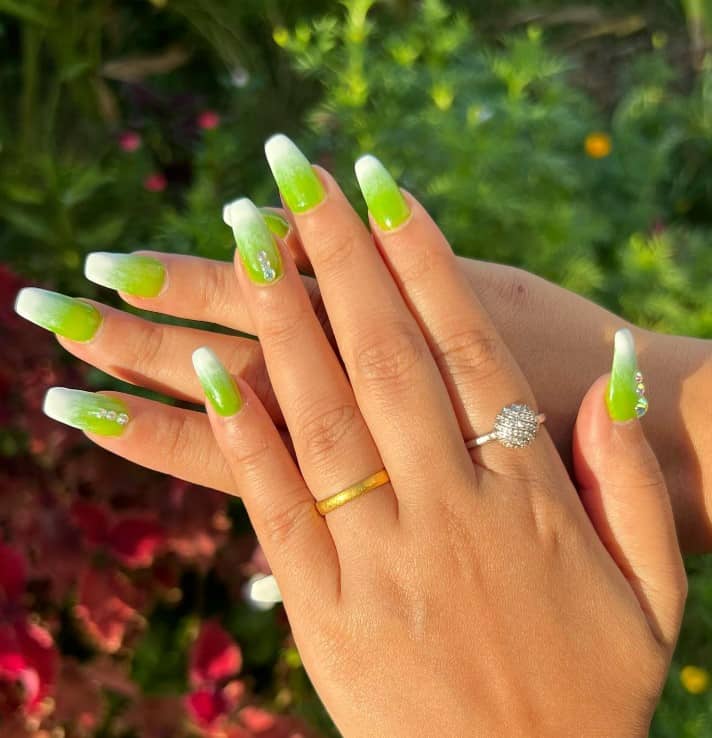 A striking visual contrast! Starting with a bright lime green hue that gradually blends into pure white at the tips, the color transition is smooth, flawless, and chic.
Plus, select nails are enhanced with silver jewels intricately arranged in a delicate and beautiful pattern, resulting in a bold and eye-catching nail design that exudes energy and style.
2. Five Shades of Green
Get ready to flaunt modern elegance with these stunning long coffin nails!
Featuring a mesmerizing gradient effect with five shades of green with tiny gems, geometric lines, and a unique green hue assigned to each nail.
From neon to mint to emerald green ombré nails, you can recreate this look at home and enjoy a beautiful mani.
3. Polar Night Sky-Inspired Blue and Green Ombré
Behold the captivating beauty of the polar night right at your fingertips!
This nail art design features an exquisite ombré effect that transitions from a deep blue to a serene green, reminiscent of the breathtaking hues that dance across the sky during polar nights.
4. Black and Forest Green on Long Almond Nails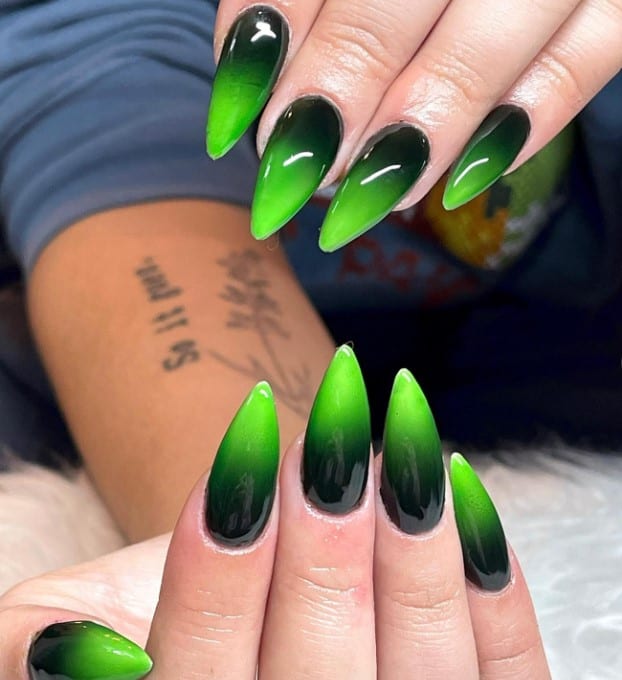 These black-and-green ombré nails are on fire! They exude an air of mystique and sophistication.
The dark and moody hues are perfect for those who love to stand out from the crowd, while the almond shape adds a touch of elegance to the overall look.
Each nail is a work of art, showcasing a unique gradient pattern that's sure to catch the eye.
5. Trendy Ombré and French Tips Combo
In this look, the long pale-green-and-nude nails create a fresh and trendy vibe that's perfect for any occasion. Meanwhile, the French tips add a touch of sophistication and the gems bring sparkle and glam, making these nails truly chic and unforgettable.
6. Ombré Nails Sprinkled with Flowers
Make your manicure bloom with these gorgeous super-long nails that sport a bluish-green-and-creamy-beige ombré sprinkled with delicate flowers!
Whether you're dressing up for a special occasion or just want to add a touch of glam to your everyday style, these nails will look amazing!
7. Nude-and-Blue-Green Ombré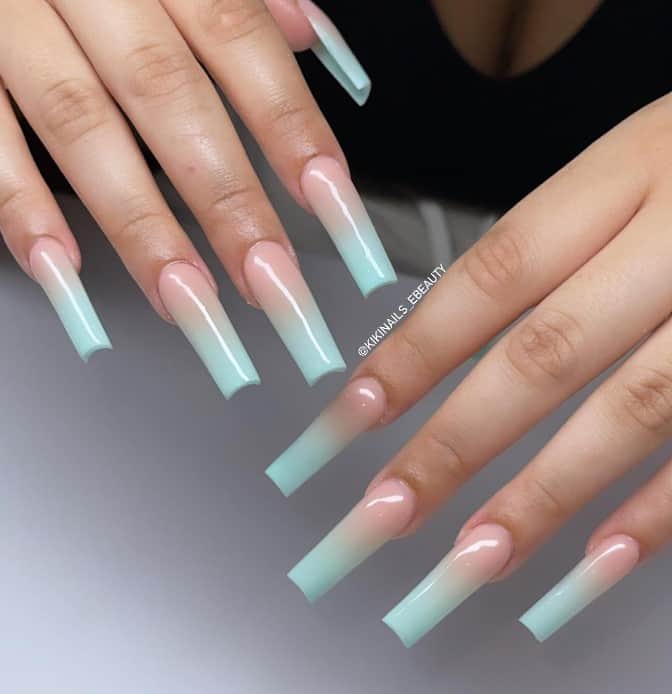 Want a fresh and trendy look you can wear every day? These stunning blue-green-and-nude ombré nails are both subtle and eye-catching! The soft and glossy top coat also adds a little shine to this mani without going over the top.
8. Floral and Bejeweled
We love this simple ombré design. The gradient effect blends smoothly from nude to pastel green, creating a cheerful, vibrant look. Plus, the white petals and silver gems bring in added sparkle and glam that will make you stand out!
9. Elegant Nails With a Matcha-Green-and-Cream-Beige Ombré
The ultimate picture of timeless appeal!
Each coffin-shaped nail features a seamless transition of beige and matcha green complemented with alternating gems and white petals — giving your mani a fresh and airy vibe that's great for spring.
10. Glittery Long Stiletto Nails With a Nude-and-Light-Green Ombré
The stiletto shape in this mani is edgy, modern, and daring complemented by an equally alluring nude and light green ombré with both small and large glitter flakes arranged in a diagonal line.
So if you're getting ready for a night out, this nail design can make you feel confident and look good.
11. Glossy and Sparkly Ombré
Feast your eyes on these glossy and sparkly green-and-white ombré nails!
The darker shade of bluish-green combined with the crisp white has a fresh and playful appearance, while the sparkly accents make the nails pop with glamor and fun.
12. Sage Green and Peach Ombré Coffin Nails
Daring and sweet. Who knew this color combination would look gorgeous? The light-sage-green-and-soft-peach ombré, complemented with translucent droplets, pearls, and silver crosses, creates a striking yet still playful contrast.
These sage green ombré nails are a must-try!
13. Beige, Green, and White
Versatile and chic, the combination of the earthy green and warm beige tones in this manicure adds a touch of nature to your fingertips, while the white ombré nails boast a crisp and clean finish.
Also, the gold hearts and rhinestones on a few ombré nails infuse drama and flair to the look's overall appeal.
14. Green Glitter and White Ombré on Short Nails
Want to bring a bit of Yule joy to your everyday look? Try these green ombré nails made with dip powder!
In this design, dazzling green glitter nails are paired with accent nails that feature a green-glitter-and-white-chrome ombré effect. This design is giving a snow globe vibe — a look that's both understated and chic.
15. Barely There Nude and Lime Green Ombré on Short Square Nails
A combination of simplicity and style, this is an ombré variation you can do at home. These nails offer a subtle ombré effect that transitions from barely there nude to zesty lime green.
The butterfly stickers make this design playful, but the short square shape gives it a more modern look.
16. Gradient Pear Green and Nude Topped with Gems
Keep it simple with this pear-green-and-nude ombré effect. The pear green adds a pop of color to your fingertips, while the nude tones provide a soft, understated backdrop.
Plus, you can line the cuticles of the accent nails with rhinestones for extra sparkle.
17. On-Trend Nude and Pine Green Ombré with Gold Accents
With a chic color scheme and impeccable gradient effect, these nude nails with turquoise ombré French tips are the ultimate statement piece. And the addition of gold foil flakes brings a touch of glamor to the overall design.
18. Lilo & Stitch-Inspired Ombré
Why settle for boring nails when you can have these playful and trendy Lilo & Stitch-inspired beach ombré nails?
In addition to the Stitch designs on select nails, this manicure features embossed tropical leaves and flowers,a seafoam-and-mint-green ombré, and blue-green-and-pastel-green glitter ombré.
19. Nude and Green-Blue Ombré With a Sprinkle of Gold Decor and Rhinestones
Our personal favorite design combo: green-blue ombré nails with rhinestones!
The delicate ombré with nude and blue-green is elevated with the perfect amount of glitz and glam.
Featuring a sprinkle of gold glitter flakes on the tips and the addition of rhinestones along the cuticles, these nails will make heads turn.
20. Whimsical Lilac and Mint Green Ombré
Step into a dreamy wonderland with these whimsical nails!
The stunning lilac-and-mint-green ombré nails are for the free-spirited and adventurous.
Whether you're attending a festival or party or looking to add a bit of fantasy to your day, these nails are a must-have.
21. Tan and Mint Green Gradient Appeal with Black and White Leaf Pattern
Bring a touch of nature to your nails with this trendy design! The tan-and-pastel green ombré creates a calming and refreshing effect, while the black and white leaf pattern adds drama.
22. Light Blue Green and White Ombré with a Gold Star and Moon Decal
An ocean-inspired manicure.
Featuring a dreamy light blue-green-and-white ombré design, this enchanting nail art is taken to the next level with the addition of gleaming gold star and moon decals.
23. Adorable Olive and Parakeet Green Matte Ombré
Step into the wild with these fun and flirty nails with a horizontal ombré!
Featuring a chic matte ombré with deep nude and teal green, this is one of the most popular nail designs for anyone who loves to add a pop of personality to their style.
Whether you want to spend a day out in the park or a night out with friends, these nails are sure to leave you starry-eyed.
How To Make Your Green Ombré Nails Last Longer
Ombré nail designs sure are stunning, but they are more high maintenance than your regular manicure.
Considering the intricate decals, nail stickers, and embellishments on these, it can be frustrating if they start to chip or fade after only a few days.
Fortunately, there are several tips and tricks that can help make your ombré design last longer like the following:
Before creating an ombré design on your nails, always prep them first by removing old polish, buffing them, and applying a base coat to help the polish adhere better to the surface of your nails.
Remember to apply a top coat to seal in the color and add some extra shine after your polish application. Let each layer of polish dry completely before applying the next one.
Apply a top coat every few days or as needed to protect your nails and keep your ombré design looking fresh.
Avoid using your nails as tools or exposing them to harsh chemicals.
Wear gloves while cleaning or doing dishes, and moisturize your nails and cuticles regularly.
Apply cuticle oil to your nails every day to keep them hydrated and prevent the colors from fading.
With these tips, your ombré design can last for up to two weeks!
How To Remove Ombré Nail Polish Without Damaging Your Nails
Alas, nothing lasts forever. As much as we want to enjoy our green ombré nails longer, we will eventually have to take them off.
Removing ombré designs can be a tricky task. However, with the right tools and techniques, you can easily remove your nail polish without damaging your nails.
Here are some tips you should keep in mind:
First, soak your nails in a bowl of warm water for about 10 minutes. This will loosen the polish, making it easier to remove.
Using a nail file, gently buff the top layer of your polish to break the seal and allow the polish to come off more easily.
Soak a cotton ball or pad in acetone and place it onto your nail, then secure it with a small piece of foil. Repeat this step for each nail.
Leave the acetone-soaked cotton balls or pads on your nails for 10 to 15 minutes, giving the acetone enough time to dissolve the polish.
After the time is up, gently remove the cotton balls or pads and foil. You should be able to easily wipe off the ombré polish with a clean cotton pad or ball.
Remember that acetones are drying to your nails and overexposure may cause nail staining and yellowing.
If there is any remaining polish, use a wooden cuticle stick to gently scrape it off.
Once all the polish is removed, rinse your nails with warm water. Then apply moisturizing oil to your nails and cuticles to keep them healthy and hydrated.
It's also important to avoid using metal tools to scrape off the polish, as this can damage your nails.
If you can, opt for water-based nail polish instead of solvent-based nail polish that contain harsh chemicals like formaldehyde, DBP, and toluene, which have huge potential health risks.
Remember that what you put on your nails can leach onto your body. So it is always best to choose healthier makeup and grooming products.
With these tips, you can safely and easily remove your ombré nails at home while keeping your nails healthy.
Bringing a Touch of Nature and Harmony to Your Everyday Look With Green Ombré Nails
With so many stunning shades and design options available, it's no wonder green ombré nails have become such a popular trend.
Whether you prefer a subtle nude-and-mint green ombré or a bold green-and-black ombré, there's a style out there that's perfect for you.
In addition, by following the top tips for making your ombré design last longer, you can enjoy your bewitching green ombré nails for even longer.
So why not try out a few of these gorgeous designs and bring a touch of nature and harmony to your everyday look?
Looking for More Nail Art Inspirations?
You will also enjoy copying stunning nail looks from these articles: