This post may contain affiliate links, which means I may receive a small commission, at no cost to you, if you make a purchase.
Hair dye has been a thing since the early centuries, and it seems to never go out of style, especially now that it's becoming easier and less harmful to use.
More and more people are coloring their hair at home.
The first step in changing the color of your locks is choosing the shade. And a hair color chart can help you with that.
It's highly probable that the hair dye you're using has a hair color shades chart from where you can pick your next color.
But with lots of choices, you may be wondering which shade flatters you best. You can't possibly tell if a color will suit you just by looking at the hair-dyeing colors chart, right?
To save you some time, we'll answer your questions about how to use the hair color chart in choosing your hair dye.
What Is a Hair Color Chart for?
Hair dye manufacturers provide a color chart for the hair colors that they offer. This will help the user or stylist pick or formulate their desired hair shade.
But with all the colors you can find, a hair color chart can be confusing to use if you're not a professional colorist or if it's your first time dyeing your hair.
In addition, the colors may vary for each brand because there is no standard color chart.
So it's really important that you understand how a hair color chart works.
Hair Color Chart Shades
No matter how much the colors differ in each brand, there are common shades you can find based on natural hair colors.
These colors can be changed in tone to have a different appearance. That's how a wide selection of hair dye shades is made.
Aside from natural colors, some hair dye brands also offer unnatural or fantasy colors like teal or pink.
All of these colors are categorized into tones, which are the underlying pigment in the color:
Warm — colors that have red and yellow undertones.
Cool — colors with blue and green tones
Neutral — colors that are toneless or have both tones
Hair Color Levels
Hair levels or depths are the first thing you should consider when picking your new hair shade.
The hair level refers to how dark or light the color is, whether it's your natural hair or the dye you're going to use.
When coloring your tresses, you should identify both your current hair level and the depth you're aiming for.
Identifying your hair level will help you determine if the color you want will work on the color you already have.
Let's say you are a natural level 3, and you want to have copper hair, which is a level 7. As you can see, the gap between the two levels is a bit wide. This lets you know that you need to lighten your hair first to achieve copper hair.
You can determine your hair's depth by comparing your locks to this table:
| Level | Shade |
| --- | --- |
| 1 | Black |
| 2 | Darkest Brown |
| 3 | Dark Brown |
| 4 | Medium Brown |
| 5 | Light Brown |
| 6 | Dark Blonde |
| 7 | Medium Blonde |
| 8 | Light Blonde |
| 9 | Very Light Blonde |
| 10 | Lightest Blonde |
Do take note that we're talking about the darkness or lightness of the hair and not the color itself. Sometimes, it gets confusing especially when you have colored locks.
Here's a pro tip: Take a photo of your hair and save this hair color chart. Then, convert both photos to black and white and place them beside each other.
This will help you easily find the level closest to your hair.
Hair Color Numbering System
Have you ever noticed something like a code in the hair dye you've used or bought?
Most hair dyes are labeled with numbers and a combination of numbers and letters to indicate the specific shade.
For example, Garnier Olia Brilliant Color has a shade of 4.3, which is dark golden brown.
The first number you'll see is the hair level and the number that comes after the decimal point (some brands use a slash) indicates the tone.
Other brands also use letters in their system. One such brand is L'Oreal Paris Excellence Creme in 5RB (medium reddish brown).
What do these letters mean?
A — ash
B — blue
BV — blue violet
C — cool
G — gold
M — mahogany
N — neutral
NA — neutral ash
NB — neutral brown
O — orange
OR — orange red
P — purple
R — red
RR — really red or intense red
RB — red brown
RC — red copper
RO — red orange
RV — red violet
V — violet
VR — violet red
W — warm
How to Use the Hair Color Wheel
Though there are so many beautiful colors in hair coloring charts, you should know that all these shades came from only three colors.
The primary colors are
Two or three of these colors are mixed together to create a new color. For example, blue and red make violet, yellow and red create orange, and all three make brown.
This tells us that all shades and hues are interconnected with one another, and this is where the hair color wheel comes in.
This tool, when used with the hair color chart, can help you get your desired look.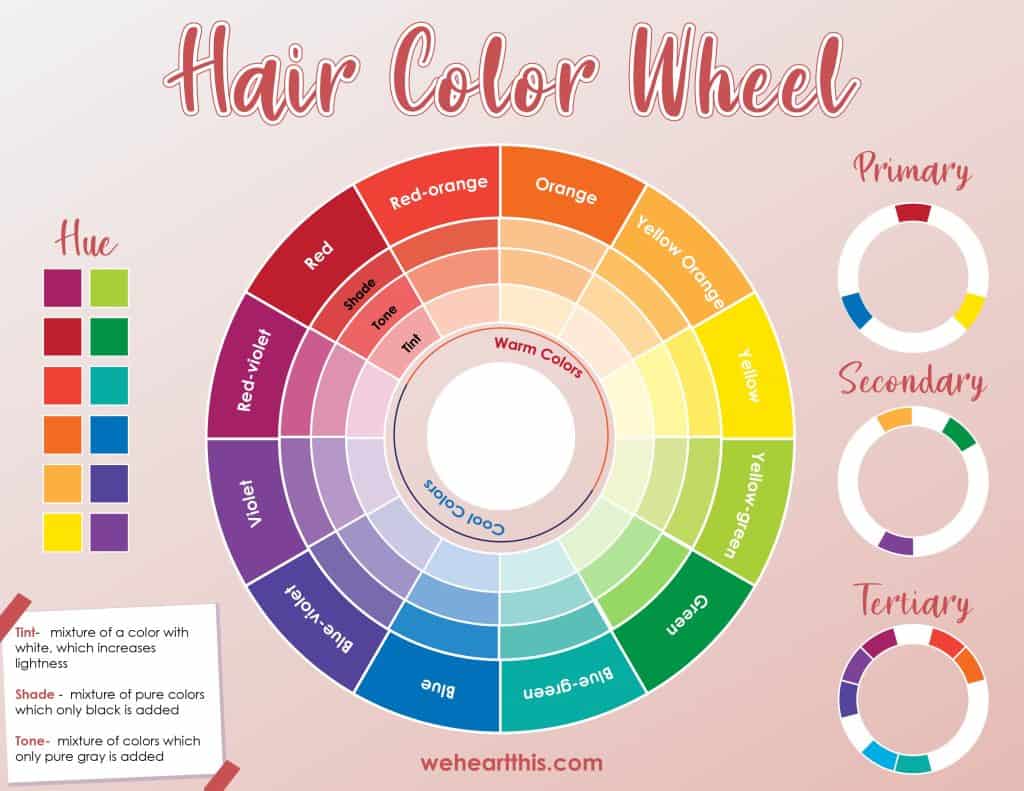 Mixing Dyes
When the color you really want isn't readily available as an exact shade, you can mix the hair dyes according to your liking.
The hair color chart and color wheel can help you with that. Look at the wheel to see what you need to combine to get your desired shade. Then see if the hair dye brand has those colors when you look at the hair color guides.
Neutralizing Unwanted Tones
As we've explained, you use a hair color chart to choose the specific shade you want.
However, it's more likely that your coloring result won't end up exactly like the one you've picked. And that has something to do with your current color.
For example, a person with red hair who wanted chocolate cherry hair can't just apply the said dye directly over her base color. The hair will end up looking more reddish brown.
That's because the red tones in the current color will mix with the new dye's pigments. So to get the desired purplish brown, you need to remove the red tones first. And the way to do that properly is by using the color wheel.
In this tool, colors opposite to each other on the wheel are called complementary colors. Both will cancel each other out and result in a neutral color like gray or brown.
Red complements green, so to get rid of the red tones, you need to use a green-based toner or dye first before coloring with the chocolate cherry dye.
Your Skin Complexion
You may have a bright, fun personality and you want your tresses to show that. So you'd probably think of having a hair color with the same vibe, like pink or red.
But before you grab your dye, you should first determine if that shade will look good on you. And your skin tone plays a big role in that.
The best way for your hair to look good on you is to make it complement your complexion.
Skin Tones
People around the world have different skin tones. These are the color of the skin's surface. And these tones change from time to time, depending on the environment or skincare products a person uses.
The following are the different skin tones that people have:
How good your hair color looks will depend on whether or not it harmonizes with your skin tone or complexion.
Skin Undertones
There is also what we call a skin undertone, which is the tone underneath the surface of your skin. Unlike skin tones, undertones are permanent.
Skin undertones also affect how the color of your locks complements you.
While it's easy to tell your skin tone by just looking at it, identifying your undertone takes more effort and needs two or more tests.
But don't get worried by the word "tests." We only mean simple things you can do by observation.
Take a look at this chart.
| | Cool Undertone | Warm Undertone | Neutral Undertone |
| --- | --- | --- | --- |
| Complexion | Pink, reddish, or blueish | Golden, yellow, peachy | Mix of warm and cool, like olive |
| Sun Exposure | Burns easily | Tans easily | Burns then tans |
| Jewelry | Looks great in silver | Flattered with gold | Looks good in both silver and gold |
| Veins | Blue or purple | Green | Mix |
The Most Flattering Hair Colors for Your Skin
The safest way to choose a hair color is to get only two shades lighter or darker than your natural color.
Remember that drastic changes require more effort like bleaching in different levels and toning. They can also cause more damage to your hair and make your hair highly porous.
Take a look at some popular shades that different brands offer in their hair color chart and see what shades will work for you.
Blonde Hair Colors
In different types of hair color charts, you'll see blonde in various shades. There are warm tones, cool tones, and neutral tones. That's why blonde isn't limited to any skin undertone.
Warm Blondes
Warm blonde shades will surely brighten your face. The gold undertones add to the glow of your skin, which is why warm shades will suit warm skin undertones.
While cooler skin undertones would like to have that warmth too, it's best if you stay away from golden blondes because this may look unnatural on you.
The following are our favorite warm blondes:
All these delicious blonde shades will make your warm skin look more alive.
Cool Blondes
The light hair we love also comes in cool shades. These are blondes with hints of blue, gray, green, and violet tones.
These shades are perfect for cool, pinkish tones because they can balance the redness of the skin.
However, do take note that these blondes are the hardest to maintain. That's because as time passes by, your natural brassy yellow pigments will appear.
To keep your blonde cool, you need to use a purple shampoo or toner.
These are our favorite cool blondes:
These shades will make you the coolest-looking person in town.
Neutral Blondes
These are the most versatile shades because they can work well with all skin tones and eye colors.
Neutral blondes are neither warm nor cool because these shades have equal amounts of blue, yellow, and red.
The following are our favorite neutral blondes:
Beige
Creamy
Nude
Dirty blonde
Neutral blondes look best on medium to dark skin tones of any undertone.
Brunette Hair Colors
Brown is one of the most common and accessible hair colors. It's easy to get this hue at home using boxed dyes.
Warm Browns
Browns in this tone have enough doses of red and orange pigments to make your warm skin brighter.
They can add a creamier tint to medium complexions or give a warm contrast to light skin.
You can also add a golden balayage or golden highlights to emphasize deep skin tones.
These are our favorite warm brown dyes:
These are delicious colors that remind us of warm desserts!
Cool Browns
If you have a cool, medium complexion, go for browns in cool tones. These are darker and ashier shades of brown.
Here are our recommended cool brown dyes:
The smokey shades are perfect if you want to eliminate warm tones and blend your gray hair.
Neutral Brown
The perfect choice to keep the balance between warm and cool undertones is the shade neutral brown. It has both gold and ash tones, so it's great for anyone.
Just don't confuse this color with "natural brown" because natural brown is actually warm.
In hair color charts, you can find neutral brown shades that vary from light to dark.
Red Hair Colors
Red hair is the hottest color. It instantly adds spice to your locks. And though this shade is a head-turner, it can also be natural looking.
The rule of thumb when it comes to choosing the red hair color that will suit you is to match it with your skin undertone.
Warm Reds
Warms shades of red go best with fair skin because these shades can make your skin look brighter and more radiant.
They also look good on light skin that has more yellow undertones. If you have a darker complexion, you can try warm reds. Just get a deeper or richer shade.
For fair and light complexions, we recommend these light reds:
For medium to dark complexions, we recommend these deep or vibrant reds:
All these colors will add warmth and can bring out your youthful glow.
Cool Reds
While it's common advice for cool-toned complexions to avoid red shades that can make them look washed out, that doesn't go to say that they can't have red hair.
There are actually reds that are made cooler, with added blue and purple tones so they can flatter those with cool undertones.
These are our most recommended cool red shades:
These deep, dark, cool shades create a contrast with pale skin and fair skin tones. Additionally, they make deep skin complexions appear richer.
Unnatural Hair Colors
If you want your hair to be the main attraction, you can go for unnatural hair colors. These are fashion or fantasy colors mostly found in semi-permanent dyes. They also vary from dark to light.
Light unnatural colors require prelightened hair as base. Dark shades usually don't.
These colors may seem fun to try, but do take note that not every color suits every skin tone.
For your reference, we recommend cool unnatural shades for skin with a cool undertone:
For skin with a warm undertone, we suggest these warm unnatural shades:
To make sure the color flatters you, choose the same undertone as your skin.
Frequently Asked Questions
Are Hair Color Charts Universal?
Different brands don't use the exact same hair color charts because they offer various shades. They do, however, use the universal hair coloring system that uses a numerical system to classify hair colors.
The color depth numbering that we've explained above is the same among different brands of hair dye.
Where Can I Buy a Hair Color Chart?
Sad to say, you can't just buy a hair color chart from a supermarket or beauty store. They don't come with the dye you're going to buy.
Hair color charts are usually given to salons or beauty supply stores by hair dye brands. Customers can take a look at this chart to pick their desired color, but the charts are usually not for sale.
However, you can pretty much find everything online. So what you can do is look up the specific brand's hair color chart on their website or on online shops.
The Hair Color Chart Is Your Ultimate Color Guide
Whether you're thinking of going lighter or going darker, there are plenty of options to choose from in a hair dye brand's hair color chart.
Just remember to consider the different factors when it comes to choosing and formulating the hair color. A hair shade may end up differently from the one in the color palette.
Your hair color will look best if you understand how to use a hair color chart.
Looking for Other Helpful Hair Dye Tips?
Check out these articles: