This post may contain affiliate links, which means I may receive a small commission, at no cost to you, if you make a purchase.
Pop art nails have become the newest viral sensation. This nail trend takes its cue from the bold and colorful designs of the pop art movement.
What makes pop art nails popular is the customizable aspect of it. You're free to deviate from the traditional design as much as you want.
You can go wild with your color combinations or stick to subtle colors for day-to-day wear.
Wherever your creativity takes you, you'll surely find that pop art nails are suitable for every occasion.
So if you're ready to hop on this viral nail trend, check out these trendy pop art nail designs for inspiration.
What Are Pop Art Nails?
Pop art nails — also known as cartoon nails — are nail designs inspired by the pop art movement of the late 1950s to 1960s.
The most defining feature of this art style is the use of bright and vibrant colors, specifically vivid reds, yellows, and blues.
Pop art also takes inspiration from comic book illustrations. This is why pop art nails are also referred to as cartoon nails.
They make your nails look like they came straight from your favorite comic books or cartoon programs.
Nail artists and DIYers achieve this by using sharp black outlines and white highlights to create the optical illusion of 3D art on the nails.
Most importantly, pop art is all about freedom of expression. That's why pop art nails have become so popular. It allows nail aficionados to create any base design they want while still staying true to the pop art aesthetic.
So whatever event you may have planned, pop art nails will always be trendy and on point!
Get Inspired By These 21 Ideas for Trendy Pop Art Nails for Every Occasion
1. Juicy Skittle Nails That Pop
Make your classic short almond-shaped nails stand out with these juicy skittle colors. The deep-colored shadows also make this mani give off an Easter egg vibe.
2. Eye-Catching Pastels
When they say pop art nails can make a statement, this is what we mean. These short round pastel nails with black outlines and white highlights look gorgeously detailed.
3. Soft Neon
These short pop art nails with neon colors are both striking and subtle. They go well with an almond shape and dark-colored accents.
4. Pink Valentine's Vibe
If you want standout Valentine's Day nails, check out these mid-length coffin-shaped nails with drip nail art and cute pop art hearts.
5. Flamin' Pop Art Nails
Ignite your love for pop art with these medium-length nails that feature pop art-inspired designs like glossy flames and hearts. 
6. Simple Nude Pop Art Nails
Keep things classy with a cream-colored manicure. The black and white detailing makes this design quintessentially pop art.
7. Lovin' the Periwinkle Haze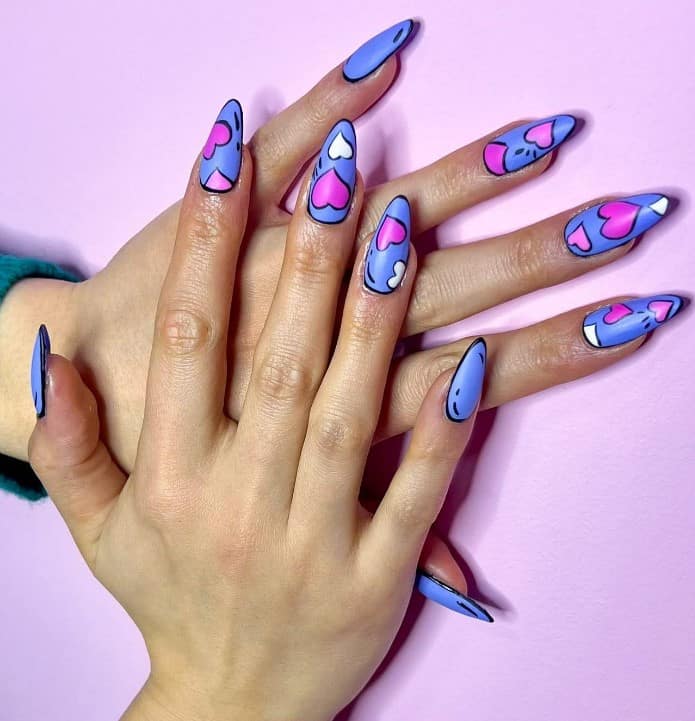 These cartoon pop art nails have a periwinkle base on a long almond shape. What makes this design super cute are the white and pink cartoon-style hearts!
8. Two-Toned Nude
Pop art nails don't always have to be colorful. You can still stay true to the pop art aesthetic with these two-toned nude long stiletto nails with French tips and heart accents.
9. Red Pop Art Nails
If you're in love with the color red, you can use different shades of it to create a more impactful manicure pop art nails. Try painting extra short oval nails deep red and cherry red and embellishing them with white and black details.
10. Girly Street Art-Themed Nails
There's nothing more feminine than long pink nails. However, the street art lip cartoon and pop art accents give the design some much-needed edge.
11. Mix 'n' Match
Can't decide on just one aesthetic? You can amp up the look of your coffin-shaped pop art nails with a mix and match of flames, plaid, and sweater designs. Use a blue base color to tie everything together nicely.
12. Pastel Pink Cartoon Nails
Who wouldn't love sweet yet artsy nails? The heart cartoon design brings life to short round nails.
13. Delicate Pink and White
If you prefer delicate pop art nails that are easy to do, check out this nail design! It has nude, almond-shaped nails with white pop art highlights, brown shadows, and thin black outlines.
14. Matcha Inspiration
If you're a matcha lover, you'll love these pastel green pop art nails in a short square shape. The white and dark moss accents make this design a stunner.
15. Forest Green Fresh
Your hands will look fresh with these forest green pop art nails with dark green highlights and white blobs that make each nail look like it's shining. Just staring at this cool mani is already so relaxing!
16. Autumnal Pop Art Nails
Make candy-colored pop art nails more season-appropriate by choosing an autumnal color palette.
17. Pop Art Nails in Brown and Earthy Tones
There's something so warm and comforting about this pop art nail design. The earthy brown, green, and yellow tones complement the simplicity of extra short nails.
18. Punk Meets Pop Art
Skater girls will adore these black and neon green punk matte nails with pop art accents, especially on long ballerina-shaped nails.
19. Red and Romantic
The red pop art accent nails in this mani, combined with solid red nails, give us candlelit dinner vibes. They feature a combination of matte and glossy top coats for added contrast.
20. Red Magnetic Glitz
If you want to give your mani an upgrade by creating pop art on your nails, try recreating this mani with black and white pop art details and textured glitter on red nails.
21. Best of Both Worlds
Can't decide which nail shape you want? Why not go for light gray and blue short square nails on one hand and bright blue medium stiletto ones on the other? Then tie everything together with black pop art nail accents.
Frequently Asked Questions
How Do You Do Pop Art Nails?
Pop art nails may seem complex at first. However, once you become familiar with the key elements of pop art, you'll realize how easy it is to incorporate into your nail design.
Follow these steps to help you achieve pop art nails:
1. Apply your base coat as usual.
You can opt for a different vibrant hue per nail for a rainbow effect or play with different shades in a single color family for an ombre effect. There are no restrictions here, so you are free to create unique color combinations.
2. Use a thin detail brush to apply black nail polish on the perimeter of each nail.
This is to create the classic black outline featured in pop art nails.
3. Use white polish to create highlights in your pop art nails.
Simply draw a long crescent-shaped line along one side of the nail to create this effect. Add a dot at the end of the line.
You can always go back with your base coat to perfect the highlight effect. This will help round out the edges to create a sharper outline.
4. On the other side of the nail, use black polish to create another crescent-shaped line.
You can also use a darker base coat shade to create a lowlight effect and make your nails pop.
Once you're used to creating pop art nail designs, you can play around with the placement of your highlights.
5. Once all your nails are done, apply a top coat to help preserve the pop art nail design.
You can use any top coat, but a matte finish can enhance the cartoonish look of your pop art nails.
What Materials Are Used for Pop Art Nails?
As nail aficionados, you likely already have all the materials you need for pop art nails in your personal collection.
All you'll really need is a detailed brush. Choose a brush that has a thin but agile tip.
Choose a brush with 3/4-inch bristles. This will give you enough control to create sharp and precise lines.
You can also use different brushes to create various cartoon nail art designs.
Explore the Depths of Your Creativity with Trendy Pop Art Nails
The art of nail design has always been about promoting self-expression. That's why pop art is such a great trend.
There are no limits to this particular style, so you can unleash your creativity when creating it.
Even if you already have an existing nail design, you can incorporate classic pop art touches to turn your nails into eye-catching cartoon nails.
No matter what nail shape or nail aesthetic you have, you'll always be able to find trendy pop art nail designs for every occasion!
Want to Discover More Nail Art Trends?
Check out these articles: